Soft and chewy without being the least bit cakey! These healthier double chocolate banana cookies are vegan and refined sugar free, but so fudgy and flavourful that you'd never be able to tell they were healthy!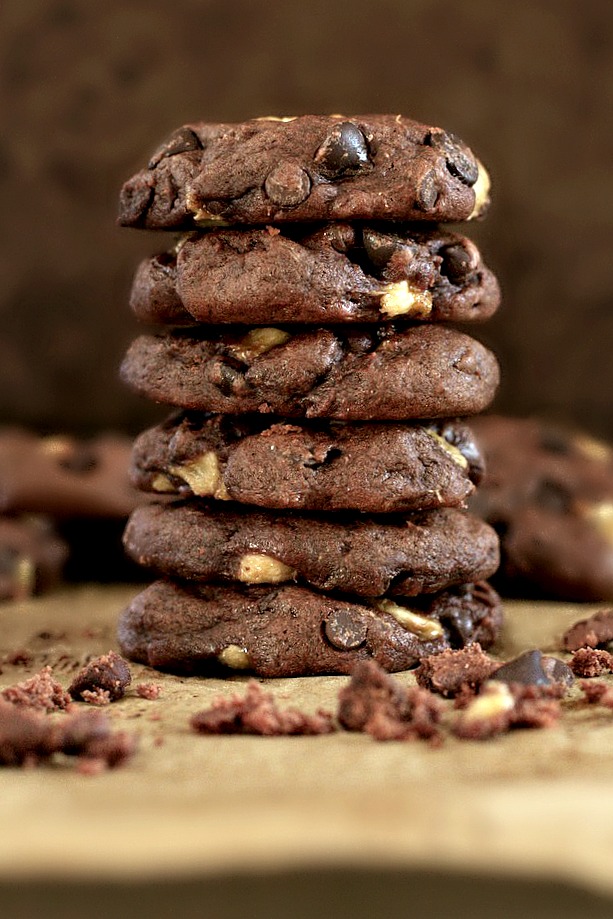 I should probably just change my blog name to Running with Bananas and Chocolate at this point, seeing as pretty much every single recipe I've posted this month has been made with either bananas or chocolate. Or both.
What can I say? I've been on a huge chocolate/banana bender for the past little while, and I like to post recipes made with the foods that I've been loving, otherwise it's a little hard for me to get excited about them. I mean, how can I try to get you guys excited about something when I'm just kind of "meh" about it myself myself? I can't… hence all the bananas and chocolate.
Don't be mad. Have a cookie.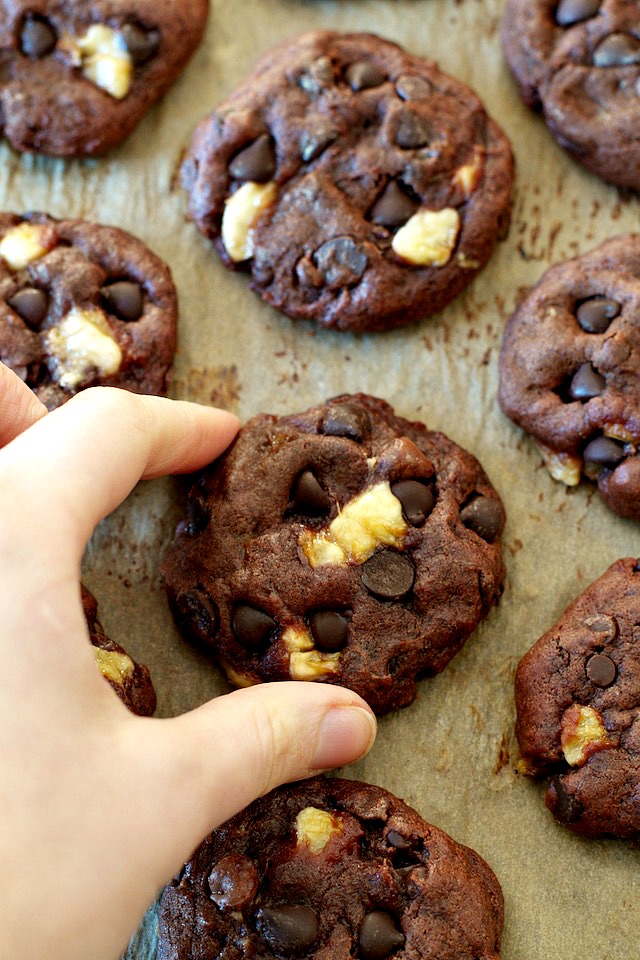 I'd give you a glass of [almond] milk to go along with that, but I dropped my favourite milk jug (aka photo prop) on the floor the other day and it shattered into a million pieces. Sorry about that.
But let's talk about these cookies! These wonderfully soft and chewy double chocolate banana cookies that I'm pretty sure aged me at least 6 months thanks to all the frustration I experienced while making them.
Let's talk about how they're called double chocolate banana cookies not only because they're made with a double dose of chocolate (cocoa + chocolate chips), but a double dose of banana too. I started out by just adding an entire mashed banana to the batter, but that was a disaster decided to make things a little more interesting by only mashing half and slicing in the other half.
Brilliant idea. Those perfectly caramelized banana chunks are kind of to.die.for… especially when they're paired with melty chocolate chips.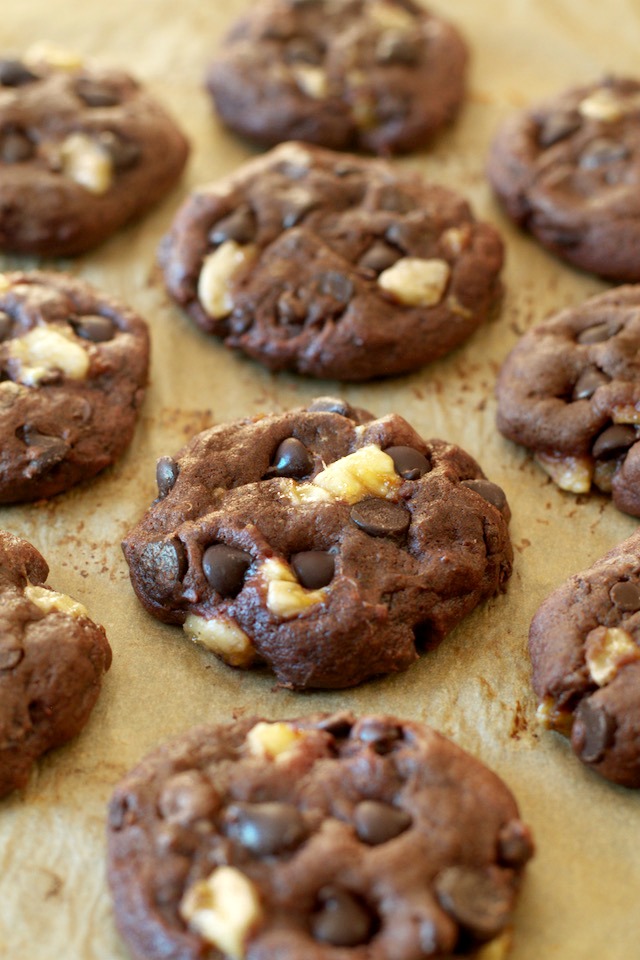 Next, let's talk about how bananas may very well be one of the most annoying ingredients to work with as far as cookies go. They give a wonderful flavour and sweetness, but they will fight you tooth.and.nail if you're trying to make a soft and chewy cookie. TOOTH AND NAIL! For cakey, pillowy, muffin top type things? Bananas are your man. But for cookies with even a hint of chew? Bananas will be a thorn in your side. A very delicious thorn, but a thorn nonetheless.
It took me three trials to get these guys right.
Trial #1: too much cocoa, too much mashed banana, too little oil, and oats tossed in on a whim. Result? Dense, black, pillowy puffballs with jagged edges that looked like they would cut your gums if you bit into them. Moving on…
Trial #2: less cocoa, no oats, same amount of mashed banana, and slightly more oil. Result? Equally as dense, slightly less black pillowy puffballs that looked like they would be better to sleep on than eat. Thankfully no more jagged edges. Moving on…
Trial #3: less cocoa, no oats, less mashed banana, slightly more oil, honey to replace the sugar, and baking soda to replace the powder. Result? Nailed it.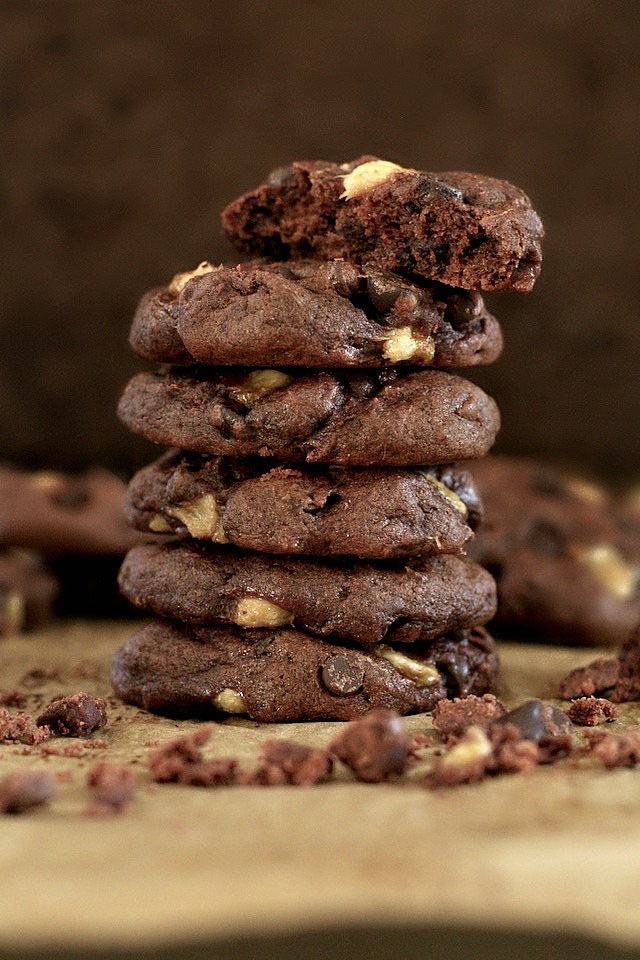 Finally, let's talk about how these cookies are vegan, nut-free, refined sugar free, and sooooo ridiculously soft and chewy that it hurts. The dough requires a little bit of chilling time prior to baking to make it easier to handle, but it's only 30 minutes and I promise you that it's so worth the wait.
Oh, and speaking of wait… these cookies are similar to banana bread in that they taste better the longer they sit. They're sweeter and fudgier on day 2 and 3, but I double [chocolate and banana] dare you to get them to last that long…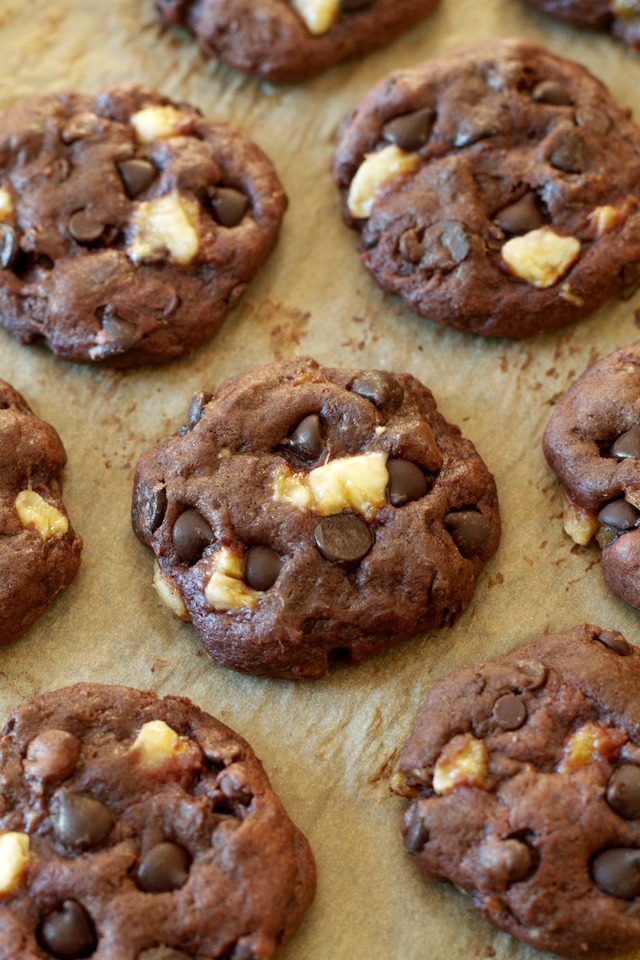 I'd love to know if you make this recipe! Leave a comment and rating down below to let me know what you think, and subscribe to our mailing list to receive new recipes in your inbox!
Print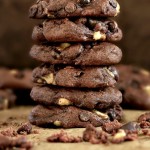 Double Chocolate Banana Cookies
---
Author:

Total Time:

52 mins

Yield:

12

cookies

1

x
3/4 cup

(

90 g

) whole wheat flour**

2 Tbsp

(

10 g

) unsweetened cocoa powder

1/4 tsp

baking soda

1/4 tsp

salt

1/2

medium ripe banana, mashed (

50g

or

1/4 cup

)

1/4 cup

(

80 g

) brown rice syrup***

2 Tbsp

(

30

ml) coconut oil, melted

1 tsp

vanilla extract

1/3 cup

(

60 g

) vegan chocolate chips
other half of the banana, cut into small chunks
---
Instructions
In a large mixing bowl, combine the flour, cocoa powder, baking soda, and salt, mixing well to ensure that no clumps of flour or cocoa remain. Set aside.
In a medium-sized mixing bowl, whisk together the mashed banana, brown rice syrup, coconut oil, and vanilla.
Add the wet ingredients to the dry ingredients, mixing until just combined. Fold in the chocolate chips and banana chunks, giving everything a final stir before covering the bowl and placing it in the fridge to chill for at least 30 minutes.
Preheat your oven to 325ºF (163ºC) and line a large baking sheet with parchment paper or a non-stick baking mat. Using a rounded tablespoon, drop the dough onto your prepared baking sheet, and use your fingers to flatten them slightly. The cookies won't spread too much, so make them roughly the shape you want them to be before baking.
Bake for 10-14 minutes, depending on the final texture that you want. Less baking time will result in a slightly softer and fudgier cookie.
Remove your cookies from the oven and let them cool on the baking sheet for 10 minutes before transferring them to a cooling rack to cool completely. You can press additional chocolate chips into the tops to make them a little more presentable. Store the cookies in an airtight container at room temperature for up to a week.
Notes
* prep time includes chill time. ** you can make these cookies gluten-free by replacing the whole wheat flour with an all-purpose GF baking flour. If your mix doesn't have xanthan gum, add 1/4 tsp to the dry ingredients as well. *** you can easily sub this for honey if not strictly vegan.
Prep Time:

40 mins

Cook Time:

12 mins
Keywords: banana, banana cookies, chocolate, chocolate cookies, double chocolate cookies, healthy cookies, nut-free, recipe, refined sugar-free, vegan

Looking for more healthy cookies recipes? Try one of these!
Vegan Chocolate Chip Banana Bread Oatmeal Cookies
Gluten Free Vegan Chocolate Chip Cookies
Flourless Pumpkin Oatmeal Cookies
Chewy Flourless Oatmeal Cookies
Grain Free Vegan Chocolate Chip Cookies