This Dalgona Coffee Smoothie combines the luxurious taste of Dalgona coffee with a simple banana nut smoothie to create a creamy whipped coffee drink that feels extra fancy when it's actually super easy to make.
So I know it's only been a couple of weeks since I shared the dalgona coffee recipe with you guys, but I've been loving it so much since the first time I tried it that I've been looking for more things to do with it.
And one of those things? Mixing it with a pretty basic banana nut smoothie to create a creamy whipped blended coffee drink that's out-of-this-world delicious. Say hello to the Dalgona Coffee Smoothie.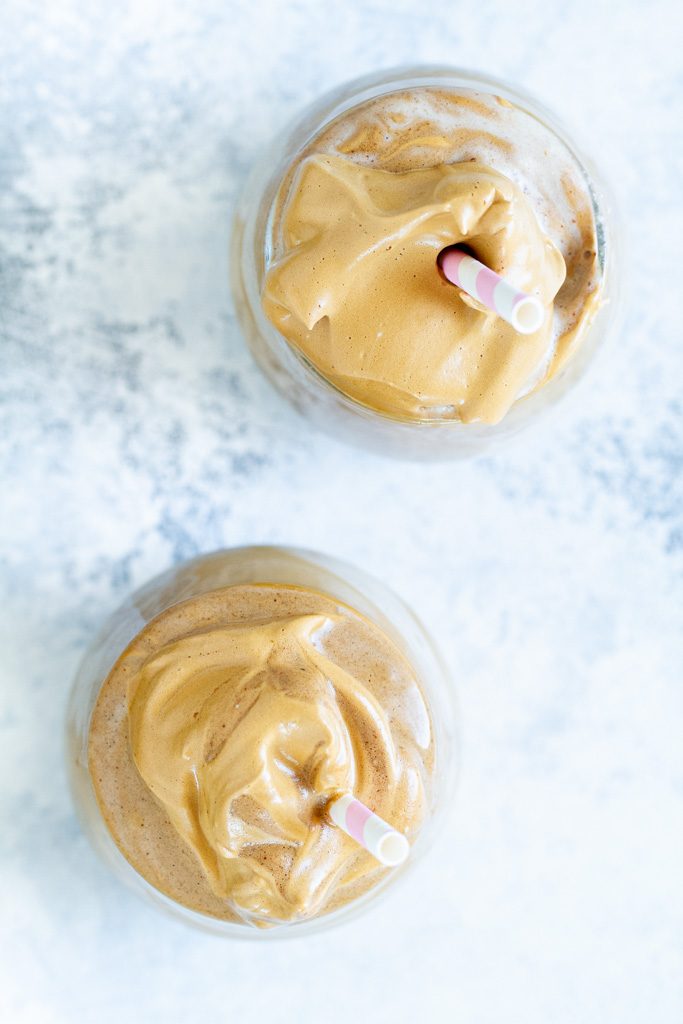 Making The Smoothie – Do I Really Need To Soak The Oats?
Yes and no. I highly recommend combining the milk and oats beforehand and letting them sit for at least 3 hours. The reason for this is so that the oats have a chance to absorb the milk and get softer. You could throw everything together and technically be good to go, but you'd be drinking a totally different smoothie.
Letting the oats absorb some liquid makes them fluffier, which in turn makes the smoothie that much smoother and creamier. So even though it requires a bit of patience, it's totally worth the wait. You can even prep this part the night before and have it ready to go in the morning.
When you're ready to drink your smoothie, add the remaining ingredients and blend everything up. When it's all creamy, leave it sitting in the blender for a bit and start on the dalgona coffee.
How To Make Dalgona Coffee
I already wrote a post on this so I'm not going to go into as much detail here, but you can hop over and read that one if you want a more in depth explanation.
Basically, you'll be whipping up equal parts instant coffee, granulated sugar, and water. And by whipping up I mean whipping – either with a stand or hand mixer. You could do it by hand with a whisk if you're really looking for a workout, but it will take a lot longer and probably leave you pretty tired.
Either way, you whip until you get a pale fluffy foam. Like this: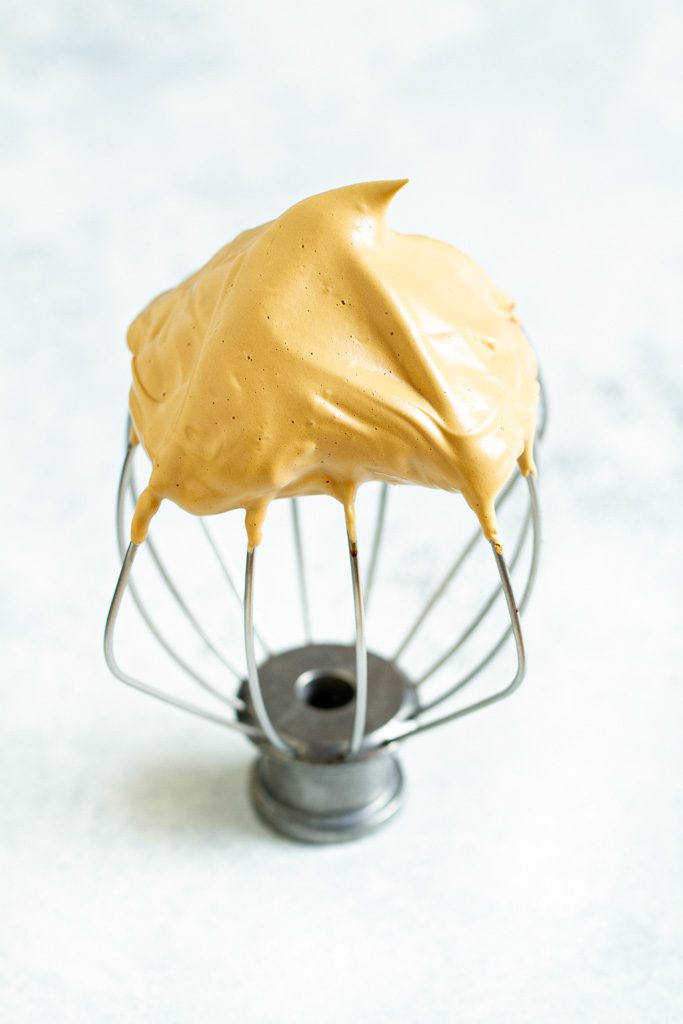 Now comes the fun part.
Take spoonfuls of the Dalgona coffee and plop them onto various spots on the inside of your glass, like this: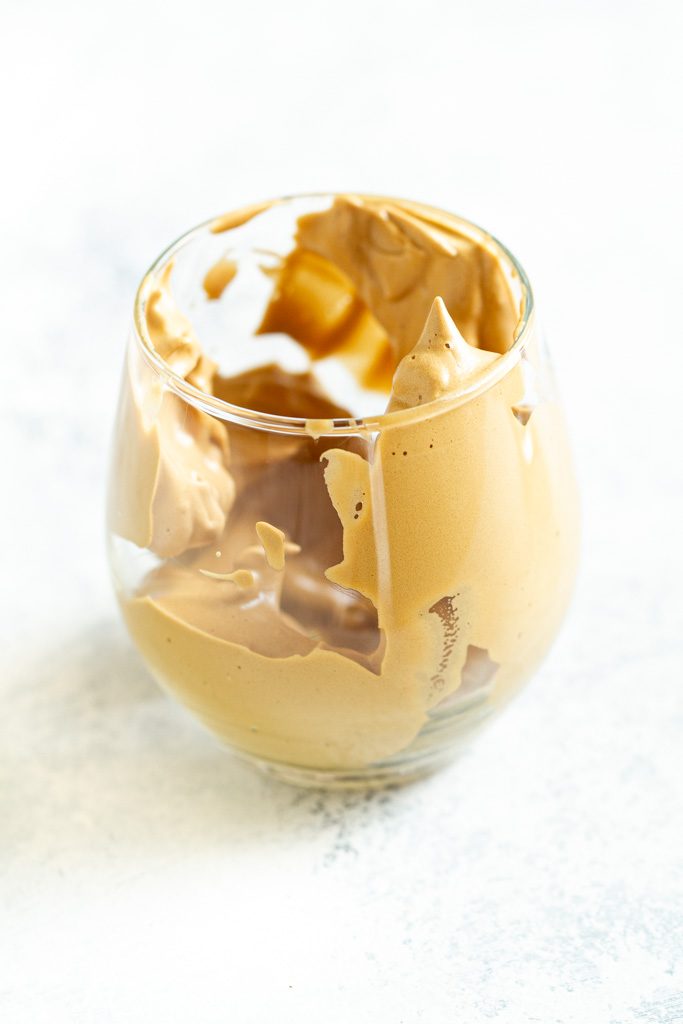 I like doing this because it helps distribute the coffee flavour a lot more evenly than just plopping a bunch on top of the smoothie. That and it makes the finished product suuuuuuuuuper creamy.
Speaking of which, it's finally time to add the smoothie. Give the whole thing a few stirs to lightly combine everything before putting more coffee on top. Voila! Time to enjoy!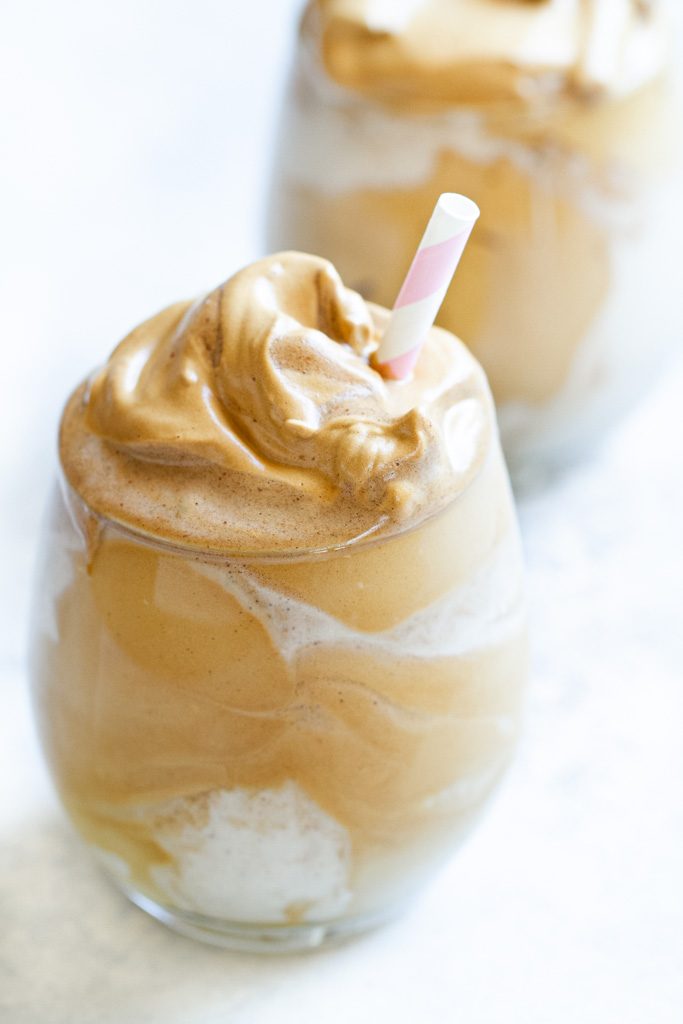 Okay, But What's It Like?
So, based on how much I like Dalgona coffee, I had a feeling this was going to be good, but I had no idea it was going to be this good.
Not even kidding. I was blown away the first time I tried this smoothie. Even the boy enjoyed it, which is saying a lot seeing as he doesn't like coffee (I know… don't get me started).
It's just… hmm. It's luxurious. Smooth. Creamy. Rich. Indulgent. A drink that could totally pass off as coming from a fancy coffee shop.
The coffee flavour is definitely the dominant one, but it isn't overly strong. It pairs so, SO nicely with the simplicity and sweetness of the banana nut smoothie, and the result is a sweet, mild, blended coffee drink. Something to really treat yourself with.
Happy eating drinking!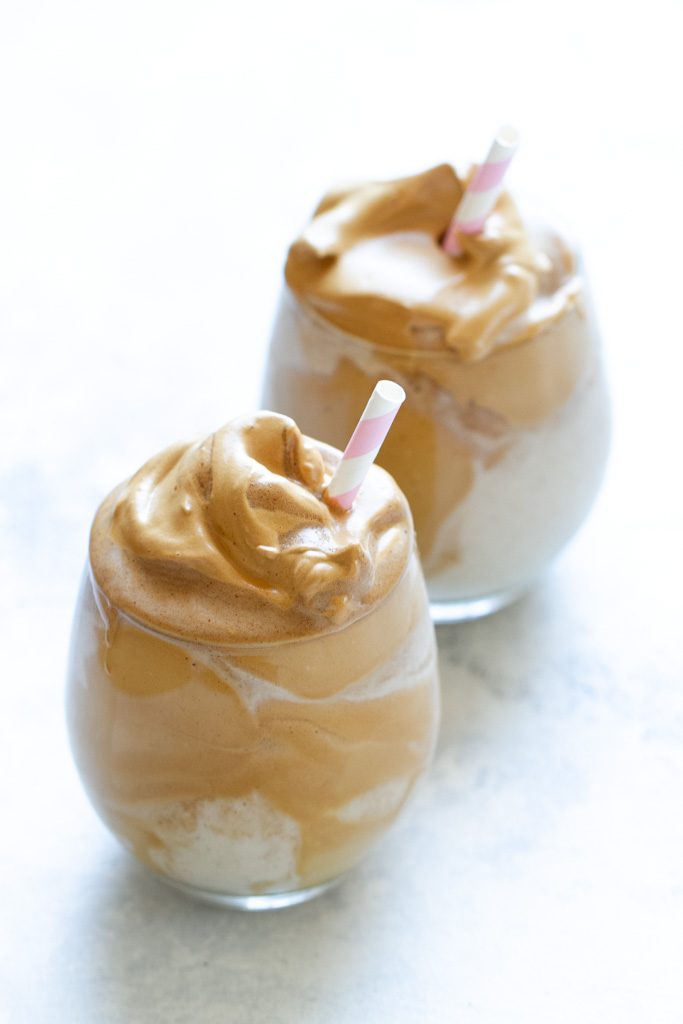 I'd love to know if you make this recipe! Leave a comment and rating down below to let me know what you think, and subscribe to our mailing list to receive new recipes in your inbox!
Print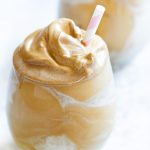 dalgona coffee smoothie
---
Author:

Total Time:

10 mins

Yield:

2

servings

1

x
For the smoothie:
1 1/2 cups

(

360

ml) unsweetened almond milk

1/2 cup

(

40 g

) oats, quick or regular

2 tbsp

(

32g

) almond butter

1/4 tsp

ground cinnamon

2

medium-sized ripe bananas, frozen
For the dalgona coffee:
2 Tbsp

(

12 g

) instant coffee granules*

2 Tbsp

(

24 g

) granulated sugar**

2 Tbsp

(

30

ml) warm or hot water
---
Instructions
For the smoothie:
At least 3 hours before, add the milk and oats to the bowl of your blender and give them a stir to ensure that everything is well combined. Cover and place in the fridge. You can make the smoothie right away, but soaking the oats with create a smoother texture.
Remove your blender bowl from the fridge and add the remaining smoothie ingredients. Blend on high until a smooth and creamy consistency is reached, adding more milk if the smoothie is too thick. Set aside and start making your dalgona coffee.
For the dalgona coffee:
Add the coffee, sugar, and water to a medium-sized mixing bowl or the bowl of a stand mixer.
Using the whisk attachment, turn your stand or hand mixer to the highest setting and mix until a thick pale foam forms, about 2-3 minutes.***
To serve:
Use a spoon to scoop up the foam and place it in various spots on the inside walls of your glass. Pour in the smoothie and give it a few stirs to incorporate it with the coffee. Finally, top with more foam and enjoy!
Notes
* You can use either caffeinated or decaf instant coffee/espresso. It does have to be instant, though.
** I've used both cane and coconut sugar and both work fine. You could use a liquid sweetener like honey, but it won't fluff up as much of stay fluffy for as long. Stevia works as well, but the taste comes through a lot and you have to use a little less.
*** You can also do this by hand using a rounded whisk, but it will take a lot longer – around 10-15 minutes of vigorous whisking.
To make this smoothie nut-free replace the almond milk with another non-dairy milk and the almond butter with soy nut butter.
To make this smoothie gluten-free, use certified gluten-free oats.
Keywords: dalgona, coffee, smoothie, whipped, easy, quick, drink, cold, breakfast, caffeine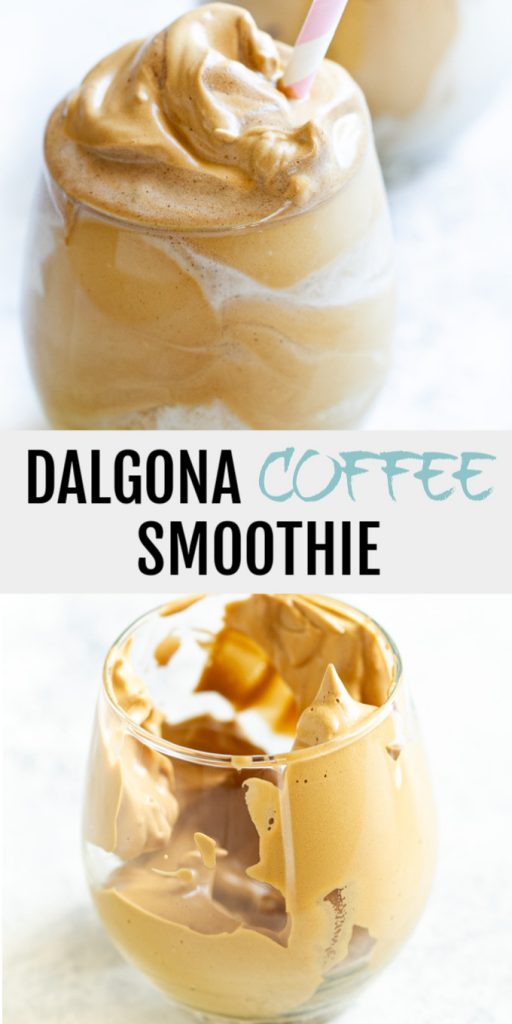 Looking for more healthy smoothie recipes? Try one of these!
Banana Latte Overnight Oatmeal Smoothie
Mocha Overnight Oatmeal Smoothie
Blueberry Avocado Smoothie
Frozen Hot Chocolate Breakfast Smoothie
Snickerdoodle Overnight Oatmeal Smoothie

*Disclosure: Some of the links included in this post may be affiliate links, meaning I'll earn a small commission if you purchase through them, at no additional cost to you. I only recommend products I personally use and believe will add value to my readers. Thank you so much for helping support Spoons!