Dalgona coffee is a deliciously smooth and creamy whipped coffee made from 3 simple ingredients. A perfect way to enjoy fancy coffee at home, and so easy to make that anyone can do it!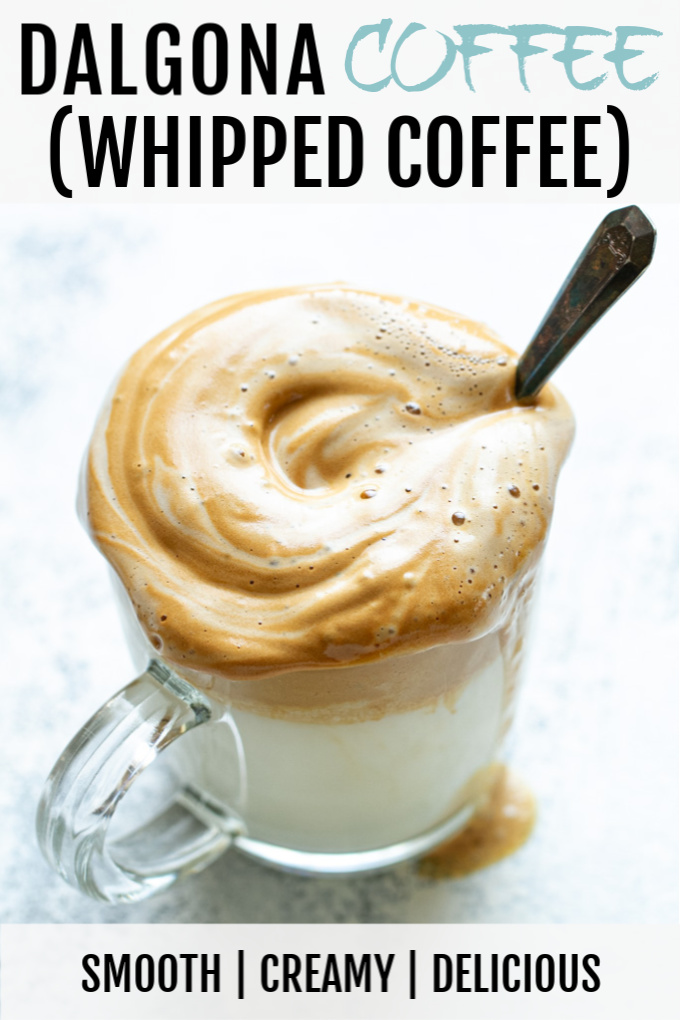 I am SO excited to share today's recipe with you guys! Well, excited and hyper. You'll see why in a second.
But before we jump into things, I need to start by saying that I in no way take credit for this recipe. I'm not sure who the original creator is, but I have a feeling it's one of those "this is how you cook quinoa" or "this is how you make your own oat flour" types of things. It just is.
Either way, it's been blowing up on social media lately, and I felt like I needed to share it with you guys on Spoons in case you haven't seen it yet.
So, friends, I give you whipped coffee. Or Dalgona coffee as it's properly referred to.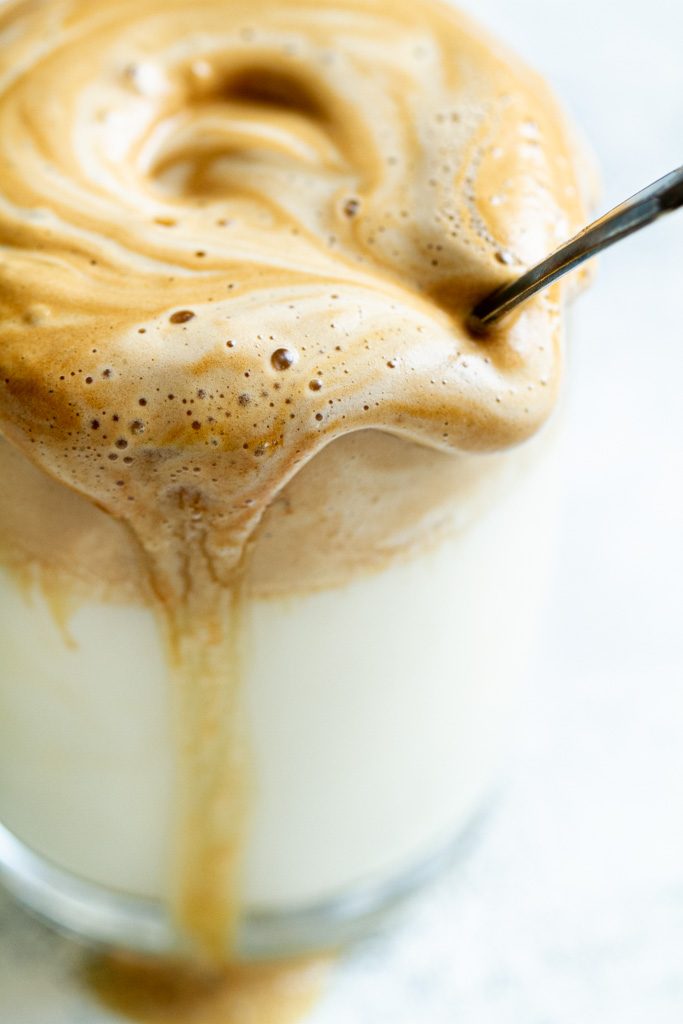 What is Dalgona Coffee?
Essentially, it's a whipped coffee foam made from equal parts instant coffee, sugar, and water. You whip those three ingredients [vigorously] until you get a thick, airy foam which you then spoon onto hot or cold milk to get a fancy latte-esque drink. And, you guys, it is ah.maze.ing.
I originally tried it because I was intrigued and thought to myself "no way is this going to work," and now I have a new favourite way to drink coffee. It's especially perfect during these times of social distancing because it lets you enjoy a fancier latte-esque drink when coffee shops are closed.
And trust me… it really does feel indulgent and special. Something you can just sit and relax and breathe with for a couple of minutes during these crazy times.
It's the little things, right?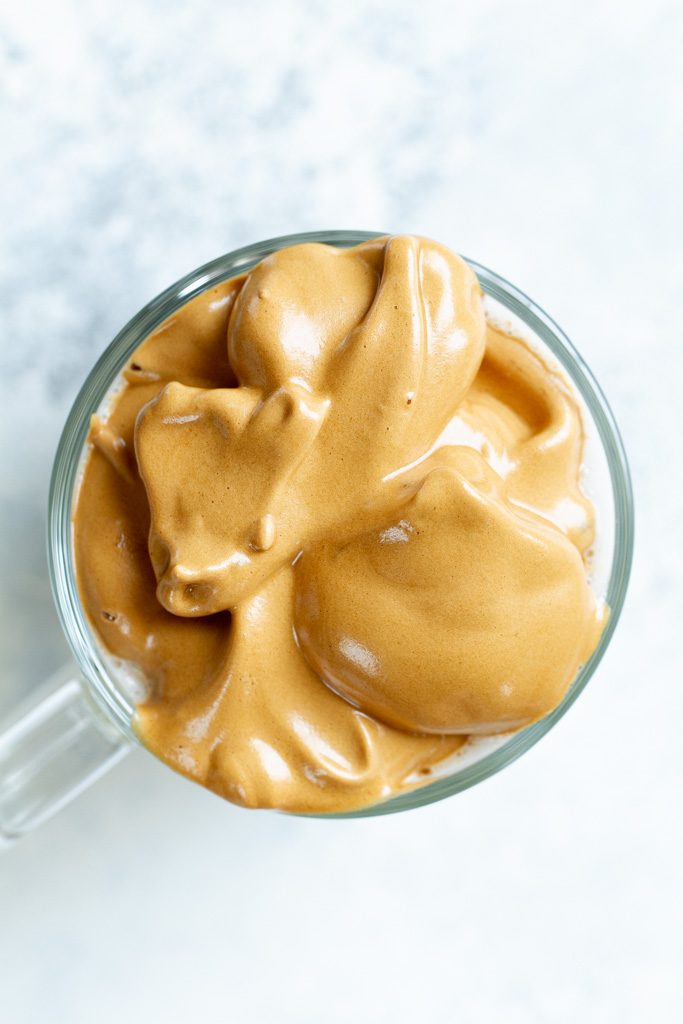 How To Make Dalgona Coffee
So you'll only need three ingredients:
Instant coffee (I like this one)
Sugar
Water
That's it! And it does have to be instant coffee. I've read in some versions that really strong drip coffee could work, but it's more prone to flopping and involves extra steps so I like to go with the instant coffee. Caffeinated or decaffeinated – both work.
As for sugar, I've used cane sugar and coconut sugar and both worked fine so I'm going to say that any sort of granulated sweetener will do the job. I've heard that liquid sweeteners like honey work as well, but it won't fluff up as much or stay fluffy for as long. If you want the full experience, go with a granulated sugar.
Alright. Now that we've got our ingredients assembled, all that's left to do is put them in a mixing bowl in equal amounts (2 Tbsps of each) and get mixing!
Stand/Hand Mixer Method
So this one is BY FAR the easiest way. Using the whisk attachment, set your stand or hand mixer to the highest setting and whisk for 2-3 minutes until you get a thick, airy foam. Easy peasy.
Manual Method
It's apparently doable, but I haven't tried it personally because I have the arm strength of a baby t-rex. But if you're interested, you'll need to use a whisk to vigorously whisk the ingredients together until you get a thick, airy foam. This could take anywhere from 5-15 minutes and leave you pretty tired, which is why I recommend a mixer method.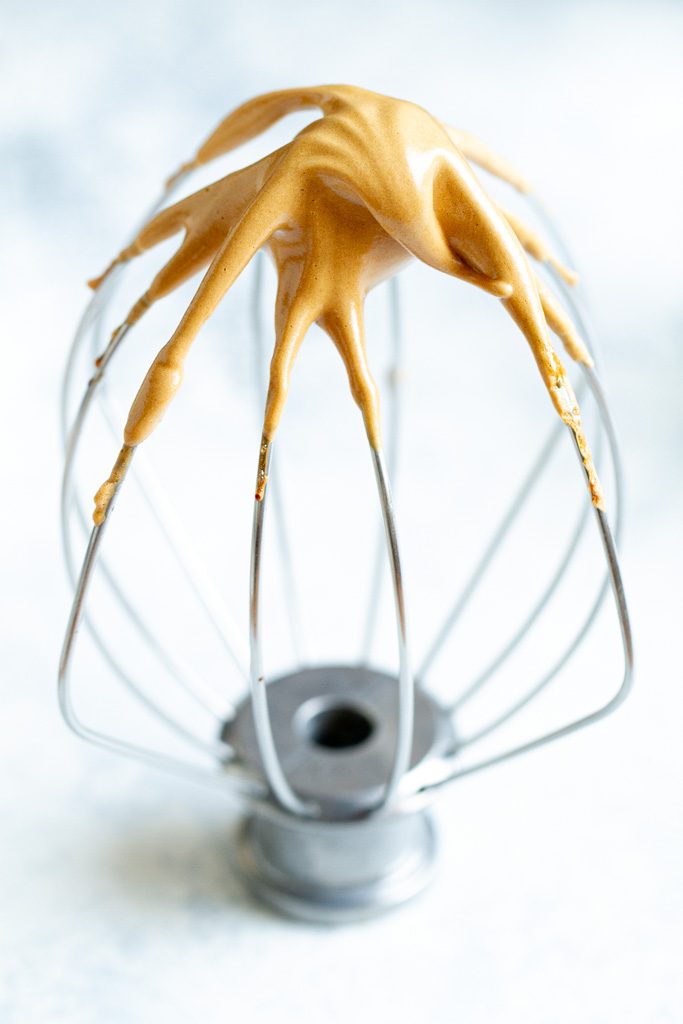 Putting It All Together
Once you have a thick foam (pictured above), dump spoonfuls of it into a mug of either hot or cold milk. Both are delicious – it really just depends on your mood. And the weather.
Oh, and I don't recommend filling your mug as full as I've shown here – that was mostly for visual appeal and not really at all practical. The foam is thick and it's kind of hard/messy to get through if your glass is overflowing. It's also better if you stir it into the milk a little bit. That way you get a smooth and creamy latte-esque drink rather than the contrast of really strong coffee foam followed by plain milk. But you do you! Experiment!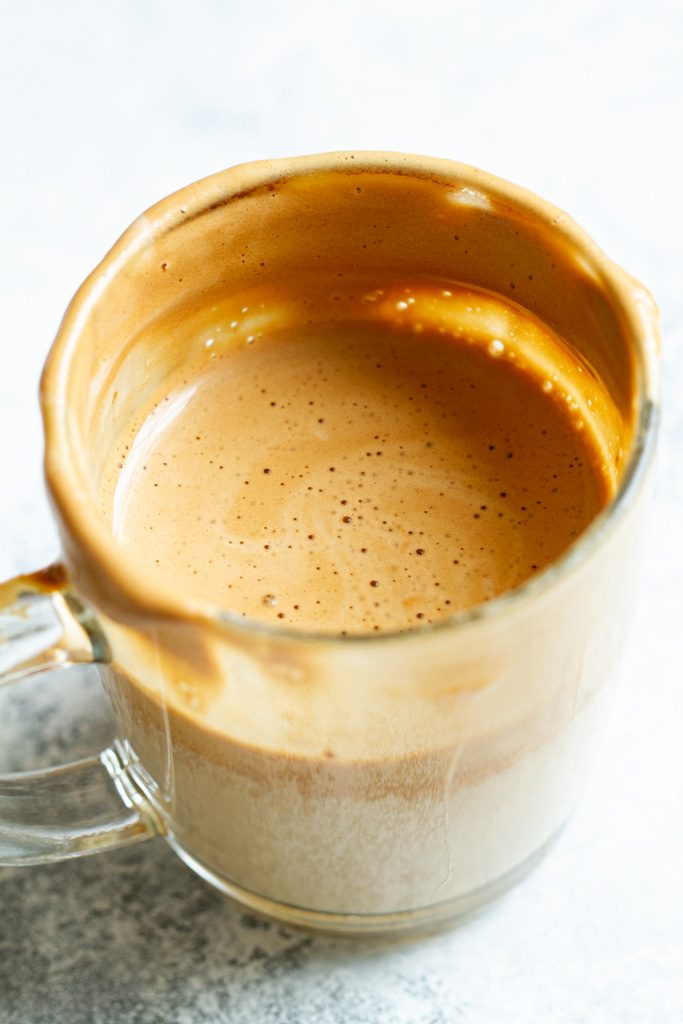 Okay, But What's It Like?
Indulgent and special. A mug of coffee that you can just wrap both hands around and really relax with for a few minutes. The foam itself is sweet and has a strong coffee flavour, but it gets milder when combined with milk.
Depending on how you prepare it, you can have a thick, smooth, and creamy latte-esque drink (are you tired of me saying that yet?), or plain milk contrasted by a strong coffee foam. It's up to you! I really encourage you to try different ways of preparing it to find your favourite one, though. I love mixing it into the milk to get a really thick and creamy coffee, but sometimes the foam on top is really nice too.
Either way, it allows you to enjoy a deliciously fancy coffee drink at home. Use hot milk to give it a cozier vibe or cold milk to make it more refreshing. Oh, and use a non-dairy milk to make it vegan.
Happy eating drinking!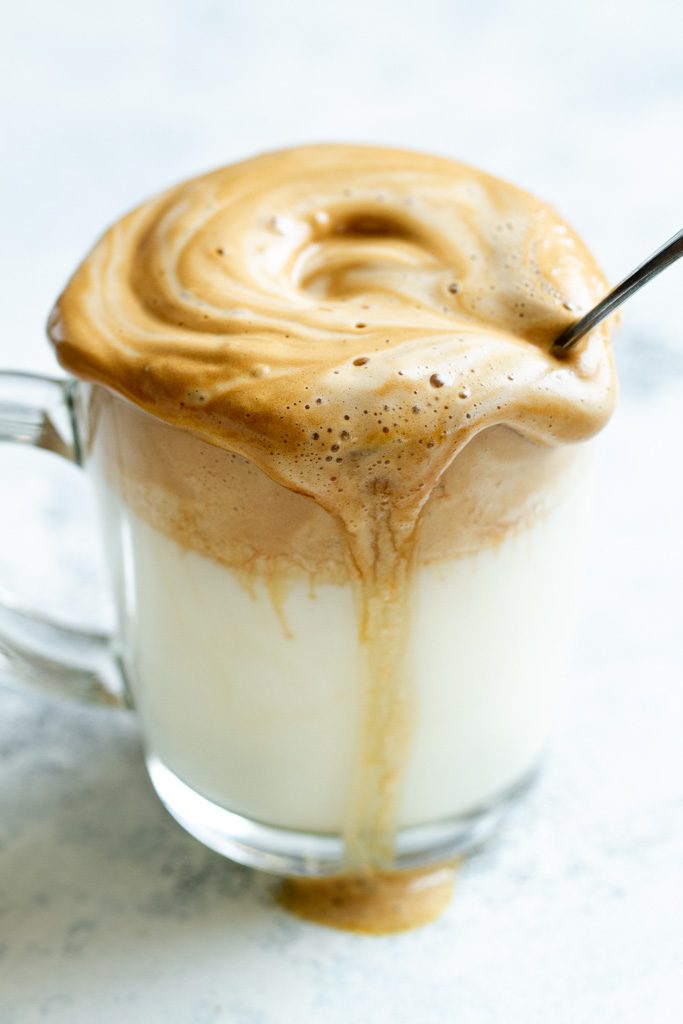 I'd love to know if you make this recipe! Leave a comment and rating down below to let me know what you think, and subscribe to our mailing list to receive new recipes in your inbox!
Print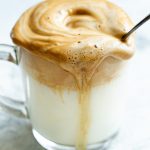 dalgona coffee (whipped coffee)
---
Author:

Total Time:

5 minutes

Yield:

2

servings

1

x
2 Tbsp

(

12 g

) instant coffee granules*

2 Tbsp

(

24 g

) granulated sugar**

2 Tbsp

(

30

ml) warm or hot water

1 1/2 cups

(

360

ml) milk of choice
---
Instructions
Add the coffee, sugar, and water to a medium-sized mixing bowl or the bowl of a stand mixer.
Using the whisk attachment, turn your stand or hand mixer to the highest setting and mix until a thick pale foam forms, about 2-3 minutes.***
To serve: fill your mug with 3/4 cup (180 ml) of either hot or cold milk. Use a spoon to scoop up the foam and place it on top of the milk, repeating until you have your desired amount of foam. You can either leave it this way or mix the foam into the milk to create a smoother, thicker coffee. Try different ways to find your favourite!
To store: put any extra into a sealed container and keep in the fridge. Foam should keep for a few days if you want to make it ahead of time.
Notes
* You can use either caffeinated or decaf instant coffee. It does have to be instant, though.
** I've used both cane and coconut sugar and both work fine. You could use a liquid sweetener like honey, but it won't fluff up as much of stay fluffy for as long. Stevia works as well, but the taste comes through a lot and you have to use a little less.
*** You can also do this by hand using a rounded whisk, but it will take a lot longer – around 10 minutes of vigorous whisking.
**** Nutritional info is calculated using unsweetened almond milk. Will vary depending on the milk you use.
Keywords: dalgona, coffee, whipped, easy, quick, hot, cold, drink, caffeine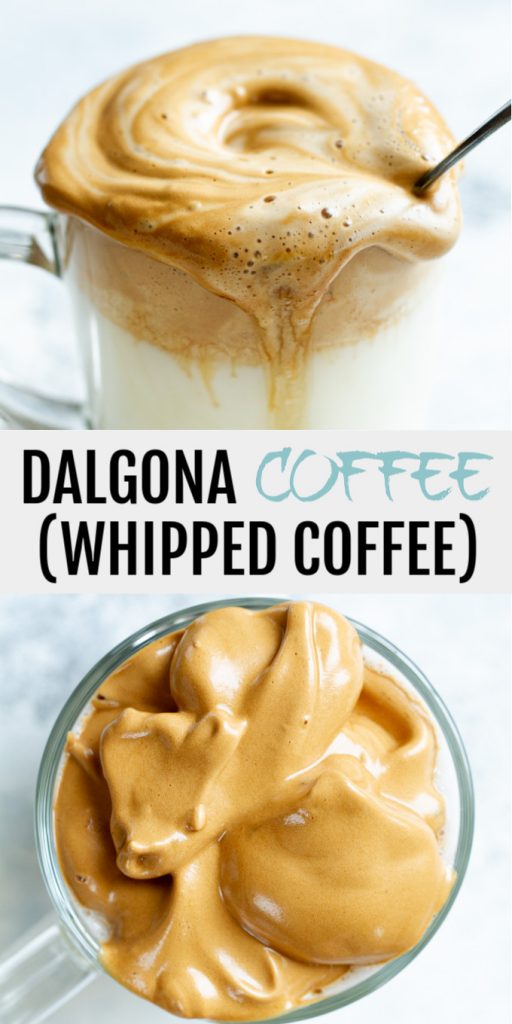 Looking for a sweet treat to enjoy with your coffee? Try one of these!
Soft and Chewy Oatmeal Cookies
Easy Vegan Chocolate Muffins
Greek Yogurt Banana Oat Bread
Flourless Banana Brownies
Cherry Almond Oat Bars

*Disclosure: Some of the links included in this post may be affiliate links, meaning I'll earn a small commission if you purchase through them, at no additional cost to you. I only recommend products I personally use and believe will add value to my readers. Thank you so much for helping support Spoons!