Healthy Banana Oat Muffins made with NO butter or oil, but so soft and tender that you'd never be able to tell! Beautifully domed muffins loaded with plenty of banana flavour, they make a deliciously healthy breakfast or snack!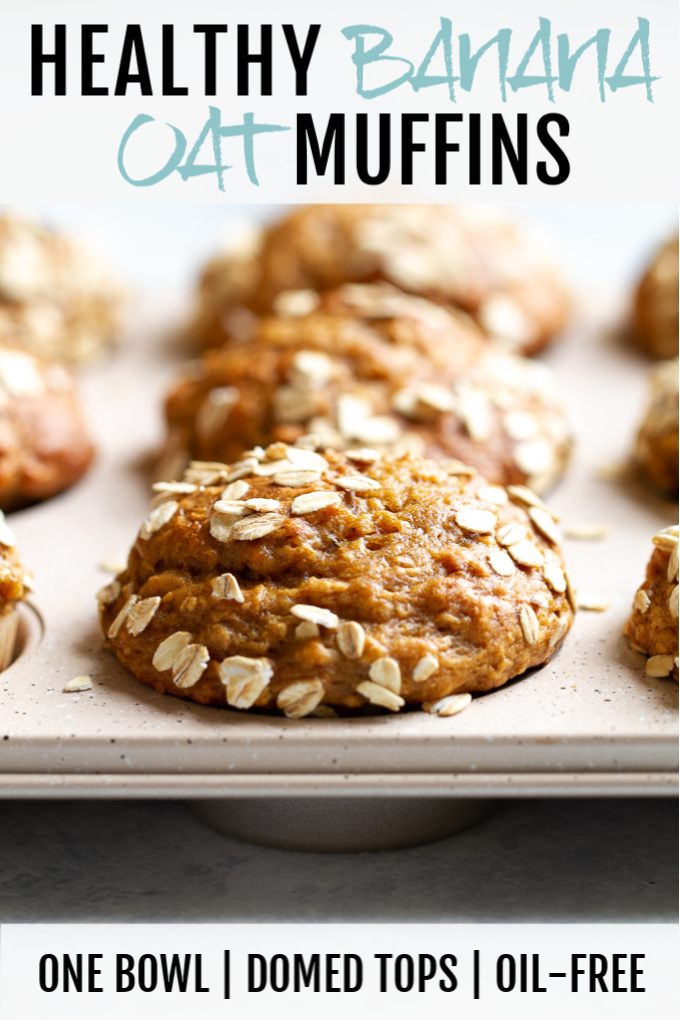 It's been a while since muffins made with regular flour made an appearance on Spoons! But after coming across a lone bag of flour on my last trip to the grocery store, I figured it was time to switch things up and give it a go again.
Uhm. Let's just say it took a few failed trials to remember what I was doing. And by "a few failed trials" I mean you probably wouldn't want to eat those muffins. See, I'd been making flourless oat-based blender muffins for so long that it took a second to remember proportions and mixing techniques – both pretty important when working with regular flour.
But on the bright side, the failed trials reminded me of what doesn't work and helped me pick up a tips on how to achieve gloriously fluffy muffins with beautifully domed tops.
Kind of like the ones in these healthy banana oat muffins. Keep reading for the recipe plus tips that you can apply to basically any muffin recipe to get nice domed tops.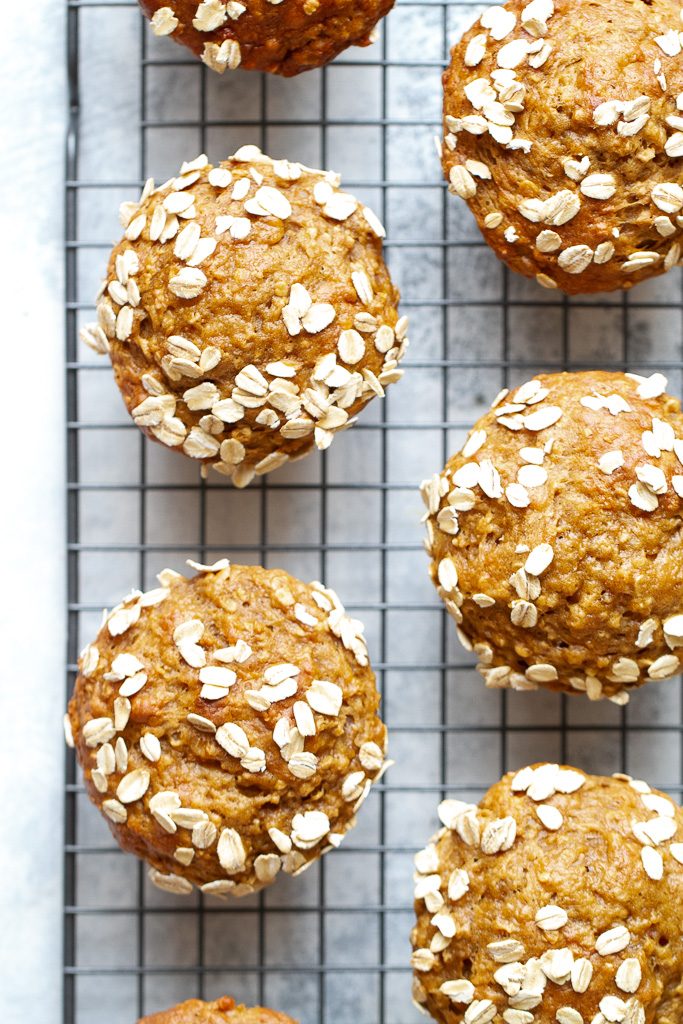 How To Make Healthy Banana Oat Muffins
All the ingredients get combined in ONE BOWL, so grab one that's nice and big to make mixing easier.
Start with the wet ingredients. Break the eggs and beat them a few times to combine the yolks with the whites. Then add the mashed bananas, yogurt, sugar, and vanilla. Stir in the oats along with the baking powder, baking soda, and salt.
I used coconut palm sugar for my sweetener, but you can replace that with brown or cane sugar as well. Maple syrup will also work, but it will change the texture of the muffins a little bit and you'll have to use less – maybe 6 Tbsp (90 ml).
You can also use regular yogurt instead of Greek. And it can be flavoured/sweetened if that's all you have, but that will affect the flavour and sweetness of the muffins.
When it comes time to add the flour, add it slowly and mix it into the batter gently. Some lumps are totally fine if it means mixing fewer times. You want to handle the batter as little as possible after the flour goes in.
I used all-purpose flour because it was all I could find, but you can swap half of it for whole wheat flour. So it would be 3/4 cup (90 g) all purpose and 3/4 cup (90 g) whole wheat flour.
I really recommend either using parchment paper liners or greasing your muffin cavities well. These muffins will probably stick to paper liners.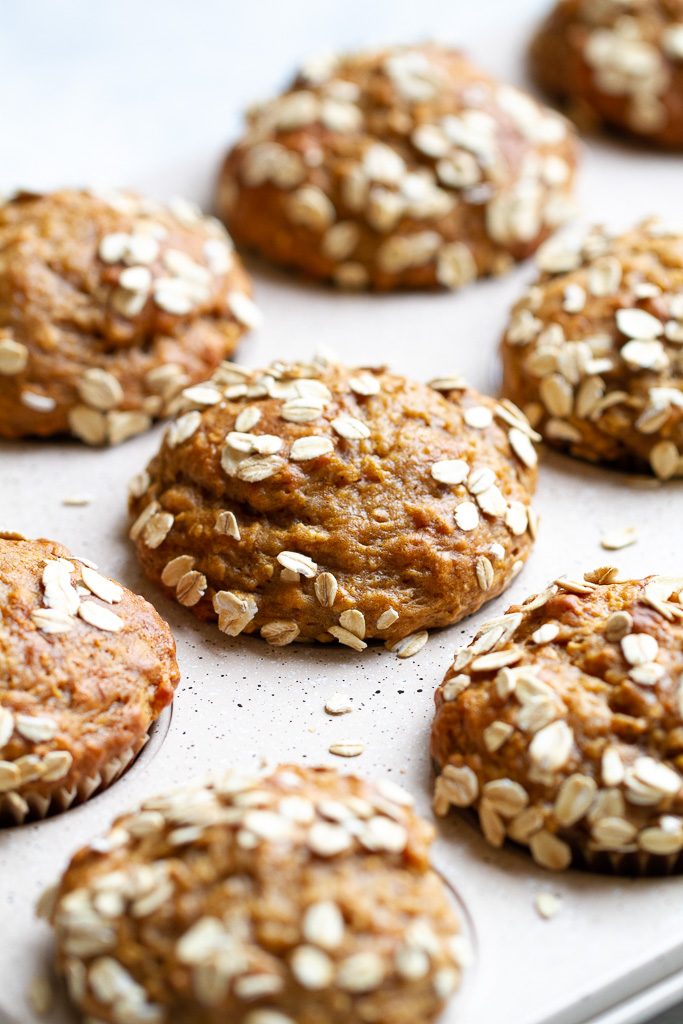 How To Get Muffins With Domed Tops
I did a little bit of experimenting and researching to figure out how to get those nice domed muffins tops, and these are some of the tips I picked up:
Flour matters! A whole wheat flour will never rise as much as a white flour because it's heavier. If you really want to cut back on the white flour, use a combination of half whole wheat and half white for best results.
Temperature matters! A starting temperature of 425ºF (218ºC) gives the muffins a nice big boost of heat which allows the tops of the muffins to rise, set, and hold their shape while the rest of the muffin continues to cook. But only keep them at this temperature for 5 minutes and then turn the oven down to 350°F (176°C) for the remainder of the baking time. This prevents them from burning to a crisp.
Baking powder and baking soda matter! You always want to make sure your leaveners are fresh – never more than 6 months old. And to get nice domed tops, you want to use more baking powder. The general rule is 1 tsp of baking powder per 1 cup of flour, but in this case we use 1 1/2 – 2 tsps per cup of flour.
The way you mix the batter matters! Never, ever, ever mix your batter too vigorously or for too long. You want the flour to just barely be combined into the wet ingredients, and as soon as it disappears, STOP. This is because mixing flour with liquids activates the formation of gluten and the more you stir or knead the batter or dough, the longer and tougher those gluten molecule chains get. This in turn makes baked goods tough, gummy, chewy, and unevenly cooked. To avoid this, handle the batter as little as possible.
How much you fill your muffin cavities matters! Fill them all the way to the top. All the way! And you can even overfill them a little bit. More batter = more muffin, and I promise you (with this recipe at least) that the batter won't spread and leak off the side of the muffin pan to form a molten lake at the bottom of your oven. This might mean that you only get 10 muffins instead of 12 but they'll be 10 gloriously fluffy and dome-y muffins.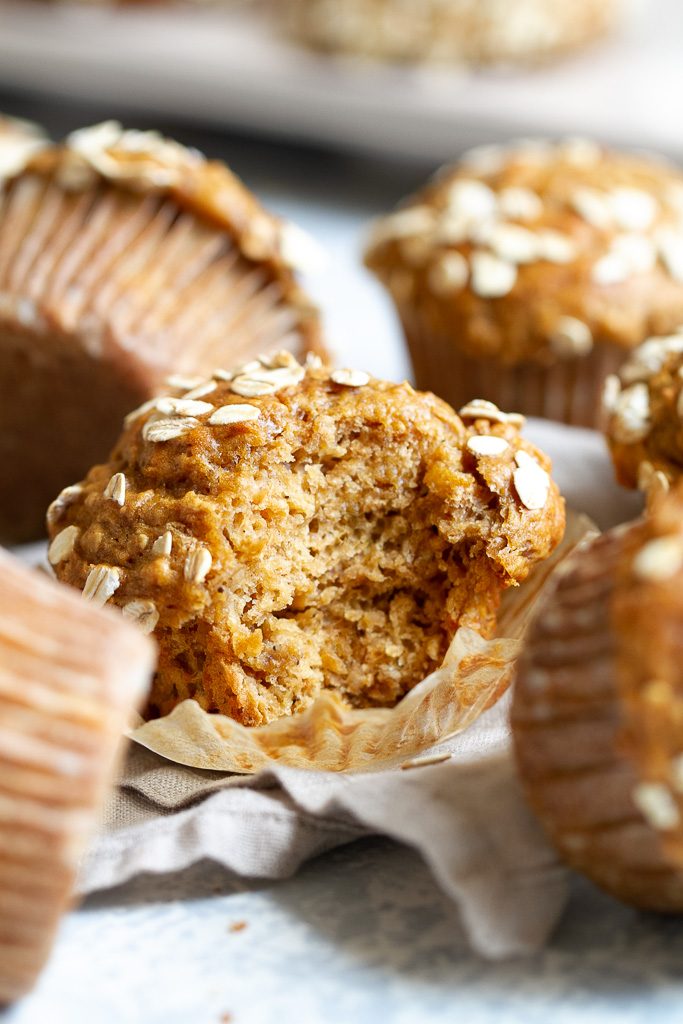 Okay, But What Are They Like?
Soft, tender, loaded with flavour, and soooo fluffy. I mean, just look at the inside of those little guys! You'd really never be able to tell that they're made without any butter or oil. AND! as an added bonus, you get those beautifully domed tops that make muffins look so much more appealing.
The whole recipe is made in one bowl to keep things simple, and while adjusting oven temperatures mid-bake might seem like a pain in the butt, I've found the easiest way to deal with it is to set the timer on your phone to 5 minutes, do the cleanup, lower the temperature when the timer goes off, and then re-set a timer for another 15 minutes. Easy peasy.
You can also toss in some add-ins like chocolate chips, dried fruit, or nuts, depending on what you're craving at the time.
Happy eating!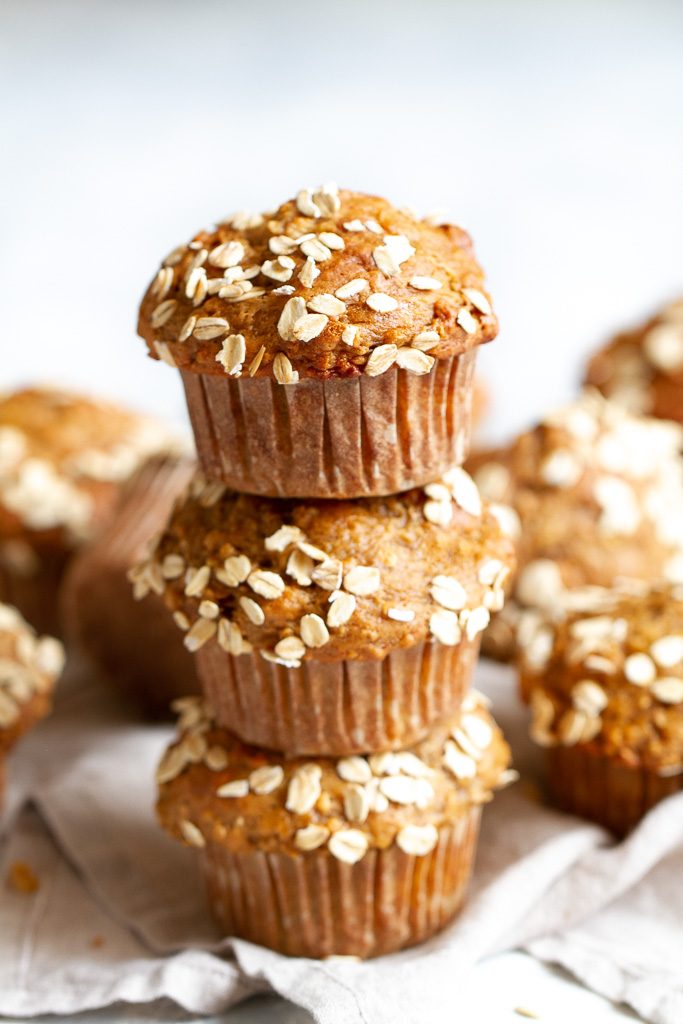 I'd love to know if you make this recipe! Leave a comment and rating down below to let me know what you think, and subscribe to our mailing list to receive new recipes in your inbox!
Print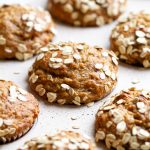 healthy banana oat muffins
---
Author:

Total Time:

30 minutes

Yield:

12

muffins

1

x
2

large eggs

1/2 cup

(

115 g

) plain 2% Greek yogurt

2

medium-sized ripe bananas, mashed (

240 g

or

1 cup

)

1/2 cup

(

100 g

) coconut palm sugar*

1 tsp

vanilla extract

3/4 cup

(

60 g

) quick oats

2 tsp

baking powder

1/2 tsp

baking soda

1/4 tsp

salt

1 1/2 cups

(

180 g

) all purpose flour**
optional: 1/2 cup of add-ins like chocolate chips, druid fruit, nuts
---
Instructions
Preheat your oven to 425ºF (218ºC) and prepare a muffin pan by lining the cavities with parchment paper liners or greasing them with oil. Set aside.
In a large mixing bowl, lightly beat the eggs until the yolks break apart. Whisk in the yogurt, mashed bananas, sugar, and vanilla, mixing until smooth.
Stir in the oats, baking powder, baking soda, and salt. Finally, spoon in the flour and gently stir it in until just combined, making sure to not overmix. If you're using any mix-ins, fold them in now.
Spoon the batter into the prepared muffin cups, filling them right to the top. You can sprinkle some oat flakes on top of each muffin if you want.
Bake the muffins at 425ºF (218ºC) for 5 minutes. Then, without opening the oven door, lower the temperature to 350°F (176°C) and bake for an additional 15-17 minutes. The tops of the muffins should begin to turn golden brown and a toothpick inserted into the center should come out clean. Allow the muffins to cool in the pan for 10 minutes before transferring them to a wire rack to cool completely. As soon as they've cooled, transfer them to an airtight container and store them at room temperature for up to 5 days, or freeze for up to 3 months.
Notes
* You can also use brown sugar or cane sugar. A liquid sweetener like maple syrup or honey will also work, but decrease the amount to about 6 Tbsp (90 ml).
** You can also use a mix of all purpose and whole wheat flours. Use 3/4 cup (90 g) all purpose and 3/4 cup (90 g) whole wheat.
Prep Time:

10 mins

Cook Time:

20 mins
Keywords: banana, muffins, oats, breakfast, Greek yogurt, healthy, recipe, snack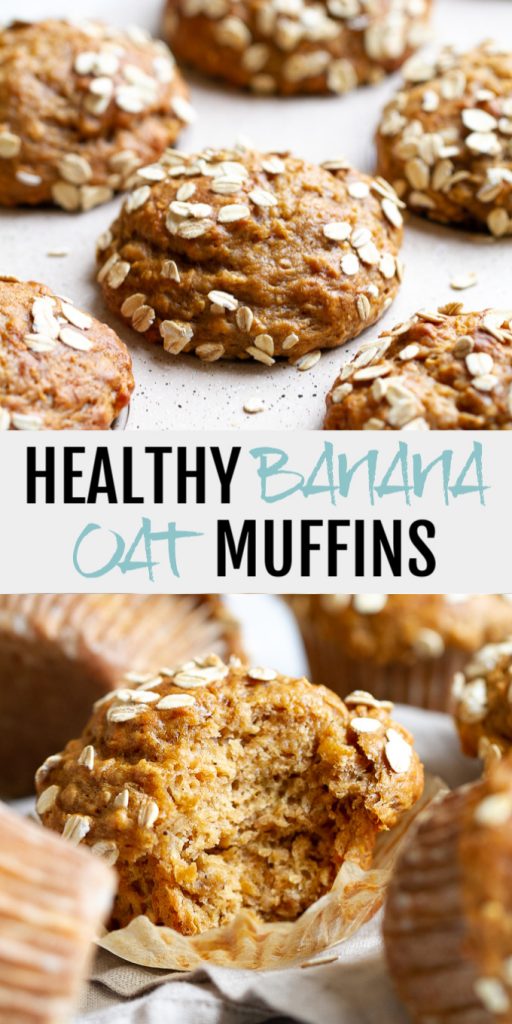 Looking for more healthy muffin recipes? Try one of these!
Banana Oat Greek Yogurt Muffins
Easy Vegan Chocolate Muffins
Blueberry Oat Greek Yogurt Muffins
Easy Morning Glory Muffins
Healthy Banana Nut Muffins

*Disclosure: Some of the links included in this post may be affiliate links, meaning I'll earn a small commission if you purchase through them, at no additional cost to you. I only recommend products I personally use and believe will add value to my readers. Thank you so much for helping support Spoons!