A quick and easy black bean taco filling that even meat eaters will love! Loaded with flavour and packed with plant-based protein, it makes a perfect vegan option for your next taco night!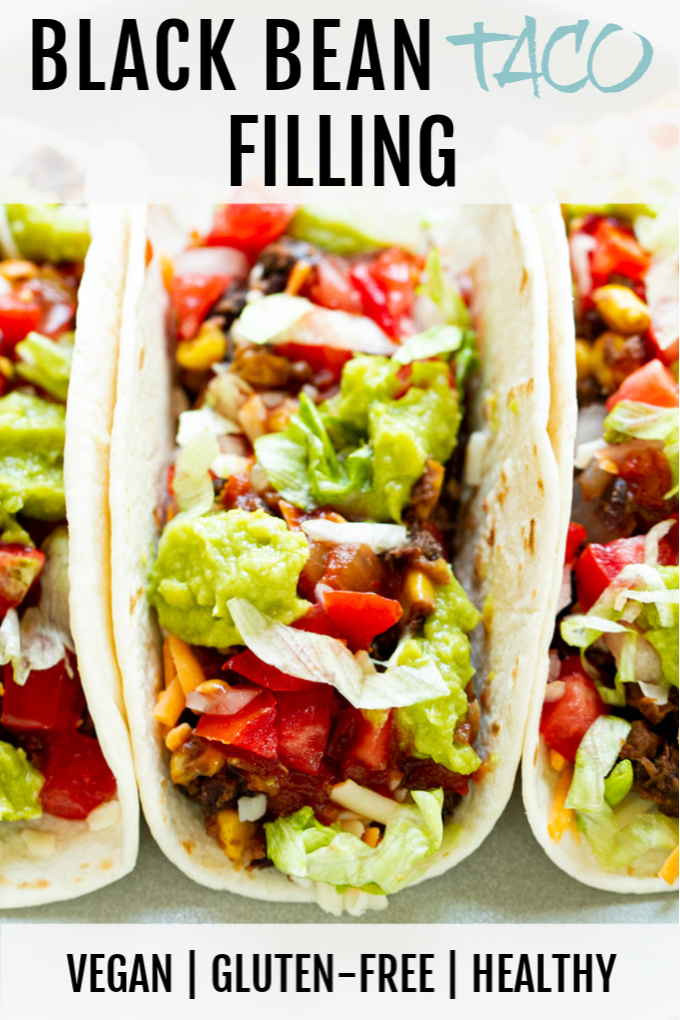 I know it might not seem it based on the last two savoury recipes I posted, but I do eat things other than Mexican-esque foods. Sometimes. If I can't avoid it. Because, honestly, if you can't top it with salsa and guac, is there really a point?
Okay, okay, okay. I know. Other cuisines are delicious too – I'm just really partial to Mexican (probably because of the aforementioned salsa and guac). I'm also really partial to tacos. Especially ones with black bean taco filling.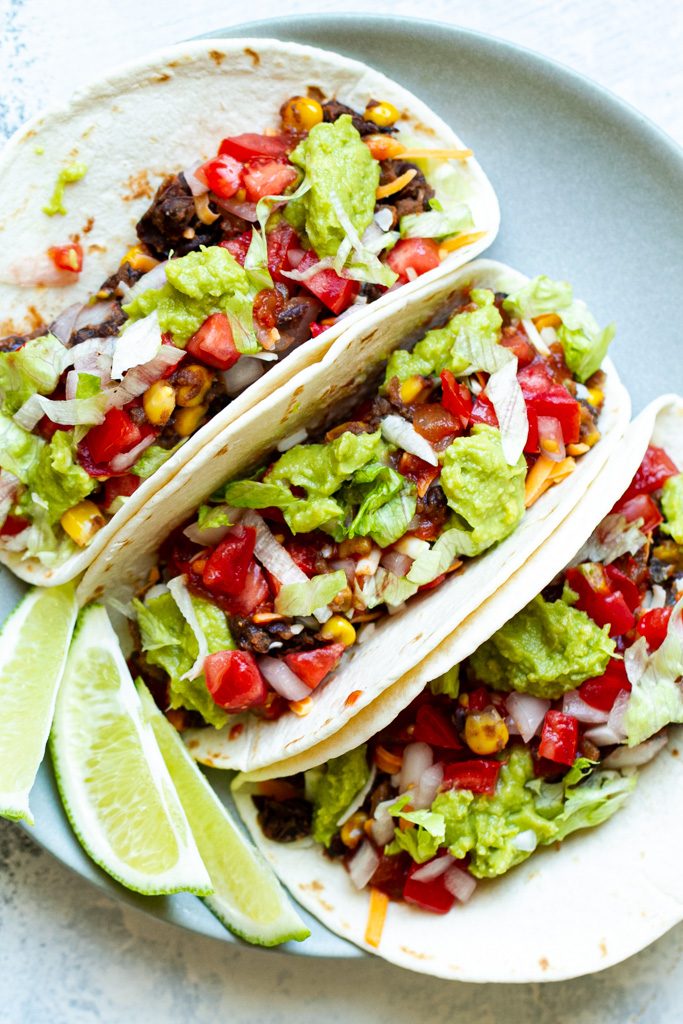 How To Make Black Bean Taco Filling
It's so easy and quick! It only takes about 15-20 minutes from start to finish.
Start by sautéing a diced onion in a medium skillet set over medium heat. Stir it every once in a while to make sure it doesn't burn, and let it cook until it begins to turn translucent.
While the onion is sautéing, use a potato masher or the back of a fork to mash half the beans. I've found the easiest way to do this is to transfer half the beans to a plate and mash away. The reason we only mash half of them is to create a more interesting texture. The mashed beans help hold everything together, while the whole beans still give you something to bite into. Those all go into the skillet.
Here you've got a choice! The recipe calls for corn but you can sub it out for diced bell pepper based on preference or dietary needs. We've done both and they're both good, but I prefer the corn because I find the sweetness adds a nice contrast to the spiciness of the beans. That goes into the skillet too.
Spices! I know it looks like a lot, but I promise you that your tongue won't be on fire. The filling does end up being a little on the spicier side, but it gets a lot more mild when it's inside the tacos and loaded with toppings. Into the skillet they go.
Last comes salsa. This is used mostly to add moisture to the filling. The recipe calls for 1/4 cup, but if you still find it too dry for your liking, add more salsa.
The recipe will be enough to serve 4 people 3 tacos each. Of course, this will vary depending on how much you load up your tacos and how much you eat before actually getting it into a taco shell.
The filling is also really great as a dip with tortilla chips if you don't have taco shells on hand. Ot even as a topping for nachos.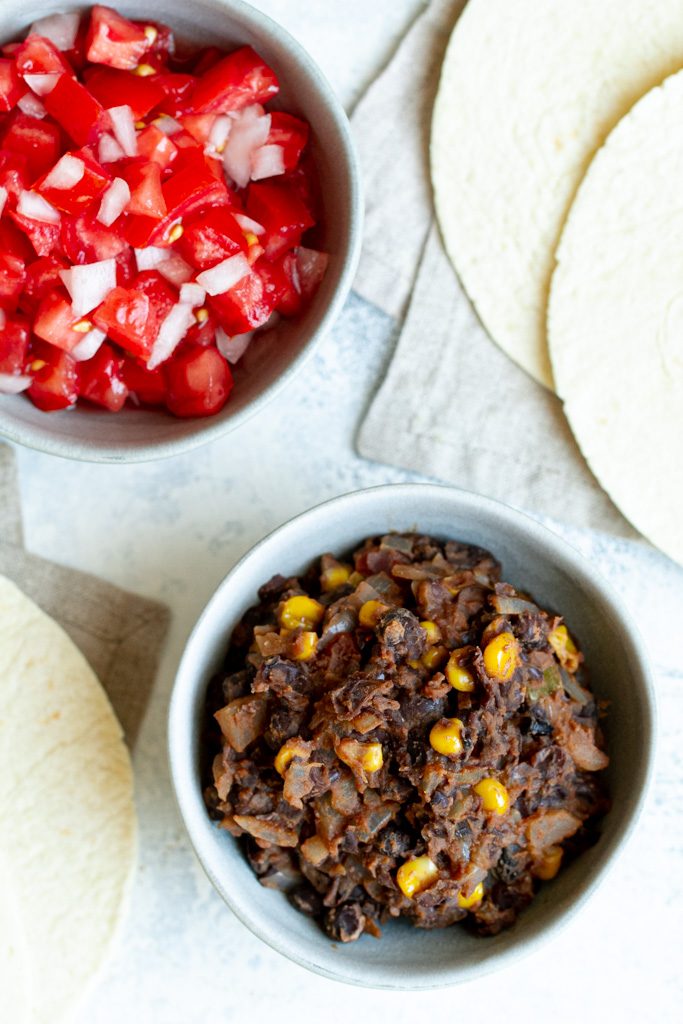 Okay, But What's It Like?
As someone who doesn't eat meat, this is by far my favourite taco filling at the moment. And even the boy, who's very much a meat eater, loves it.
It's packed with plenty of flavour thanks to all the spices, but it's not so spicy that you'll feel like your mouth is on fire. Believe me, I'm the biggest wimp when it comes to hot foods and even I don't have any issues with it. That being said, if you like things on the spicier side, definitely feel free to add more spices! Especially since it does tend to get a little milder when it's inside a taco shell and topped with a lot of toppings.
It's also got a really great texture, and it's juicy and "meaty" enough that you don't feel like you're missing out on the meat if that's what you're used to. Pack it in a taco shell and top it with things like cheese, guacamole, pico de gallo, shredded lettuce, and salsa, and you've got yourself some deliciously healthy vegan and gluten-free tacos for your next taco night. Or scoop it right out of the bowl with some chips!
Happy eating!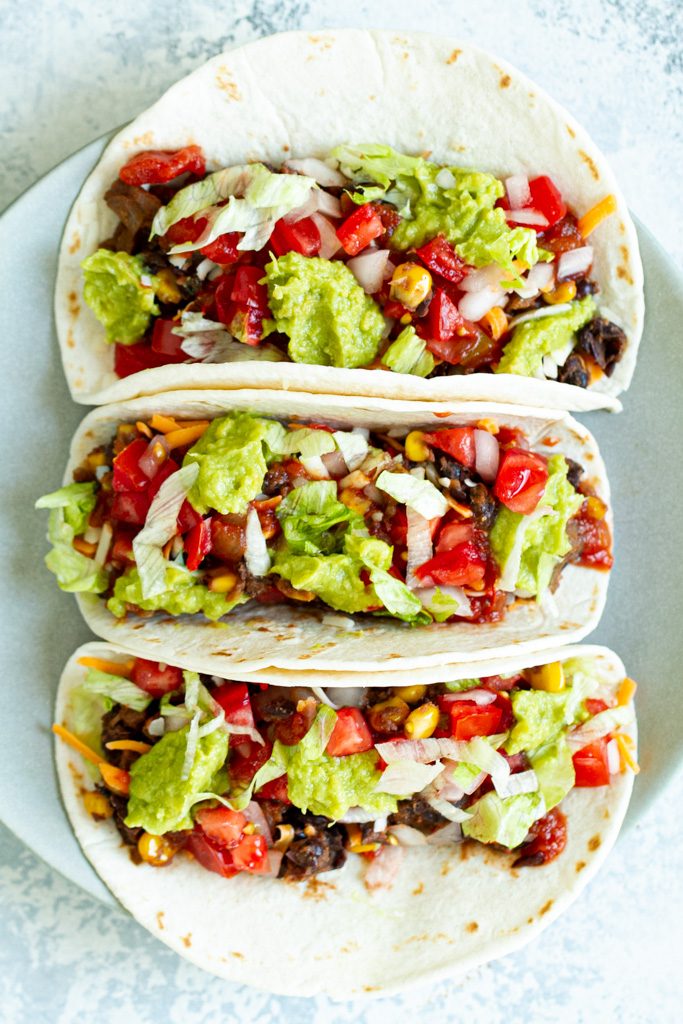 I'd love to know if you make this recipe! Leave a comment and rating down below to let me know what you think, and subscribe to our mailing list to receive new recipes in your inbox!
Print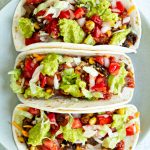 black bean taco filling
---
Author:

Total Time:

20 minutes

Yield:

4

servings of 3 tacos each

1

x
For the filling:
To serve:
8

–

12

hard or soft taco shells***
shredded cheese****
guacamole or diced avocado
pico de gallo or diced tomatoes
salsa
shredded lettuce
cilantro
---
Instructions
Add the oil to a medium skillet set over medium heat. When the oil is hot, add the onion and cook until it begins to soften, ~2 minutes, stirring occasionally.
Use a potato masher or the back of a fork to mash half the beans (~1 can's worth). Add all the beans along with the corn, spices, salt, and salsa to the skillet, mixing well to ensure that everything is evenly distributed. Cover and let cook for 5 minutes.
To serve, spoon desired amount of filling into hard or soft taco shells and top with toppings such as: cheese, pico de gallo, diced tomatoes, salsa, guacamole, avocado, shredded lettuce, cilantro, etc. Store any extra in a sealed container in the fridge for up to 5 days and reheat in the microwave before serving.
Notes
* You can replace this with 1/2 cup of diced bell pepper.
** The salsa is used mostly to add moisture. If you find the filling too dry for your liking based on the original recipe, add additional salsa.
*** If you need these to be gluten-free, make sure you use corn based taco shells and not wheat ones.
**** To make these vegan, use a non-dairy cheeze.
***** Nutritional info is for filling ONLY.
Prep Time:

15 mins

Cook Time:

5 mins
Keywords: black bean, tacos, mexican, gluten-free, vegan, dinner, easy, quick, recipe, healthy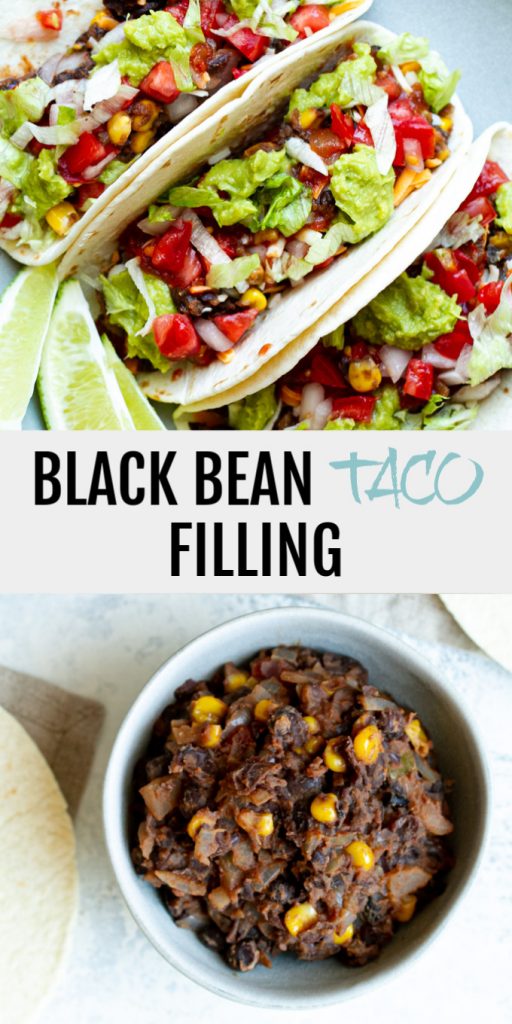 Looking for more healthy vegan recipes? Try one of these!
Instant Pot Black Bean Burrito Bowls
Loaded Sweet Potato Nachos
Instant Pot Taco Mac and Cheese
Cheezy Apple Cranberry Quinoa Stuffed Squash
Healthy Vegan Mac and Cheese

*Disclosure: Some of the links included in this post may be affiliate links, meaning I'll earn a small commission if you purchase through them, at no additional cost to you. I only recommend products I personally use and believe will add value to my readers. Thank you so much for helping support Spoons!