This two minute banana muffin is a perfect way to satisfy those snack cravings and takes under 5 minutes to make! It's vegan, gluten-free, and made with wholesome ingredients, but so light, fluffy, and tender that you'd never guess it was healthy!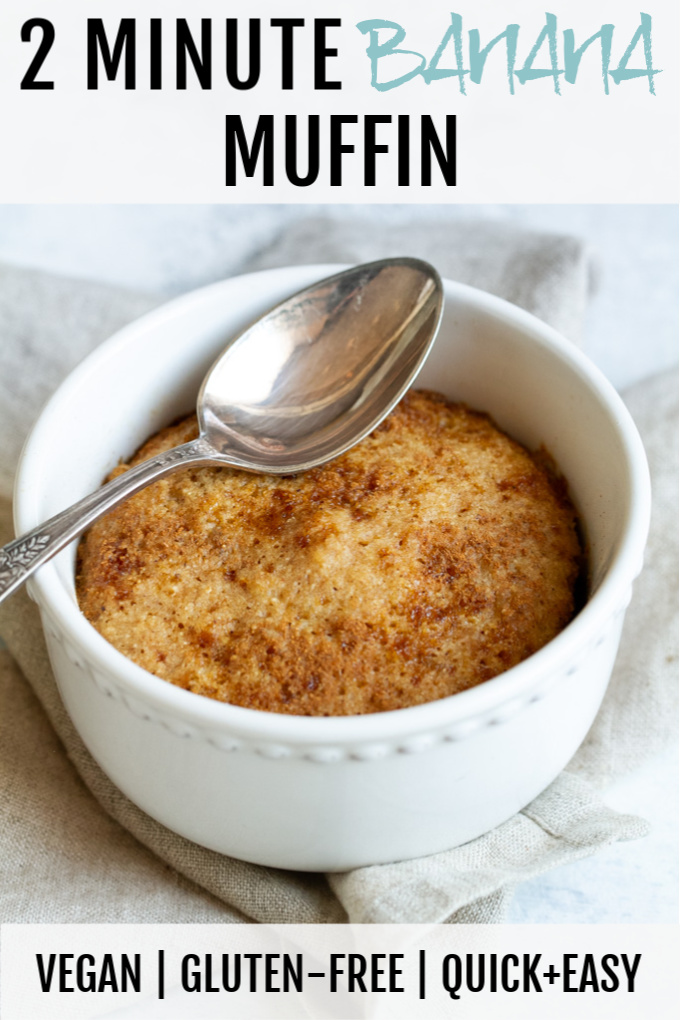 To go out and buy bananas or to stay home and continue the social distancing… that was the question.
In a weird twist of [current] events, the last time I went to the store, they were out of bananas but had plenty of toilet paper. Which I suppose is a good thing, but it kind of threw a wrench into my recipe schedule.
See, I love using bananas in recipes. They're healthy, they're sweet, and they're great to use in vegan baking since they act as a binder and a replacement for eggs. So what to do when there are no bananas at home?
Raid mom's kitchen! (With permission, of course). No lines, no people, plenty of spare bananas. So thank you, Mom, for allowing this two minute banana muffin to happen today.
But what even is a banana muffin that you can make in two minutes? Well, it's a single-serve muffin that you make in the microwave in about two minutes. Kind of like a mug cake, only slightly more doughy and fluffy. I was tempted to call it two minute banana bread because that's what it tastes/fees like, but it was hard to see a loaf in something that looks like a muffin.
So two minute banana muffin it was. And is.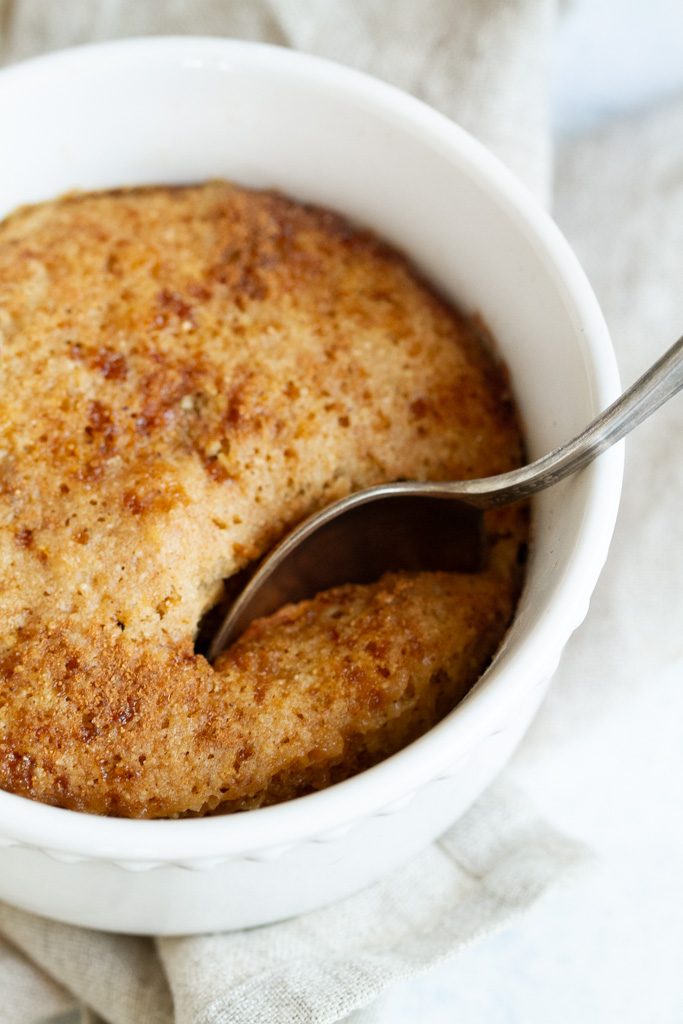 How To Make A Two Minute Banana Muffin
Start by mixing the dry ingredients together in a small bowl. You could technically mix them right in whatever dish you'll be tossing in the microwave, but I used an 8 oz. ramekin and those little guys don't leave much room for enthusiastic mixing. I found that prepping the batter in a small bowl and then transferring it to my ramekin worked best.
I tested a few different flour combinations, and found that oat flour + almond flour gave the most tender and least spongy result. 100% oat flour was way too dry/tough, and 100% almond flour was too gummy. 50/50 was juuuuust right.
After you add the wet ingredients to the dry ingredients, spend a few minutes mixing the batter so that the sugar granules have enough time to dissolve. It's not a huge issue if you don't, but you'll end up with a subtly speckled loaf.
Because microwaves have different strengths and I don't know what yours will be like in comparison to mine, the cooking time of 2 minutes is mostly a good guestimate. If you find that at 2 minutes your loaf isn't done, nuke it for another 30 seconds. If 2 minutes makes it too tough, try 90 seconds.
Feel free to add chocolate chips or nuts to your banana bread! I added chocolate chips to one test batch but, to be completely honest, I prefer my banana-based baked goods without any add-ins… I find they cover up the banana flavour too much and that's what I love most.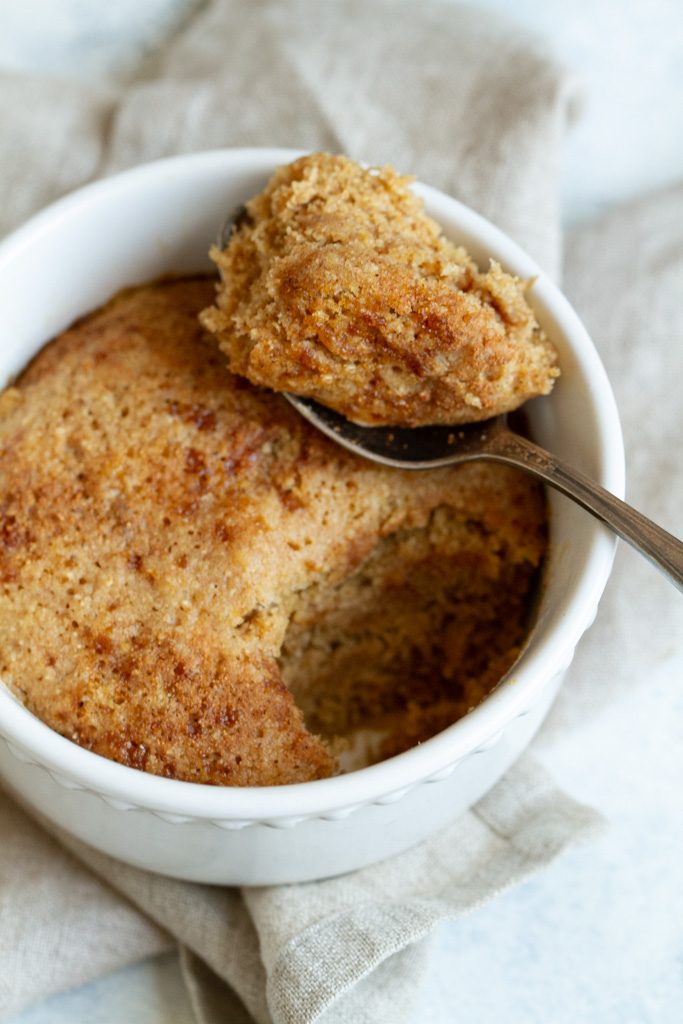 Okay, But What's It Like?
Like a slice of vegan and gluten-free banana bread!… only it cooks in two minutes instead of 45 and you get to eat the whole thing in one sitting.
It's tender, fluffy, and perfectly sweet with plenty of banana flavour. And the best part is that it's easy to make with ingredients that you probably have on hand… unless your store was out of bananas too.
Happy eating!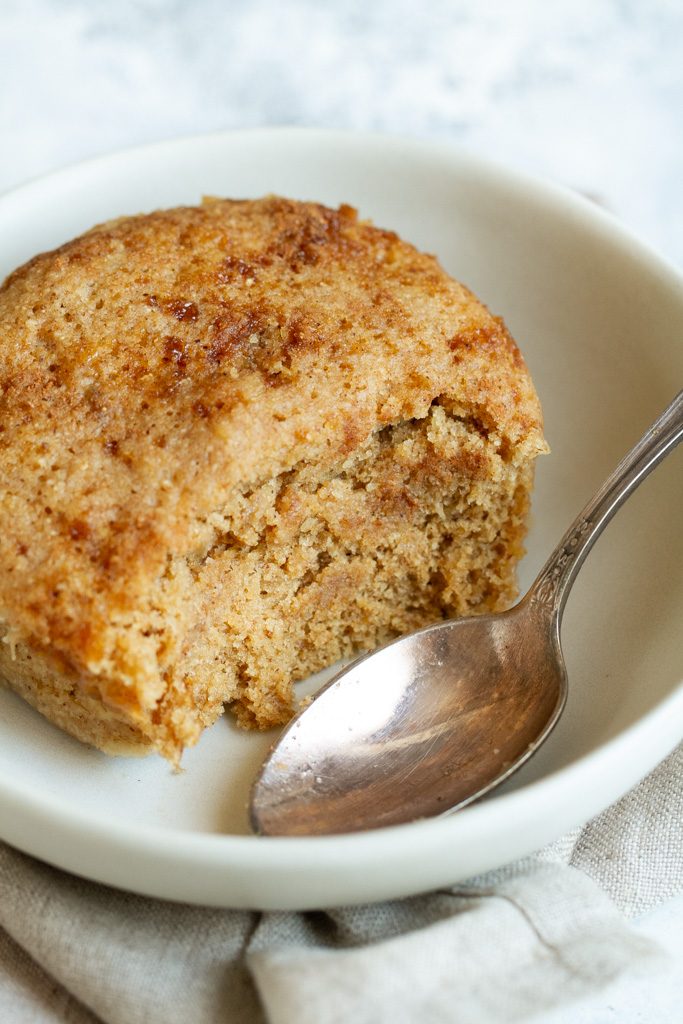 I'd love to know if you make this recipe! Leave a comment and rating down below to let me know what you think, and subscribe to our mailing list to receive new recipes in your inbox!
Print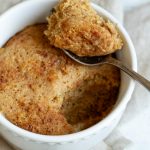 two minute banana muffin
---
Author:

Total Time:

7 minutes

Yield:

1

serving

1

x
2 Tbsp

(

14 g

) oat flour, gluten-free if needed

2 Tbsp

(

14 g

) almond flour

2 tsp

(

8 g

) coconut palm sugar*

1/2 tsp

baking powder
dash of cinnamon

1/2

medium-sized ripe banana, mashed (

50 g

or

1/4 cup

)

1 Tbsp

(

15

ml) unsweetened vanilla almond milk
optional: a sprinkle of cinnamon and sugar on top
---
Instructions
Add the oat flour, almond flour, sugar, and baking powder to a small bowl, mixing until well combined.
Add the mashed banana and almond milk to the flour mixing, stirring well to ensure that everything is fully incorporated and a smooth batter forms. Ideally, you want to mix until the sugar granules have dissolved. Transfer the batter to an 8 oz. ramekin or a small microwave safe mug.
Microwave on high for 2 minutes. If the muffin has not set by then, continue to microwave in 30 sec intervals until desired consistency is reached.
Carefully remove from the microwave (ramekin will be hot!), grab a spoon, and enjoy!
Notes
* You can also use brown sugar.
Prep Time:

5 mins

Cook Time:

2 mins
Keywords: banana bread, banana, mug cake, healthy, vegan, recipe, gluten-free, snack, dessert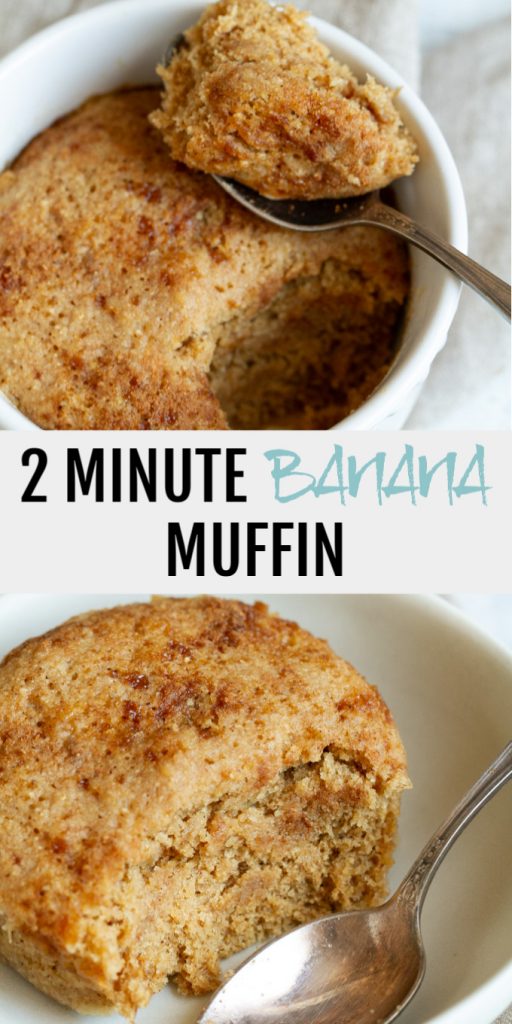 Looking for more healthy mug cake recipes? Try one of these!
Fudgy Two Minute Mug Brownie
Chocolate Chip Cookie Dough Mug Cake
Blueberry Banana Bread Mug Cake
Honey Almond Oatmeal Mug Cake
Two Minute Sweet Potato Brownie

*Disclosure: Some of the links included in this post may be affiliate links, meaning I'll earn a small commission if you purchase through them, at no additional cost to you. I only recommend products I personally use and believe will add value to my readers. Thank you so much for helping support Spoons!