Flourless Carrot Cake Muffins that are both healthy and indulgent! Subtly spiced and sweetened muffins are topped with a lightened-up cream cheese frosting in a delicious gluten-free treat that's sure to please.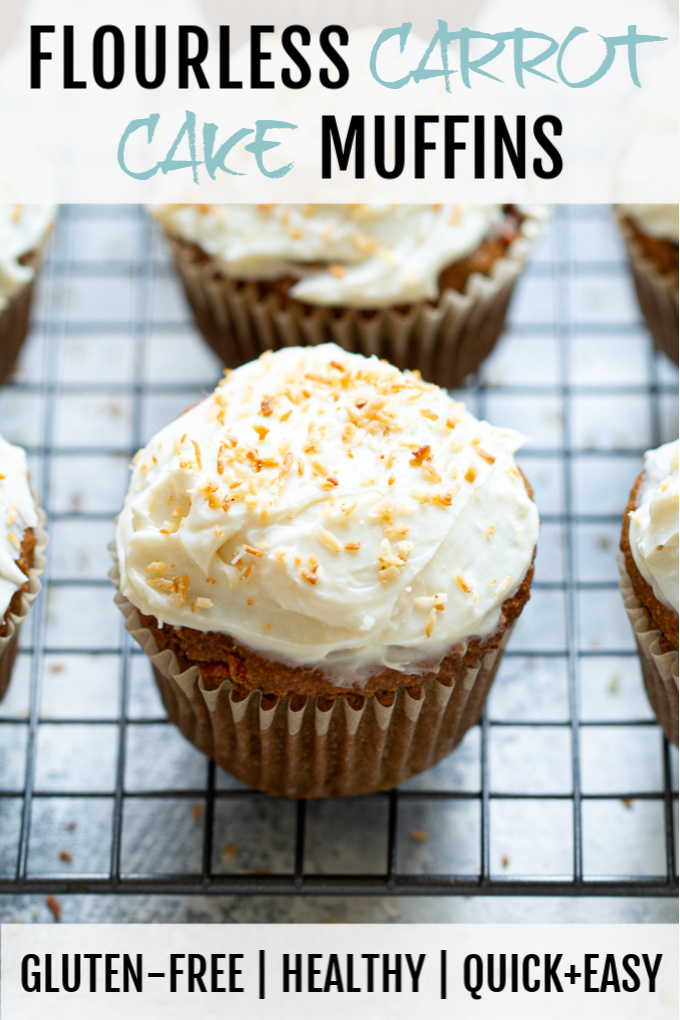 Frosting these flourless carrot cake muffins made me think of the cake tastings we did when we were looking for someone to make our wedding cake. Not sure why, but possibly because it was the last time I had anything with frosting on it.
In any case, it was a pretty bitter sweet memory because it was the last thing we were able to plan for our wedding, and that was almost 2 months ago. After that, lockdown went into place and planning became a lot more difficult, if not impossible.
Actually, even figuring out if we'll still be able to have our wedding is kind of tricky. It's not until September, but right now everything is at a standstill and we have no idea when this lockdown will be lifted.
That and we have a lot of people who'll have to travel, and I'm not sure that anyone is going to be super eager to hop on an airplane after all the fear surrounding travel.
So that's where we're at right now – trying to stay positive but also exploring other options like just having a tiny ceremony and then a bigger reception some time in the future when things have settled. Who knows. Only time will tell.
But enough about that. Let's talk flourless carrot cake muffins since I'm sure that's why you're all here.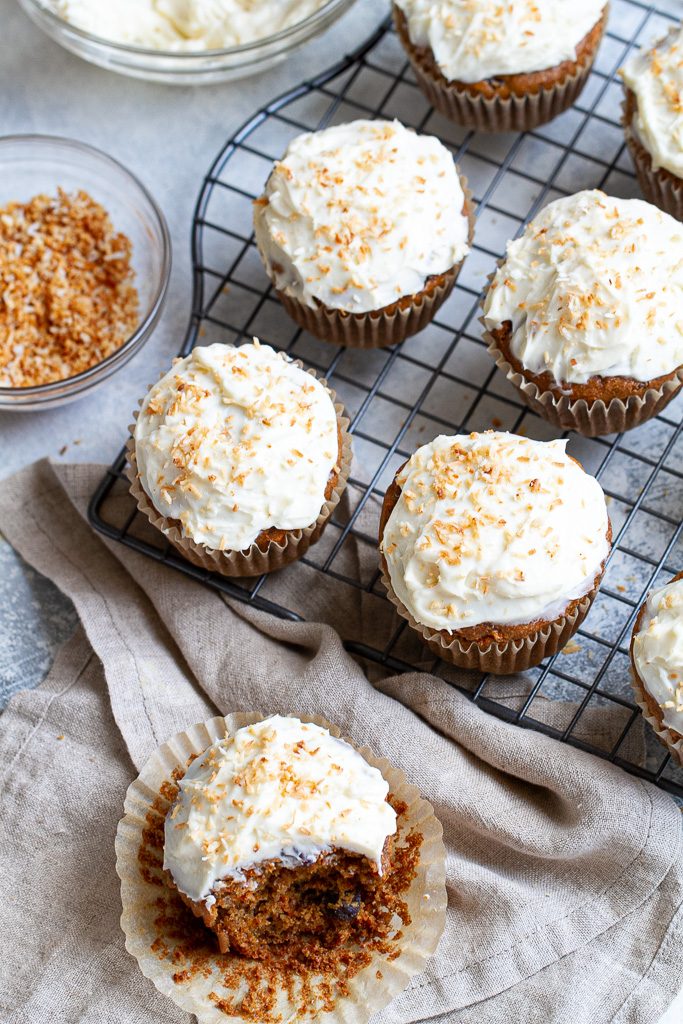 How To Make Flourless Carrot Cake Muffins
Blender Method
The blender method works best if you have a high-speed blender like a Vitamix since a less powerful blender will most likely bog down under the ingredient load and be super annoying to work with.
It really helps to start by processing the oats until they're ground down into the consistency of a fine flour. This ensures a smoother muffin that will cook evenly.
After you grind the oats, take the blender jar and give it a few shakes to make sure the oat flour isn't packed too tightly under/around the blades – this helps the rest of the ingredients blend more smoothly and prevents the blender from bogging down.
Make sure to scrape down the sides/corners of your blender and process one more time before adding the carrots and raisins.
DO NOT PROCESS the carrots or add-ins! You can add them straight to the blender bowl and use a spatula to mix them in, or you can transfer the batter to a large bowl and add the remaining ingredients there. It really depends on the size/shape of your blender.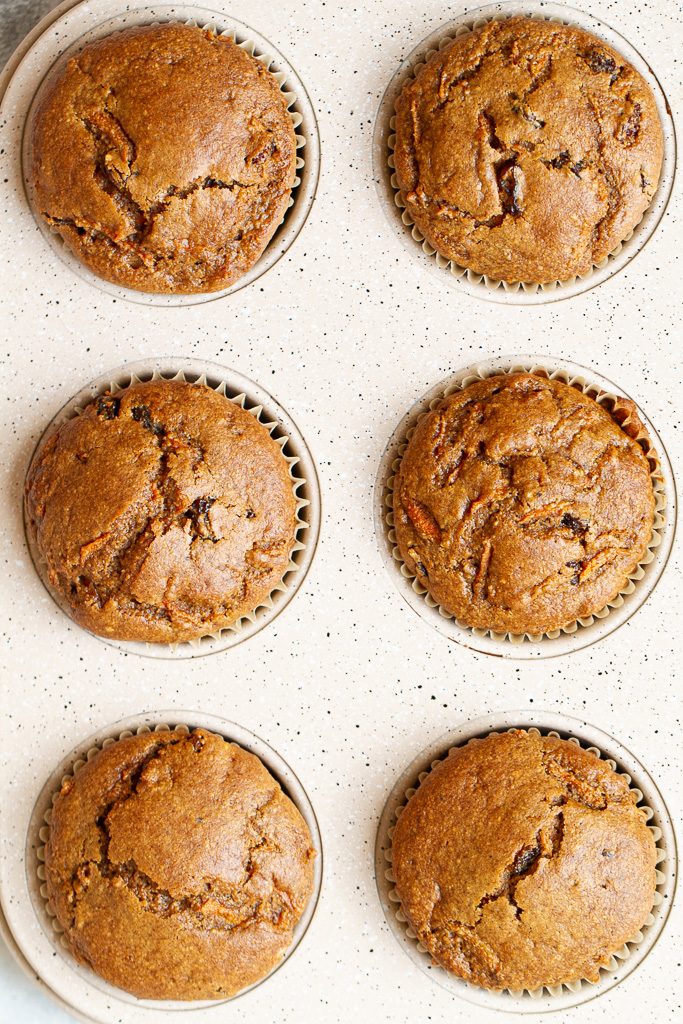 Mixing Bowl Method
You'll have to replace the oats with a pre-ground or store-bought oat flour. This recipe calls for 2 cups of oats which translates to 1 1/2 cups of oat flour – 160 grams in each case.
If you want to make your own oat flour, add 2 cups of oats (160 g) to any blender and process on high until the oats get ground down to a fine flour consistency. You can even do this in something like a NutriBullet… just in smaller batches.
Add the carrots and add-ins after everything else has been mixed together and a batter forms and give them a good mix to make sure they're evenly distributed in the batter.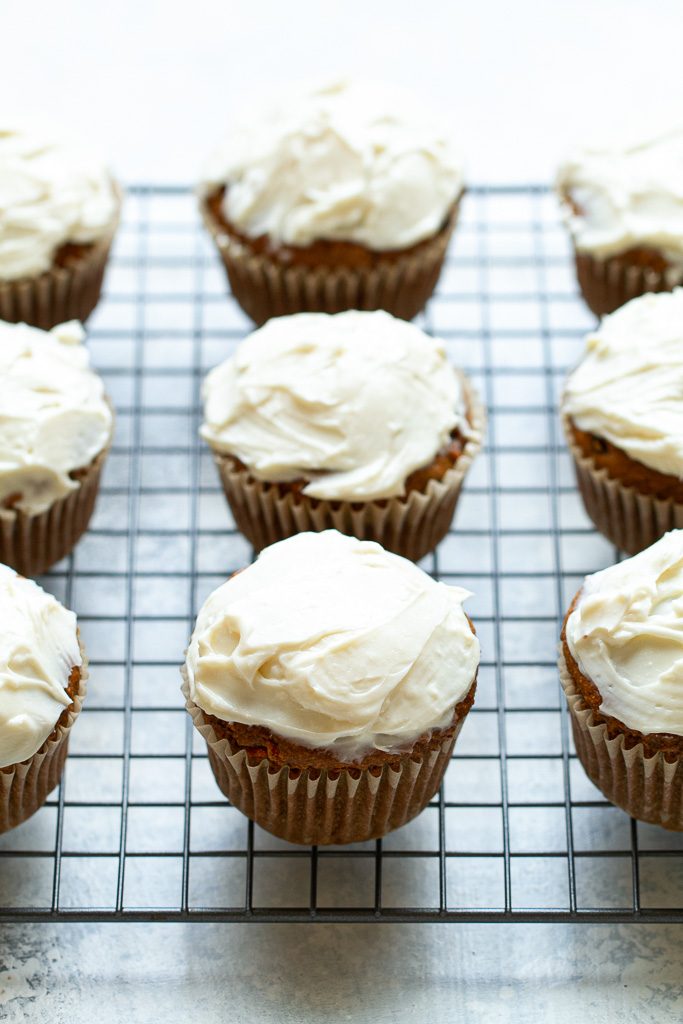 Both Methods
Shred your carrots before you add the wet ingredients. This is so that you don't have to do it while the batter is just sitting around and letting the leavening agents react. You'll get fluffier, dome-ier muffins this way.
I used coconut palm sugar for my sweetener, but you can replace that with brown or cane sugar as well. Maple syrup will also work, but it will change the consistency of the muffins a little bit.
When measuring, don't pack the shredded carrots too tightly. Just sprinkle the shreds into your measuring cups until they are full and heaping a little bit. 2 medium-sized carrots are all you need.
Add-ins are completely optional. I know people are pretty particular about how they like their carrot cake, so feel free to toss in 1/2 – 1 cup of nuts, raisins, a combination of both, or nothing at all. I actually found that raisins were a really nice touch, but I know those guys can be super polarizing so feel free to leave them out.
I really recommend either using parchment paper liners or greasing your muffin cavities well. These muffins will probably stick to paper liners.
Let the muffins cool completely before frosting them. If they're still warm, the frosting will get runnier and could potentially slip right off. Also, you don't have to get fancy with the frosting – I just took a knife and smeared it on top.
This part is totally optional, but I toasted some shredded coconut and sprinkled it on top of the frosting. It didn't add much to the taste, but it was pretty to look at.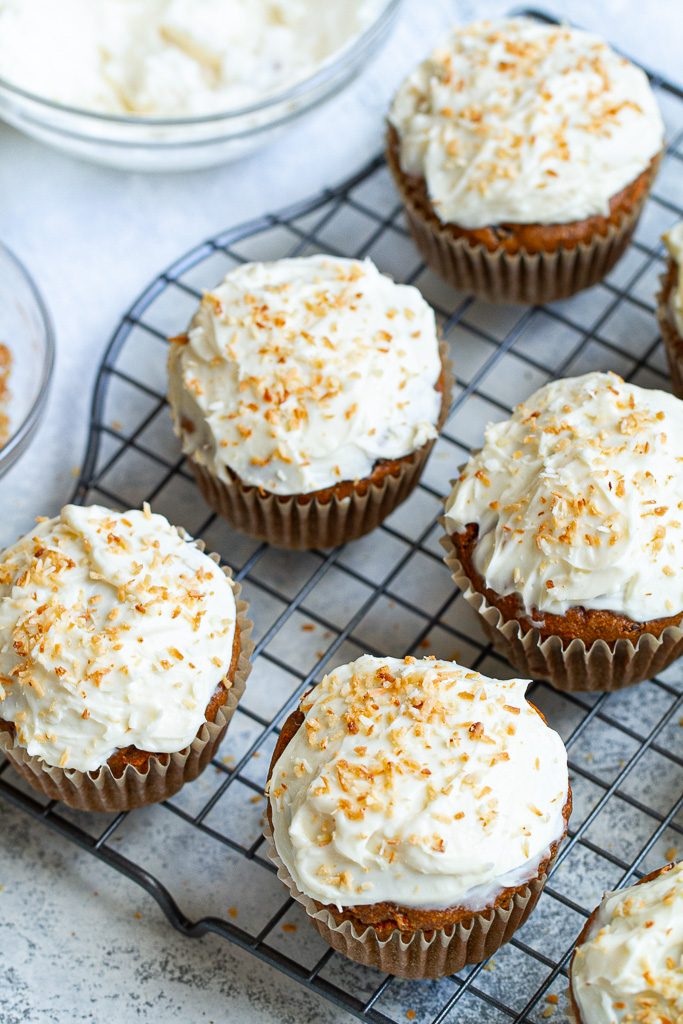 Okay, But What Are They Like?
Like a little palm-sized slice of carrot cake.
The muffins themselves are slightly spiced and not overly sweet. They're on the denser side, but still really tender and moist. They're pretty healthy little guys and make great snack or breakfast muffins. I found that I liked these better on day 2+ because the flavours had a chance to "marinate" and intensify, but they're great straight out of the oven too.
What really takes these little muffins to the next level is the cream cheese frosting. Not only does it add a little bit of extra sweetness and moisture, but it creates that delicious spicy/tangy combo that's so great about carrot cake. It makes them feel so much more indulgent while still staying on the healthier side.
These muffins are also gluten-free (as long as you use certified gluten-free oats) and can easily be made nut-free by replacing the almond butter with soy nut butter and the almond milk with another non-dairy milk like rice or soy. You can also make them vegan by replacing the eggs with a banana, but some of the flavour will come through.
Happy eating!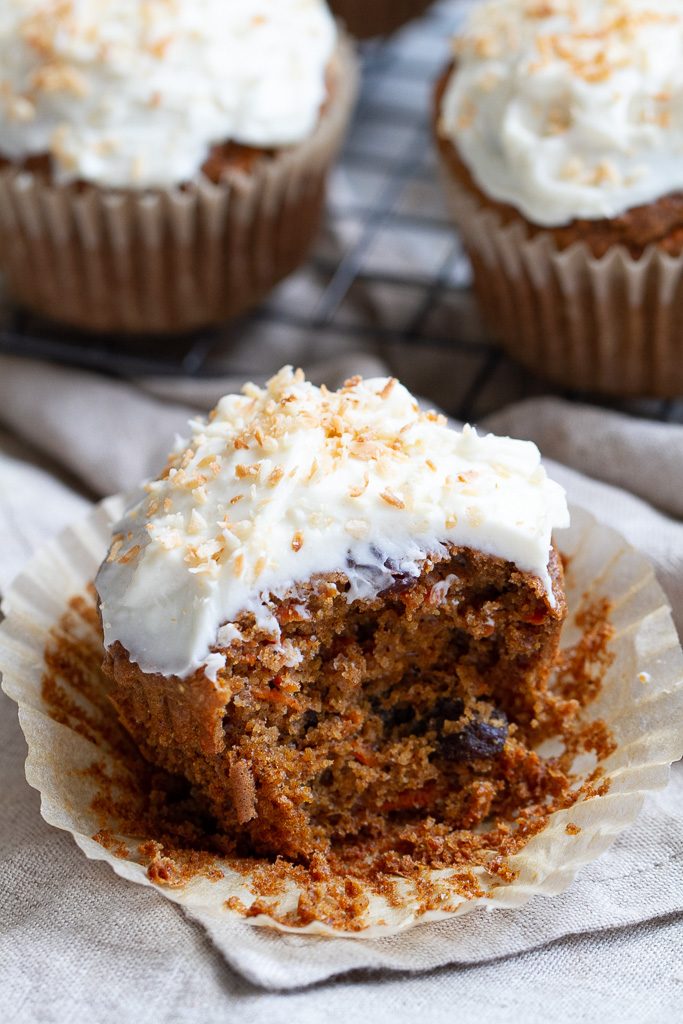 I'd love to know if you make this recipe! Leave a comment and rating down below to let me know what you think, and subscribe to our mailing list to receive new recipes in your inbox!
Print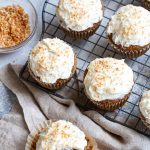 flourless carrot cake muffins
---
Author:

Total Time:

40 minutes

Yield:

12

muffins

1

x
For the muffins:
2 cups

(

160 g

) oats, gluten-free if needed

2 tsp

baking powder

1/2 tsp

baking soda

1/4 tsp

salt

2

large eggs

1/2 cup

(

120

ml) unsweetened almond milk

1/4 cup

(

64 g

) almond butter

1/2 cup

(

100 g

) coconut palm sugar*

2 tsp

(

10

ml) vanilla extract

1 1/2 tsp

ground cinnamon

1/2 tsp

ground ginger

1/4 tsp

ground nutmeg

1

slightly heaping cup (

120 g

) shredded carrots
Optional: 1/2 cup (80 g) raisins or nuts
For the cream cheese frosting:
4 oz

. light cream cheese

1/4 cup

(

30 g

) icing sugar

1/2 tsp

vanilla extract
---
Instructions
Make the muffins:
Preheat your oven to 350°F (176°C) and prepare a muffin pan by lining the cavities with parchment paper liners or greasing them with oil. Set aside.
Add the oats, baking powder, baking soda, and salt to a high-speed blender and process on high until the oats have broken down into the consistency of a fine flour, about 10 seconds.**
Add all of the remaining ingredients except for the carrots and add-ins, and process on high until the batter becomes smooth and creamy, about 20 seconds. Periodically stop and scrape down the sides/corners of your blender as necessary. Finally, use a spatula to mix in the carrots and add-ins by hand.
Pour the batter into the prepared muffin cups, filling each one about 3/4 of the way full.
Bake for 25 – 30 minutes, until the tops of the muffins begin to turn golden brown and a toothpick inserted into the center comes out clean. Allow the muffins to cool in the pan for 10 minutes before transferring them to a wire rack to cool completely. As soon as they've cooled, transfer them to an airtight container and store them at room temperature for up to 5 days, or freeze for up to 3 months.
Make the frosting:
Add the cream cheese, sugar, and vanilla to a medium-sized bowl or the bowl of a stand mixer and, using your stand or hand mixer, beat on high until all the ingredients are well combined and slightly whipped.
When the muffins are cool, use a knife to spread the frosting on top of them. I recommend only frosting the muffins you plan to consume right away. Otherwise, store the frosting separately in a covered container in the fridge until you need to frost another muffin.
Notes
* You can also use brown sugar or cane sugar.
** Alternatively, you can replace the oats with 1 1/2 cups (160 g) of oat flour and mix everything by hand in a large bowl. Just whisk the dry ingredients together, then add all the remaining ingredients except for the carrots and add-ins and mix until a smooth batter forms. Finally, fold in the carrots and add-ins.
To make these gluten-free, be sure to use certified gluten-free oats.
To make these nut-free, replace the almond butter with soy nut butter and the almond milk with another non-dairy milk like rice or soy.
To make these vegan, replace the eggs with one banana. The flavour will come through a little bit though.
Nutritional information is calculated with cream cheese frosting but without any add-ins.
Prep Time:

10 mins

Cook Time:

30 mins
Keywords: carrot cake, muffins, flourless, gluten-free, healthy, recipe, snack,, cream cheese, frosting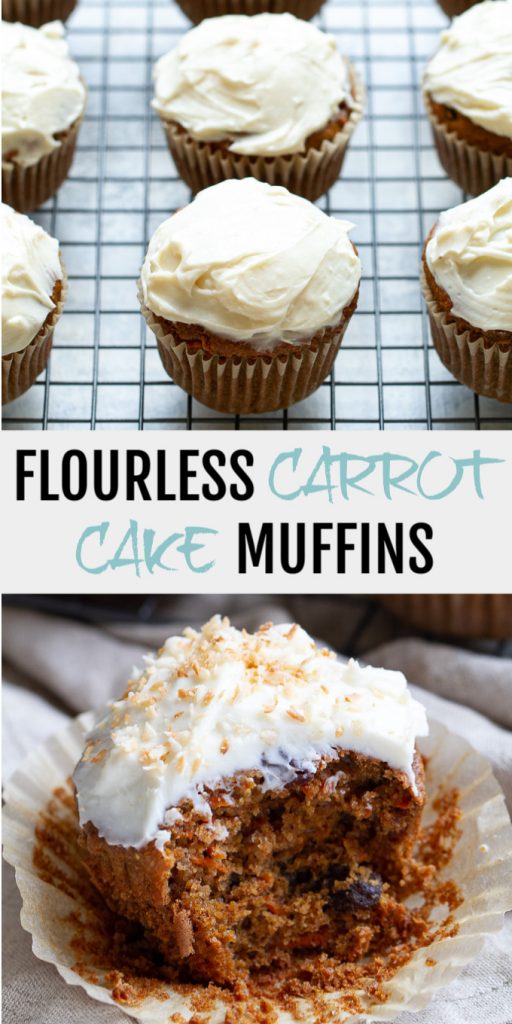 Looking for more healthy muffin recipes? Try one of these!
Easy Morning Glory Muffins
Healthy Banana Nut Muffins
Easy Vegan Chocolate Muffins
Banana Oat Greek Yogurt Muffins
Chocolate Chip Oatmeal Cookie Muffins

*Disclosure: Some of the links included in this post may be affiliate links, meaning I'll earn a small commission if you purchase through them, at no additional cost to you. I only recommend products I personally use and believe will add value to my readers. Thank you so much for helping support Spoons!