These Chocolate Chip Oatmeal Cookie Muffins are the best of both worlds with the delicious taste of a chocolate chip cookie and the soft and tender texture of a muffin! They're vegan, oil-free, and 100% ridiculously delicious!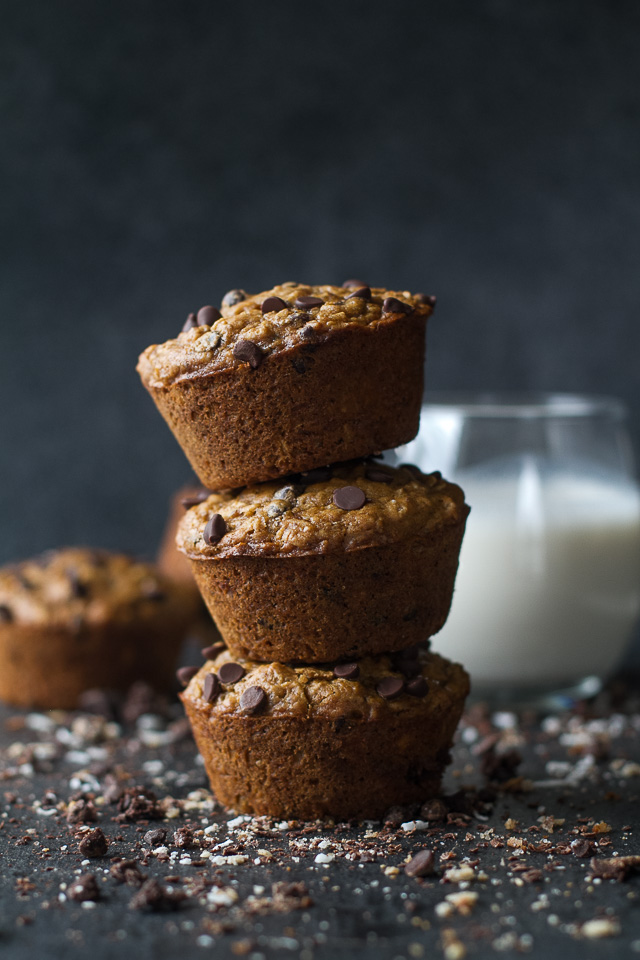 We're taking a trip down memory lane today! We're going alllllll the way back to 2011, with this post for these chocolate chip oatmeal muffins. The feels!!!
I think that was actually one of the very first recipes I ever posted here on Spoons, and if you do end up clicking over, you'll have to excuse the centered text and itty, bitty pictures. I was very much a blogging nooblet back then, and I'm pretty sure I broke every blogging commandment in the book.
One thing I'd like to think I did reasonably well, though, is food…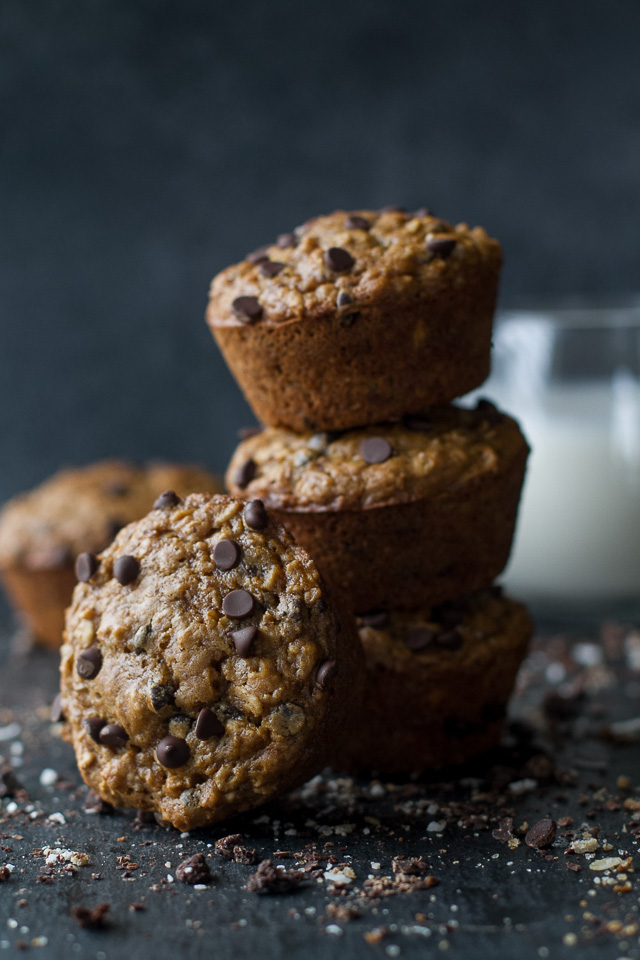 To be perfectly honest with you guys, I'm not even really sure what prompted me to start sharing recipes in the first place. I mean, the concept of evergreen content was completely foreign to me, and I definitely didn't have any aspirations to become a food blogger at that point. Heck, I didn't know what I was doing at that point. 2011 brought some pretty big changes to my life, and I actually stopped blogging for about a year as a result.
Oh man. Here's where I start wondering what life would be like if I hadn't come back to blogging again. Like… what would I be doing right now? What kind of person would I be? "A blogger" definitely wasn't on the list of things I wanted to be when I grew up, but now that I'm here, I honestly couldn't imagine doing anything else.
Does that makes sense? It's like a bunch of different circumstances led me here despite all my plans for life to go a completely different way. For real. Life right now isn't even remotely close to to what I imagined 10 years ago (or even 5 years ago), but I'm here, I'm loving it, and I'm having a hard time picturing myself happy in the life I saw for myself before.
But wow is this getting a little heavy for a post about muffins. Sorry about that! It's been a rainy day in these parts, and the gloomy weather always makes me a little more introspective. Switching gears!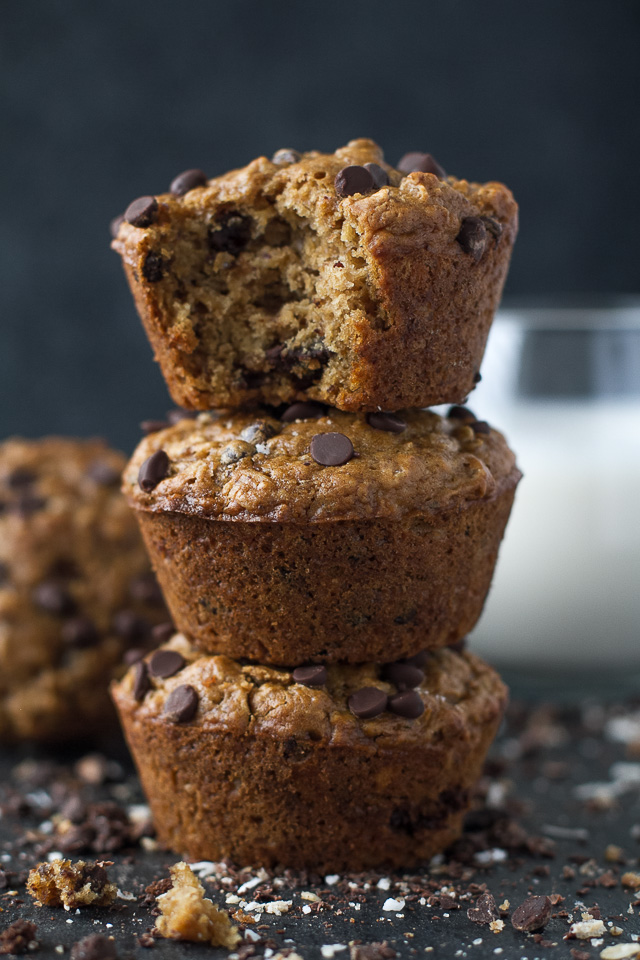 So I'm bringing back these chocolate chip oatmeal cookie muffins because I'm 99.9% sure that the majority of my current readers never saw them. Heck, I'm betting that they didn't get a lot of exposure in general seeing as my reader base was a lot smaller back then and I didn't exactly know anything about the importance of SEO or pinnable images. And that makes me sad because… they're freaking good!
Picture this…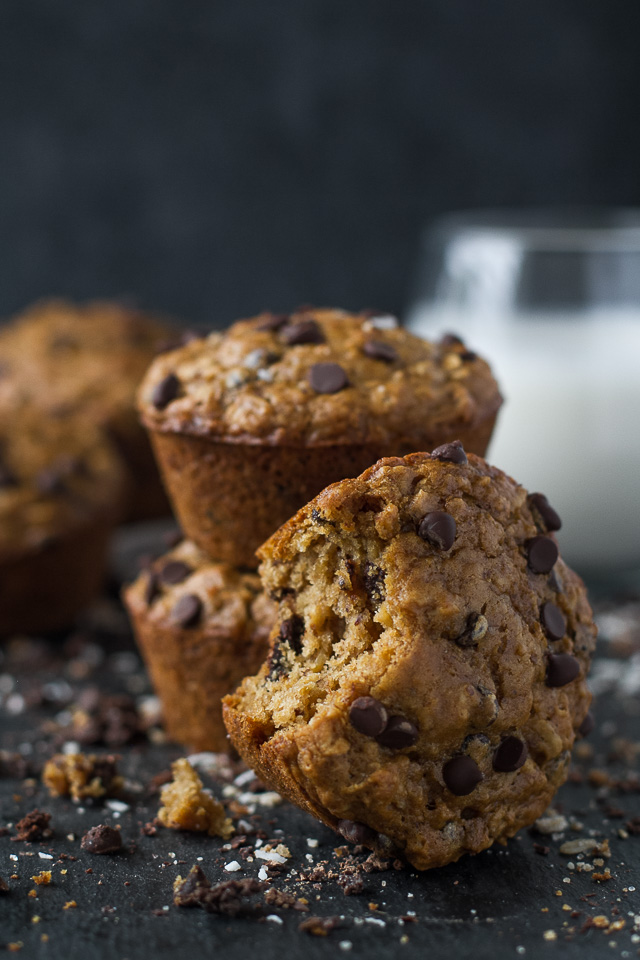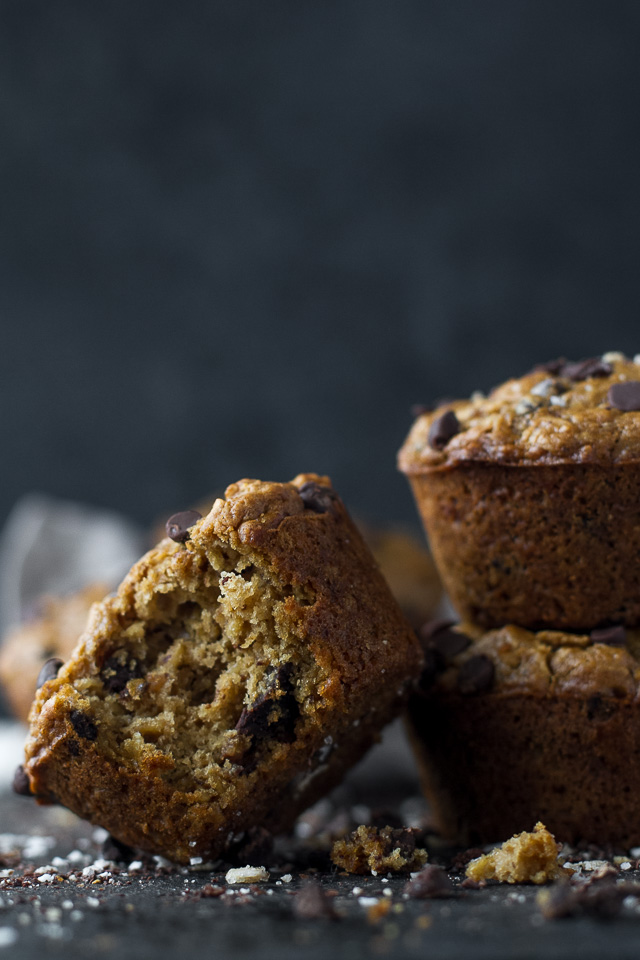 A super soft and tender muffin that tastes ridiculously similar to a chocolate chip oatmeal cookie… so much so that I had to toss a "cookie" in the name juuuuust to make it more obvious.
I opted to use coconut sugar in this recipe rather than something like honey or maple syrup because that's a big part of what contributes to that delicious cookie taste, while pre-soaked oats contribute to a moister, denser, and chewier texture.
The only major thing I changed about the original recipe was to replace the egg with a flax egg to make them vegan because I was curious to see how they'd turn out. And they BLEW.ME.AWAY. I mean, I was apparently pretty smitten with the originals as well, but it's nice to see they can be veganized without any problem.
Other than that, I guess the only real thing left to tell you guys is that they're 100% dunkable…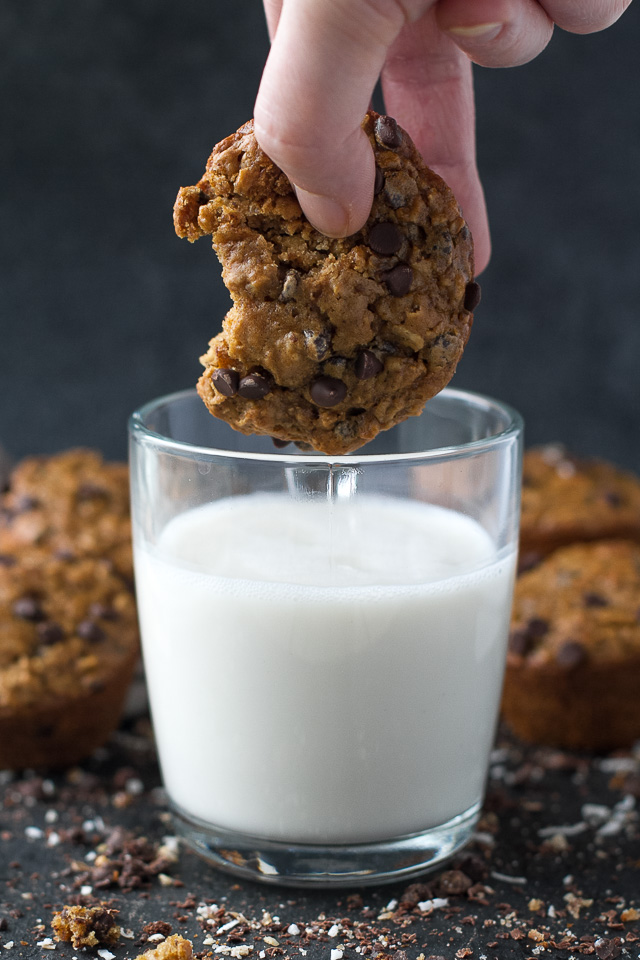 I'd love to know if you make this recipe! Leave a comment and rating down below to let me know what you think, and subscribe to our mailing list to receive new recipes in your inbox!
Print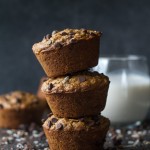 Chocolate Chip Oatmeal Cookie Muffins
---
Author:

Total Time:

30 mins

Yield:

10

–

12

muffins

1

x
1 cup

(

80 g

) old fashioned oats

1 cup

(

240

ml) unsweetened vanilla almond milk

1 cup

(

120 g

) whole wheat pastry flour*

1 1/2 tsp

baking powder

1/2 tsp

baking soda

1/4 tsp

. salt

1/4 cup

(

64 g

) nut butter**

1

flax egg***

1/2 cup

(

100 g

) coconut palm sugar****

2 tsp

vanilla extract

1/2 cup

(

85 g

) mini vegan chocolate chips
---
Instructions
Combine the oats and almond milk in a large mixing bowl and allow them to sit until the oats become soft, about 15-20 minutes.
Preheat your oven to 350°F (176°C) and prepare a muffin pan by spraying the cavities with cooking spray or greasing them with oil. Set aside.
In a medium-size mixing bowl, combine the flour, baking powder, baking soda, and salt. Set aside.
Add the almond butter, flax egg, sugar, and vanilla to the bowl with the soaking oats, and mix until all of the ingredients are fully combined.
Slowly add the dry ingredients to the wet ingredients, mixing gently until just combined. Fold in the chocolate chips, saving a few to sprinkle on the tops of the muffins.
Divide the batter evenly among the 12 muffin cups, filling each one 3/4 of the way full. Sprinkle the tops with additional chocolate chips.
Bake for 20-22 minutes, until the tops of the muffins begin to turn golden brown and a toothpick inserted into the centre comes out clean. Allow the muffins to cool in the pan for 10 minutes before transferring them to a wire rack to cool completely. Store them in an airtight container at room temperature for up to 5 days, or freeze for up to 3 months.
Notes
* You could also use 1/2 cup (60 g) each of all purpose and whole wheat flour. OR use a gluten-free all purpose blend to make these gluten-free. ** I used almond butter because of it's sweet and mild taste, but feel free to use whichever nut butter you have on hand. OR use a soy nut butter and replace the almond milk with another non-dairy ilk to make these nut-free. *** To make a flax egg, combine 1 tbsp (7 g) of ground flaxseeds with 3 tbsp (45 ml) of water in a small dish and let it sit for about 5 minutes until it begins to gel. You could also use a regular egg if you don't need these to be vegan. **** You can also use brown sugar.
Prep Time:

10 mins

Cook Time:

20 mins
Keywords: breakfast, chocolate chip muffins, dessert, healthy, muffins, oatmeal muffins, recipe, snack, vegan muffins

Looking for more vegan chocolate chip recipes? Try one of these!
Chocolate Chip Cookie Dough Mug Cake
Gluten Free Vegan Chocolate Chip Cookies
Cookie Dough Protein Granola Bars
Flourless Vegan Banana Muffins
Grain Free Vegan Chocolate Chip Cookies