These cherry almond oat bars are so tender and "buttery" that you'd never guess they're made without any flour or butter! A combination of oats and almond flour gives them an irresistibly tender crust, which pairs beautifully with an easy homemade cherry chia seed jam. A delicious gluten-free and vegan snack.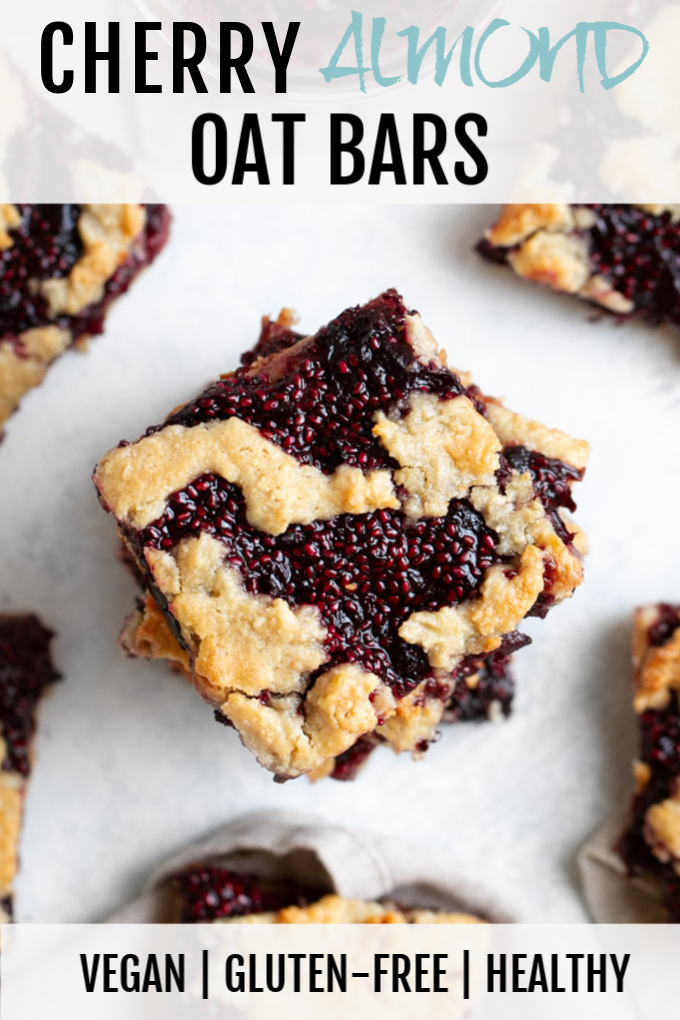 So I know it's still January and cherries are more a summer thing, but I can't be the only one who still wants fruity things even in the dead of winter. That and it was -38°C (-36°F) here a little while ago, so the balmy -1 we're enjoying now basically feels like t-shirt weather.
And I know fresh cherries aren't readily available around this time of year, but thanks to the magic of flash-freezing, we can still enjoy nutrient packed fruits even in the winter months… which is what we want, right? More vitamins to fend off all the baddies? Flu-fighting desserts – can that be a thing?
In all honesty, though, I'm just looking for an excuse to talk about these cherry almond oat bars, but I guess all the excuse I need is that they're just straight up delicious.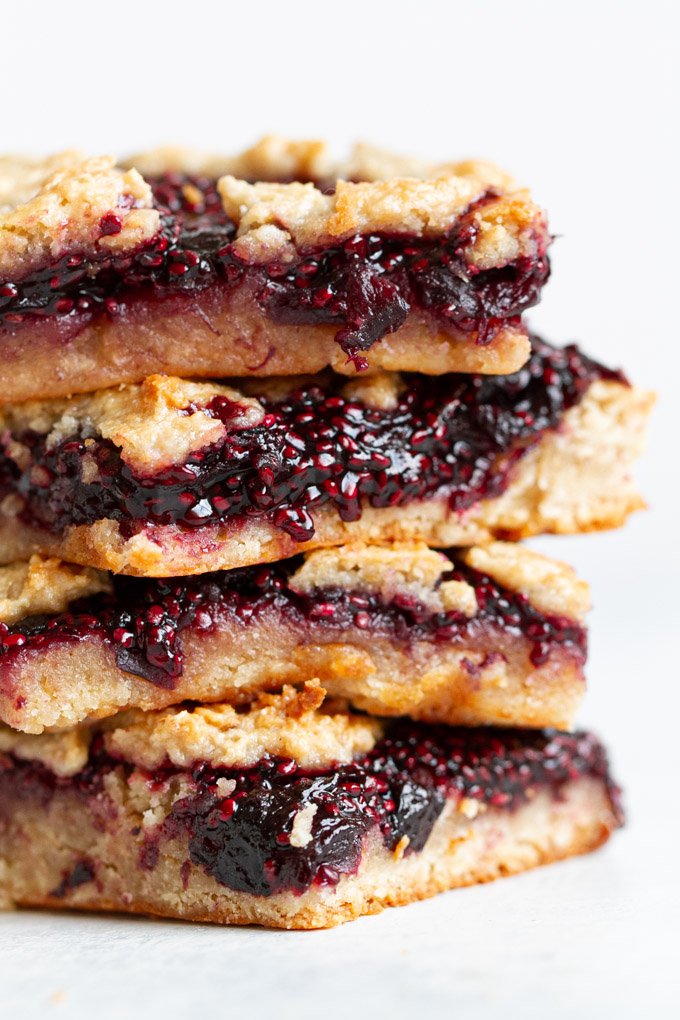 How To Make Cherry Almond Oat Bars
First up, we've got to make the cherry chia seed jam. It might sound a little intimidating, but it's actually super easy to make.
Add the cherries and maple syrup to a saucepan set over medium-high heat and wait for the cherries to start releasing their juices. Once that happens, I like to use a potato masher to break them apart further before adding the chia seeds.
Once the chia seeds are in, bring the jam to a boil, stirring occasionally, until it begins to reduce and thicken.
Remove it from the heat and let it cool while it continues to thicken.
You should end up with something that's the consistency of… well… jam. It shouldn't be runny at all, and you should be able to spread it with a knife or spoon. I don't like having big chunks of cherry in my jam since that doesn't sit too well on the bars, so I recommend going in with a potato masher (or whatever you have on hand) to get them all mashed up. And if you don't have the time or ingredients to make your own jam, you can just use 3/4 cup of a store-bought jam.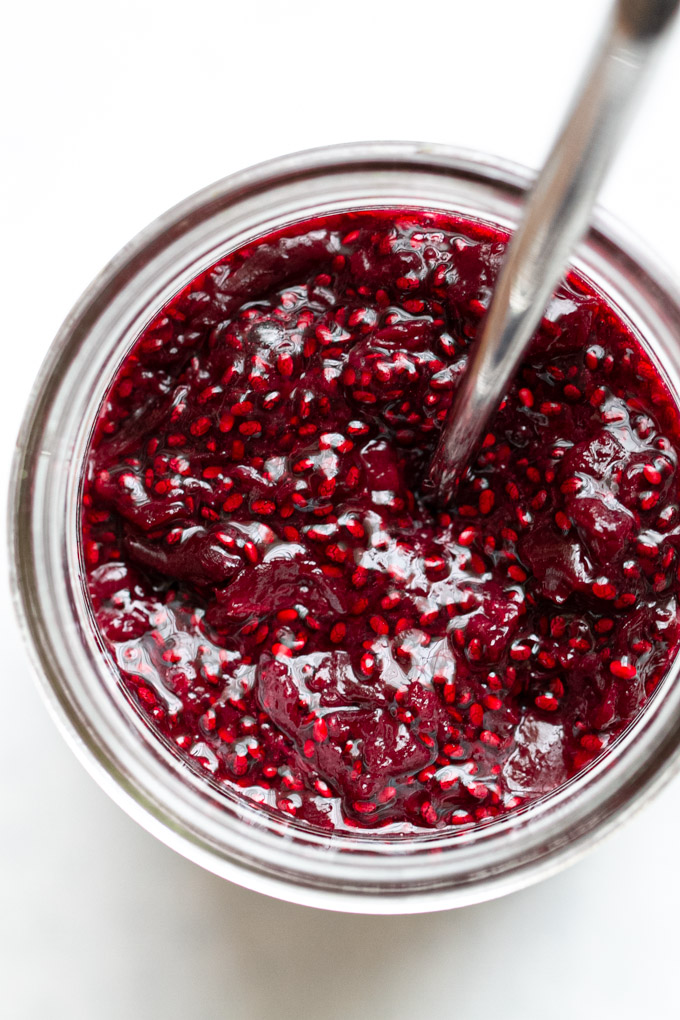 Next up, we've got the almond oat crust. I like to make this in the blender since I find it to be the easiest and fastest, but you can easily make it by hand – just replace the 1 cup of oats with 3/4 cup of oat flour and mix all the ingredients together by hand in a large mixing bowl.
Tips For Working With The Almond Oat Crust
You'll want to use about 2/3 of the dough for the base and save the remaining 1/3 for the top, but it doesn't have to be exact so don't worry too much about amounts – just make sure you leave some dough to put on top.
For the base, I like to use a spatula sprayed with cooking spray to spread the dough out since it's a little on the sticky side and can be tricky to work with. After that comes all the jam, followed by the remaining 1/3 dough for the top. For this part, I drop the dough by small spoonfuls and then use wet fingers to spread them out. You can even use a knife to swirl the dough into the jam a little for a neat swirly effect.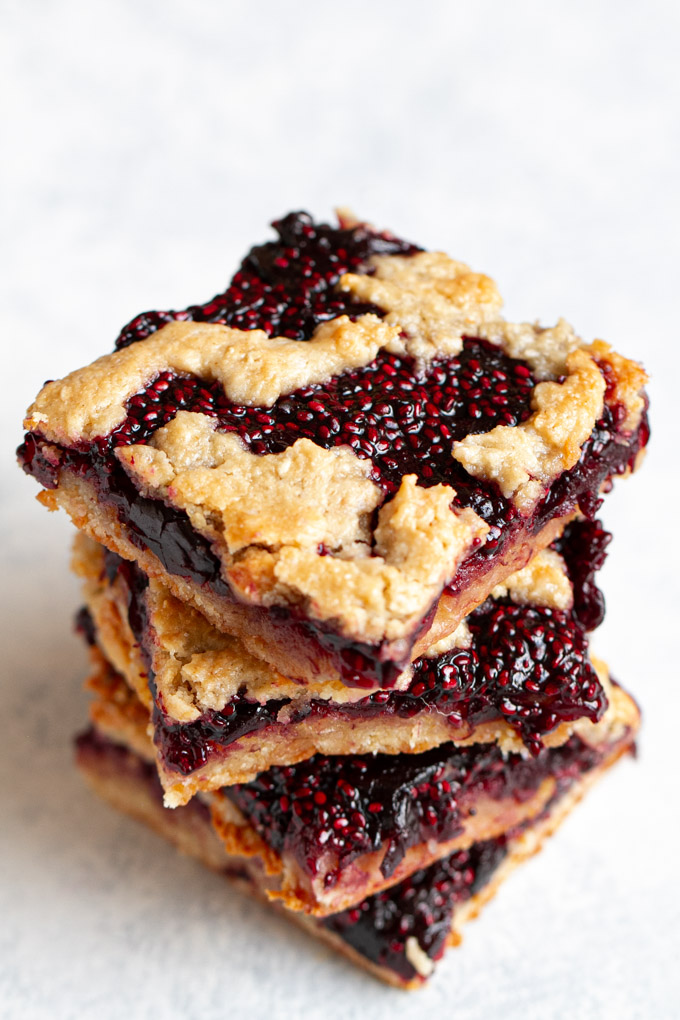 Okay, But What Are They Like?
You guys. This crust is so.freaking.good. I'm not exactly sure what it is, but I've always found that the combination of oats and almond flour tastes a lot like traditional dough made with flour and butter… without actually being made with any flour or butter. Ya know? These guys are actually vegan and gluten-free (as long as you use certified gluten-free oats), so even those with some dietary restrictions can enjoy them.
The bars themselves are sweet, tender, and "buttery," making them feel extra decadent. You can cut back on the sweetness a little bit by using less sugar in the crust (1/4 cup to 6 Tbsp depending on your tastes), and you can use a different fruit for the jam if you don't have or like cherries. Might I recommend strawberries or blueberries? In any case, I think you'll love these bars.
Happy eating!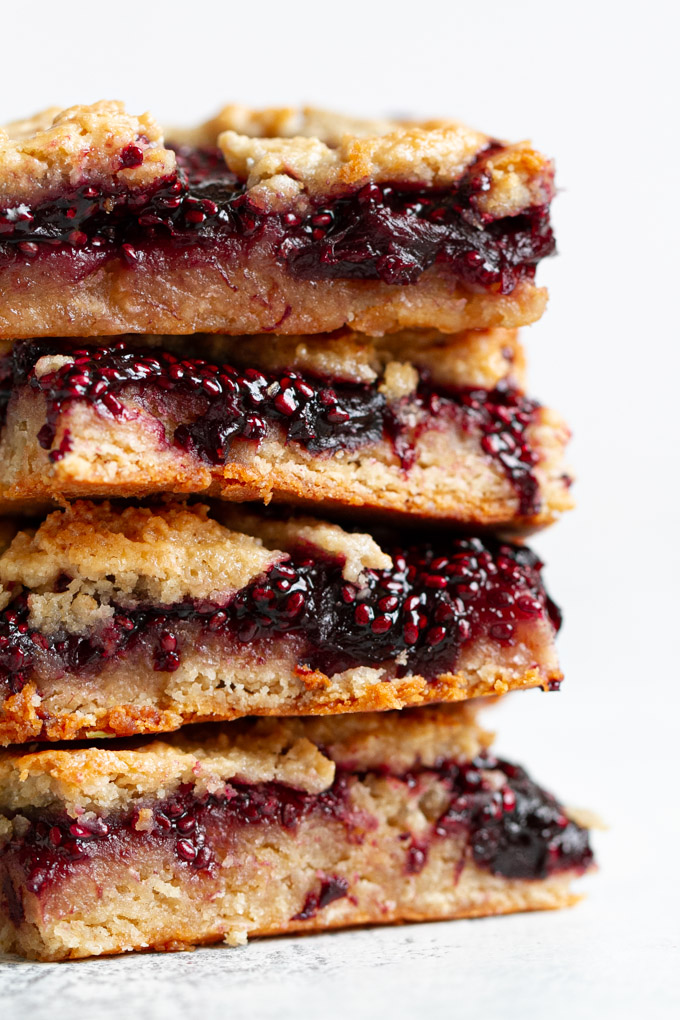 I'd love to know if you make this recipe! Leave a comment and rating down below to let me know what you think, and subscribe to our mailing list to receive new recipes in your inbox!
Print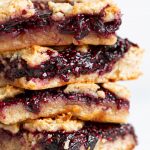 cherry almond oat bars
---
Author:

Total Time:

1 hour

Yield:

12

bars

1

x
For the cherry chia jam:*
2 cups

(

280 g

) cherries, fresh or frozen

2 tbsp

(

30

ml) maple syrup

2 tbsp

(

20 g

) chia seeds
For the bars:
---
Instructions
Make the jam:
Add the cherries and maple syrup to a medium saucepan set over medium heat. Heat until the cherries begin to release their liquid, about 5 – 15 minutes depending on whether or not they were fresh, frozen, or thawed. Bring to a boil, stirring occasionally, until the cherries begin to reduce and thicken, about 5 -10 minutes. Use your spoon or a potato masher to break them apart further if desired.
Stir in the chia seeds, continuing to cook for another 5 minutes. Remove the pan from the heat and allow the jam to cool. It will continue to thicken the longer it sits, which is why I usually like to make it the night before I'm planning on making these bars.
Make the bars:
Preheat your oven to 350

°

F (175

°

C) and prepare an 8×8 (20×20 cm) baking pan by lining it with a sheet of parchment paper, leaving a few inches of overhang on the sides to allow for easy removal.
Add the oats and almond flour to a high-speed blender or food processor and process on high for about 10 seconds, or until the oats have broken down into the consistency of a fine flour. Add the remaining crust ingredients and continue processing until a sticky dough begins to form. Make sure to stop and scrape down the sides of your blender/processor as necessary.
Transfer 2/3 of the dough into your prepared baking pan, using your fingers or a spatula to ensure that it is pressed down tightly and evenly. It might be a little stubborn, so I recommend spraying your spatula with cooking spray or keeping a small bowl of water close by so you can wet your fingers. Spoon the chia jam over the surface, and use a spatula or knife to spread it evenly, making sure to only go within 1/4 of the edge to prevent the jam from burning. Top with remaining dough by dropping it on top in in a few separate globs, and then using your spatula to spread them out.
Bake for 35 – 40 minutes, until the centre has set and the bars begin to turn golden brown. Remove from the oven and let them cool in the pan for about 15 minutes before transferring them to a wire rack to cool completely. Use a sharp knife to cut them into individual bars and store them in partially covered container at room temperature for up to 3 days. After that, cover them and keep the bars in the fridge or wrap them individually and freeze for up to 3 months.
Notes
* You can also use 3/4 cup store-bought jam if you don't have time to make your own.
** I like to use regular cane sugar because of the lighter colour it gives the crust, but you can sub in coconut sugar as well. You can also reduce the amount of sugar to 6 Tbsp if you want less sweet bars.
Prep Time:

20 minutes

Cook Time:

40 minutes
Keywords: almond flour, baking, bars, cherry, breakfast, gluten-free, healthy, oat bars, oats, recipe, snack, vegan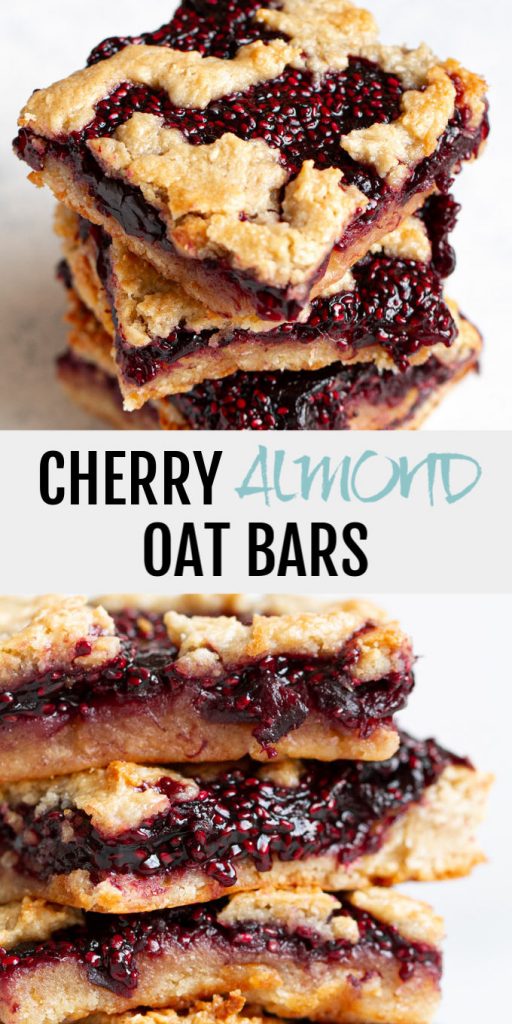 Looking for more healthy snack bar recipes? Try one of these!
Blueberry Almond Oat Bars
Flourless Sweet Potato Brownies
No Bake Sweet & Salty Trail Mix Bars
Flourless Banana Bread Bars
Flourless Double Chocolate Brownies

*Disclosure: Some of the links included in this post may be affiliate links, meaning I'll earn a small commission if you purchase through them, at no additional cost to you. I only recommend products I personally use and believe will add value to my readers. Thank you so much for helping support Spoons!