These Instant Pot Black Bean Burrito Bowls make for a quick and easy meal that's loaded with flavour! Packed with plant-based protein and fibre, they're a perfect option for those looking for a healthy vegan and gluten-free meal.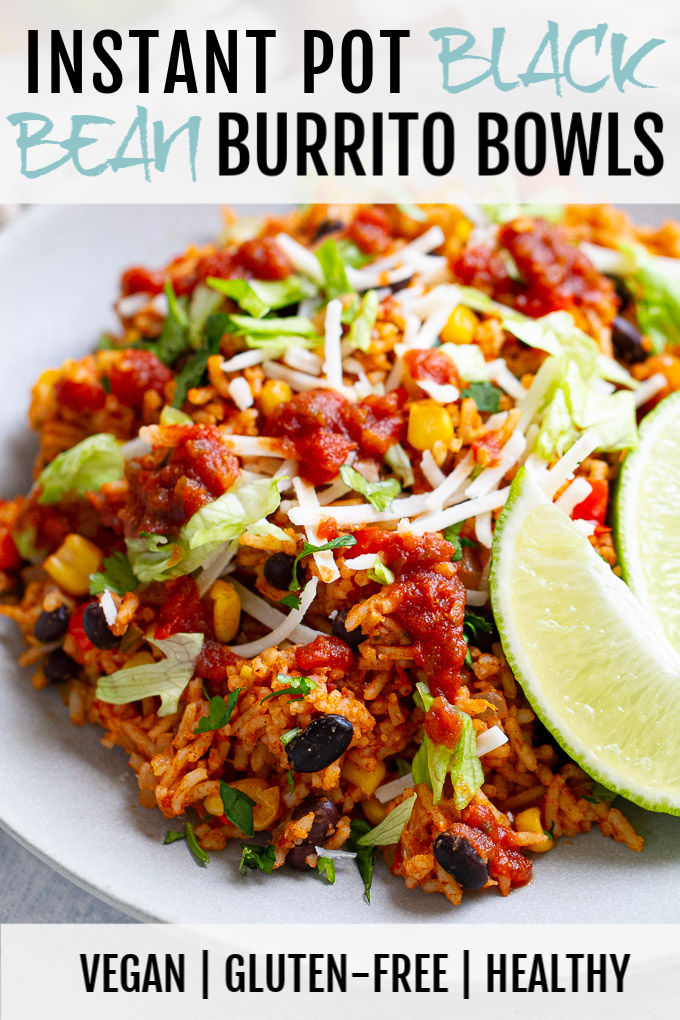 Your eyes aren't deceiving you – there is indeed a savoury recipe on Spoons today.
I've lost count of how many years I've been doing this blogging thing, but after all those years I've only managed to post a total of three savoury recipes. Three. Now four. The reason is simple – I was a really boring eater and I'd eat the same simple meals that I didn't think qualified for a recipe on a pretty recurring basis.
To be honest, I'm still a pretty boring eater, but since I've had to start feeding more than just myself (engaged, not pregnant), I've been putting a little more time and imagination into the savoury stuff and… it's been fun! Cooking doesn't have to be nearly as precise as baking, so I don't have to worry about my muffins exploding out of their cavities or my brownies turning into bricks if I add an extra teaspoon of something. That and the colours and flavours… I get it now. Cooking isn't half bad.
But that doesn't mean that I'm over here making gourmet meals every night. Like, gourmet is so foreign to me that spellcheck had to correct my spelling of it in the previous sentence. No joke. I'm more of a quick and easy, but still flavourful, kind of girl… and we're talking about meals here, people. Meals. More specifically, instant pot black bean burrito bowls…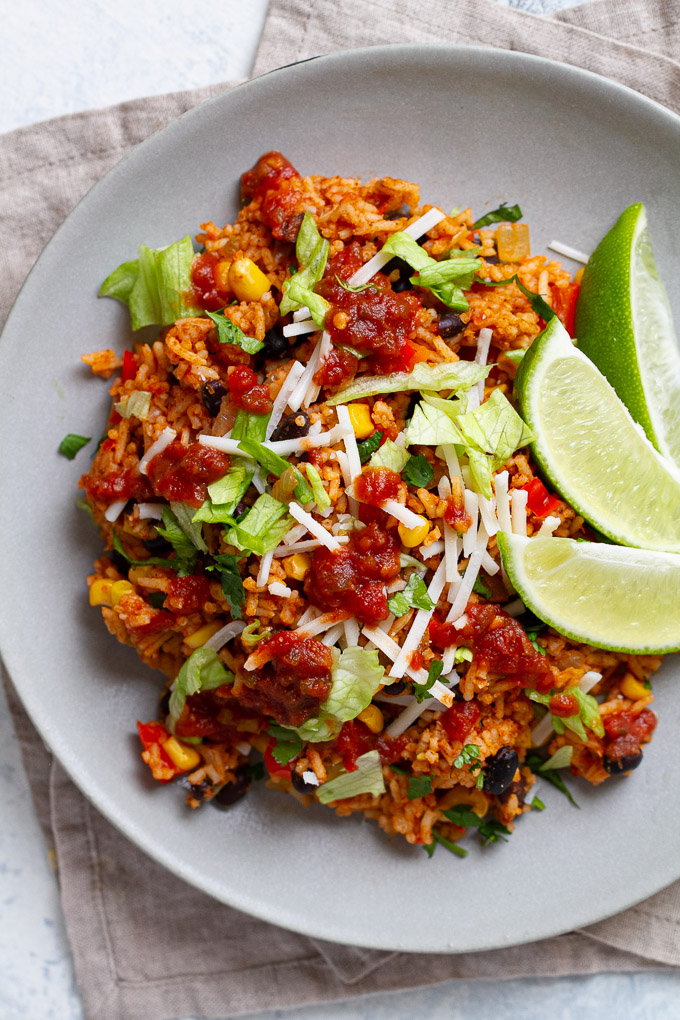 This dish is a hardcore staple for us. It's the go-to when I don't know what to make and I'd say we eat it almost every week. I love it because it's:
Quick – 10 minutes of prep, 15 minutes in the pot
Easy – one pot, minimal chopping, set-and-forget
Healthy – nutritious ingredients, no nasties
Filling – lots of fibre and protein
Loaded with flavour – spices, salsa, guacamole, oh my!
And the boy loves it because it's just straight up delicious, "even though it doesn't have any meat."
It's a win-win all around.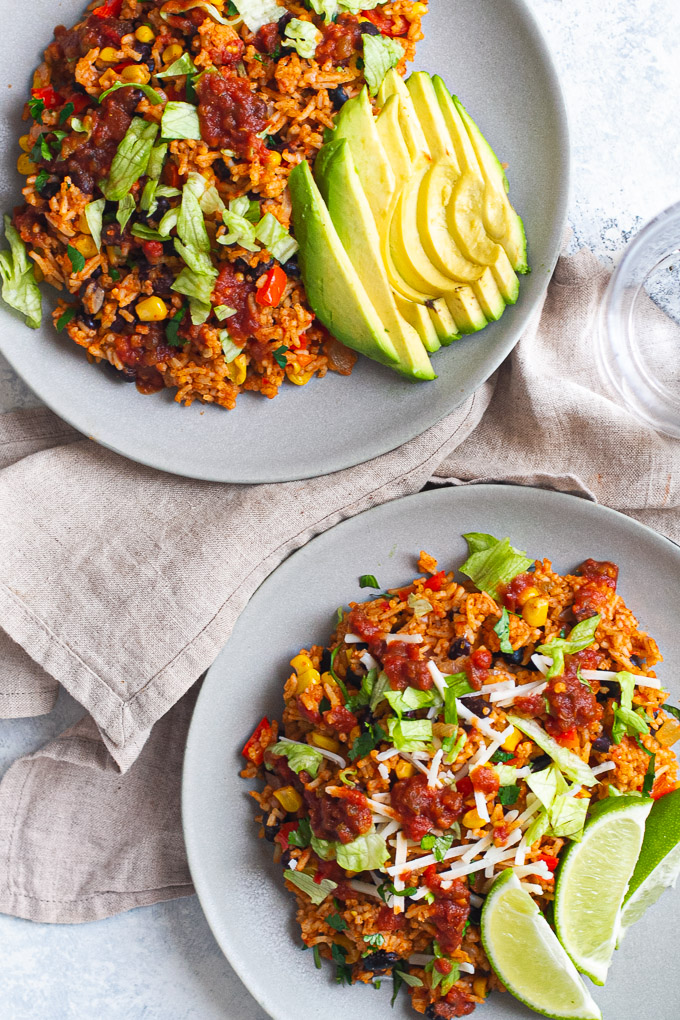 How To Make Instant Pot Black Bean Burrito Bowls
Well, first you need an Instant Pot. I mean, you don't need an Instant Pot, but you need an Instant Pot… know what I mean? I was skeptical too when my mom suggested I get one (thanks Mom!), but this thing is a magician. Ingredients go in and, 5 minutes later, meals come out. And no, it won't blow up on you. Believe me, that legit freaked me out at first. But you just set it, forget it, and come back to a delicious dinner with minimal clean up. Come to think of it, this thing might be a big part of the reason why I've come to enjoy cooking. But I digress.
So this is how you do it:
First, you need to sauté your veggies, which you can conveniently do right in the magic pot. This is the only part of the recipe that requires any real hands-on work since you have to dice the veggies and stir them around for a couple of minutes while they're sautéing.
After that, you toss in the remaining ingredients (minus the beans), give them a stir, seal the pot, set it to cook on high for 5 minutes, and walk away.
When the pot is done working its magic, allow the pressure to release naturally for 5 minutes before using quick release. Carefully remove the lid, stir in the beans, and serve with desired toppings.
But What If I Don't Have An Instant Pot?
Uhm. Get one? I'm kidding (but not really… you won't regret it). If you don't have an Instant Pot, you can make this dish on the stovetop too.
Start by sautéing the veggies in a large pot over medium heat, stirring occasionally. Add the spices and continue sautéing for a couple more minutes.
When the veggies begin to soften, add all of the remaining ingredients except for the beans. Turn up the heat and bring to a boil, then reduce the heat to low, cover the pot, and cook until the rice is soft and the liquid is absorbed, about 25 minutes. Remove from the heat, stir in the beans, and serve with desired toppings.
Oh, and for toppings I recommend avocado, cheese, lime juice, shredded lettuce, and more salsa.
Okay, but what's it like?
There are so many things I love about this recipe.
First, it's deliciously healthy. The dish itself is packed with flavour, but when you add toppings, it goes to a whole other level of amazingness. It's made with vegan and gluten-free ingredients, making it perfect for Meatless Mondays or for anyone looking to add some more plant-based meals to their diet. It's also incredibly filling, boasting 11 grams of fiber and 12 grams of protein. You could even replace the rice with quinoa to make this dish more protein-packed.
In addition to being tasty, it's also super quick and easy to make. A lot of that comes down to the magic of the Instant Pot, but even with the stovetop method, you have a meal that's done in 30 minutes with minimal hands-on time. It's a real lifesaver when you're time crunched, and a pleasure to eat any night of the week.
Happy eating!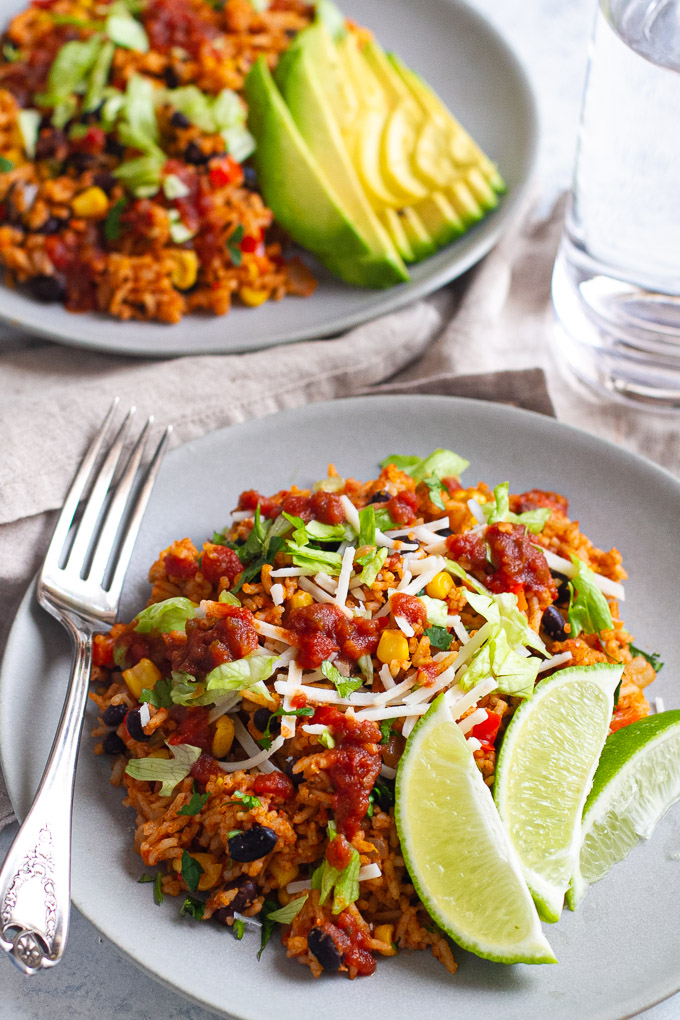 I'd love to know if you make this recipe! Leave a comment and rating down below to let me know what you think, and subscribe to our mailing list to receive new recipes in your inbox!
Print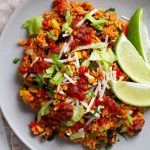 instant pot black bean burrito bowls
---
Author:

Total Time:

25 minutes

Yield:

4

servings

1

x
1 tsp

(

5

ml) vegetable oil

1/2

onion, diced

1

red bell pepper, diced

1 1/2 tsp

ground cumin

1/2 tsp

chili powder

1/2 tsp

salt*

1 cup

(

180 g

) uncooked basmati rice**

1 cup

(

130 g

) frozen corn

1 cup

(

240

ml) salsa of choice

1 1/4 cup

(

300

ml) water

1

15 oz. can of black beans, drained and rinsed
Optional Toppings: fresh cilantro, diced avocado, guacamole, shredded lettuce, shredded cheeze, etc.
---
Instructions
Turn Instant Pot to 'sauté'. Add the oil and let it heat for about a minute.
Add the onion and bell pepper and cook until they begin to soften, ~2 minutes, stirring occasionally. Stir in the cumin, chili powder, and salt, and cook for another 2 minutes. You can lower the 'sauté' setting if they begin to brown.
Press 'cancel.' Add the rice, corn, salsa, and water, stirring well until everything is combined. Place the lid on the Instant Pot and lock it into place, making sure the pressure release valve is in the sealing position. Select 'pressure cook' and cook on high for 5 minutes.
Let the pressure release naturally for 5 minutes before opening the quick release valve to release any remaining pressure. Fluff the rice with a fork and stir in the beans. Serve warm and garnish with desired toppings.
Notes
* You can decrease or omit the salt depending on how salty your salsa and beans are.
** For added protein, replace the rice with 1 cup of uncooked quinoa.
*** If you don't have an Instant Pot, use the stovetop method mentioned in the post.
Prep Time:

10 minutes

Cook Time:

15 minutes
Keywords: instant pot, black bean, rice, mexican, gluten-free, vegan, dinner, easy, quick, recipe, healthy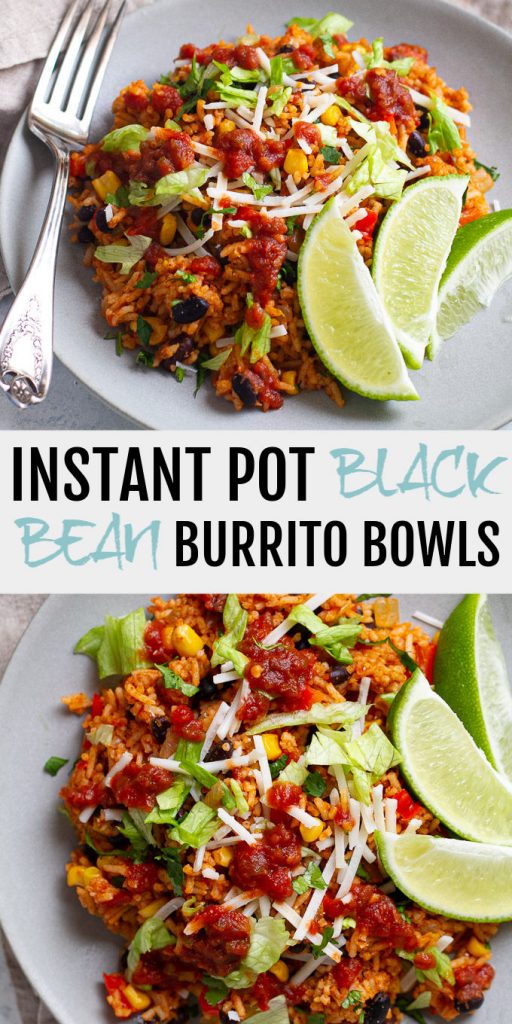 Looking for more gluten-free + vegan recipes? Try one of these!
Loaded Sweet Potato Nachos
Healthy Vegan Mac & Cheese
Cheezy Apple Cranberry Quinoa Stuffed Squash
Blueberry Avocado Smoothie
Strawberry Almond Oat Bars

*Disclosure: Some of the links included in this post may be affiliate links, meaning I'll earn a small commission if you purchase through them, at no additional cost to you. I only recommend products I personally use and believe will add value to my readers. Thank you so much for helping support Spoons!