Easy vegan chocolate muffins that are so tender and chocolatey, you'd never know they were made without flour, oil, eggs, or refined sugar. Made with wholesome gluten-free and plant-based ingredients, these muffins make a healthy and delicious snack.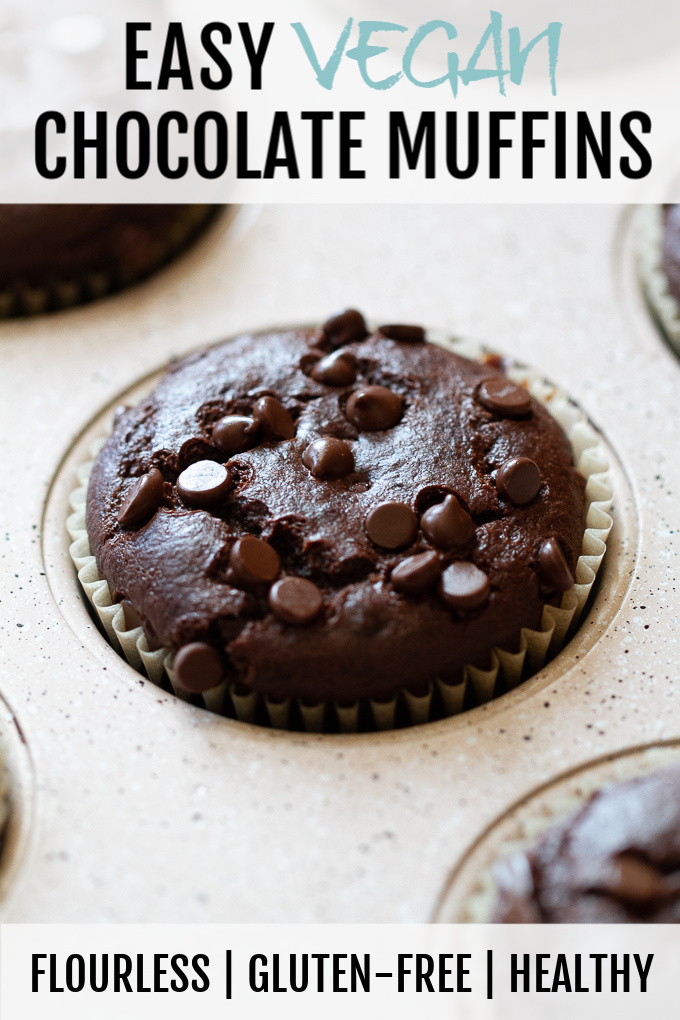 So it's been a hot minute since my last post. And by "minute" I mean a little over a year and a half. I've actually been hanging around for a few months, but the blogging process changed a lot while I was gone so I spent most of that time updating everything behind-the-scenes and re-learning how to do things. Oh, and trying to figure out what to say when I came back… that was a big one.
Trouble is, I still have no idea. I don't want to just pretend nothing happened, but at the same time there's not a whole lot to say. No drama. No tea… Just burnout paired with general life things. Oh, and planning a wedding… that's an ongoing thing. Could I have handled it better? Absolutely, and I apologize for disappearing without saying anything. But the break was good – a lot of good changes.
One thing that hasn't changed, though, is my love for muffins…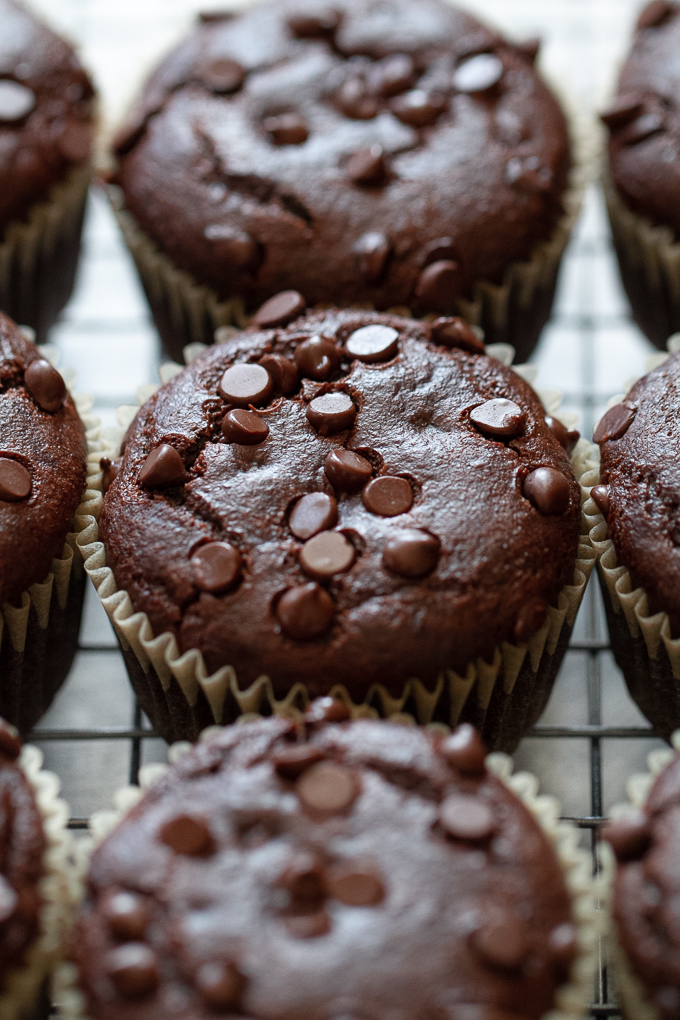 You guys are rolling your eyes, I know. I can barely even handle the corny segue, but it's true – I still have an undying love for baking (read: eating) muffins. And brownies; brownies are amazing too.
But today we're talking muffins. More specifically, easy vegan chocolate muffins which have yet to last more than 2 days around these parts. The boy eats half the batch on day 1 and the remaining stragglers disappear over day 2. They're that good. And did I mention really easy to make?
How To Make Easy Vegan Chocolate Muffins
So there are two ways you can go about making these muffins: in a blender or in a mixing bowl.
Blender Method
This method works best if you have a high-speed blender like a Vitamix since a less powerful blender will most likely struggle with the ingredient load. There are two main steps:
Add all the dry ingredients to a blender and process them on high until the oats have broken down into the consistency of a fine flour.
Then, add the remaining ingredients (minus the chocolate chips) and process them on high until the batter is nice and smooth, making sure to scrape down the sides of the blender to make sure everything gets incorporated.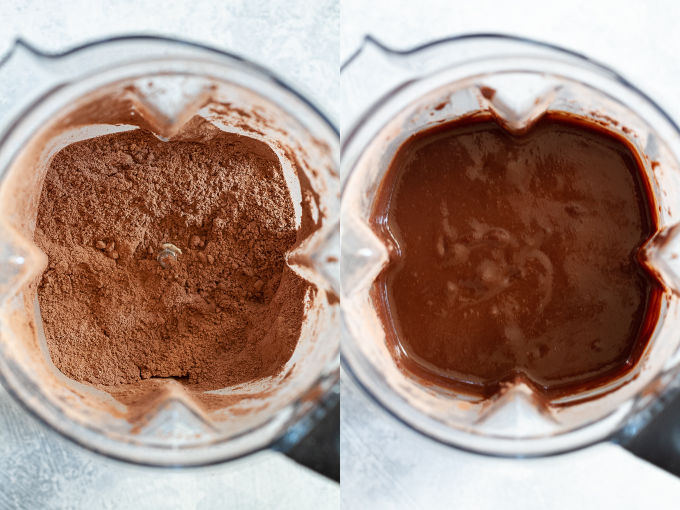 That's it! I mean, you'll need to mix in a handful of chocolate chips before pouring the batter out into a muffin pan, but that's as hard as it gets.
Mixing Bowl Method
This method takes a little more muscle, but there's still only really two steps and the resulting muffins are basically the same as long as you mix the batter really well.
Since you don't have a blender to grind the oats down into a flour, you'll have to replace that with a pre-ground or store-bought oat flour. This recipe calls for 1 cup of oats which translates to 3/4 cup of oat flour – 80 grams in each case.
You'll add this to a large mixing bowl along with the rest of the dry ingredients and whisk them together until incorporated. Then you'll add the remaining ingredients (making sure the bananas are mashed) and mix until a smooth batter forms.
See? Still super easy. The batter (in both methods) should be pourable and I highly recommend using parchment paper liners in your muffin cavities since the lack of flour and oil in this recipe could cause the muffins to stick to regular liners. Either that or avoid liners all together and just grease the cavities really well.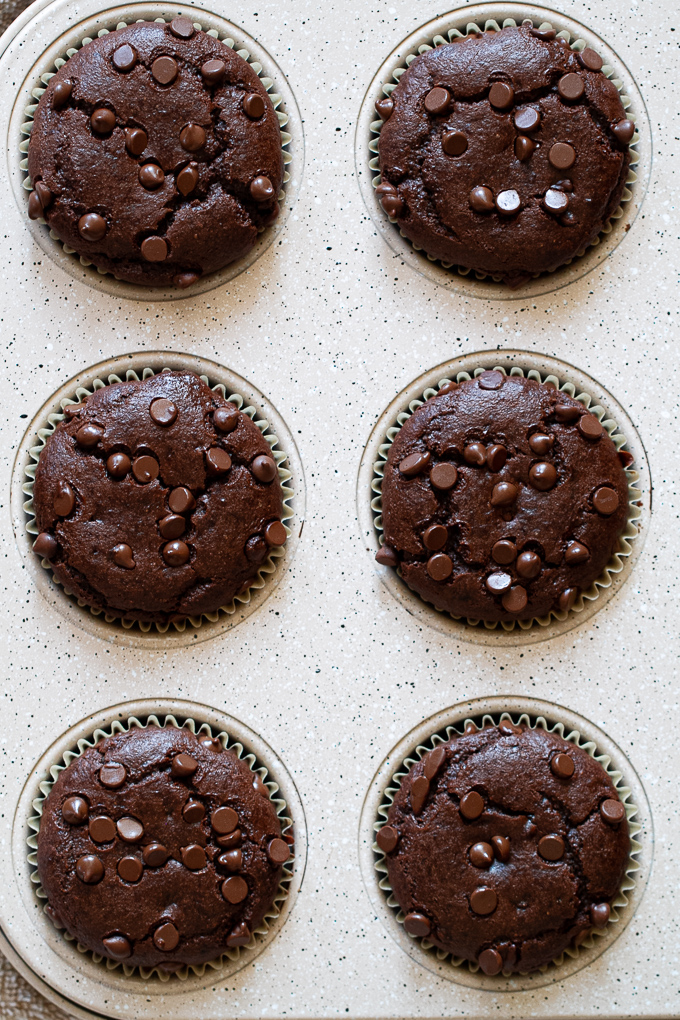 Okay, but what are they like?
Well, these muffins are flourless. I know some people will argue that grinding up oats until they turn into a fine flour is technically still using a flour, but… nay. I'm not buying it. Oats aren't as processed or modified or stripped as wheat. They're also naturally gluten-free (as long as you use certified gluten-free oats) and produce a totally different type of muffin than wheat flour does.
The muffins themselves are tender, sweet, and chocolatey. Like suuuuuuuuper chocolatey. If you want to cut back on the chocolate factor, leave out the chocolate chips and rethink your life choices. If you want to cut back on the sweetness, only use 1/3 cup of sugar. And because they're so chocolatey, you can't really taste the banana – it's mostly in there to add moisture and a little bit of extra sweetness.
Either way, you'll have a batch of gluten-free and vegan chocolate muffins made with wholesome ingredients like oats, almond butter, cocoa, and bananas. They're egg-free and dairy-free, and you can easily make them nut-free by replacing the almond butter with soy nut butter and the almond milk with another non-dairy milk like rice or soy.
Happy eating!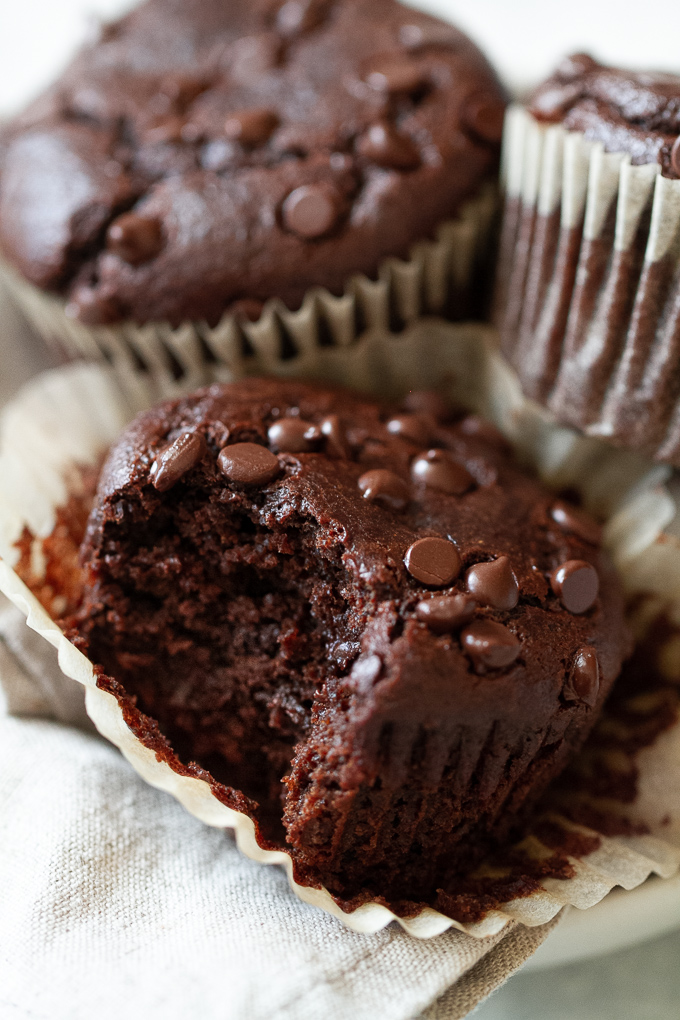 I'd love to know if you make this recipe! Leave a comment and rating down below to let me know what you think, and subscribe to our mailing list to receive new recipes in your inbox!
Print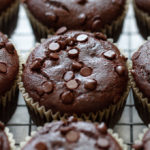 Easy Vegan Chocolate Muffins
---
Author:

Total Time:

40 minutes

Yield:

10

–

12

muffins

1

x
---
Instructions
Preheat your oven to 350°F (176°C) and prepare a muffin pan by lining the cavities with parchment paper liners. Set aside.
Add the oats, cocoa, baking powder, baking soda and salt to a high-speed blender, and process on high until the oats have broken down into the consistency of a fine flour, about 10 seconds.***
Add all of the remaining ingredients except the chocolate chips and process on high until the batter becomes smooth and creamy, about 30 seconds. Periodically stop and scrape down the sides of your blender, if necessary. Finally, mix in the chocolate chips by hand.
Pour the batter into the prepared muffin cups, filling each one about 3/4 of the way full. Sprinkle additional chocolate chips on top, if desired.
Bake for 28 – 30 minutes, until a toothpick inserted into the center comes out clean. Allow the muffins to cool in the pan for 10 minutes before transferring them to a wire rack to cool completely. As soon as they've cooled, transfer them to an airtight container and store them at room temperature for up to 5 days, or freeze for up to 3 months.
Notes
* You can sub out the almond milk for another non-dairy milk and the almond butter for soy nut butter if you need these to be nut-free.
** You can use 1/3 cup of sugar for slightly less sweet muffins.
** Alternatively, you can replace the oats with 3/4 cup (80 g) of oat flour and mix everything by hand in a large bowl. Just whisk the dry ingredients together, then add the remaining ingredients and mix until a smooth batter forms.
Prep Time:

10 minutes

Cook Time:

30 minutes
Keywords: chocolate, muffin, vegan, gluten-free, healthy, recipe, snack, breakfast, flourless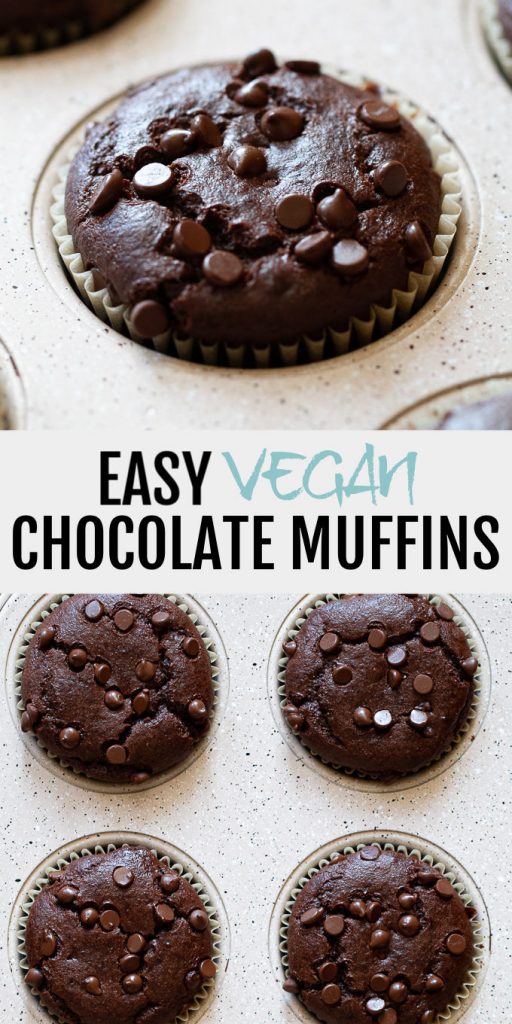 Looking for more flourless muffin recipes? Try one of these!
Banana Oat Greek Yogurt Muffins
Flourless Vegan Banana Muffins
Flourless Chocolate Chip Zucchini Banana Muffins
Chocolate Banana Minute Muffin
Flourless Chocolate Zucchini Muffins

*Disclosure: Some of the links included in this post may be affiliate links, meaning I'll earn a small commission if you purchase through them, at no additional cost to you. I only recommend products I personally use and believe will add value to my readers. Thank you so much for helping support Spoons!