This healthy two minute brownie is so fudgy, moist, and chocolatey that you'd never be able to tell it's made without flour, butter, or oil. The perfect way to satisfy a chocolate craving in a vegan, gluten-free, and paleo treat that's super quick and easy to make.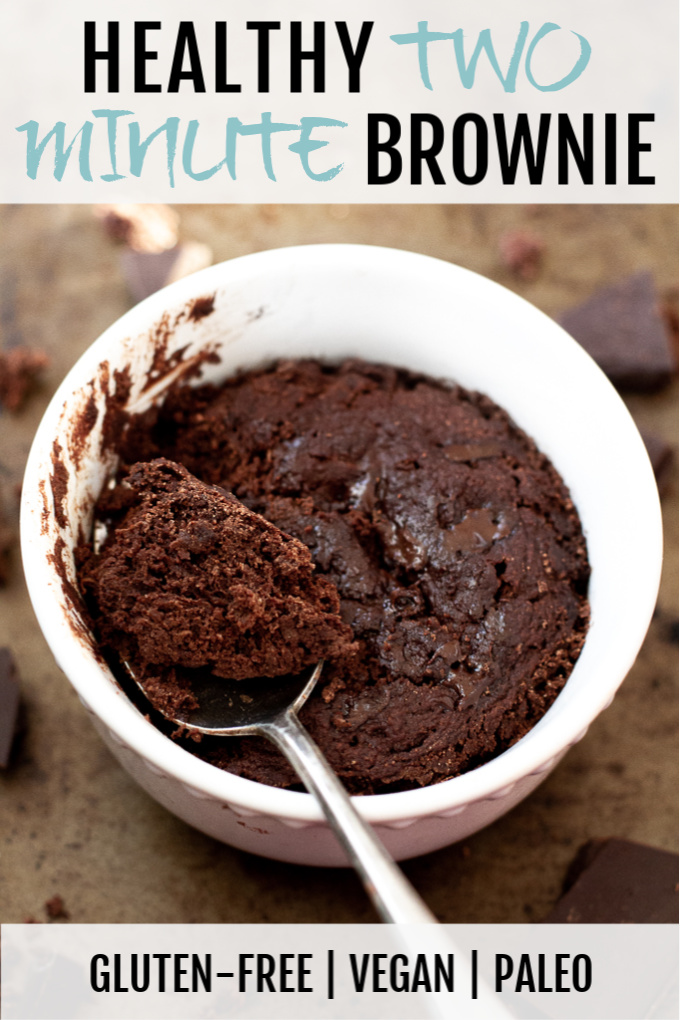 Today seems like a good day for chocolate. And that holds true no matter what day you're reading this post.
Because when is a brownie a bad idea? Especially one that's on the healthier side. And made in two minutes. In a mug. Just for you.
Or I guess you could make two if you feel like sharing…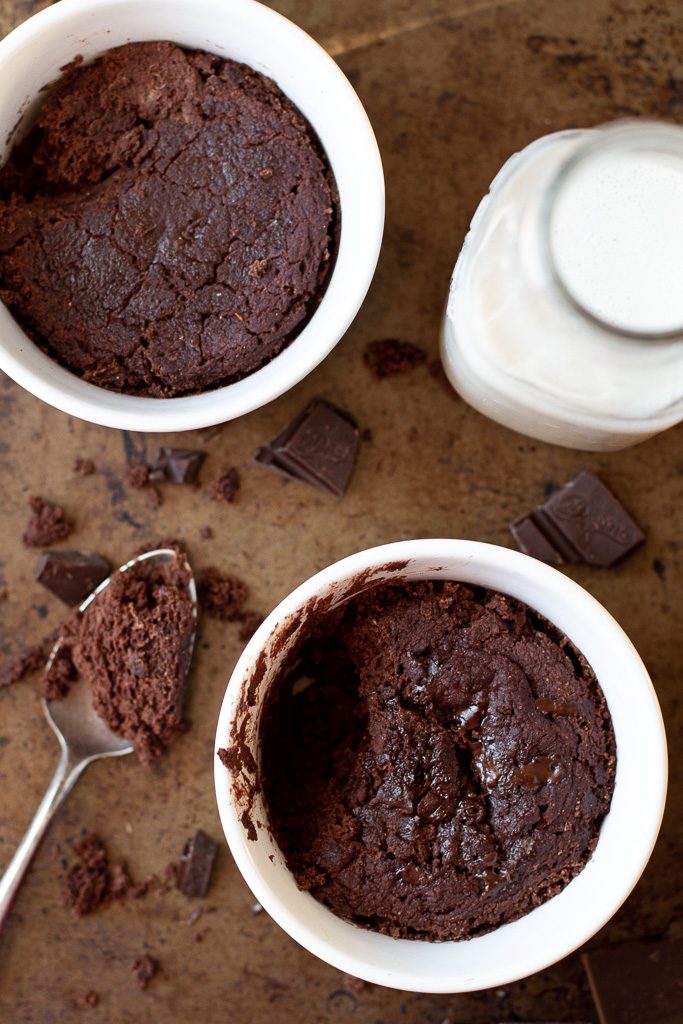 How To Make A Healthy Two Minute Brownie
Start by mixing the dry ingredients together in a small bowl. You could technically mix them right in whatever dish you'll be tossing in the microwave, but I used an 8 oz. ramekin and those little guys don't leave much room for enthusiastic mixing. I found that prepping the batter in a small bowl and then transferring it to my ramekin worked best.
Coconut flour is a must for this recipe. It's just really unique in how it absorbs liquid, so there aren't really any substitutes that will give the same result.
After you add the wet ingredients to the dry ingredients, spend a little bit of time mixing the batter so that the sugar granules have time to dissolve. It's not a huge issue if you don't, but it helps distribute the sweetness more evenly.
Because microwaves have different strengths and I don't know what yours will be like in comparison to mine, the cooking time of 2 minutes is mostly a good guestimate. If you find that at 2 minutes your brownie isn't done, nuke it for another 30 seconds. If 2 minutes makes it too tough, try 90 seconds.
To make this brownie nut-free, replace the almond milk with another non-dairy milk like rice or soy and the nut butter with a soy nut butter.
Feel free to play around with the amount of sugar you add. If you want more of a dark chocolate taste, only add 1 tsp of sugar or skip it all together, especially if you plan to add chocolate chips. You can also use 1 tsp of maple syrup to make this brownie refined sugar-free.
I don't recommend adding the chocolate chips to the brownie before you cook it. I like to sprinkle them on top so they get all melty and produce a pseudo-frosting, and I found that doing so prior to cooking prevented the brownie from rising as much. The brownie will still be hot enough after cooking to melt any chocolate chips sprinkled on it.
OR get creative with your toppings! A drizzle of nut butter, a scoop of ice cream, a dollop of whipped cream. Anything goes!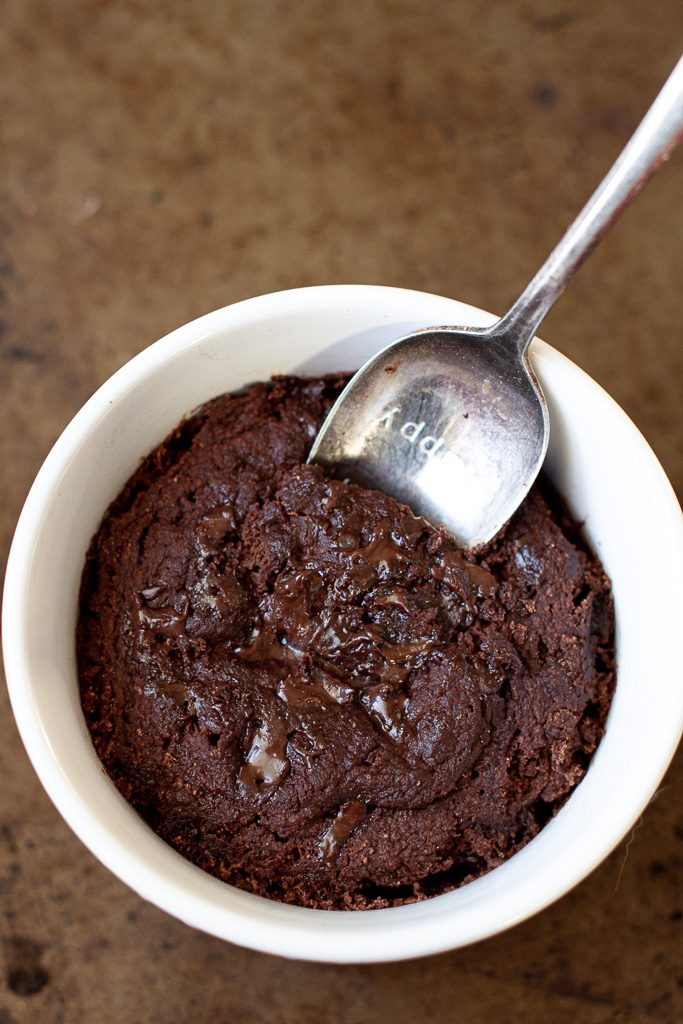 Okay, But What's It Like?
There's a good handful of reasons for why you need this healthy two minute brownie in your life.
Reason #1: it's healthy… or as healthy as you can make a brownie without sacrificing on texture and taste. I've seen a bunch of brownie in-a-mug recipes that call for a few tablespoons of oil and 1/4 cup of sugar for one serving. I try not to get too hung up about stuff like that, but that's kind of a lot if you want to eat it on a regular basis.
This brownie, on the other hand? This incredibly fudgy, dense, and chocolatey little gem that's made with NO flour, butter, or oil, and can be made without refined sugar as well? You can happily enjoy it every.single.day.
Reason #2: it's super quick and easy to make, and you don't have to worry about having any pesky leftovers lying around. All it takes is two minutes and a handful of simple ingredients to make one perfectly sized treat that'll knock those chocolate cravings out of the park. And the fact that it's gluten-free, vegan, and easily made nut-free and refined sugar-free means anyone can enjoy it.
Reason #3: it's fudgy, moist, chocolatey, and 100% guaranteed to induce inappropriate noises.
Happy eating!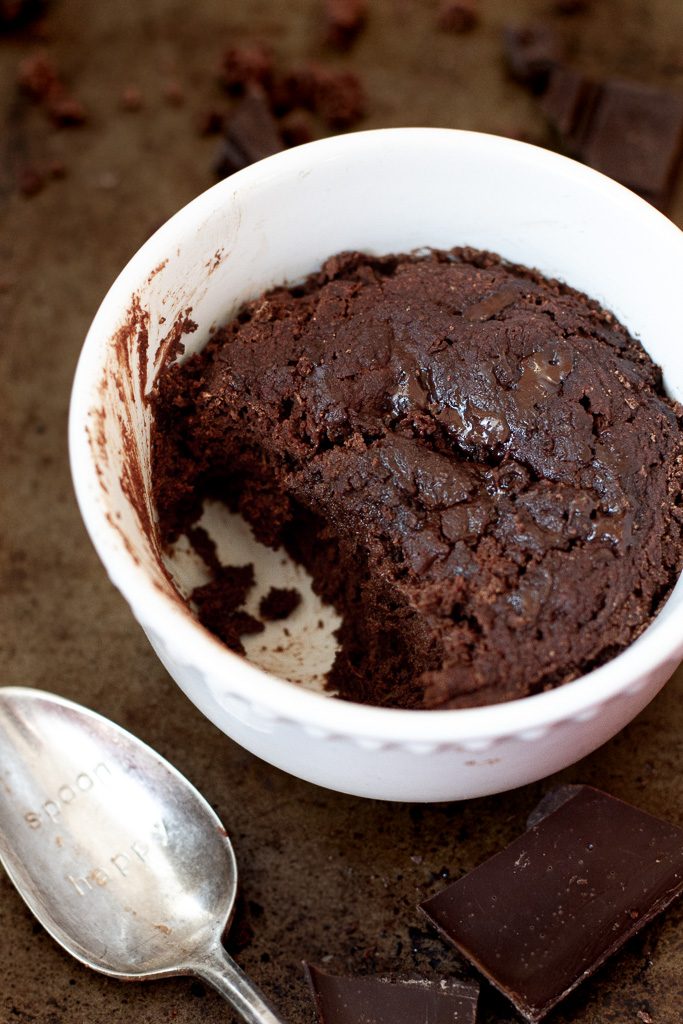 I'd love to know if you make this recipe! Leave a comment and rating down below to let me know what you think, and subscribe to our mailing list to receive new recipes in your inbox!
Print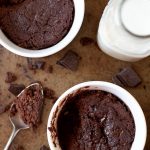 Healthy Two Minute Brownies
---
Author:

Total Time:

7 mins

Yield:

1

serving

1

x
---
Instructions
Add the coconut flour, cocoa powder, and baking powder to a small bowl, mixing until well combined.
Add the milk and mashed banana, stirring until no clumps remain. Add the nut butter, sugar, and vanilla, mixing well to ensure that everything is fully incorporated. Transfer the batter to an 8 oz. ramekin or a small microwave safe mug.
Microwave on high for 2 minutes. If brownie has not set by then, continue to microwave in 30 sec intervals until desired consistency is reached.
Carefully remove from microwave (mug will be hot!), sprinkle with chocolate chips, grab a spoon, and enjoy!
Notes
* You could also sub this with brown sugar or granulated sugar. OR use 1 tsp. of maple syrup or agave to make this refined sugar free.
** To make this nut-free, replace the almond milk with another non-dairy milk like rice or soy, and the nut butter with a soy nut butter.
Prep Time:

5 mins

Cook Time:

2 mins
Keywords: brownie in a mug, brownies, chocolate, gluten-free, healthy, microwave brownie, paleo, recipe, two minute brownie, vegan, quick, easy
Post originally published in January 2016. Text and photos were updated but recipe remained unchanged.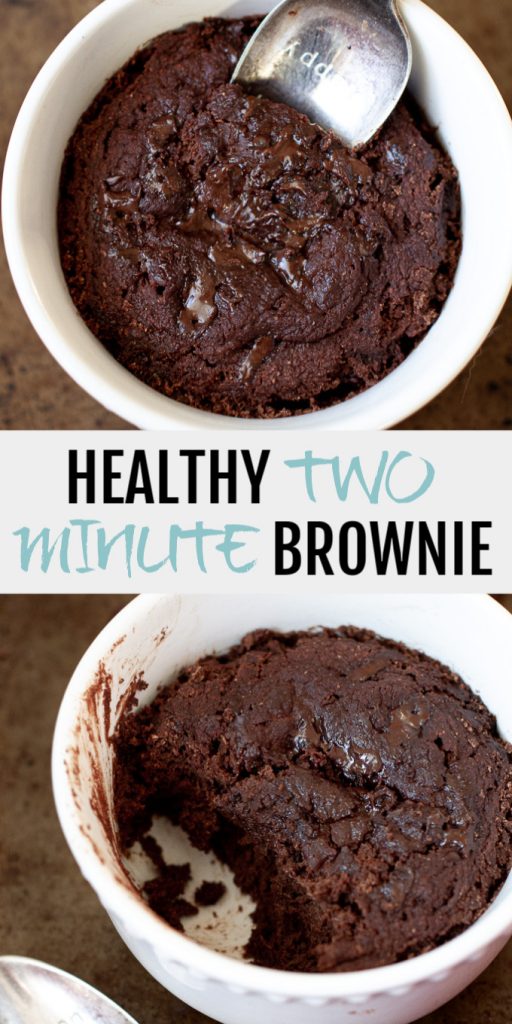 Looking for more healthy 2-minute dessert recipes? Try one of these!
Banana Bread Mug Cake
Oatmeal Cookie Dough Mug Cake
S'Mores Mug Cake
Fudgy Double Chocolate Mug Cake
Chocolate Chip Cookie Dough Mug Cake