These ridiculously soft and tender blueberry oat Greek yogurt muffins are made with NO butter or oil! Naturally sweetened and bursting with blueberry flavour in eat bite, they make for a healthy and delicious breakfast or snack.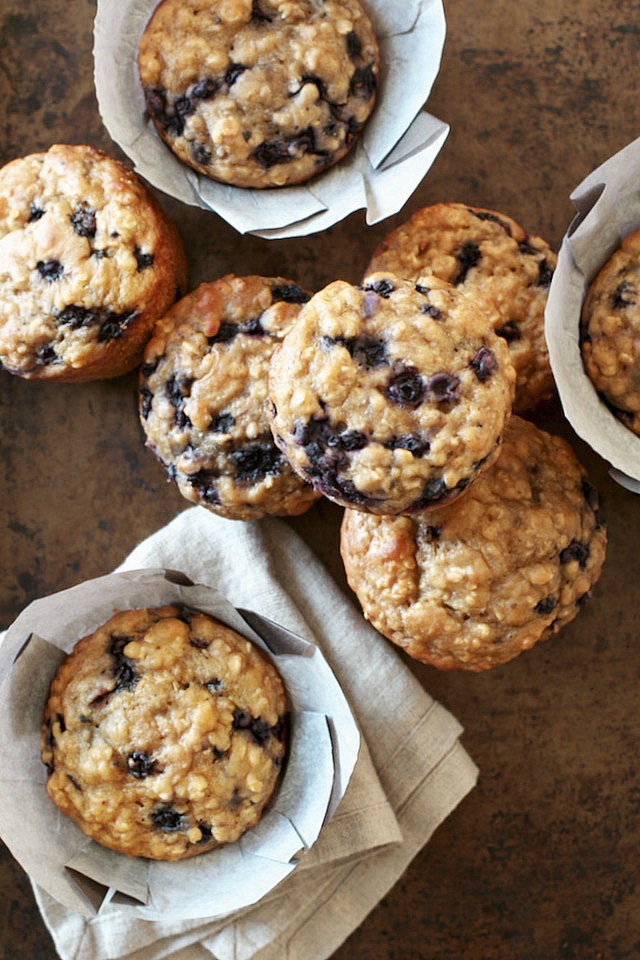 They're so fluffy I could DIE! The muffins, that is.
Bonus points if you get the reference. Bonus points and a blueberry oat Greek yogurt muffin! Heck, have two – it's Friday and I'm feeling extra generous.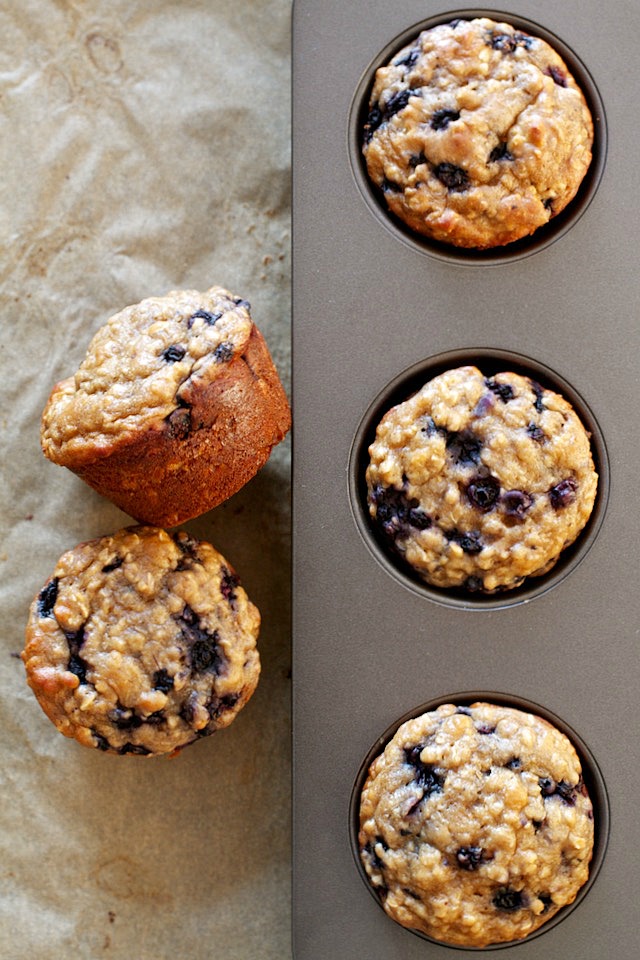 Actually, I'd be super grateful if you could take them all off my hands. Yup, all. Not because I don't like them (they're really good!), but because I'm kind of up to my eyeballs in muffins at the moment. I'll reveal the "why?" soon, but until then, let's just say I feel like the gang from Seinfeld in "The Muffin Tops" episode.
Remember that one? Where Elaine's former boss starts up a muffin business that only sells muffin tops and they can't figure out how to get rid of all the stumps? Yep. That's currently me. Only my muffins come with the tops still attached, which I guess makes them slightly more pawnable …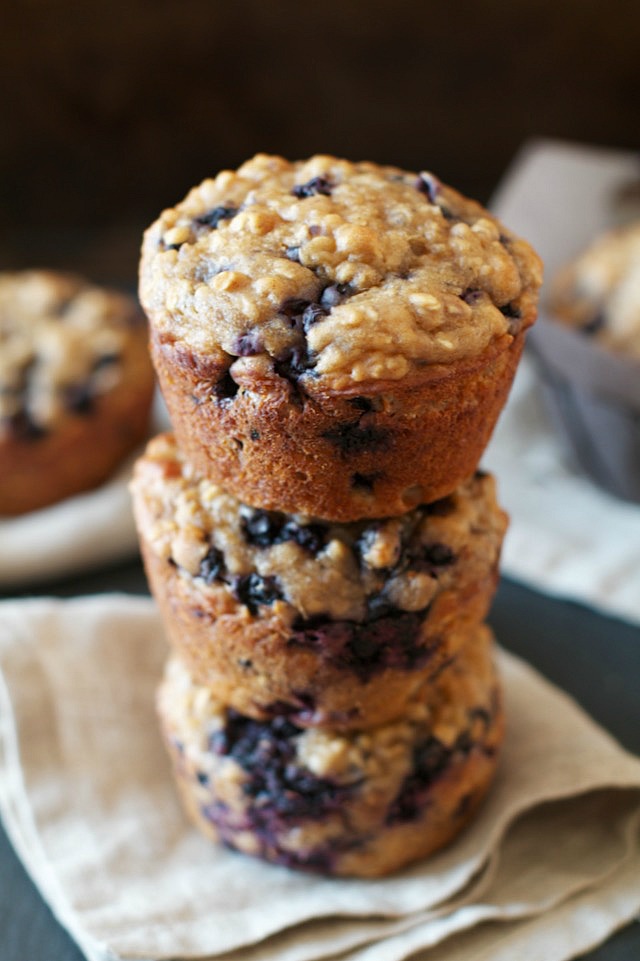 Either way, I loved that show; and I wish we could chat about it some more, but muffins are what's on the agenda today.
Recipe posts are funny things. On the one hand, I feel like I should talk about the details of the actual recipe since I figure people probably want to know a little bit about what they're making, but on the other hand, I want to talk about pretty much everything but the actual recipe.
I'd rather talk about how much I loved watching Seinfeld in the 90's than tell you how soft and flavourful these muffins are; and I'd prefer it if we could chat about how Tom's Restaurant is on my list of places to visit when I go to NYC instead of how these muffins are butter/oil-free and naturally sweetened.
See what I did just there? ?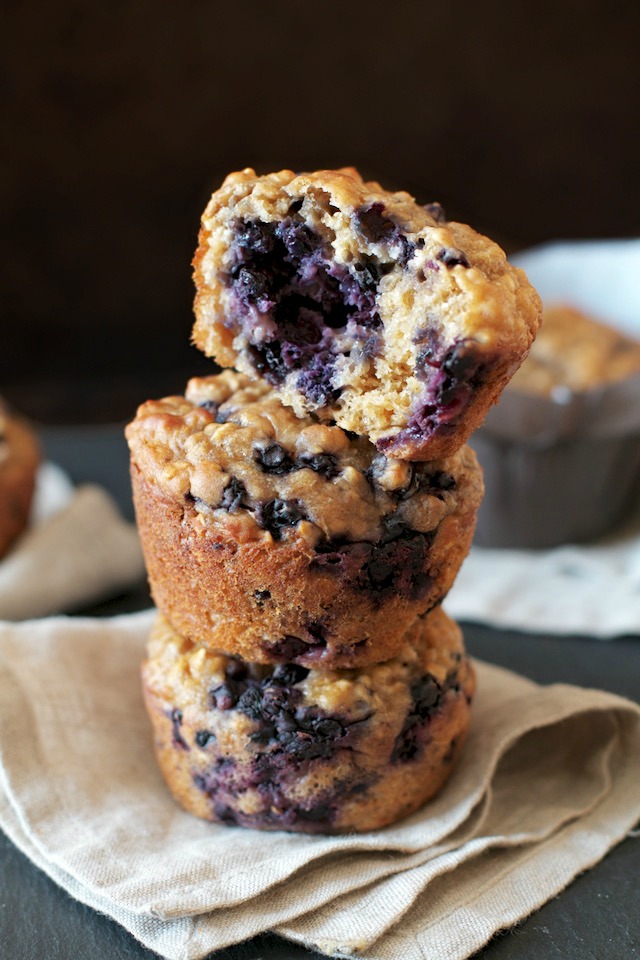 In all seriousness, though, recipe posts are a tough ball to juggle (at least for me) because while I know that tossing those keywords in there is important for SEO and what not, that doesn't change the fact that it makes me feel like a late night infomercial. And not the kind that you watch with loving disdain.
I think the best piece of blog writing advice I ever came across was to write as if you were chatting to a good friend. Would I talk about the texture and ingredients of a blueberry muffin? Maybe in passing, but mostly we'd just talk about life and whatever was going on at that time.
So I might try doing more of that going forward. What's say we just sit down and shoot the sh*t… with a plate of blueberry oat Greek yogurt muffins that have the delicious taste of blueberries and vanilla in every bite ?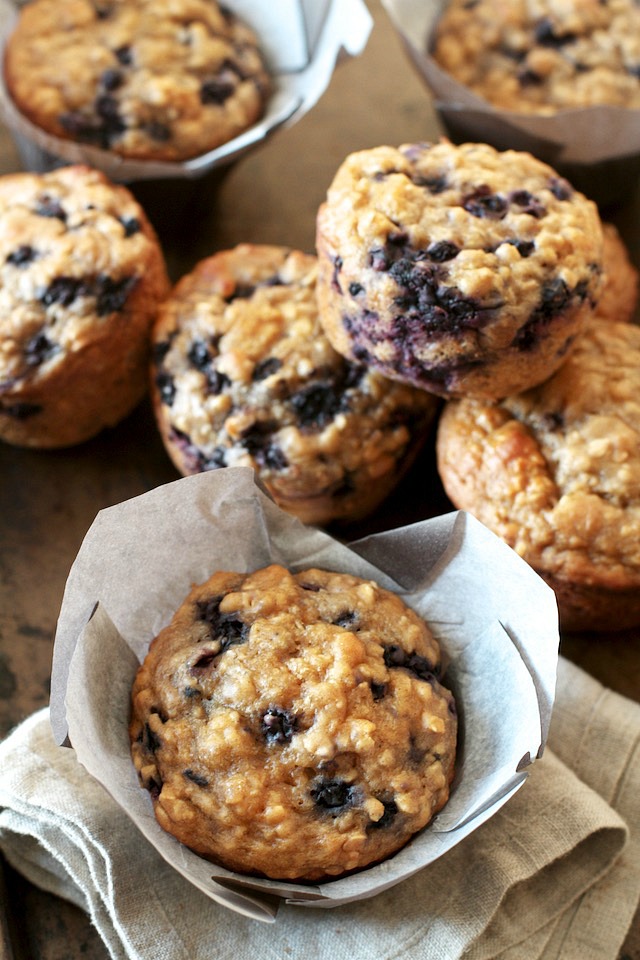 I'd love to know if you make this recipe! Leave a comment and rating down below to let me know what you think, and subscribe to our mailing list to receive new recipes in your inbox!
Print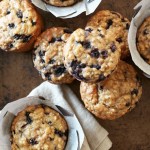 Blueberry Oat Greek Yogurt Muffins
---
Author:

Total Time:

30 mins

Yield:

12

muffins

1

x
1 cup

(

120 g

) all-purpose flour*

1 cup

(

80 g

) old fashioned rolled oats

1 1/2 tsp

baking powder

1/2 tsp

baking soda

1/2 tsp

ground cinnamon

1/4 tsp

salt

1

large egg

1 cup

(

225 g

) plain Greek yogurt

1/4 cup

(

80 g

) honey

2 Tbsp

(

24 g

) coconut palm sugar

1/4 cup

(

60

ml) unsweetened almond milk

2 tsp

vanilla extract

1 cup

(

140 g

) blueberries, frozen or fresh
---
Instructions
Preheat your oven to 350F (176C) and prepare a muffin pan by spraying the cavities with cooking spray or greasing them with oil. Set aside.
In a large mixing bowl, combine the flour, oats, baking powder, baking soda, cinnamon, and salt. Set aside.
In a separate bowl, lightly beat the egg just to break it up. Whisk in the yogurt, honey, sugar, almond milk, and vanilla, mixing until well combined.
Add the wet ingredients to the dry ingredients, mixing gently until just combined. Toss the blueberries in 1 Tbsp (7.5 g) of flour to prevent them from bleeding or sinking to the bottom of the muffins, and fold them into the batter.
Divide the batter evenly among the 12 muffin cups, filling almost to the top. Add a sprinkle of coconut sugar, if desired.
Bake for 20-22 minutes, or until the tops of the muffins are firm to the touch and toothpick inserted into the centre comes out clean. Allow the muffins to cool in the pan for ~5 minutes before transferring them to a wire rack to cool completely. Store in an airtight container at room temperature for up to 5 days, or freeze for up to 3 months.
Notes
* You can also use a mix of plain and whole wheat OR sub with oat flour, but the texture will be slightly more dense and moist.
Prep Time:

10 mins

Cook Time:

20 mins
Keywords: blueberry, blueberry muffins, Greek yogurt, Greek yogurt muffins, healthy, muffins, oatmeal muffins, oil-free, recipe

Looking for more Greek yogurt muffin recipes? Try one of these!
Banana Oat Greek Yogurt Muffins
Apple Oat Greek Yogurt Muffins
Double Chocolate Greek Yogurt Muffins
Chocolate Cherry Greek Yogurt Muffins
Zucchini Oat Greek Yogurt Muffins