This super creamy blueberry avocado smoothie is packed with protein, healthy fats, vitamins and antioxidants. Gluten-free and easily made vegan, it makes a healthy and delicious breakfast or snack.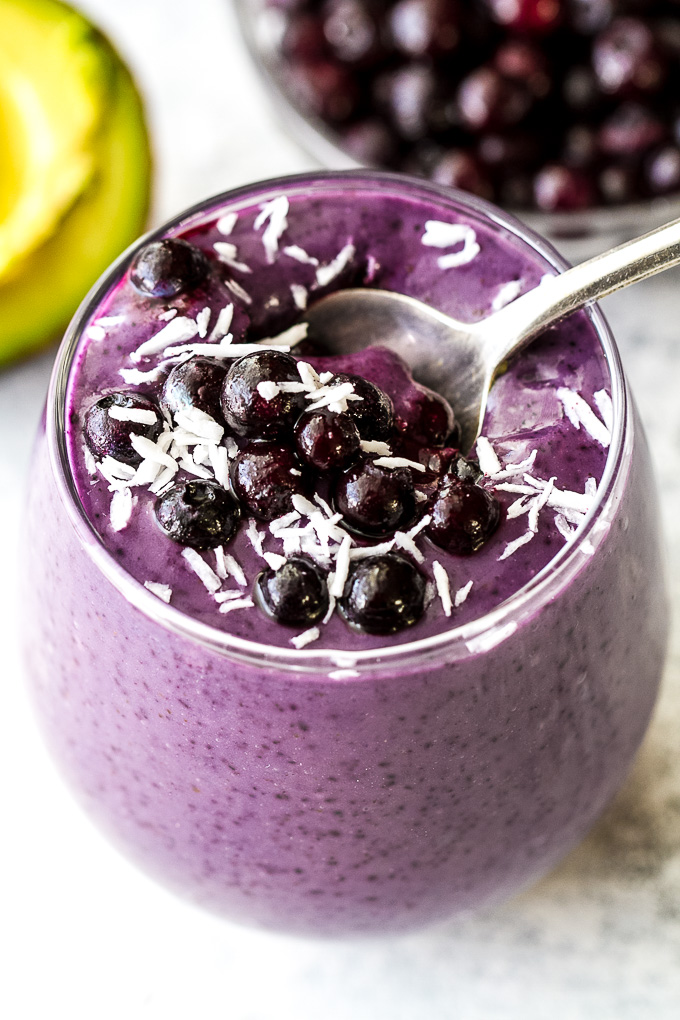 I think I have a new favourite smoothie ingredient.
Scratch that.
I definitely have a new favourite smoothie ingredient. Or at least one that I can add to my list of favourite smoothie ingredients, since I'm pretty sure I could never willingly abandon frozen bananas and raw oats. They complete me. And I purposely left them out of this recipe just so I'd know it was 100% the new guy that was responsible for the awesomeness that this smoothie ended up turning into.
Did that paragraph even make sense? Because it did in my head, but it kind of feels like a compound sentence now that I go back and look at it.
Doesn't matter. I digress. Here's the new guy…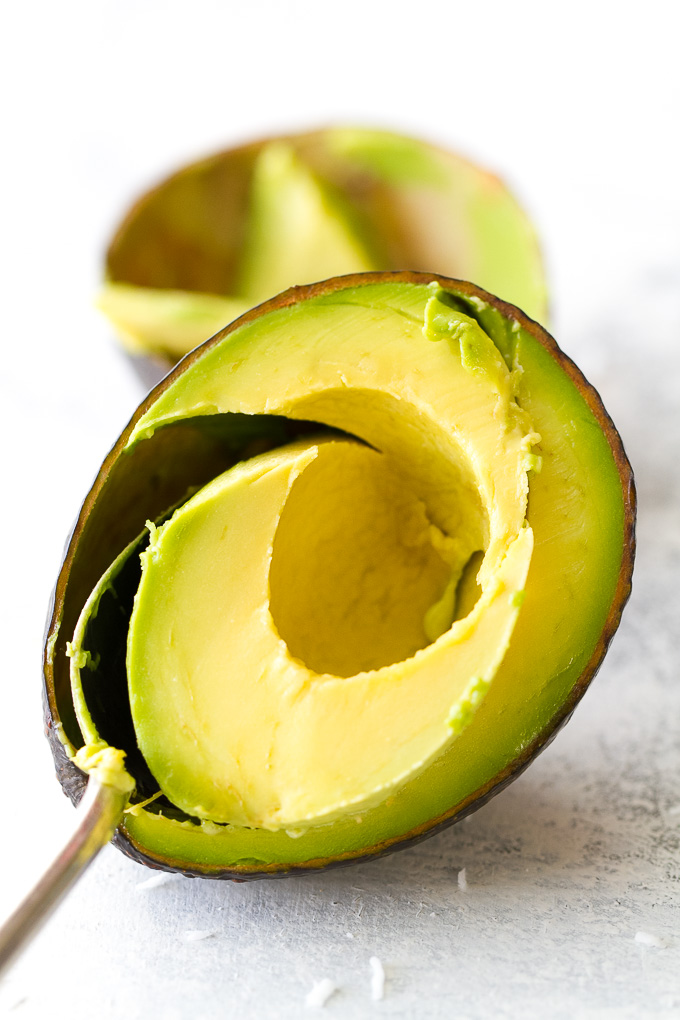 With "the new guy" being an avocado, in case I completely failed in my attempt at photographing one creatively and you have no idea what you're looking at.
And I know what you're thinking. And I know it doesn't sound like it should work in your mind. But promise me that you'll abandon any negative preconceptions and try it out at least once.
Because it might blow your mind like it did mine…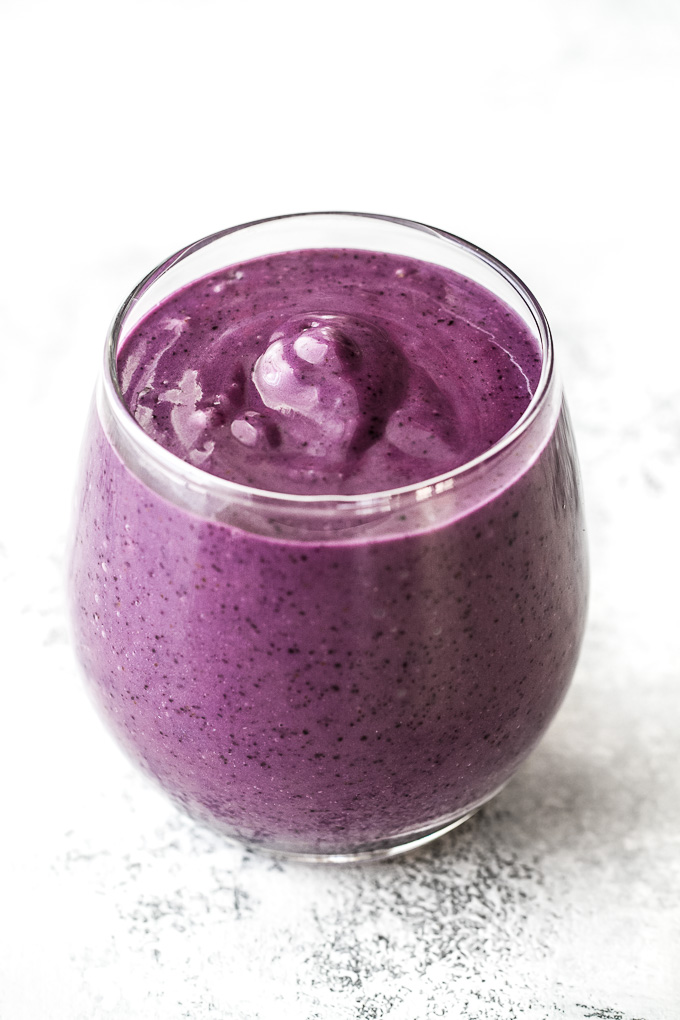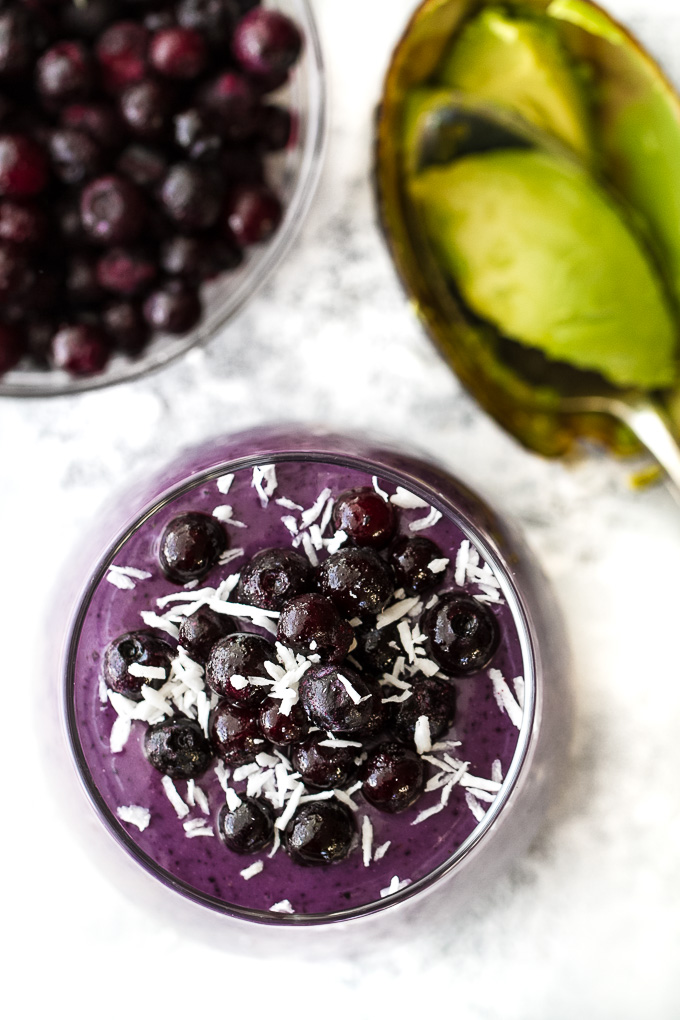 I mean… I've tried adding avocado to smoothies before (apparently), but I completely forgot about the amazing things they do for the texture.
It's smooth.
It's creamy.
It's mousse-y.
Not to be confused with mousy, but seriously… adding avocado to a smoothie gives it this light, pillowy creaminess. That's really the only way I can describe it. It's almost like a mousse. Only… without chocolate, in this case.
And the best part is that you can't taste the avocado at all. Like, I know you can use bananas to add some creaminess to smoothies, but those guys come with a pretty strong taste that some people don't like or are straight up allergic to. They also won't give you the same pillowy texture.
Avocados, though? Not only do they have a super mild taste, but they also come with a nice dose of healthy fats and vitamin E, which works wonders for your hair and skin. Pair that with the antioxidants in blueberries and some extra protein from the Greek yogurt, and you've got yourself one healthy smoothie powerhouse.
Oh, and it also passes the floating spoon test with flying colours, in case that sort of thing is important to you…
Happy eating!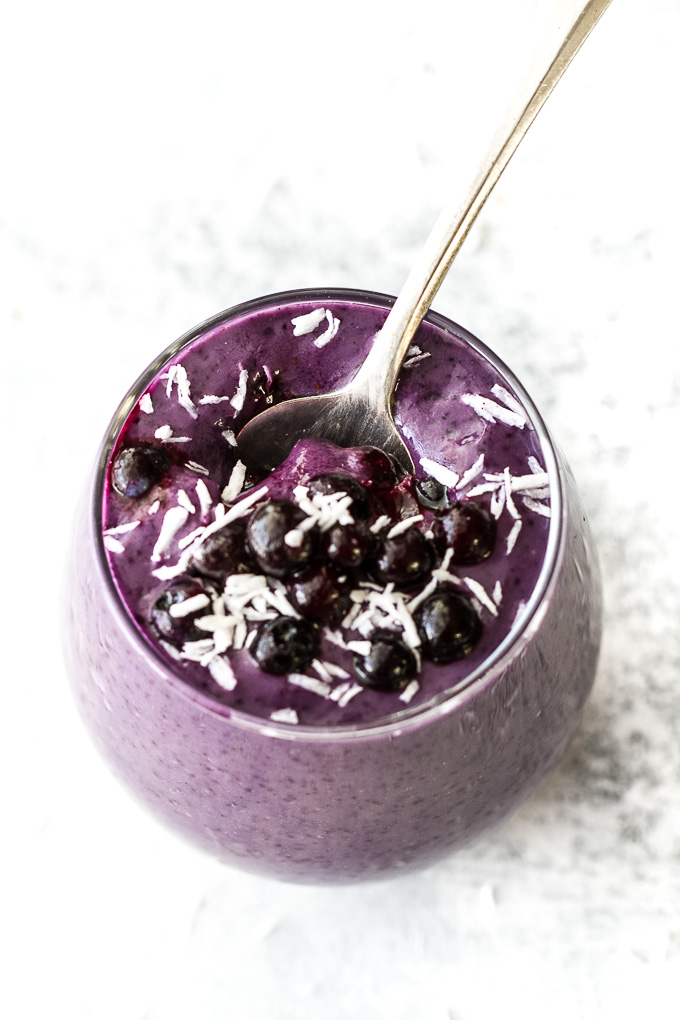 I'd love to know if you make this recipe! Leave a comment and rating down below to let me know what you think, and subscribe to our mailing list to receive new recipes in your inbox!
Print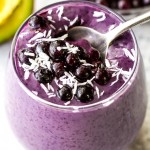 Blueberry Avocado Smoothie
---
Author:

Total Time:

5 mins

Yield:

1

serving

1

x
1/2 cup

(

120

ml) unsweetened vanilla almond milk

1/2 cup

(

110 g

) plain yogurt*

1 cup

(

30 g

) baby spinach

1/2 cup

(

70 g

) frozen blueberries

1/2

ripe avocado (~

50 g

)

2

–

3

tsp (

10

–

15

ml) maple syrup**
---
Instructions
Place all ingredients into any standard blender in the order listed and blend until smooth. Transfer to a glass, top with any additional toppings of choice, and enjoy immediately.
Notes
* To make this smoothie vegan, use a non-dairy plant based yogurt like soy or coconut. You can also use a vanilla or blueberry yogurt to add more flavour. ** You can also use honey, agave, or whatever liquid sweetener you have on hand. If the smoothie isn't sweet enough for you, simply adjust to taste.
Keywords: avocado, blueberry, breakfast, gluten-free, healthy, recipe, smoothie, snack, vegan

Looking for more healthy smoothie recipes? Try one of these!
Hot Chocolate Breakfast Smoothie
Salted Caramel Cookie Dough Smoothie
Banana Cream Pie Overnight Oatmeal Smoothie
Black Forest Smoothie
Chocolate Overnight Oatmeal Smoothie

*Disclosure: Some of the links included in this post may be affiliate links, meaning I'll earn a small commission if you purchase through them, at no additional cost to you. I only recommend products I personally use and believe will add value to my readers. Thank you so much for helping support Spoons!