These easy taco stuffed sweet potatoes are a perfect choice for those nights where you don't have a lot of time or energy to put into cooking. Gluten-free and vegan, they make a healthy and balanced meal with minimal hands-on time and no cleanup!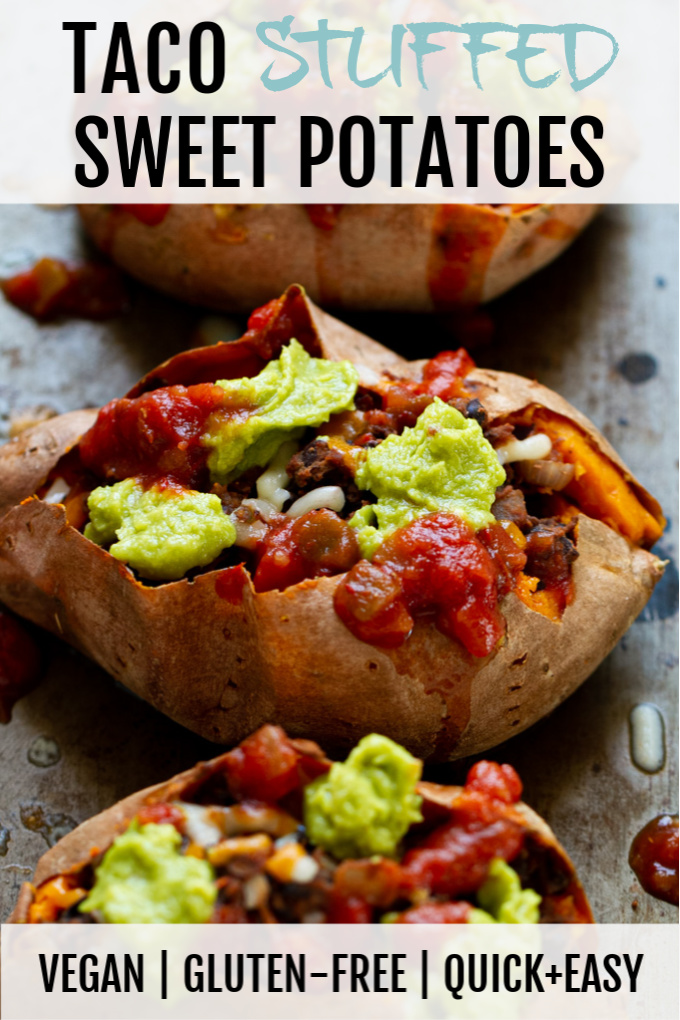 They had black beans at Costco!! This is exciting for a few reasons.
First, because we only go stock up about once a month due to the whole social distancing thing and they were out of black beans the last time we went so we had to settle for chickpeas. Second, chickpeas are fine but they have nothing on black beans… especially when you need to get through 8 cans of them. Come to think of it, I probably should have used them in hummus… but I digress.
Third, our regular grocery store has also been out of black beans but had plenty of pinto, kidney, and chickpeas which, by my reasoning, means that people love black beans the most. Fourth, I also love black beans.
See? SUPER exciting to finally have our hands on some. It means I can stop subbing chickpeas in this recipe (good, but not the same), and I can start making taco filling for these taco stuffed sweet potatoes… which I've wanted to do for like a month.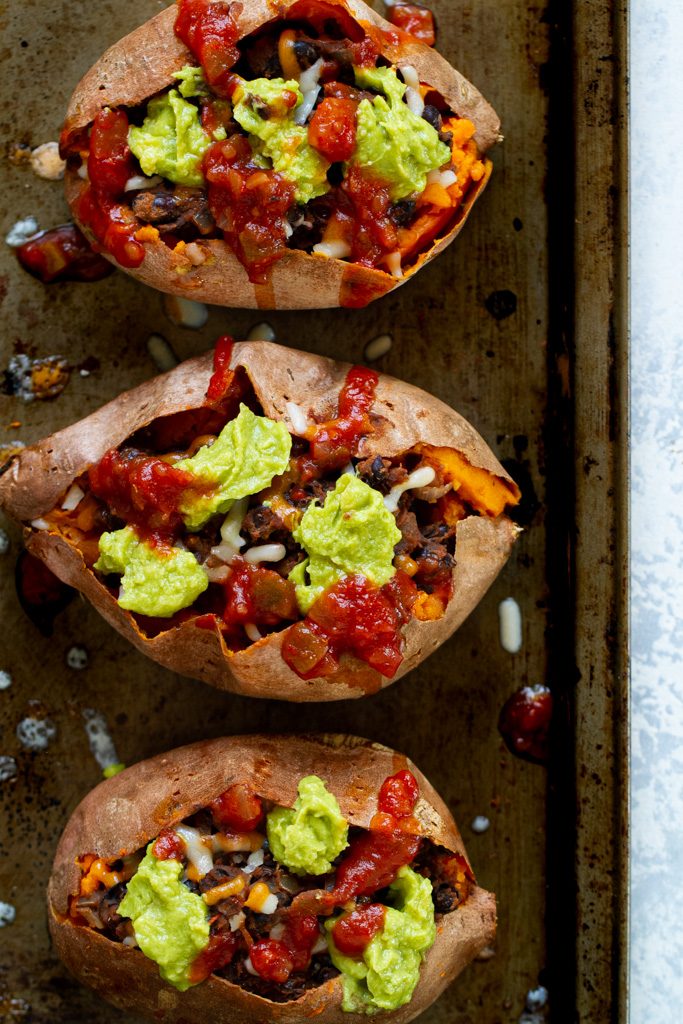 How To Make Taco Stuffed Sweet Potatoes
Basically we're just making taco filling and stuffing it into sweet potatoes instead of taco shells!
Don't get put off by the total time of the recipe or the length of the ingredients list! It's super simple and only about 15 minutes of the total time is actual hands-on time; the other 45 is just waiting for the sweet potatoes to bake.
I like to bake my sweet potatoes in the oven because I'm bad at microwaves, but I've read that you can nuke them and it should only take about 5 minutes. Basically, cook your sweet potatoes according to your preferred method. Just remember to poke a few holes in them first.
I do recommend that you cook up a bigger batch (if you're baking them) and refrigerating the ones you don't use. That way you can just reheat them, stuff them, and have a healthy meal in minutes.
The filling is so quick and easy that you can make it while your sweet potatoes are cooling. You basically just sauté some diced onion, add beans and spices, and voila! Done in about 5 minutes.
Before you add the filling, take a fork and break apart the flesh of the sweet potatoes a little bit – this makes it easier to eat. You can also scoop out some of the flesh if you want room for more filling.
Add any toppings that you'd put on tacos. Shredded cheese, guacamole, pico de gallo, salsa, cilantro – whatever is your favourite! I put cheese, guacamole, and salsa on the ones here… mostly because I was out of cilantro and the lime juice to make pico. Boo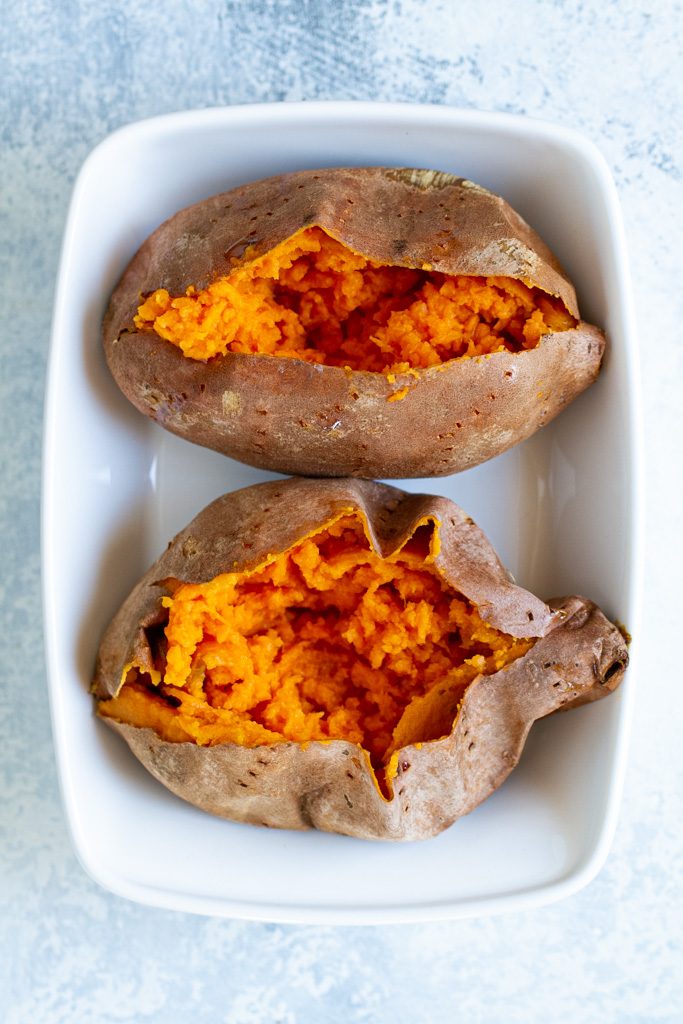 Okay, But What Are They Like?
I may be a little biased since I love this taco filling and that's basically what I stuffed these sweet potatoes with, but these little guys are good. And a nice change from taco shells! They're packed with flavour and good-for-you ingredients so you don't even feel like you're eating something healthy.
My favourite thing about them is probably the contrast of the sweet potatoes with the salty spiciness of the filling… and it doesn't hurt that the whole thing tastes like a taco that you can load with toppings (guacamole/avocado is a MUST).
They're super easy to make with minimal hands-on time, and if you bake up a big batch of sweet potatoes (or nuke them in the microwave) then you can have a healthy vegan and gluten-free meal in minutes.
Happy eating!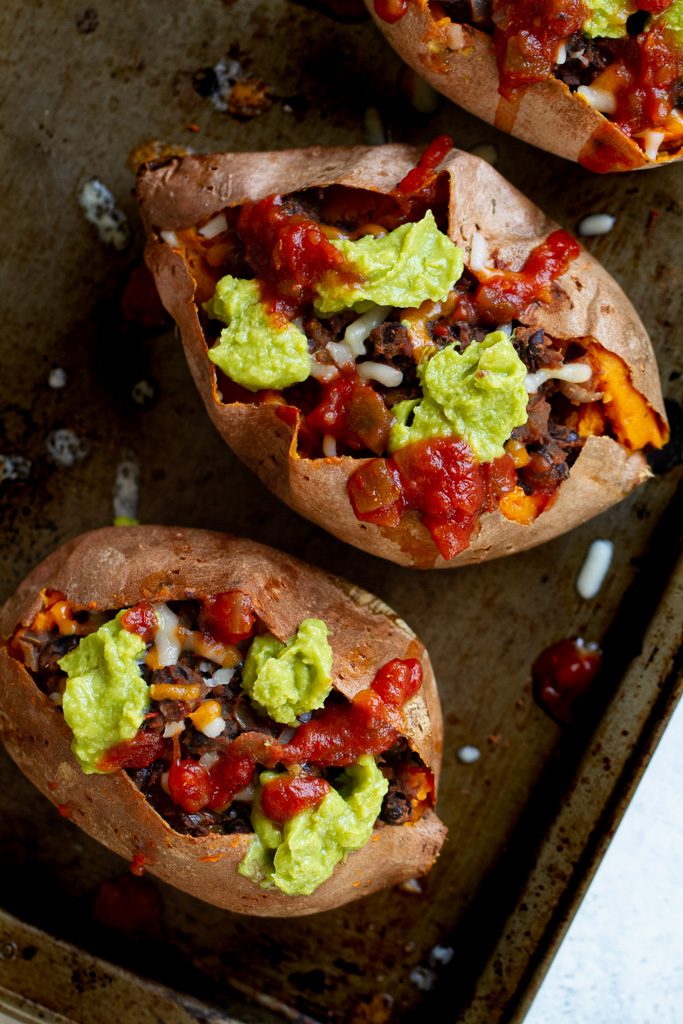 I'd love to know if you make this recipe! Leave a comment and rating down below to let me know what you think, and subscribe to our mailing list to receive new recipes in your inbox!
Print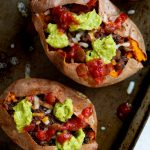 taco stuffed sweet potatoes
---
Author:

Total Time:

1 hour

Yield:

4

servings

1

x
For the stuffed potatoes:
To serve:
shredded cheese*
guacamole or diced avocado
pico de gallo or diced tomatoes
salsa
shredded lettuce
cilantro
---
Instructions
Cook your sweet potatoes. Preheat your oven to 400°F (205°C). Wash your sweet potatoes and prick them all over with a fork before placing them onto a parchment-lined baking sheet and baking for 50-60 minutes, or until soft and tender.** When they are done, remove them from the oven and let them sit for about 10 minutes while you prepare the filling.
Prepare the filling. Add the oil to a medium skillet set over medium heat. When the oil is hot, add the diced onion and cook until it is translucent and soft, ~2-4 minutes, stirring occasionally.
Use a potato masher or the back of a fork to mash half the beans. Add all the beans along with the spices, salt, and salsa to the skillet, mixing well to ensure that everything is evenly distributed. Lower the heat, cover and let cook for 5 minutes.
To serve, Slice each sweet potato lengthwise and use a fork to break up the flesh of each potato so that it looks almost mashed. If you want room for more filling, scoop out some of the flesh and set aside.
Spoon a desired amount of filling into each sweet potato and top with desired toppings. If you're using cheese, add that first and put the potatoes back into a warm oven for a couple of minutes until the cheese melts. Remove from the oven, add remaining toppings, and enjoy!
Notes
* To make these vegan, use a non-dairy cheese substitute.
** You can also cook your sweet potatoes in the microwave. Wrap them in a wet paper towel and nuke on high for 5 minutes, flipping them halfway through. Or bake them ahead of time and simply skip to step 2 when you're ready to enjoy your stuffed sweet potato. I like to bake up a big batch of potatoes and store them in the fridge so that they're ready to go when I need them.
*** Nutritional info is calculated based on sweet potato and filling ONLY.
Prep Time:

10 mins

Cook Time:

50 minutes
Keywords: sweet potatoes, taco, black beans, healthy, vegan, gluten-free, recipe, dinner, vegetarian, easy, quick