A vegan mac & cheese that's smooth, creamy, nut-free, and made with simple healthy ingredients! The versatile cheesy sauce tastes and feels so authentic that it's guaranteed to be loved by vegans and non-vegans alike. Suitable for those following dairy-free, nut-free, gluten-free, vegan, and paleo diets.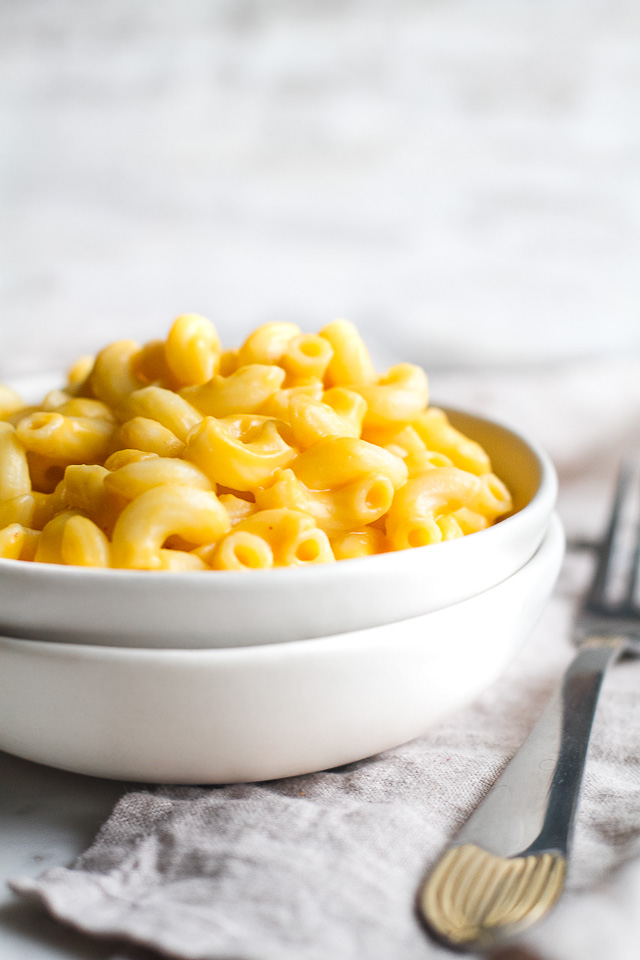 Stop! Before you read any further, you need to stop what you're doing and go put some sweet potatoes on.
Boil them, roast them, steam them… do whatever it is that you like to do to get those little suckers nice and tender. Go, go! Right now. I'll wait.
What's that? You want to know why I'm sending you off on a culinary adventure? Fair enough. It's because the healthy vegan mac & cheese that I'm sharing with you today calls for cooked sweet potato, and believe me when I say that you'll be wanting to have some on hand so that you can make this stuff ASAP…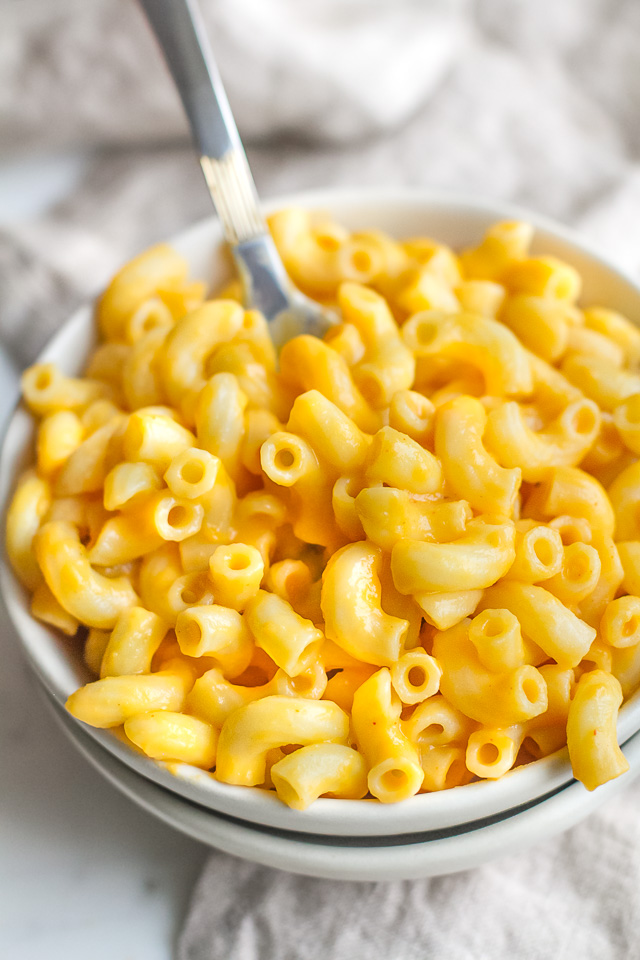 I mean, is.that.not a thing of beauty?
And would you be able to tell just by looking at it that that creamy perfection you see before you is actually dairy-free, nut-free, gluten-free, vegan, and paleo? Well, the noodles aren't paleo or necessarily gluten-free, but the "cheese" most definitely is. AND! you can easily swap in gluten-free noodles if you need this to be GF, or something like zucchini noodles if you need this to be paleo.
Heck, you can even do what I've been doing and just eat it by itself with a spoon. Or use it as a dip for chips or veggies. This sauce is so easy, versatile, and delicious, that you'll find yourself wanting to put it on ev.ry.thing.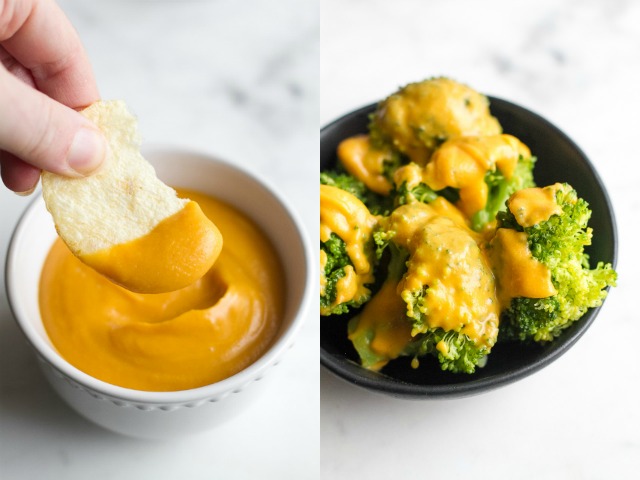 So let's talk about what goes into this bad boy to make it so amazing.
First, we start with a base of cooked sweet potatoes. I've seen a lot of vegan "cheese" recipes that call for cashews or tofu, but I wanted something that was a little lighter and nut-free.
And don't worry – I'm well aware that sweet potatoes don't even remotely resemble the taste and consistency of cheese. But that's why we're doctoring them up.
So the next step is to thin them out and make them more saucy. I used a mix of canned coconut milk* and water for this part, but you could easily use all coconut milk, all water, or even another non-dairy milk or veggie broth. I liked the 50/50 mix of coconut milk and water because I found that that amount of milk gave it just the right amount of creaminess without making it taste coconut-ty. For all you coconut haters out there – I promise you can't taste it at all.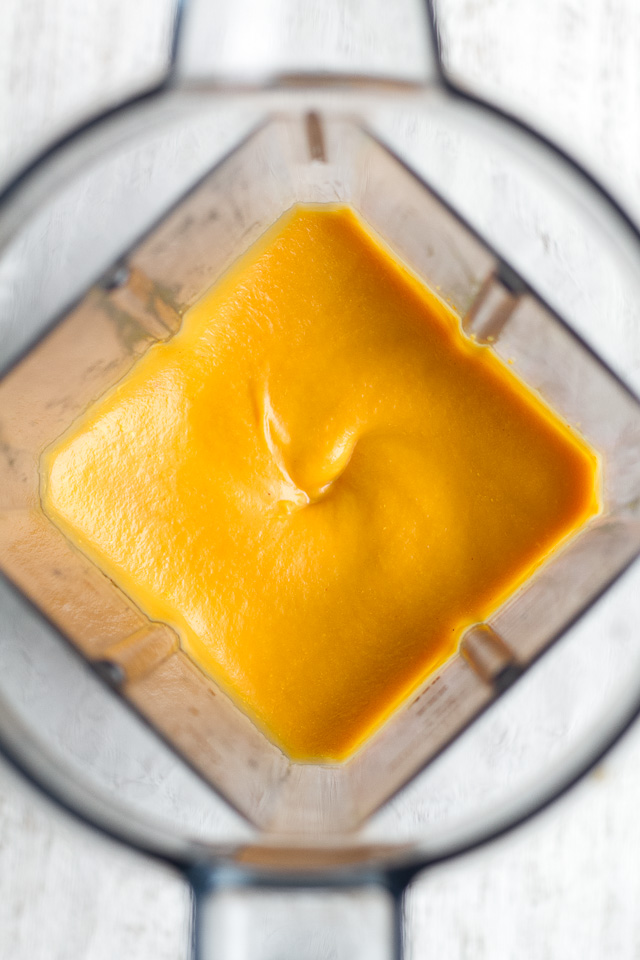 Next comes the nutritional yeast*.
If you're not familiar with "nooch," the idea of eating yeast (albeit a deactivated one) might seem a little off-putting, but this stuff is a delicious little nutritional powerhouse. Not only is it 50% protein by weight (15g of nooch = 8g of protein), but it's absolutely PACKED with B vitamins. That and it's also what's responsible for the cheesy flavour. It's good stuff. Trust.
And after that, all that's left is to pack in even MORE flavour with: garlic powder, onion powder, paprika, mustard, soy sauce, and salt.
That's it.
I wanted to keep this as simple as possible so all you have to do is take those ingredients, toss them in a blender*, make some adjustments according to your tastes, and voila! You have a creamy, healthy vegan mac & cheese that contains NO artificial colours, flavours, preservatives, fillers, or thickeners, and is guaranteed to be loved by vegans and non-vegans alike.
Bet you wish you listened to me and put those sweet potatoes on, eh?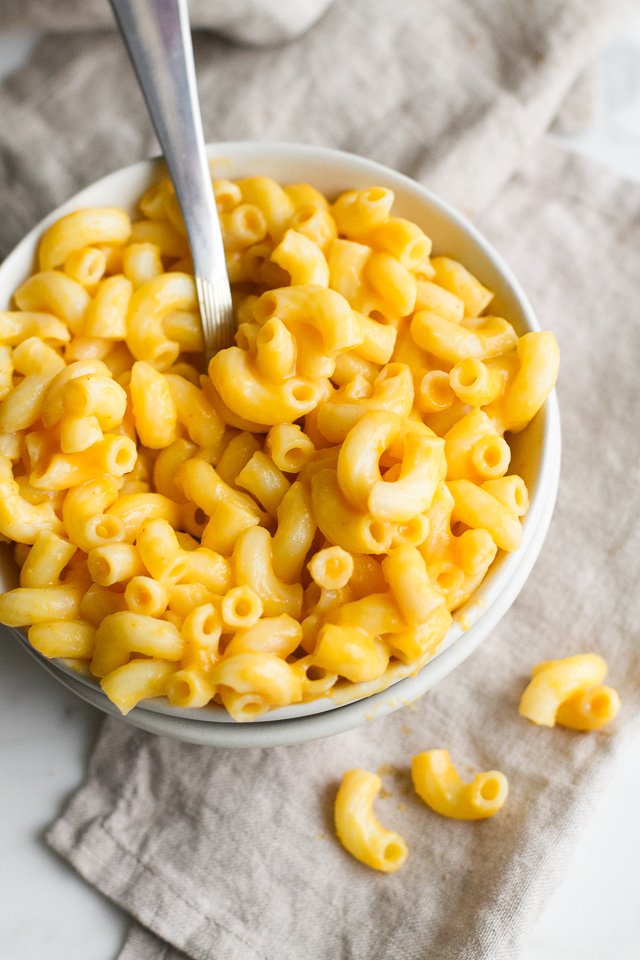 I'd love to know if you make this recipe! Leave a comment and rating down below to let me know what you think, and subscribe to our mailing list to receive new recipes in your inbox!
Print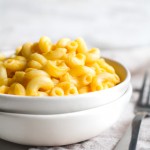 Healthy Vegan Mac & Cheese
---
Author:

Total Time:

5 mins

Yield:

1 1/2 cups

, about

4

servings

1

x
1 cup

(

220 g

) cooked sweet potato, mashed*

1/2 cup

(

120

ml) water

1/4 cup

(

60

ml) canned coconut milk**

1/4 cup

(

15 g

) nutritional yeast

1 tsp

Dijon mustard

1 tsp

soy sauce***

1/2 tsp

garlic powder

1/2 tsp

onion powder

1/4 tsp

paprika

1/4

–

1/2

tsp salt, to taste
---
Instructions
Add all the ingredients to a high-speed blender and blend on high until smooth and creamy. If the sauce is too thick for your liking or if your blender is having a hard time getting it completely smooth, slowly add more water or coconut milk until your desired consistency is reached. You can also adjust the amount of spices and salt that you use, according to taste.
Serve the sauce over pasta, zucchini noodles, veggies, or as a dip for chips and crackers.
To store leftover sauce, transfer it to a sealed container and keep it in the fridge until ready to use. Then, simply heat up the amount you want to use and add it to pasta or veggies, or enjoy it cold as a dip.
Notes
* To cook my sweet potatoes quickly, I like to peel them, cut them into chunks, and boil them in a pot of water on the stovetop for 7-10 minutes. But you could also roast, steam, microwave, or buy them canned. ** How much coconut milk you use depends on how creamy you want your sauce. You want about 3/4 cup (180 ml) of liquid in total, and I found that 1/4 cup (60 ml) of milk and 1/2 cup (120 ml) of water was perfect. But you could also use all coconut milk, all water, or even another non-dairy milk – just make sure it's not flavoured. *** To make the cheese sauce paleo, sub the soy sauce for coconut aminos.
Keywords: dairy-free, dinner, gluten-free, healthy, lunch, mac & cheese, macaroni and cheese, nut-free, paleo, vegan, vegan cheese, vegan mac & cheese


*Disclosure: Some of the links included in this post may be affiliate links, meaning I'll earn a small commission if you purchase through them, at no additional cost to you. I only recommend products I personally use and believe will add value to my readers. Thank you so much for helping support Spoons!