An Instant Pot Taco Mac and Cheese that's super cheesy and loaded with flavour! Easily made gluten-free and/or vegan, it's a perfect option for those looking for a quick and healthy meal.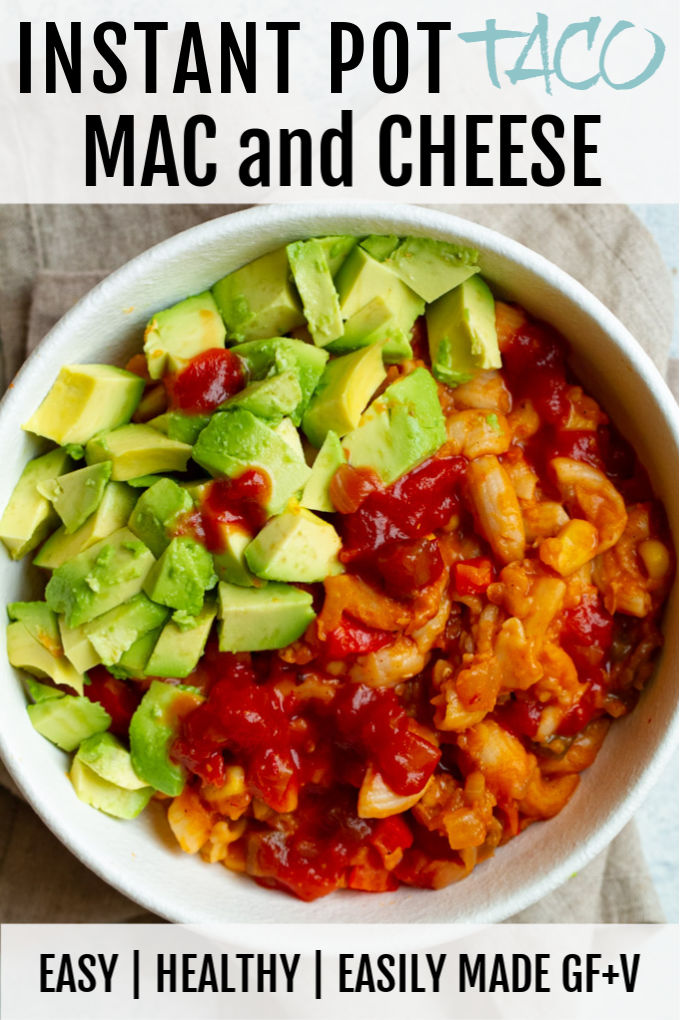 Boxed mac and cheese was the first thing I learned how to "cook." Or maybe it was pancakes… But for the sake of this post, let's say it was mac and cheese.
I don't even remember how old I was, but it was young enough to consider the act of adding a box of noodles to a pot of boiling water and dumping a packet of neon orange powdered cheese on them an exercise in culinary brilliance… especially when I didn't disintegrate the noodles by overcooking them.
No shade to Kraft Dinner, by the way – that stuff was delicious. It was also a dietary staple when I was in my early teens. Actually, if we're being completely honest, I ate it well into my 20's. Like I said… delicious. Oh, and by Kraft Dinner I mean Kraft macaroni and cheese. Apparently it's only "Dinner" in Canada. But I digress.
I'd like to think that I've come a long way since those early days in the kitchen. And while I don't eat the boxed stuff that often anymore, mac and cheese continues to be a pretty big staple in my diet. Well, this Instant Pot taco mac and cheese is anyways…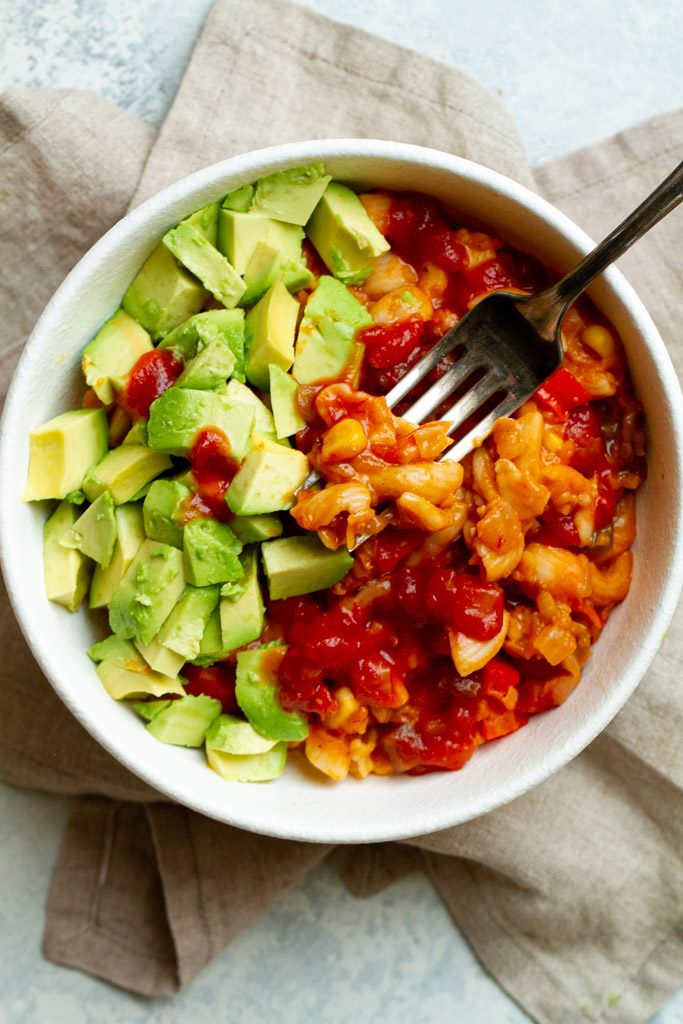 How To Make Instant Pot Taco Mac and Cheese
Well, first you need an Instant Pot. I may try this recipe on the stovetop and add an alternative cooking method to the recipe instructions at some point, but for now I recommend using an Instant Pot. It's easy, it's fast, and it's magical – ingredients go in and, 5 minutes later, meals come out. All you have to do is plate is and add your toppings.
So here's how you do it:
Start by sautéing your onion and bell pepper, which you can conveniently do right in the magic pot. This is the only part of the recipe that requires any real hands-on work since you have to dice the veggies and stir them around for a couple of minutes while they're sautéing.
After that, toss in the remaining ingredients (minus the cheese), give them a stir, seal the pot, set it to cook on high for 5 minutes, and walk away.
When the pot is done working its magic, use the valve to release the pressure quickly, carefully remove the lid, stir in the cheese, let it get all melty, and then serve with desired toppings!
Oh, and for toppings I recommend avocado, shredded lettuce, lime juice, and more salsa. Anything you would put on a taco, really.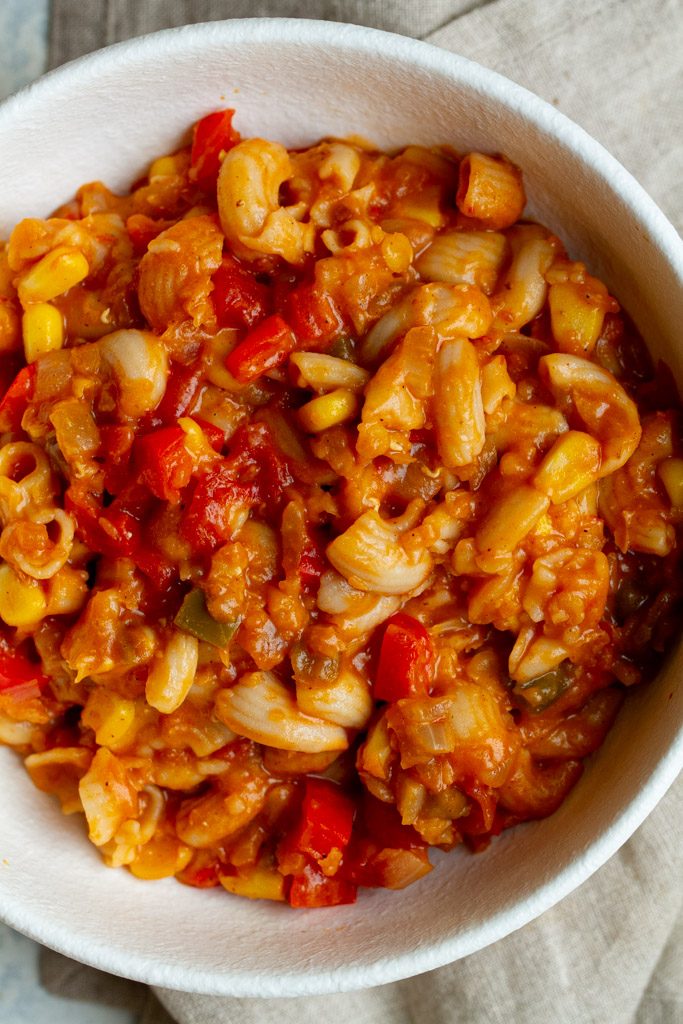 Okay, but what's it like?
Like I said, this dish is another regular in our home, and I love it because it's:
Quick – 10 minutes of prep, 5 minutes in the pot
Easy – one pot, minimal chopping, set-and-forget
Healthy – nutritious ingredients, no nasty stuff
Filling – lots of fibre and protein
Loaded with flavour – spices, salsa, avocado, oh my!
Suuuuuper cheesy and creamy
It's also super easy to customize according to your dietary needs. It's naturally vegetarian, as it uses lentils in place of meat, but you could easily take it a step further and make it vegan by using a non-dairy cheeze. To make it gluten-free, use gluten-free noodles.
It boasts an impressive 16 grams of protein and 7 grams of fiber, making it a deliciously filling and healthy meal choice for any day of the week. It even refrigerates and stores well, so you could make it ahead of time and just reheat it when you're ready to serve.
Happy eating!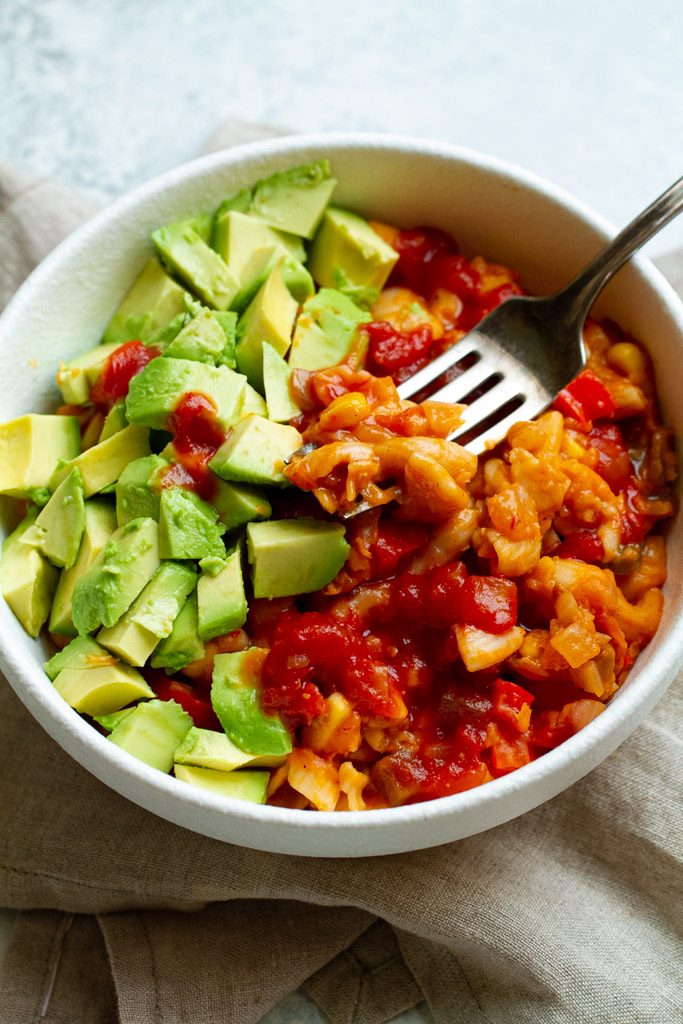 I'd love to know if you make this recipe! Leave a comment and rating down below to let me know what you think, and subscribe to our mailing list to receive new recipes in your inbox!
Print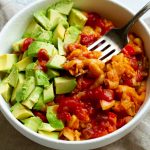 instant pot taco mac and cheese
---
Author:

Total Time:

21 minutes

Yield:

4

servings

1

x
Optional Toppings: fresh cilantro, diced avocado, guacamole, pico de gallo, shredded lettuce, etc.
---
Instructions
Turn Instant Pot to 'sauté'. Add the oil and let it get hot.
Add the diced onion and cook until it begins to soften, ~2 minutes, stirring occasionally. Add the bell pepper and sauté for a few more minutes. Stir in the cumin, and chili powder, and cook for another minute.
Press 'cancel.' Add the macaroni, corn, lentils, salsa, and water, stirring well until everything is combined. Place the lid on the Instant Pot and lock it into place, making sure the pressure release valve is in the sealing position. Select 'pressure cook' and cook on high for 5 minutes.
Once it's finished cooking, open the quick release valve to release the pressure. Remove the lid and stir in the cheese, letting it melt. Serve warm and garnish with desired toppings.
Notes
* I used gluten-free noodles, but if you don't need this dish to be gluten-free, use regular macaroni noodles.
** 1/2 cup is mostly just a baseline. Start there, and if you want it cheesier, add more cheese.
Prep Time:

10 mins

Cook Time:

5 mins
Keywords: instant pot, taco, macaroni, cheese, Mexican, gluten-free, vegan, dinner, easy, quick, recipe, healthy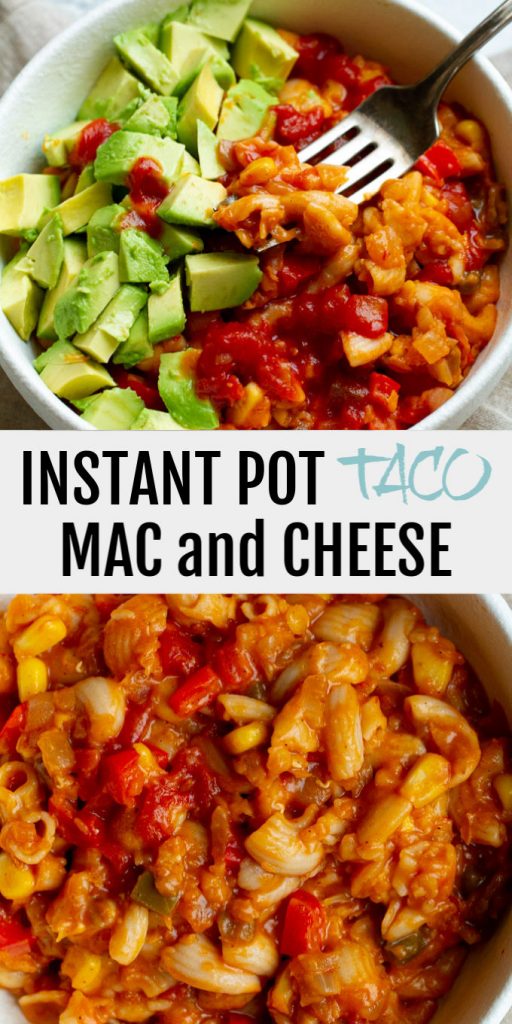 Looking for more gluten-free + vegan recipes? Try one of these!
Loaded Sweet Potato Nachos
Healthy Vegan Mac & Cheese
Cheezy Apple Cranberry Quinoa Stuffed Squash
Instant Pot Black Bean Burrito Bowls
Easy Homemade Teriyaki Sauce

*Disclosure: Some of the links included in this post may be affiliate links, meaning I'll earn a small commission if you purchase through them, at no additional cost to you. I only recommend products I personally use and believe will add value to my readers. Thank you so much for helping support Spoons!