Happy What I Ate Wednesday, friendly faces! 😀
I have lots of good food to share with you guys today, so let's jump right in! Actually wait… This week's theme is "this AND that," where I talk about foods that taste better when they're together. I've done a few of these before, and they're always a blasty, blast, so let's.GO….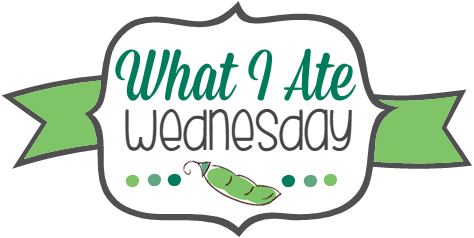 Breakfast… [chocolate AND cherries]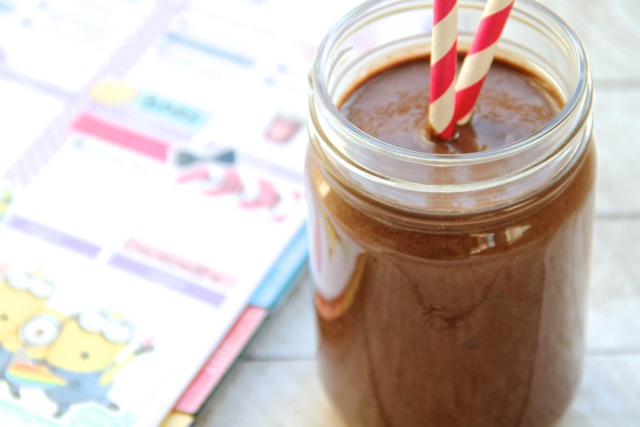 I'm pretty sure that I've made this Black Forest smoothie at least 5 times in the past 7 days — it's just that good. I'll probably go back to my green smoothies eventually since my body seems to like them a whole lot (hello glowing skin and happy belly!), but for now? I'll just keep flirting with the dark side for a little while longer 👿
And it's strange because I don't usually make my smoothies without bananas, but the frozen cherries are just as awesome at making things super creamy. That and they pair perfectly with chocolate.
. – . – . – .
Coffee… [… AND dates]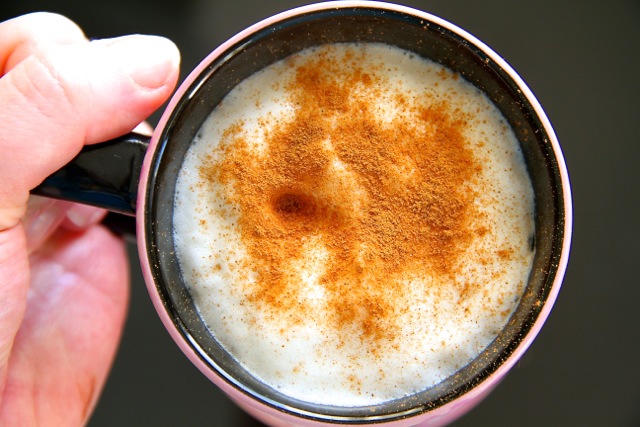 If you've never tried the coffee + date combo, you need to change that, stat. And I don't mean going for a coffee date… I mean having [Medjool] dates with your coffee, either on the side or INside your cup. I mentioned in my last WIAW post that I used a date syrup to sweeten my coffee, and a lot of people were really interested in it so expect a recipe for that and a healthier creamer soon!
. – . – . – .
[pre-run] Snack… [bananas AND almond butter]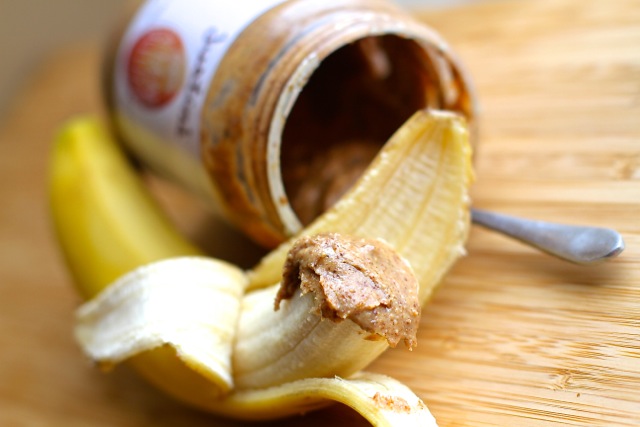 Everyone has those classic combos that'll never get old, and bananas with almond butter is definitely one of mine. So simple; so satisfying. And perfect for a little energy boost before my run. Between this and the coffee? My feet were flying.
. – . – . – .
[post-run] Snack… [greens AND smoothies]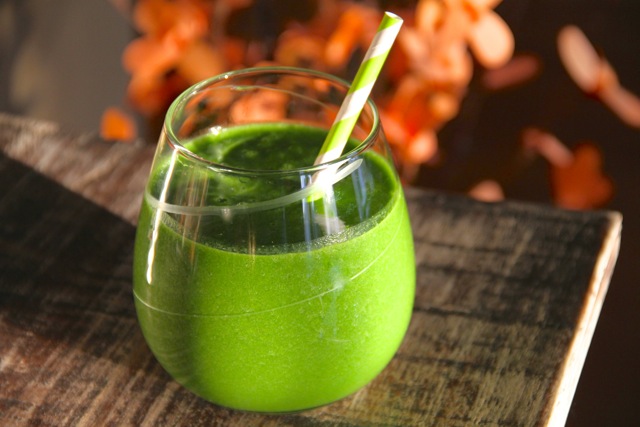 I went through a phase where I totally snarked on green smoothies, but that had more to do with my mind rebelling against the "healthy" (read: disordered) mindset that fuelled my past eating disorder.
Now, though? I'm literally eating drinking my words because I seriously love those things and all the benefits I've noticed since I've started drinking them regularly. Better skin, better digestion, awesome energy, a more balanced feeling in general… Much love, green smoothies. Much love.
. – . – . – .
Lunch… [avocado AND brown rice]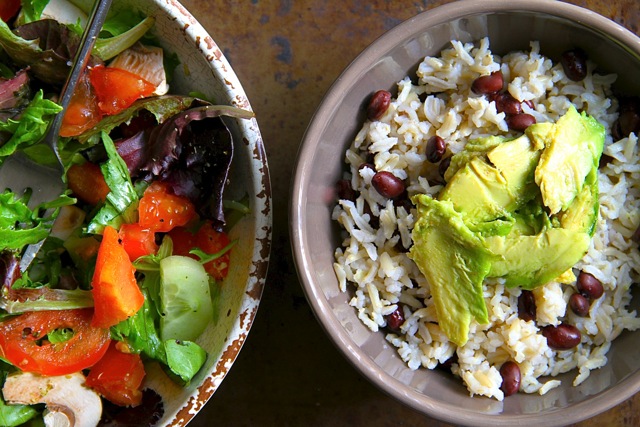 You guys know I'm normally #TeamWhiteRice, but I have to admit that there are some things that just taste better with brown rice… like avocados. This was my lazy girl's attempt at a burrito bowl, and when I say lazy girl, I mean just tossing brown rice and black beans into a bowl, sprinkling it with some lime juice, and then scooping out an avocado. No fuss, no muss. Enjoyed alongside a veggie salad containing mixed baby greens, bell peppers, tomato, cucumber, mushrooms, and a ginger-tahini dressing.
. – . – . – .
Snack… [fruit jam AND oats]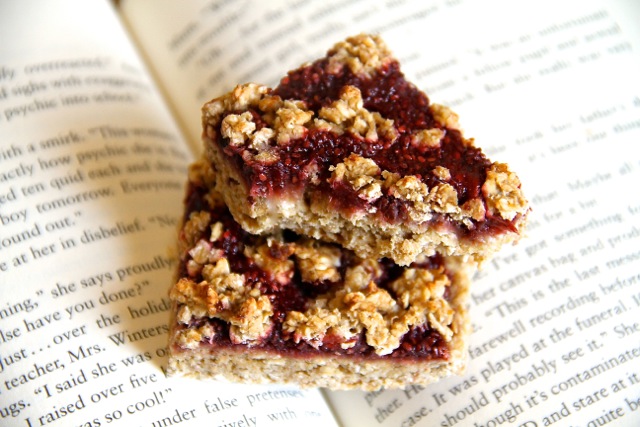 I always forget how much I love fruity oatmeal bars. I had a pretty lengthy love affair with Nutri-Grain bars when I was younger, but I haven't had them for years and years because… hello ingredients that have no place being in a "healthy" breakfast bar. This was the last of my strawberry banana oat bars, but thankfully I still have plenty of frozen strawberries hanging out in my freezer just begging to be turned into jam

. – . – . – .
Dinner… [pizza AND cheese]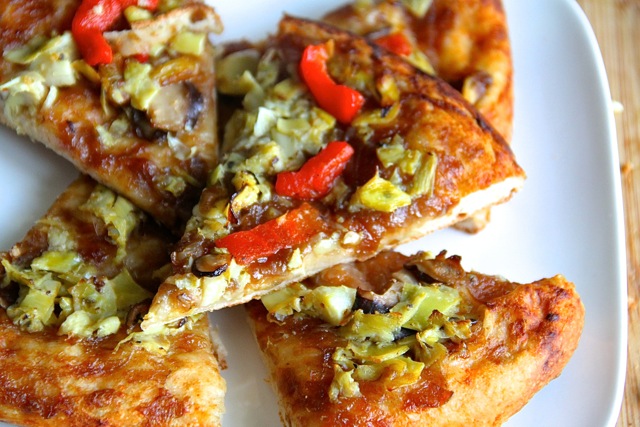 Don't get me wrong… Amy's roasted veggie pizza is pretty darn awesome, but I'll always be a cheesy pizza kind of girl. In fact, that used to be the only kind of pizza I'd eat — double cheese, no meat, no veggies. Kind of like how I'd eat my "spaghetti" with nothing but noodles and parmesan. Can you tell I have a thing for carbs with cheese? 😉
. – . – . – .
Snack… [popcorn AND chocolate chips]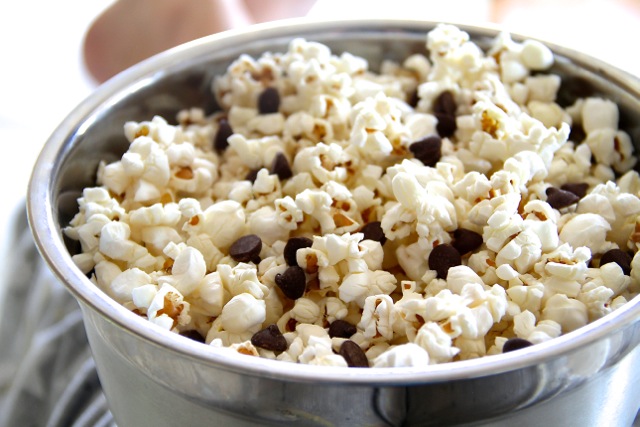 … because everyone knows that popcorn is the best movie snack, and going a day without chocolate is just blasphemy…
Happy Wednesday, friendly faces! 😀

Do you drink green smoothies?
What are your favourite pizza toppings?
Your turn!
… a) chocolate and _____.
… b) bananas and _____.
… c) avocado and _____.
… d) jam and _____.
… e) popcorn and ____.

More places to find me!
E-mail — [email protected]
Twitter — runwithspoons
Facebook — runningwithspoons
Pinterest — runwithspoons
Instagram — runwithspoons
Bloglovin — runningwithspoons