You'd never believe that these soft and chewy strawberry banana oat bars are vegan, gluten-free, refined sugar-free, and made without any butter or oil! The perfect healthy breakfast or snack!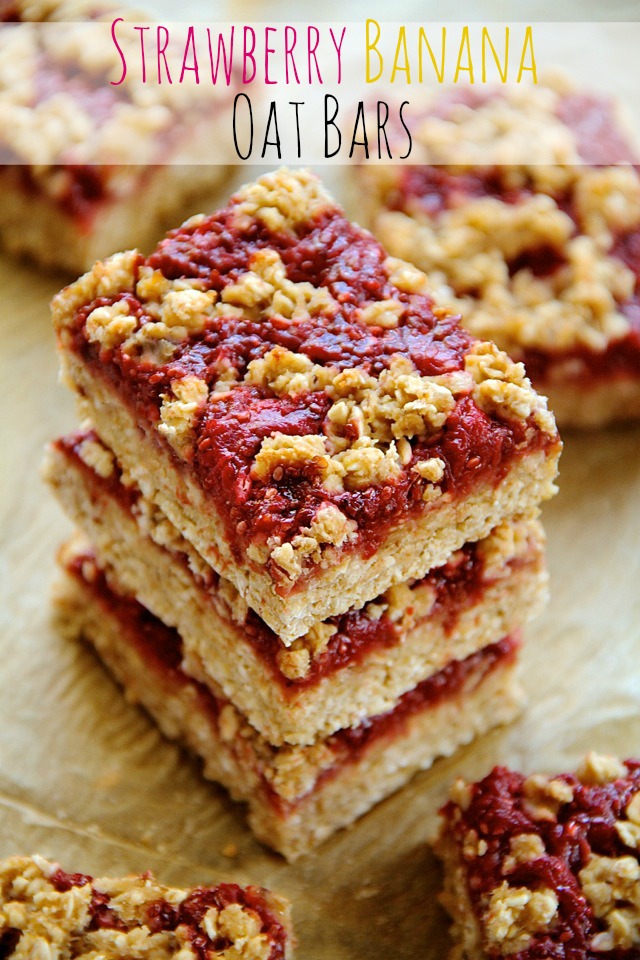 Remember my frozen strawberry conundrum? Where I was left with bags and bags of nothing but frozen strawberries after picking out all the rest of the fruits from my bags of frozen mixed berries? It got to be a serious problem… I had, like, 4 bags going.
And it's not that I have anything against strawberries, but trying to eat them frozen is like trying to bite into a rock — those suckers are hard! And because I'm afraid of the dentist and would prefer to avoid ending up in 'the chair' with a chipped tooth that needed fixing, I pretend the strawberries don't exist and eat around them until that's all that's left in the bag. And then I go out and buy another bag. Womp, womp.
So what's a girl to do when life hands her a bag of lemons frozen strawberries? Make jam…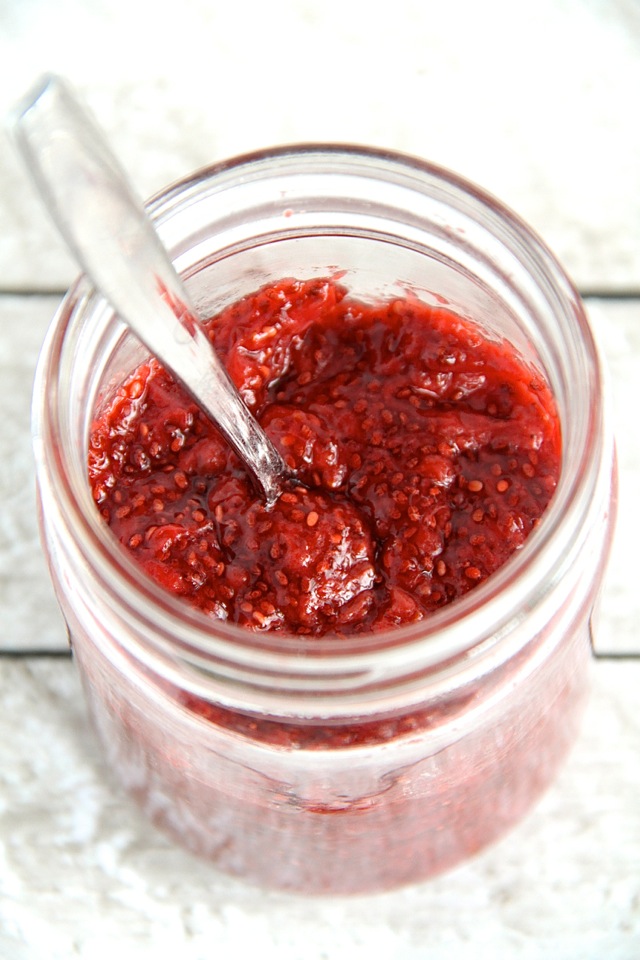 Ta da!
This was my first time making/trying chia seed jam, and I have to admit that I'm pretty impressed with the stuff! I've had my gripes with chia seeds in the past (mostly surrounding the fact that they hang out in my teeth all day without me noticing), but they're definitely useful little buggers. Not to mention loaded with plant-based protein, fiber, and omega-3's. So much goodness in a [slightly creepy] little seed…
But I digress. This post isn't about chia seed jam. I mean, it is, but only as a stepping stone to the main event — some pretty epic strawberry banana oat bars…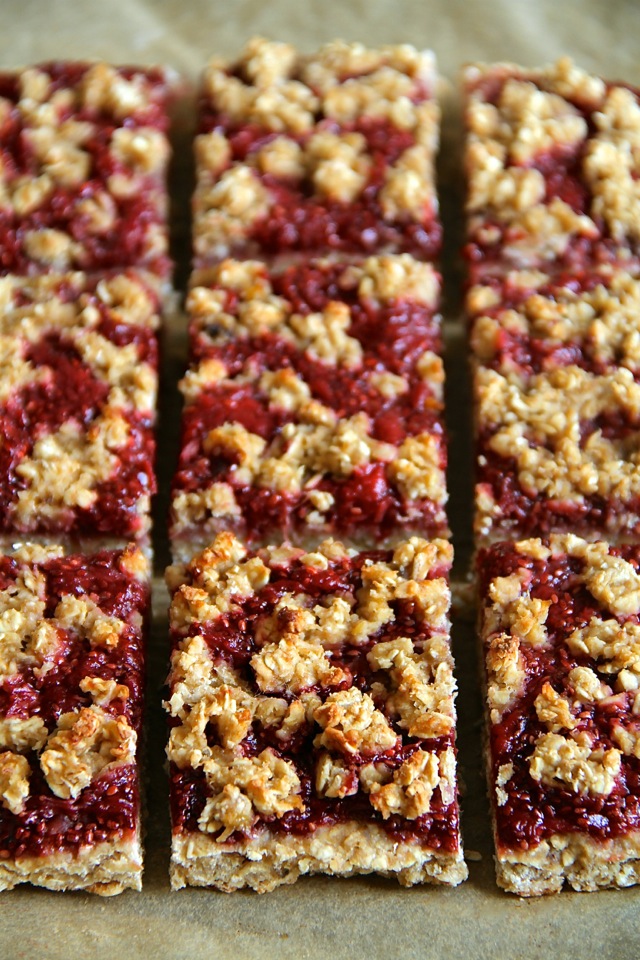 You guys. You guys. We need to talk about these bars, because they seriously knocked blew my socks right off. Or at least they would have if I was wearing any socks.
I mean, I expected to like them, but not to the point where I was saying: "Holy snap." BITE. "These may just be…" BITE. "The best oatmeal bars…" BITE. "I've ever had." BITE. But it's true! Which actually surprised me because… well, I'll tell you in a sec. Right after we take a closer look at what we're working with here…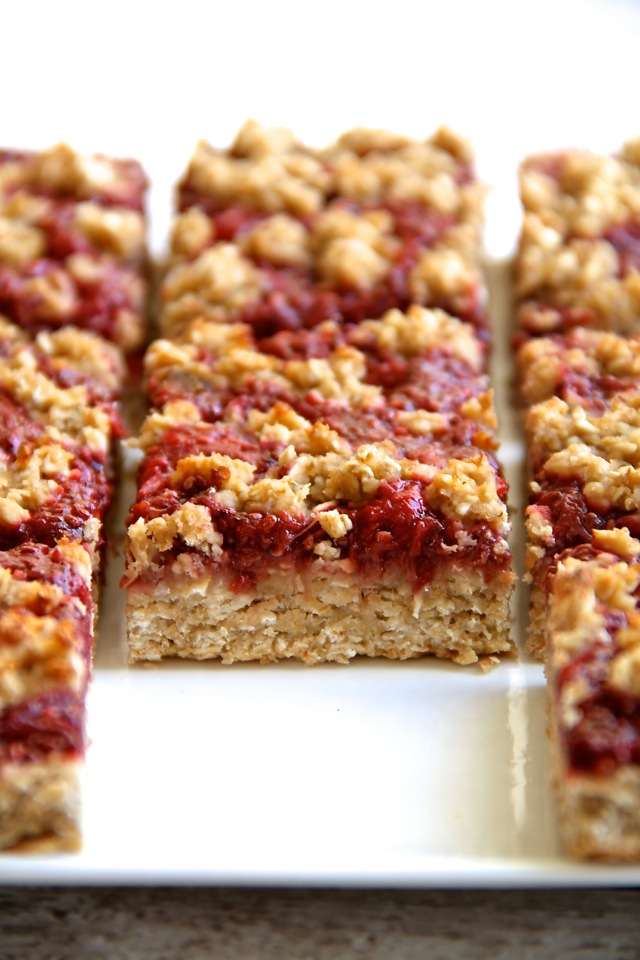 Oh.em.GEE. Now would you believe me if I told you that these bars are made without any refined sugar, butter, or oil? And that they're also vegan and gluten-free? Because almost none of my taste testers did!
I wanted a really simple oatmeal base that was healthy enough to eat for breakfast but didn't taste overly healthy, you know? None of that dry and bland nonsense. My bars needed to be: soft, tender, chewy, doughy, and plenty flavourful. And oh.man were they ever…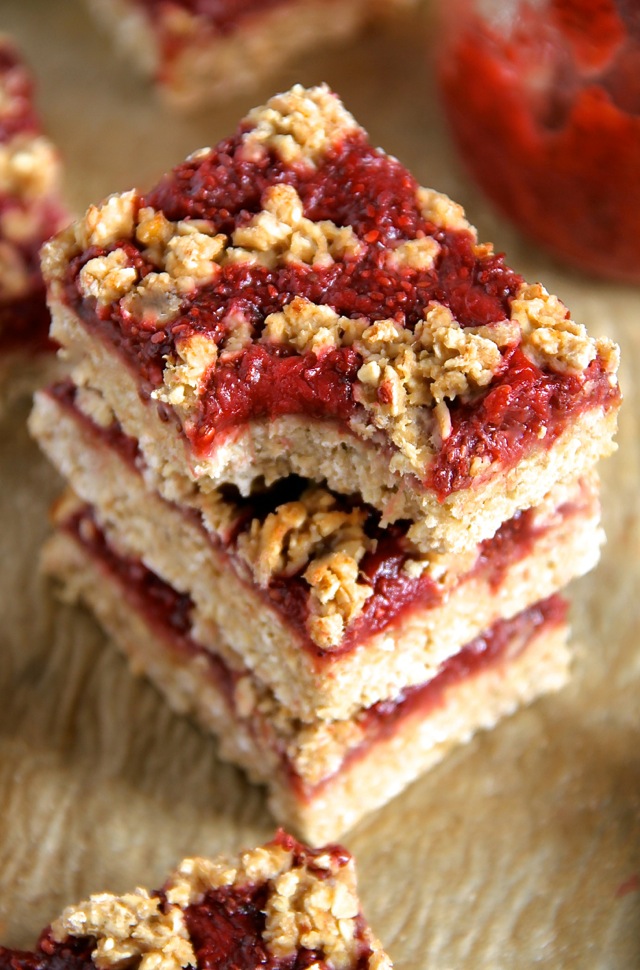 These may just be the best oatmeal bars I've ever had. And the secret? Bananas. I'm serious. The crust/topping is made from nothing but oats and bananas (with a little maple syrup for extra sweetness), which is why I was so surprised. Heck, I even made another batch with a slightly more elaborate crust involving coconut oil, but I actually preferred this version a lot more.
I think I mentioned before that bananas are miracle workers? Because they very much are. Not only do they help make these bars super soft and doughy, but they also add a delicious banana flavour that compliments the strawberry jam perfectly. And if you're not a fan of strawberry jam or don't currently have tonnes of frozen strawberries hogging up all the space in your freezer? Something like blueberries or cherries would be an awesome substitute. Heck, you could even use a store-bought jam if you wanted to skip the process of making your own. Just take my word for it and make these bars — you'll be pleasantly surprised!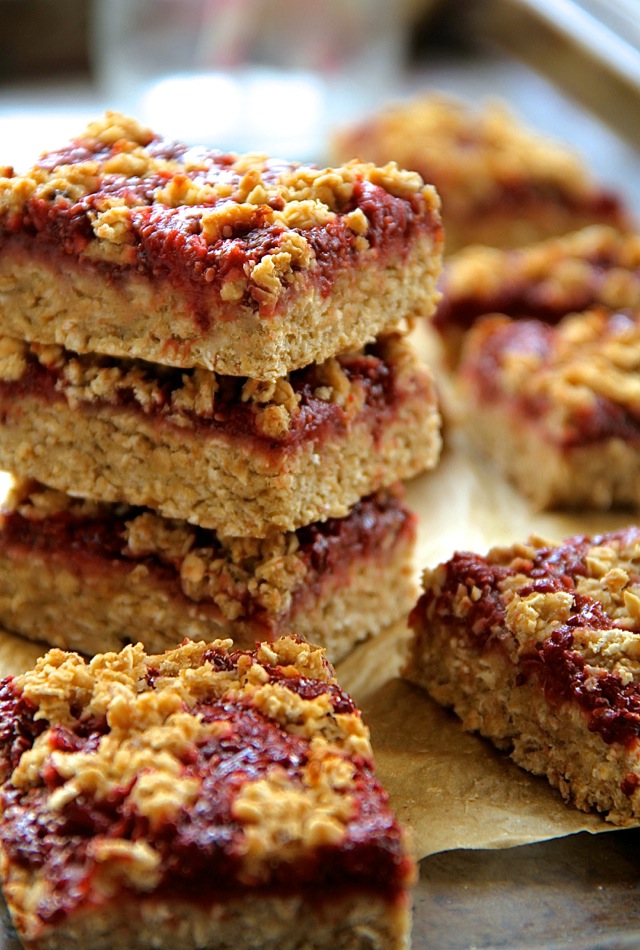 I'd love to know if you make this recipe! Leave a comment and rating down below to let me know what you think, and subscribe to our mailing list to receive new recipes in your inbox!
Print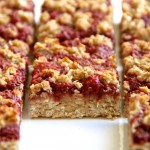 Strawberry Banana Oat Bars
---
Author:

Prep Time:

30 mins

Cook Time:

30 mins

Total Time:

1 hour

Yield:

12

bars

1

x
Scale
Ingredients
For the strawberry chia jam:
2 cup

s (

350

g) frozen strawberries*

2 Tbsp

(

30

ml) maple syrup

2 Tbsp

(

14

g) chia seeds

1 tsp

vanilla extract
For the banana oat bars:
2 cup

s (

160

g) rolled oats, divided**

1 tsp

baking powder

2

medium-sized ripe bananas, mashed (200g or

1 cup

)

1/4 cup

(

60

ml) maple syrup

1 tsp

vanilla extract
---
Instructions
Make the jam:
Add strawberries and maple syrup to a medium saucepan set over medium heat. Heat until the berries begin to release their liquid, about 5-15 minutes depending on whether or not they were thawed first. Bring to a boil, stirring occasionally, until berries begin to break down and thicken, about 5 -10 minutes. Use your spoon to break them apart further if desired.
Stir in the chia seeds and vanilla, continuing to cook for another 5 minutes. Remove from heat and allow the jam to cool. It will continue to thicken the longer it sits, which is why I usually like to make it the night before I'm planning on making these bars.
Make the bars:
Preheat oven to 375F (190C) and prepare an 8×8 (20x20cm) baking dish by lining it with a sheet of aluminum foil or parchment paper, leaving a few inches of overhang on the sides to allow for easy removal. Spray foil with cooking spray and set aside.
Place 1 cup of oats in a food processor or blender, and process until they resemble a fine flour. Transfer the oat flour to a large mixing bowl, and add the remaining rolled oats and baking powder, mixing well.
Add the mashed bananas, maple syrup, and vanilla extract, and mix until everything is well combined and a dough is formed.
Transfer 2/3 of the mixture into your prepared baking pan, using your fingers or a spatula to ensure that it is pressed down tightly and evenly. Spoon chia jam over the surface, and use a spatula or knife to spread it evenly, making sure to only go within 1/4 of the edge to prevent the jam from burning. Sprinkle remaining oat mixture on top, breaking up bigger chunks and pressing down lightly.
Bake for 30 minutes until the top turns a light golden brown. Remove from oven and allow to fully cool in pan before cutting into bars.
---
Notes
* You can easily sub out strawberries for your favourite frozen fruit. Or use 3/4 cup store-bought jam if you don't want to make your own. ** Make sure to use certified GF oats if you need these to be gluten-free.
Keywords: gluten-free oat bars, strawberry banana oat bars, strawberry chia seed jam, strawberry oat bars, vegan oat bars

Looking for more healthy banana oat recipes? Try one of these!
Banana Oat Baked French Toast
Banana Oat Greek Yogurt Muffins
Banana Oat Greek Yogurt Pancakes
Chocolate Chip Banana Oatmeal Cookies
Greek Yogurt Banana Oat Bread