Big news you guys! Guess who actually managed to sleep in [past 6 AM]! 😀
I can't even tell you how surprised I was when I checked my phone yesterday morning and saw a lovely 6:09 staring back at me. Laugh all you like, but for someone who sees 4:30 AM far too often, anything after 6 is huge. Nevermind that it probably had everything to do with the fact that I couldn't fall asleep the night before and was still wide awake when midnight rolled around — it's still better than going to sleep at 12 and waking up at 4 😯
So hey! Happy Wednesday! 😀 Or I guess I should say… Happy What I Ate Wednesday. I usually share a full day of Tuesday's eats for these posts, but I'm switching things up and showcasing last Friday instead. Why Friday? Because Fridays during Lent mean a day of abstaining from meat for me, and I thought it would be interesting to show you guys how I build my meals when I don't have meat at my disposal. I know I just professed my love for carbs, but that doesn't mean I ignore proteins and fats. I feel the best when I eat a well-balanced diet, and even though chicken is probably my meal-time protein of choice, there are definitely a good amount of meatless sources that I enjoy as well…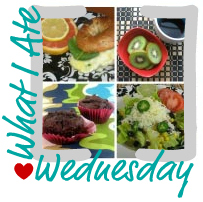 Breakfast… [ egg whites and Greek yogurt ]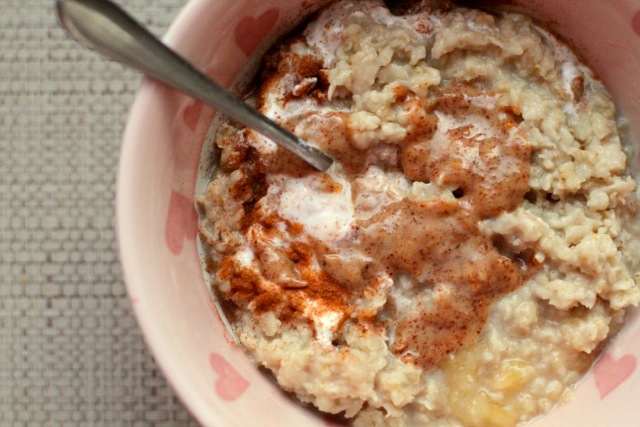 Eggy bananafied oats layered with plain Greek yogurt, roasted almond butter, and cinnamon.
I've never really been one to eat meat first thing in the morning (except for when I'm on vacation, apparently), so meatless breakfasts aren't ever a problem. I almost always add yogurt to my finished oats (try it and thank me later), and every so often I'll toss in an egg white or two while they're cooking to up the protein a little more. I only use the whites because I prefer the texture they give, but one of these days I'm going to have to try plopping a fried egg on top of my oats like one of my favourite girls. Actually… I think I'll give that a shot tomorrow.
Lunch… [ chickpeas and cheese ]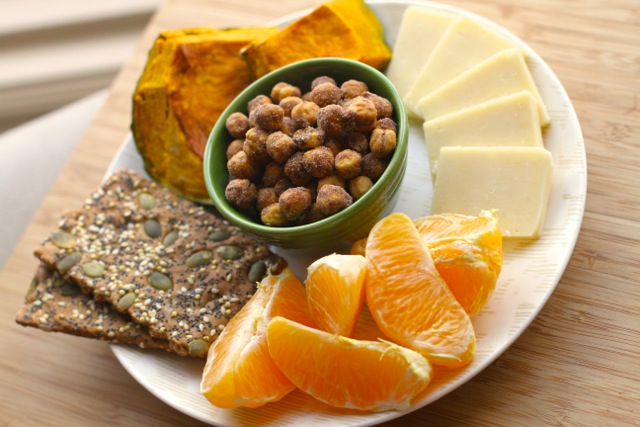 Dr. Kracker Seedlander crispbread, roasted kabocha, mozza cheese, an orange, and maple almond roasted chickpeas.
The snack plate lives on! I'm pretty sure I'll never get tired of these, mostly because it's so easy to just swap out the individual components if I start getting bored and end up with an entirely different meal… which is perfect on the days where I'm going meatless. Mozzarella cheese isn't my favourite, but I toss it on pizzas and needed to use up some of the leftovers before they went bad. And the chickpeas? The result of some very successful experimenting in the kitchen. Remind me to share the recipe with you guys, stat.
Dinner… [ kidney beans and eggs ]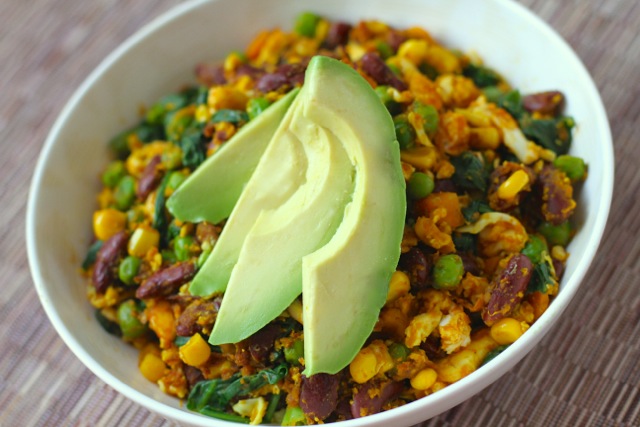 Pumpkin Chili Mexican Scramble
Dinners are usually where I'm most likely to include meat, so they take a little bit of extra thought on Fridays. A lot of the time I'll just end up making some kind of breakfast for dinner, but there are those rare occasions where I crave something a little more savoury. This dish has been in my meal rotation for years and years now, and I'll probably be making it for years and years to come. It's quick, it's easy, it's tasty, and it's satisfying — winning all around.
Snacks…
Although I can definitely remember a handful of occasions where I got hit with a strong enough craving for grilled chicken to reach for it when snack time rolled around, that's more of an exception rather than a norm. My snacks are, for the most part, meatless by nature, so nothing too out of the ordinary here…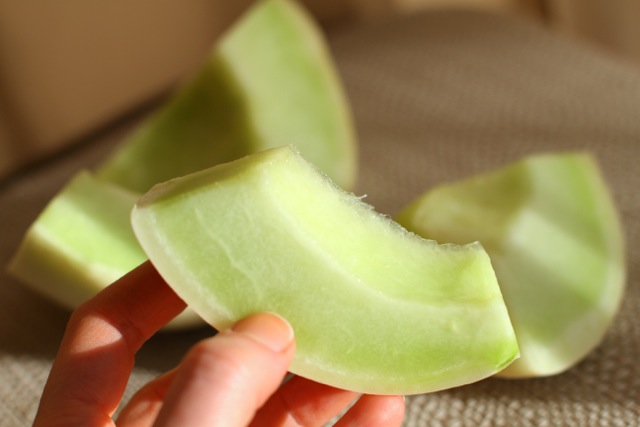 Honeydew. Side note… does anyone else ever cut open a melon, only meaning to eat a few slices, and then end up polishing off at least half of the dratted thing? Story of my life… every.single.time.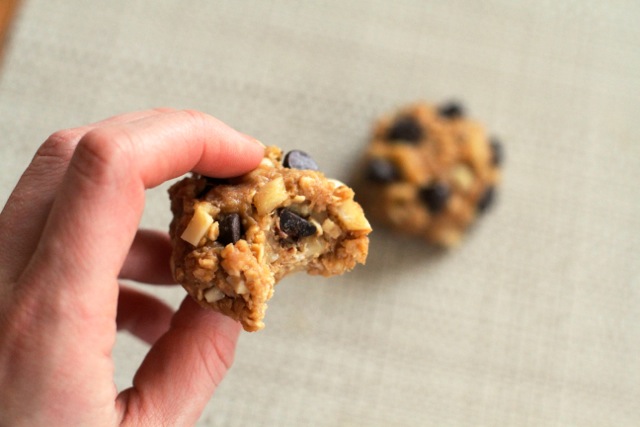 Chunky Monkey Snack Bites… Two, because everyone knows that's better than one.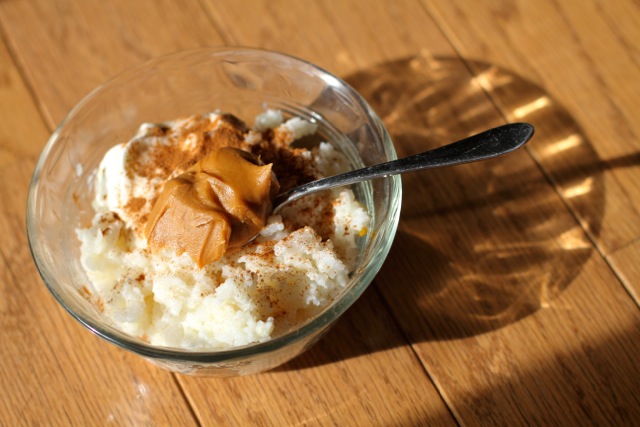 A bowl of white basmati rice cooked in coconut milk and topped with plain Greek yogurt and a spoonful of almond butter. And cinnamon… always cinnamon.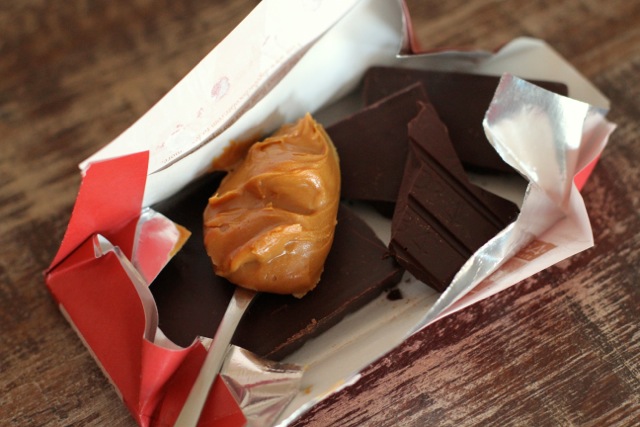 Dagoba beaucoup berries chocolate with a spoonful of almond butter — no better way to end the night.
I hope you guys have an awesome Wednesday, and I'll see you guys tomorrow for Thinking Out Loud! 😀

What's your favourite meatless source of protein?
Melons… can you eat just one slice?
What was last night's dinner?
More places to find me!
E-mail — [email protected]
Twitter — runwithspoons
Facebook — runningwithspoons
Pinterest — runwithspoons
Instagram — runwithspoons
Bloglovin — runningwithspoons