This naturally sweetened, dairy free pumpkin spice coffee creamer is a healthy alternative to store-bought creamers! It's vegan, gluten-free, refined-sugar-free, paleo-friendly, and flavoured with the warming spices of fall. A quick and easy way to spruce up your morning coffee without the artificial flavours and preservatives!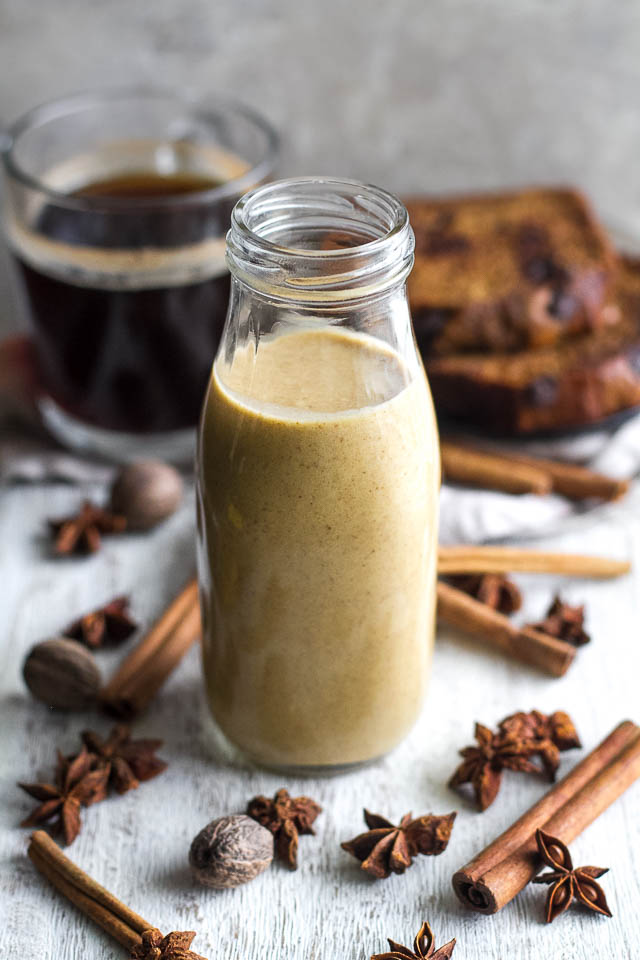 Hi, hello from somewhere on the road between Edmonton and Kelowna!
I figured I'd take advantage of the 10-hour drive time and do a little bit of blog writing since I didn't manage to get any posts pre-written before I left. All the content and pictures are there, but the words are a little MIA.
I just can't do it, guys. I tried, but my brain can't figure out today what I'll want to say a week from now. Like… what if something interesting comes up that I'll want to mention? What if my mood does a complete 180? I've had to draft posts way far in advance a few times, and when it came time to post them, I wanted to go and change the whole thing anyways because I just wasn't feeling it anymore. The whole blog-as-I-go thing might be a little more inconvenient, but it's just what works for me.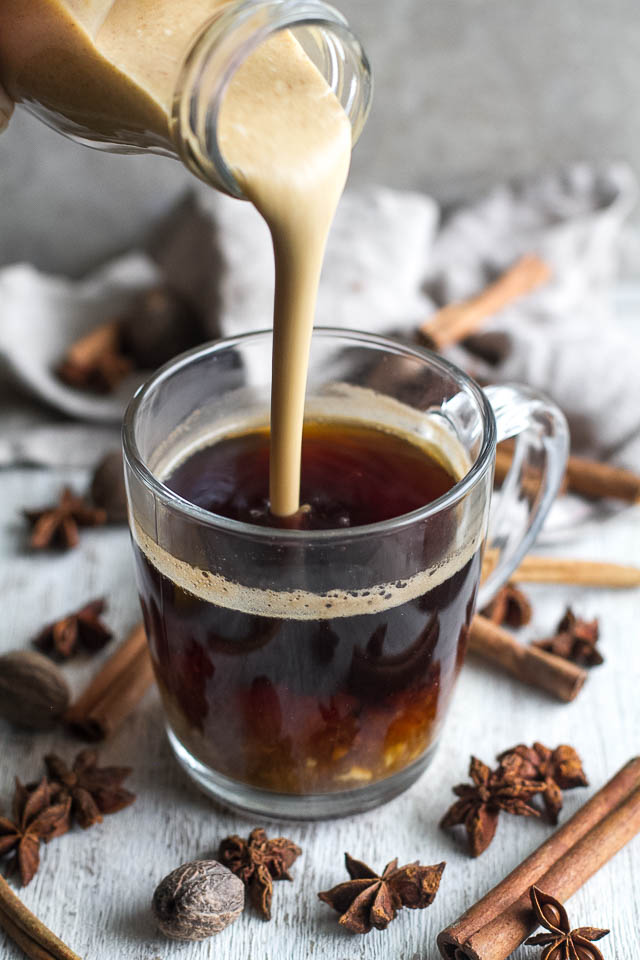 Speaking of inconvenient, I'm wondering how long I can keep up this whole typing thing before the motion sickness kicks in. I don't do so well with looking down or reading while I'm in a car, but I've been making due so far by looking down as little as possible and trying to keep my fingers moving while keeping my eyes on the road.
Can I just say thank goodness for all those years I spent chatting on ICQ, MSN, and AIM? Because that taught me how to type way better than any of the lessons I had in grade school. And Mom said I was wasting my time by talking to strangers on the internet… pft.
Actually, is that still a thing? Do kids still have to learn about home row and all that jazz ? Or do they just come out of the womb knowing how to program a computer? I don't even think I got my first one until I was 14 or something, and these days there's probably 2-year olds who know how to use an iPhone better than I do.
But I digress! We're not here to make me feel old. We're here to talk about this deeee-licious dairy free pumpkin spice creamer…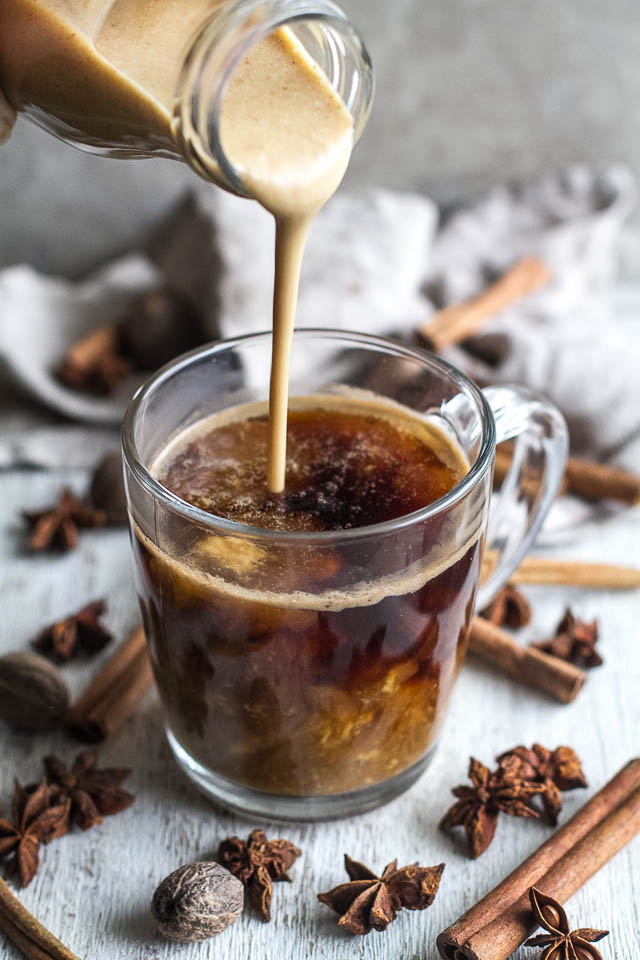 So… it's perfectly normal to want to drink coffee creamer straight from the jar, sans coffee, right? Because that's exactly what I want to do with this one. And when I say "want to do," I really mean "might have done"… which ultimately translates into "did." I did take a couple of swigs of this coffee creamer straight from the jar. And it was glorious.
Granted, it's pretty much just a super creamy, extra sweet pumpkin spice smoothie, but it makes an oh-so-good addition to your coffee.
AND! as an added bonus, it's also made with oh-so-good-for-you ingredients. I mean… have you ever taken a look at the nutrition label on store-bought creamers? Hydrogenated oils, artificial flavours, colours, preservatives. Like… really?!? I don't want that stuff in my coffee, much less in my body… so I went ahead and made my own healthier coffee creamer, and then spiced it up for fall. Quite literally…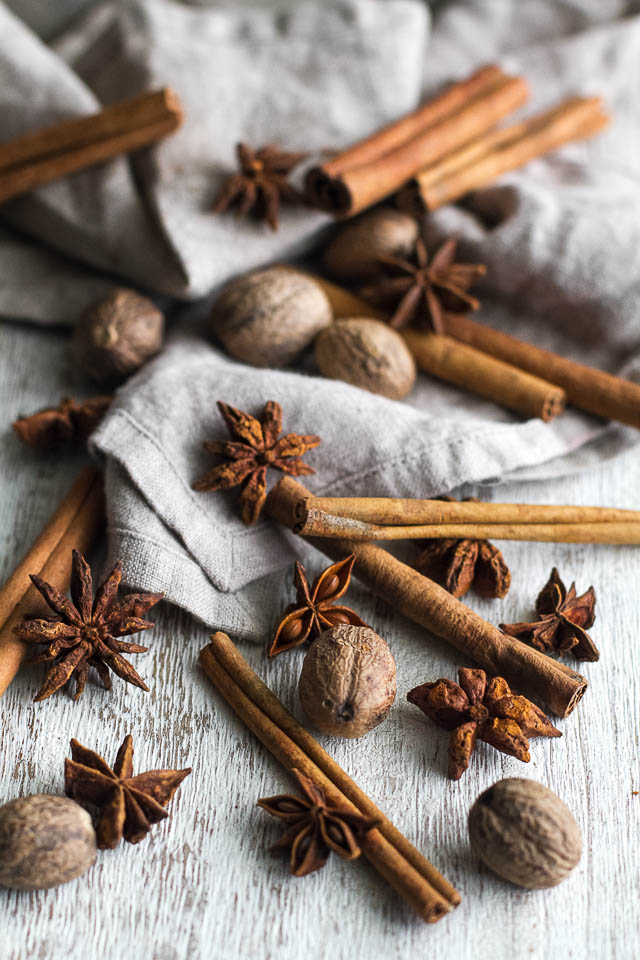 This dairy-free pumpkin spice coffee creamer is made on a base of dates, coconut milk, and pumpkin puree. That's it! No unpronounceable ingredients or high fructose corn syrups, meaning you can totally drink it straight from the jar if you wanted to.
It's vegan, gluten-free, paleo-friendly, refined-sugar-free, and whipped up in a blender or food processor in about 5 minutes. Like… it seriously doesn't get much simpler than this, and it means that you can enjoy a little bit of fall-flavoured sweetness in your coffee without any funny business.
I kept the level of spice pretty mild since I know not everyone likes a tonne of spice in their coffee, but you can definitely add more according to your tastes. You can also swap out some of the canned coconut milk for almond milk, but I don't really recommend it since I love the extra creaminess that the coconut milk gives.
I hope you love it too!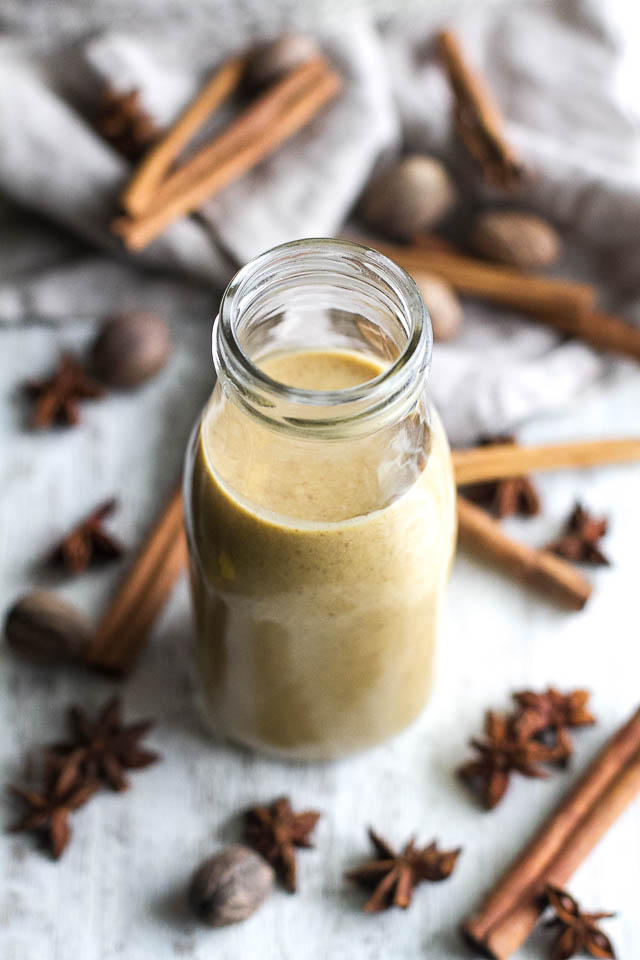 I'd love to know if you make this recipe! Leave a comment and rating down below to let me know what you think, and subscribe to our mailing list to receive new recipes in your inbox!
Print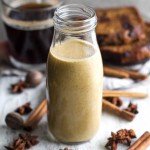 Dairy Free Pumpkin Spice Coffee Creamer
---
Author:

Total Time:

5 mins

Yield:

2 cups

1

x
1/2 cup

(

90 g

) of dates, pitted

1/2 cup

(

120

ml) hot water

1 cup

(

240

ml) light canned coconut milk*

2 Tbsp

(

30 g

) canned pumpkin puree

1/4 tsp

ground cinnamon

1/8 tsp

ground nutmeg
pinch of salt

1/2 tsp

vanilla extract
---
Instructions
Add the dates and hot water to a high-speed blender or food processor. If your dates are a little dry, allow them to soak for 10 minutes so that they'll be easier to blend. Otherwise, process on high until the dates have broken down and turned into a smooth paste, scraping down the sides of your blender as necessary.
Add the coconut milk, pumpkin puree, spices, salt, and vanilla extract, and continue processing until everything is well combined and the mixture becomes smooth and creamy.
Transfer the creamer to an airtight container, such as a jar or bottle. You can run it through a fine mesh strainer to ensure no bigger pieces of dates remain, but it shouldn't be necessary with a high-speed blender. Store it in the fridge for up to a week, and be sure to shake it before adding it to your coffee. The creamer will thicken as it sits.
Notes
* Depending on how creamy you want your creamer, you can replace up to half of the canned coconut milk with a non-dairy milk of your choice. Or, you can sub it out entirely and add 1/4 tsp. of xanthan gum to thicken it up.
Keywords: coconut milk, coffee, coffee creamer, dairy free coffee creamer, dates, healthy coffee creamer, pumpkin spice latte

Looking for some healthy treats to enjoy with your coffee? Try one of these!
One Bowl Greek Yogurt Pumpkin Bread
Healthy Double Chocolate Zucchini Muffins
Blueberry Almond Oat Bars
Flourless Pumpkin Pie Muffins
Greek Yogurt Banana Oat Bread