This naturally sweetened, dairy-free coffee creamer is a healthy alternative to store-bought creamers! It's vegan, gluten-free, paleo-friendly, refined sugar-free, and only requires 4 simple ingredients. A quick and easy way to spruce up your morning coffee without the artificial flavours and preservatives!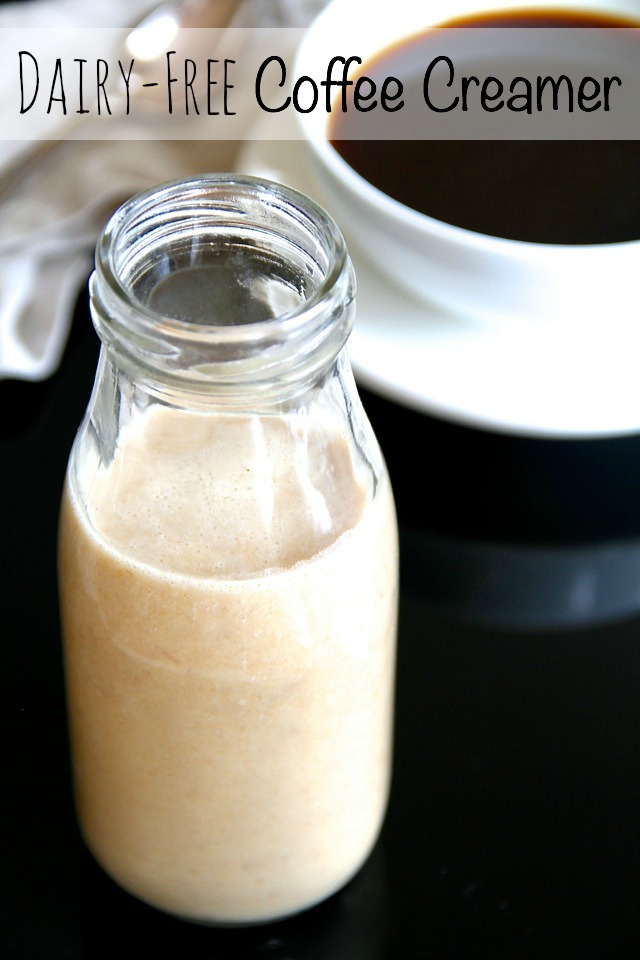 Let's talk about the mini panic attack I had at Costco the other day. Or rather, the three mini panic attacks I had at 3 different Costcos over the past week or so.
See, Costco is where I pick up my dates. My big, sweet, juicy, relatively inexpensive dates. And before your mind goes there, I should probably clarify that I'm talking about fruit here, not men.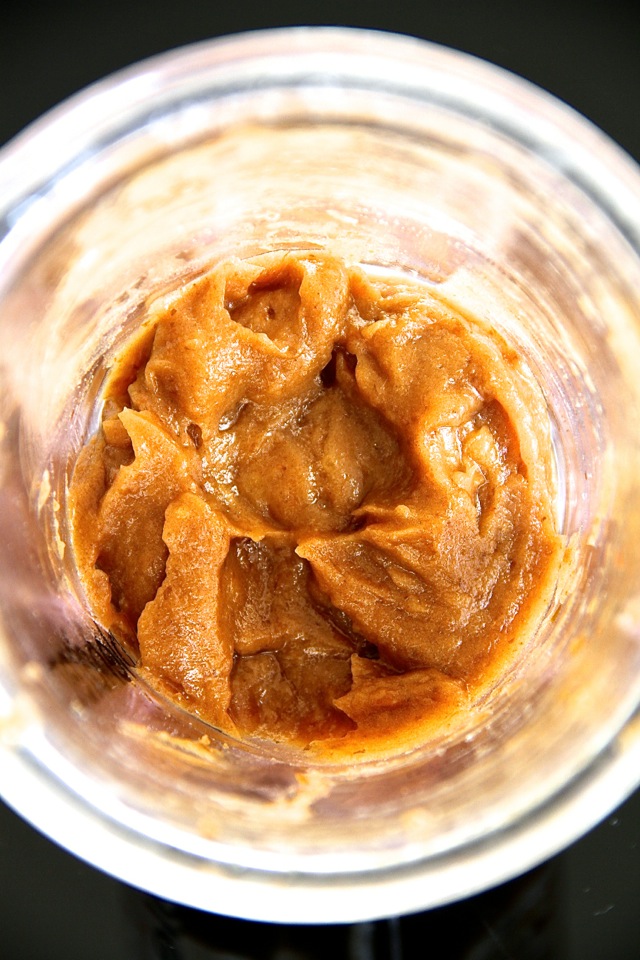 Dates are my everything. Ev.ry.thing. After bananas, they're easily my favourite thing to snack on, as well as one of my favourite ingredients to use in recipes. Bites, bars, smoothies, [soon-to-be] cookies, and now, coffee creamer… which brings me back to the panic attacks at Costco.
I promised you guys a recipe for my date-sweetened coffee creamer this week, and there I was out of dates. To say that I go through a lot of them is a bit of an understatement, and those suckers can be pricey. Fortunately, I found some good ones at Costco for a pretty decent price. Unfortunately, either everyone in Edmonton suddenly decided they loved dates or the truck carrying them took a wrong turn and ended up in Alaska, because I could.not.find a single tub at any of the three Costcos I went to.
Cue mini panic attack (x3)… made worse by the fact that I find shopping at Costco a little stressful to begin with. Lots of people, lots of stuff, lots of trying to decide if I really couldn't use 12L of maple syrup, because I know it's a lot but damn is that a good price. But I digress. The point is, I had to take my business elsewhere. But the next time I see my beloved dates in stock, I'm buying enough to last me through the Armageddon… especially now that I'm kind of addicted to adding them to my coffee. Not whole, obviously, but as a sweetener in the non-dairy coffee creamer I've been making lately…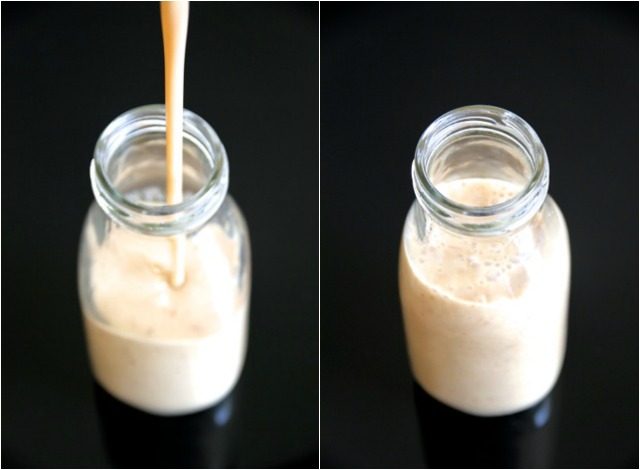 I go through phases with my coffee. Sometimes I like it black. Sometimes with some foam. Sometimes with just a splash of almond milk. And sometimes with a splash of something a little more fancy.
That last one has been a bit of a rarity until now, though, because… have you ever taken a look at the ingredients list on those flavoured creamers? Hydrogenated oils, artificial flavours, colours, preservatives. Like… really?!? I don't want that stuff in my coffee, much less in my body. So I made my own healthier coffee creamer at home…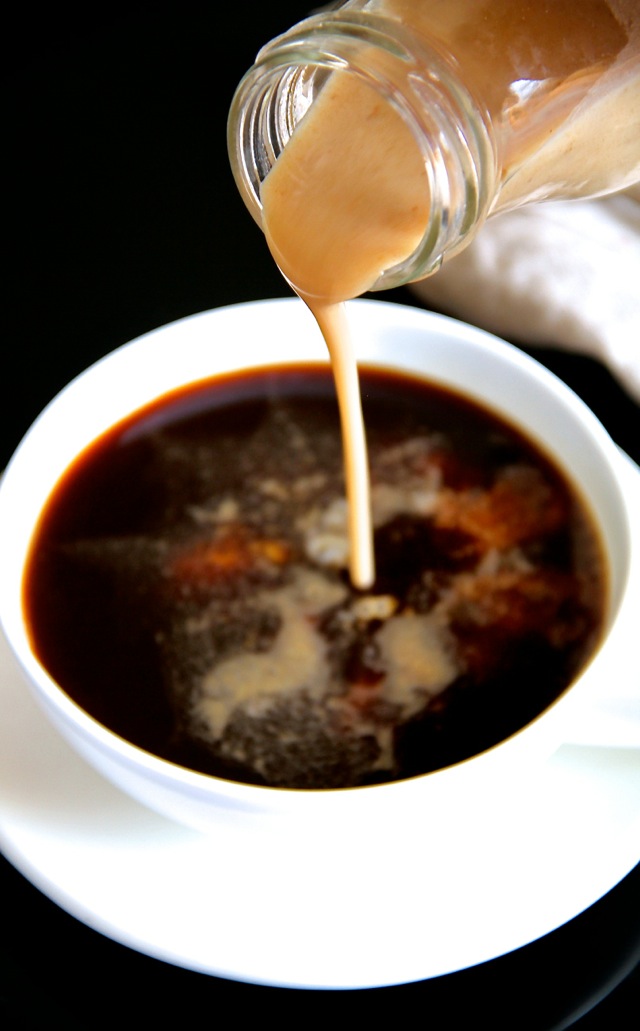 Coconut milk, water, dates, and vanilla. That's it. Only 4 ingredients in this ridiculously simple, healthy, and delicious dairy-free coffee creamer. Coconut milk for creaminess, dates for sweetness, and a splash of vanilla for a little extra flavour. Easy, peasy. And the best part is that it really is easy, peasy. All you have to do is toss all the ingredients in a blender or food processor, and voila! 5 minutes and you've got yourself a week's plus supply of healthy coffee creamer.
No, no, wait. Scratch that. The best part is the fact that there's something magical about the combination of these ingredients that adds the biggest kick to your cup of coffee. I kind of reached the point where my morning cup wasn't having much of an effect on me anymore, but my morning cup with a splash of this creamer? Boom. I'm flying.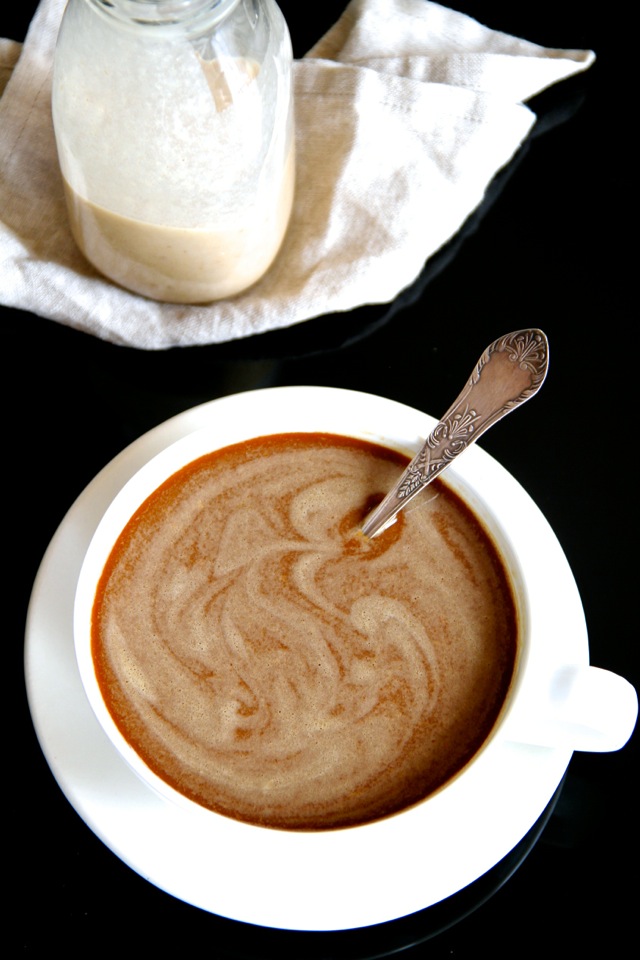 I'd love to know if you make this recipe! Leave a comment and rating down below to let me know what you think, and subscribe to our mailing list to receive new recipes in your inbox!
Print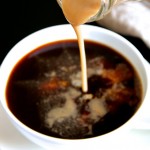 Dairy-Free Coffee Creamer
---
Author:

Total Time:

5 mins

Yield:

2 cups

1

x
1/2 cup

(

90 g

) of dates, pitted

1/2 cup

(

120

ml) hot water

1 1/2 cups

(

360

ml) light canned coconut milk*

1/2 Tbsp

vanilla extract
---
Instructions
Add the dates and hot water to a high-speed blender or food processor. If your dates are a little dry, allow them to soak for 10 – 15 minutes so that they'll be easier to blend. Otherwise, process oh high until the dates have broken down and turned into a smooth paste, scraping down the sides of your blender as necessary.
Add the coconut milk and vanilla extract, and continue processing until everything is well combined and the mixture becomes smooth.
Transfer to an airtight container. You can run the creamer through a fine mesh strainer to ensure no bigger pieces of dates remain, but it shouldn't be necessary with a high-speed blender. Store in the fridge for up to a week. Creamer will thicken as it sits.
Notes
* Depending on how creamy you want your creamer, you can replace up to half of the canned coconut milk with a non-dairy milk of your choice. Or, you can sub it out entirely and add 1/4 tsp. of xanthan gum to thicken it up.
Keywords: coconut milk, coffee, coffee creamer, dairy free coffee creamer, dates, healthy coffee creamer

Looking for a healthy snack to have with your coffee? Try one of these!
Strawberry Banana Oat Bars
Banana Oat Greek Yogurt Muffins
Soft and Chewy Protein Granola Bars
Blueberry Almond Oat Bars
Chocolate Banana Minute Muffin