Only two minutes stand between you and this deliciously healthy Chocolate Chip Cookie Dough Mug Cake! It's gluten-free, vegan, and ridiculously delicious!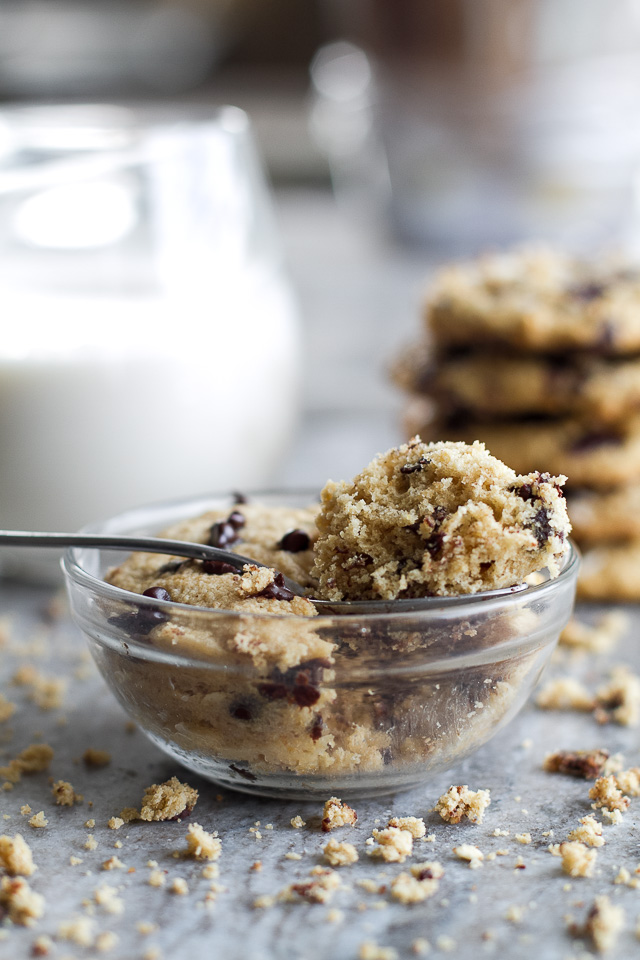 This is the kind of cookie you can feel good about eating at 8am on a Tuesday morning – I know because I had two of them in the span of an hour. Two of them. In sixty minutes.
And then another one on Wednesday morning. And then again on Thursday. And… you get the idea. I'd say it's all part of the job description, buuuuuuut that'd only be a half truth. I mean, sure… there's a certain amount of taste testing that goes into the whole recipe development thing, but you eventually get to the point where you've hit the nail on the head and it's time to move on to something else.
Only… some of us have a hard time letting go…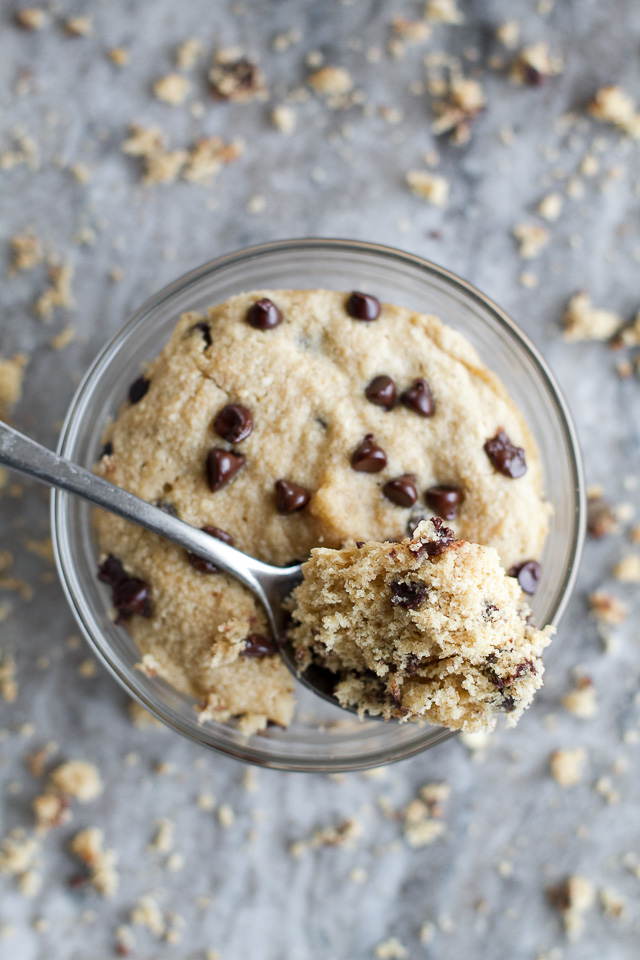 I'm the kind of person who will love a thing to death. Not in the creepy Elmyra Fudd way (please tell me you remember that show!!!), but in the sense that when I come across something I like – especially when it's food or a song – I'll eat it or listen to it repeatedly until I'm literally sick of it. Case in point: I've been listening to the same song for about an hour straight while putting this post together. I'll let you know what it is in next week's ToL because it's the perfect "zone out and get shit done" kind of song.
Anyways, the obsession can last for a week or it can last for seven years. I mean, just look at what I've got going on with oatmeal… I started regularly eating it for breakfast 7-ish years ago, and I have yet to stop 😂
But let's talk about oats! Because I think I've found a new favourite "flour" for my mug cakes. You know how I'm always going on about how magical coconut flour is in mug cakes? It still is – don't get me wrong – but I wanted to try something different with this recipe and I think I'm in love.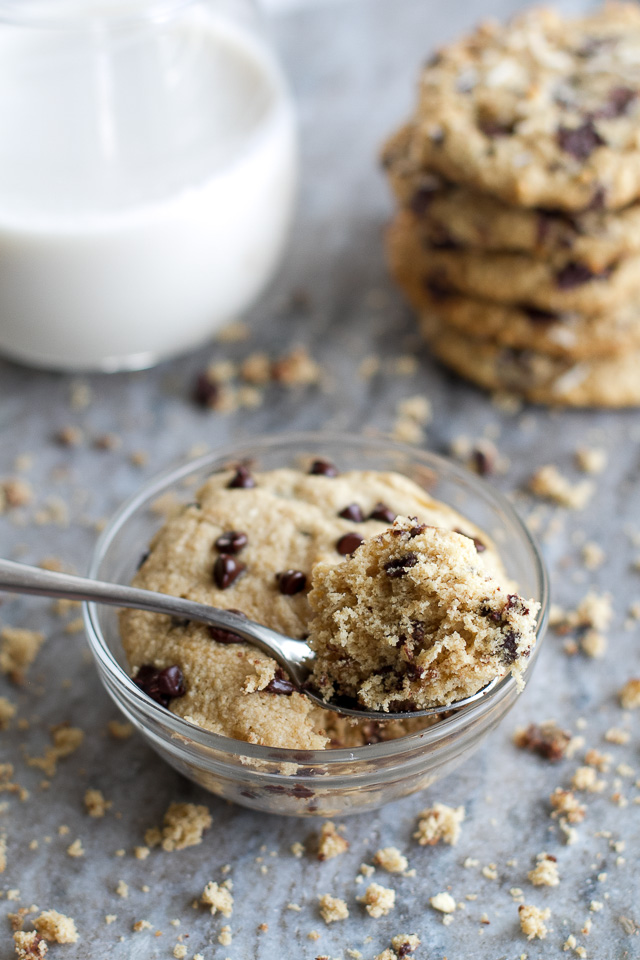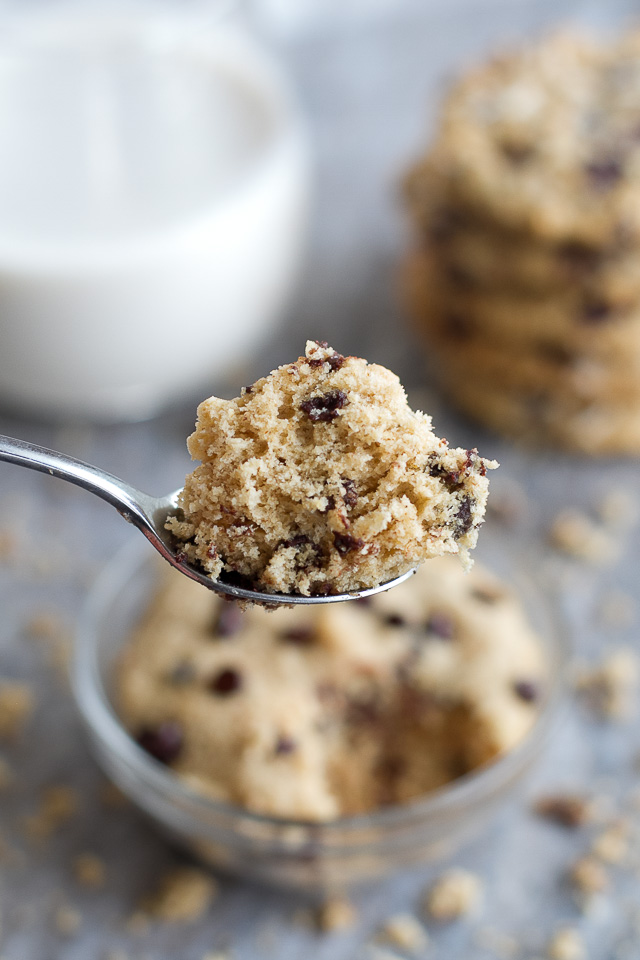 Look at that fluff factor!!! And it's made without eggs!
That was always my biggest issue with coconut flour in mug cakes – its reliance on eggs. Not because there's anything wrong with eggs, but because I've been trying to make a good vegan mug cake for a while now and it constantly gave me the slip (see texture issues here and here).
Turns out all I had to do was swap flours! Oat flour makes this chocolate chip cookie dough mug cake nice and fluffy without the need for any eggs or flax eggs.
It's got a really light and soft texture, but feels just a little bit dense at the same time… ya know? Like you really feel like you have something to bite into, but it's not gummy or heavy or wet. In other words, it's juuuuuuust right.
It's also gluten-free as long as you use gluten-free oats and perfectly acceptable for those 8am cookie dough cravings. Just sayin'.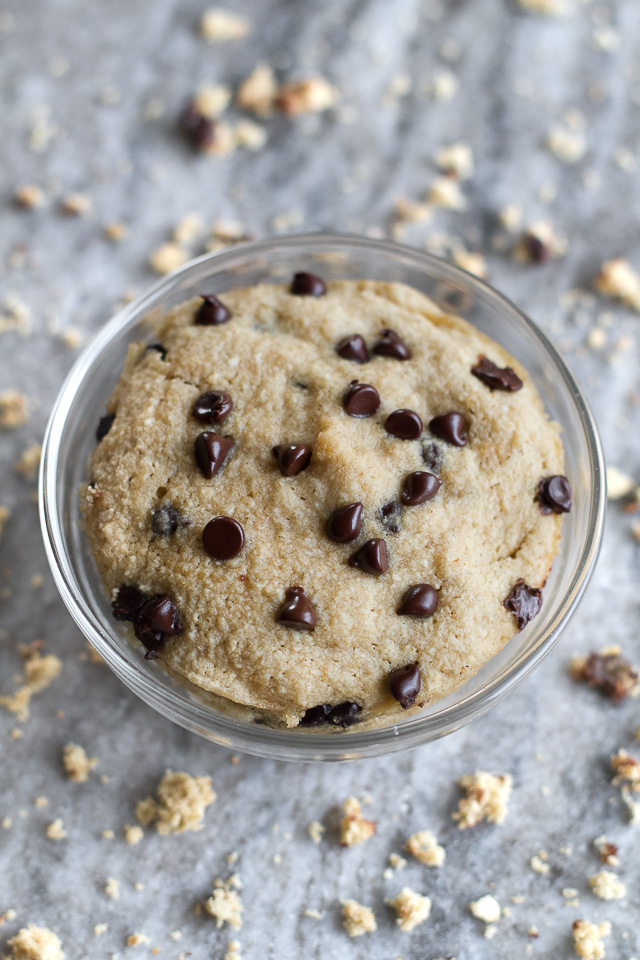 I'd love to know if you make this recipe! Leave a comment and rating down below to let me know what you think, and subscribe to our mailing list to receive new recipes in your inbox!
Print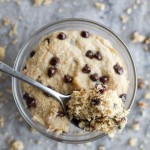 Chocolate Chip Cookie Dough Mug Cake
---
Author:

Total Time:

7 mins

Yield:

1

serving

1

x
1/4 cup

(

20 g

) oat flour*

1/2 tsp

baking powder

2

–

3

Tbsp (

30

–

45

ml) unsweetened applesauce**

1 Tbsp

(

15

ml) maple syrup

1/2 Tbsp

(

8 g

) almond butter***

1/2 Tbsp

(

8 g

) mini vegan chocolate chips
---
Instructions
Combine the oat flour and baking powder in a small microwave-safe mug or bowl.
Add the applesauce, maple syrup, and almond butter, and mix until all the ingredients are well combined. Fold in the chocolate chips, saving a few to sprinkle on top.
Microwave on high for 2 minutes and enjoy!
Notes
* To make your own oat flour, take 1/4 cup (20 g) of oats and run them through a food processor or blender until they break down into the consistency of a fine flour. Make sure to use certified gluten free oats if you need this to be gluten free. ** Because flour measurements and microwave strengths can have a little variance, you might have to adjust how much applesauce you add. Start with 2 tbsp (30 ml) and only add a third if you find your mug cake is coming out too dry. ** You can use any other nut butter you have on hand or use a soy nut butter to make this nut-free. I like using almond because it has a sweet and mild flavour.
Prep Time:

5 mins

Cook Time:

2 mins
Keywords: chocolate chip, cookie dough, egg-free, gluten-free, healthy, mug cake, oat flour, recipe, snack, vegan

Looking for more quick and easy vegan snack recipes? Try one of these!
No Bake Brownie Bites
No Bake Sweet and Salty Trail Mix Granola Bars
Healthy Two Minute Brownie
Chocolate Banana Minute Muffin
Flourless Vegan Banana Muffins