Ridiculously soft and pillowy cookies that have slightly chewier edges and a tender centre. One bowl and 10 minutes is all you need to whip up these chocolate chip cheesecake cookies!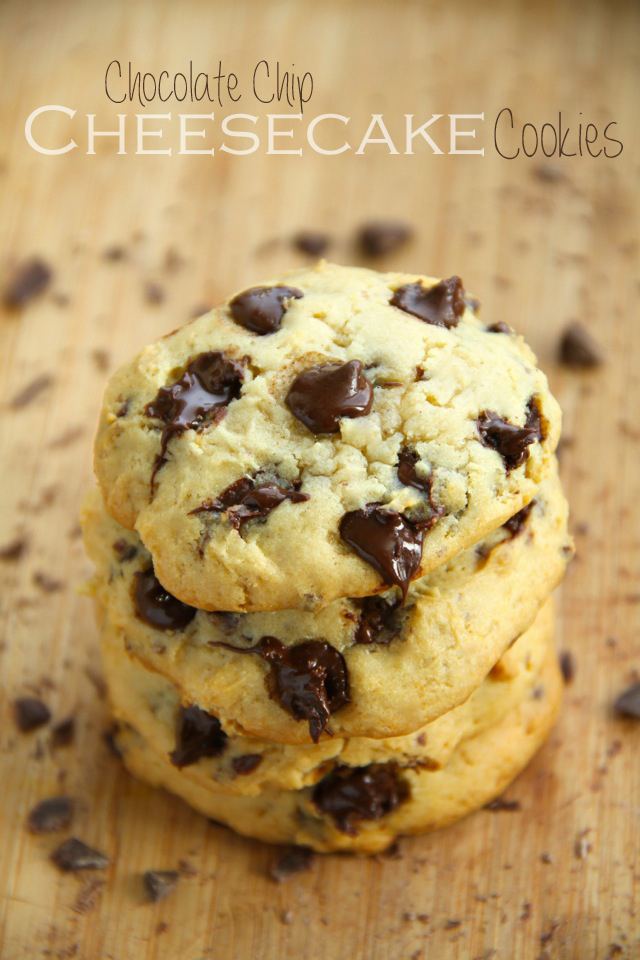 Some recipes come together seamlessly. I'll have an idea; scribble it down on paper; work out the details; put it to the test; fall in love with the result; make it again just to be sure; and call it a success.
This was not one of those recipes.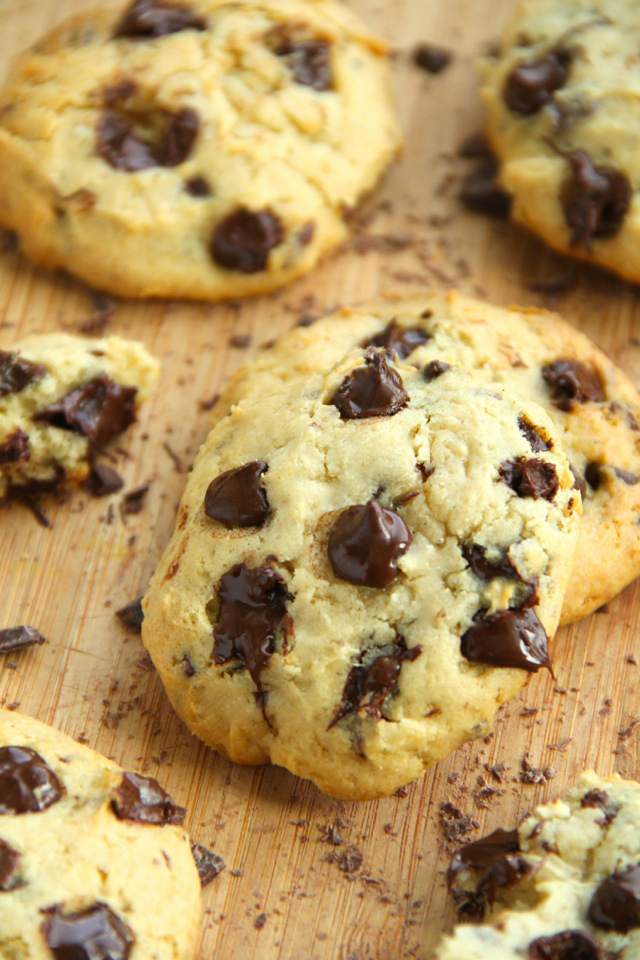 This was one of those recipes that failed after the first batch. And the second batch. And the third batch. And… a couple more batches after that.
This was one of those recipes that I would have sacked had it not been for pride and my ridiculously stubborn nature. Admitting defeat to a gooey lump of butter, sugar, [cheese], and flour? Nuh uh. Not me.
And it's a good thing, too, because this was (is?) one of those recipes that's well worth the trouble… even if I did end up shedding some tears during the whole process ordeal. I may not cry over spilled milk, but apparently I will cry over a solid mass of melted cookies. Just being real.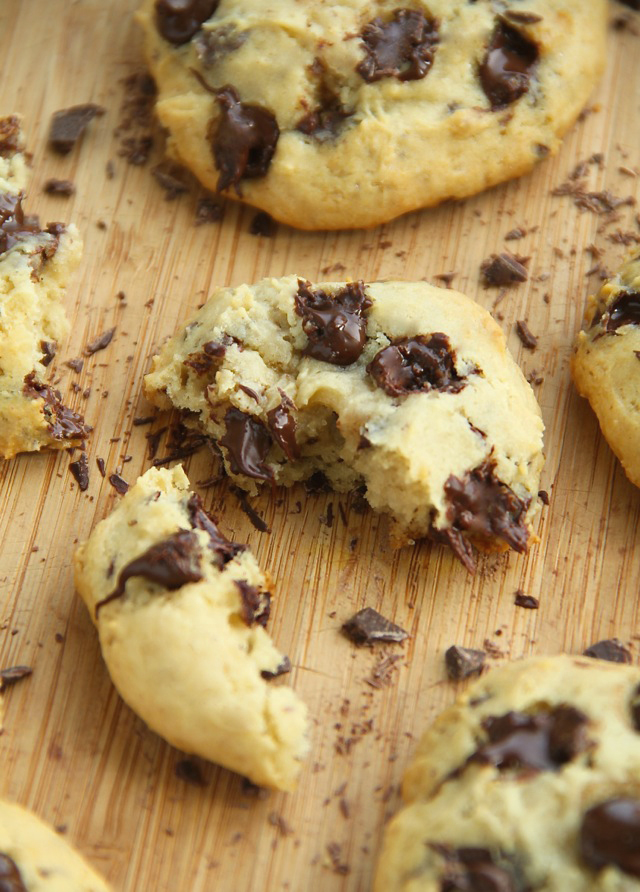 I did learn some valuable lessons, though.
Lesson #1. Cream cheese behaves like butter. If you're like me and not willing to chill the dough (ain't no one got time patience for that!), then you need to reduce the butter or you'll end up with melted cookies. Try again.
Lesson #2. Adding more flour does.not.work. Try again.
Lesson #3. Do not attempt to get "one last batch in" at 11 PM before you "pass out for the night." You will be so tired that you'll inevitably forget to add a very important ingredient (like sugar), and end up with savoury cheesy biscuits. Which, while still good, were not what you were after. Try again.
Lesson #4. Now is not the time to experiment with arrowroot powder. Try again.
Lesson #5. Persistence.pays.off.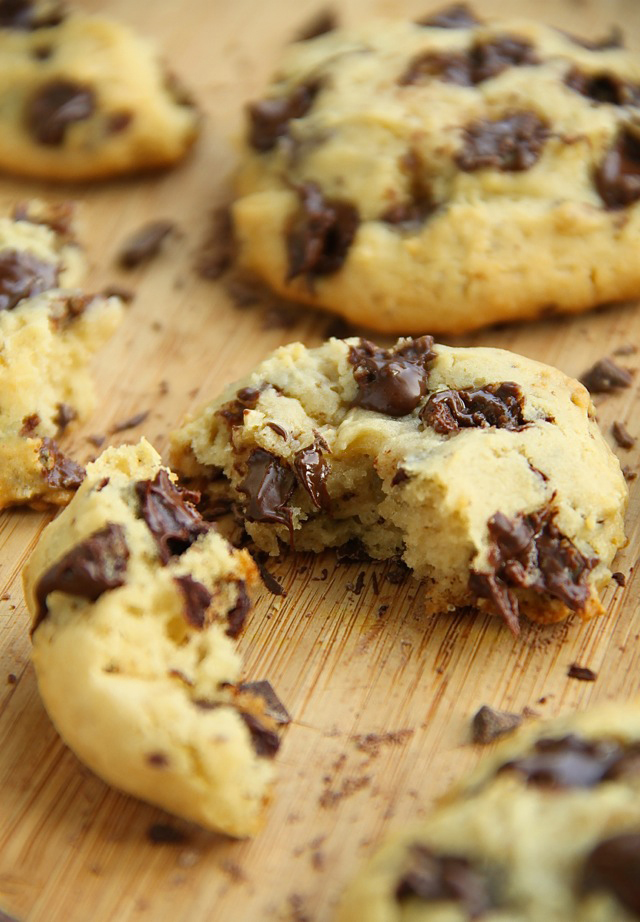 They're so fluffy I could die.
These may just be some of the softest, doughiest, most pillowy cookies that I've ever had. They're slightly firmer and chewier around the edges, and get softer as you make your way towards the middle. The flavour of the cream cheese isn't too pronounced, but you can definitely pick up on it, especially if you know it's in there. It adds a certain je ne sais quoi that you can't help but want to decipher by taking more and more bites…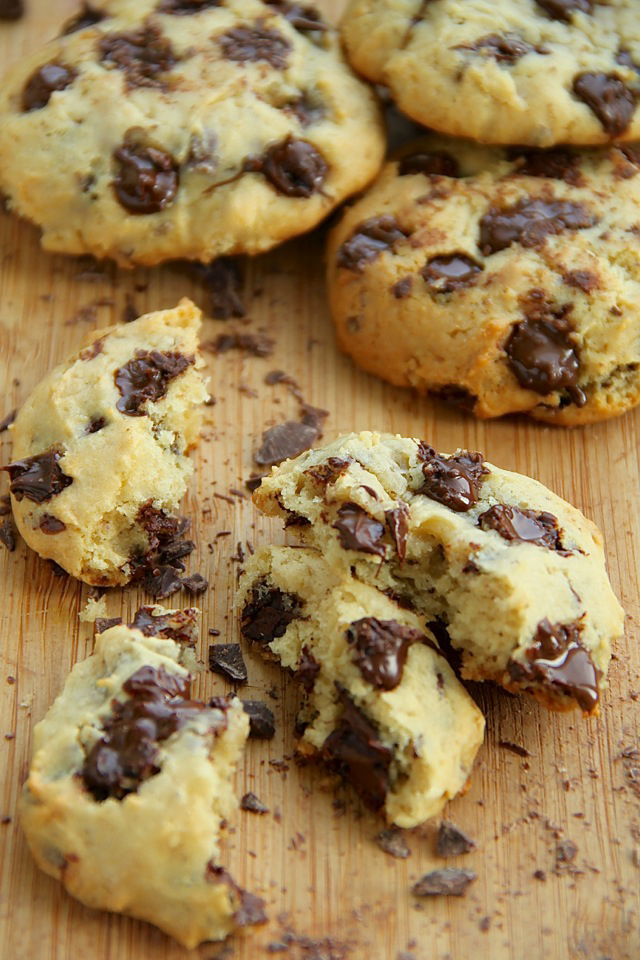 These cookies aren't overly sweet or greasy, but neither do they taste or feel lightened up in the least. I played around with the amount of butter and sugar quite a bit, and I think I found a happy medium — they're the perfect blend of "oh.my.god these taste amazing and they're not even too bad for me."
Plus they're loaded with chocolate in every bite, which is never a bad thing in my books…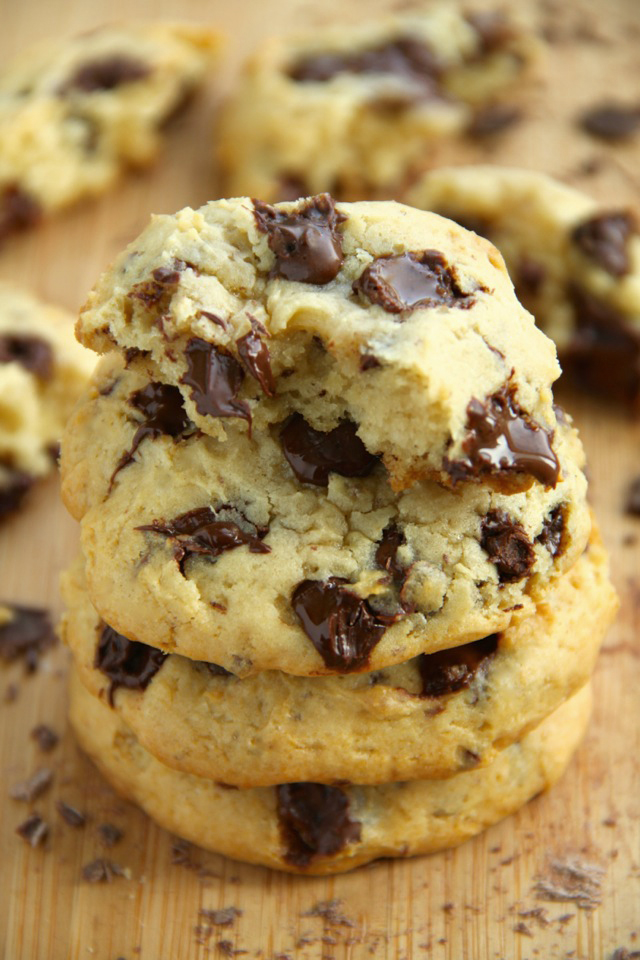 I'd love to know if you make this (or any!) recipe! Tag @runwithspoons on Instagram and Twitter, and be sure to subscribe to our mailing list to receive more healthy and delicious recipes straight to your inbox!
Print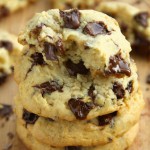 Chocolate Chip Cheesecake Cookies
---
Author:

Total Time:

20 mins

Yield:

12

–

16

cookies

1

x
2 Tbsp

. unsalted butter, softened to room temperature

1/4 cup

cream cheese, softened to room temperature*

1/4 cup

unrefined granulated sugar

2 Tbsp

. honey

1

large egg

1 tsp

. vanilla extract

1 cup

all-purpose flour

1/2 tsp

. baking soda

1/4 tsp

. salt

1/2 cup

chocolate chips
---
Instructions
Preheat oven to 350F and line a large baking sheet with parchment paper or a non-stick baking mat. Set aside.
In a stand mixer fitted with the paddle attachment, or in a large bowl using a hand-held mixer, combine butter, cream cheese, sugar, and honey, beating on medium-high speed until pale and fluffy. Add in the egg and vanilla, and continue beating until everything is well combined, scrapping down the sides of the bowl as necessary.
Reduce speed to low and slowly add flour, baking soda, and salt, mixing until just combined. Fold in chocolate chips.
Drop dough by rounded tablespoon onto your prepared baking sheet, topping each cookie with a few additional chocolate chips if desired. Bake for 8-10 minutes, until edges begin to set and turn golden brown. Remove from oven and allow cookies to cool on baking sheet for 5 minutes before transferring them to a wire rack to cool completely. Store in an airtight container for up to 1 week.
Notes
* I used full-fat cream cheese.
Prep Time:

10 mins

Cook Time:

10 mins
Keywords: chocolate chip cheesecake cookies, chocolate chip cookies, dessert, recipe, soft and chewy cookies
Looking for more delicious cookie recipes? Try one of these!
Double Chocolate Chip Oatmeal Cookies
Vegan Chocolate Chip Banana Bread Oatmeal Cookies
Soft and Chewy Chocolate Chip Skillet Cookie