Satisfy your banana bread cravings in less than 5 minutes with this healthy blueberry banana bread mug cake! Light and fluffy, this mug cake is made without butter or oil and is 100% grain-free. It's quick, easy, single-serve, and makes a healthy and delicious snack!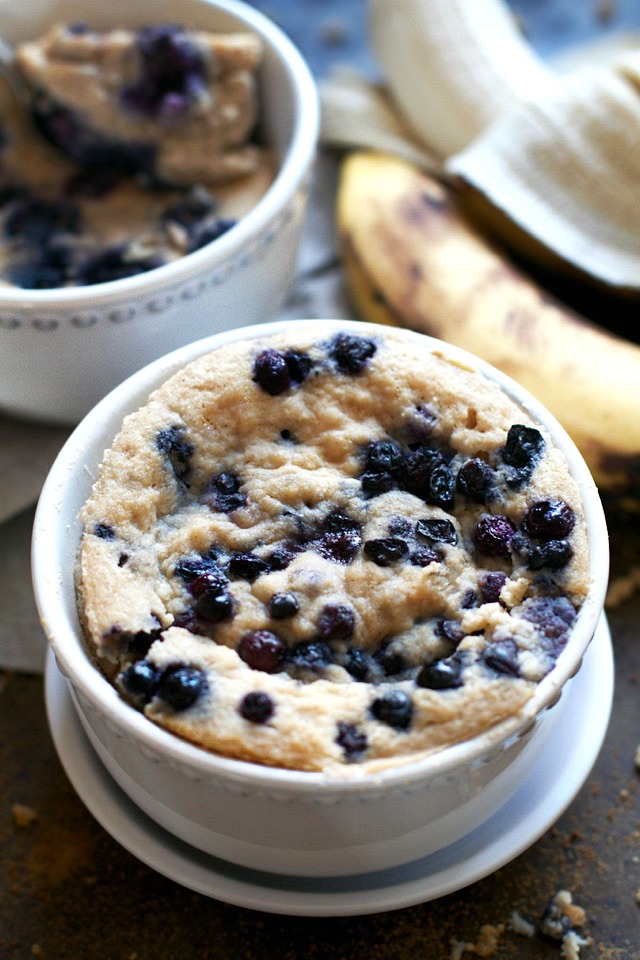 It's kind of crazy to think about how much baking has changed since I first started dabbling in it around 18 years ago. And holy snap did I ever just age myself. But I digress.
The point is, baking is a lot different today than it was when I was learning the ropes as a kid. Back in my day (har har), you followed a pretty basic formula involving flour, butter, sugar, and eggs; and while that's obviously still around today, more and more people are turning to alternative ingredients like almond flour, coconut palm sugar, flax eggs, fairy dust, etc. to get the job done.
Or maybe it just seems that way to me because of the healthy living blogger bubble I live in? The one where using coconut flour in things like this blueberry banana bread mug cake is pretty commonplace?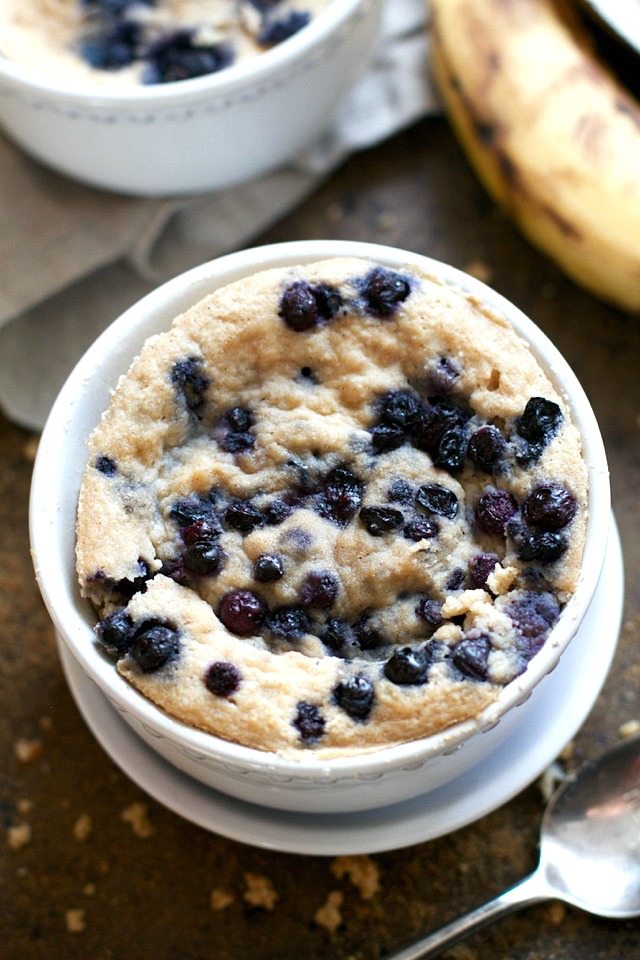 Either way! I'm pretty sure everyone's seen at least a handful of recipes involving flour/butter/sugar/egg alternatives; and I know you've seen way more than that if you're a regular Spoons reader since those things are kind of the [flourless] bread and [dairy-free] butter around these parts. See what I did just there? 😉 Smooth.
In all seriousness, though, I love using the alternatives in my recipes. Partially because they generally tend to be a little bit healthier than their classic counterparts, and partially because they're just plain fun to experiment with (hashtag geek). Things like gluten-free, grain-free, paleo, and/or vegan baking weren't really a thing when I was growing up, and being part of the influx of those kind of recipes in the last handful of years has been pretty neat.
At least when they turn out. Ask me again how I feel about grain-free vegan baking when I've got 5 failed flourless eggless muffin recipes under my belt and I might be singing a different tune. A colourful one that'd probably make sailors blush.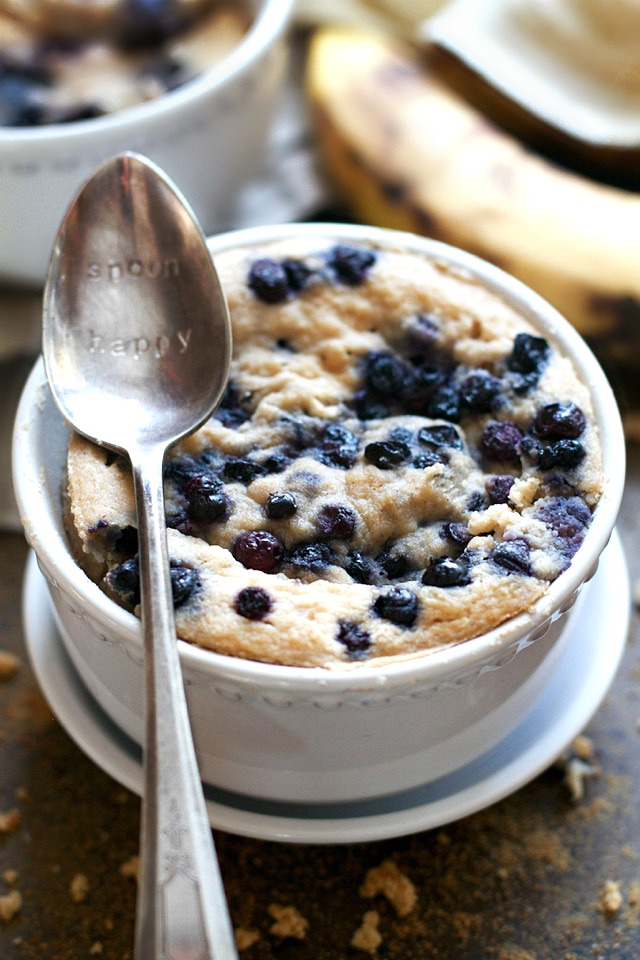 But the failures just make the successes that much sweeter, and when you strike gold, you strike freaking gold.
Take today's light and fluffy blueberry banana bread mug cake, for example. Would you believe me if I told you that it's made with NO flour, butter, or oil, but soooooo incredibly soft and fluffy that you'd never know unless someone actually told you?
Believe me; I've tested that theory on my poor, unsuspecting taste-testers. And before you go feeling sorry for them, remember that the job comes with heaps of free food and not that many flops. They're a happy, well-fed bunch. And this is a ridiculously doughy grain-free mug cake…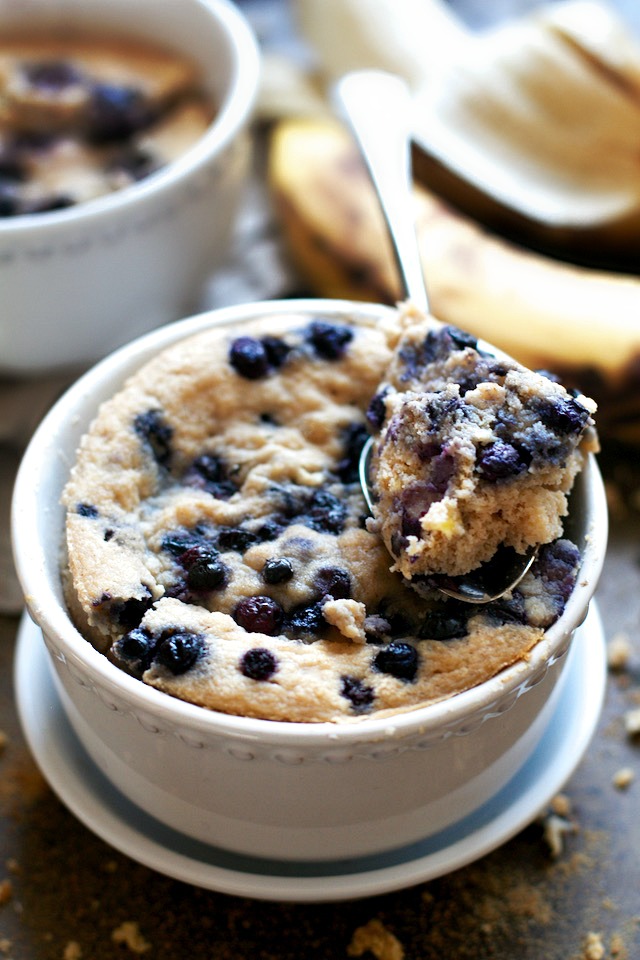 You know those alternative ingredients I was talking about? It's recipes like this where they really shine.
One of the most common questions I get about my mug cakes is whether or not the coconut flour can be subbed out with regular flour, and the answer is no… at least not without making a lot of other adjustments. Coconut flour is really unique in how it absorbs liquids, and it's what lets these mug cakes stay nice and moist without any additional oil. It also makes them super fluffy and cake-like, despite the fact that they're grain-free.
I normally try to provide more common substitutions, but this is one of those occasions where I'm going to tell you that you need to go out and pick up a bag of coconut flour, if only to use it in mug cakes. It will change.your.LIFE.
Happy eating!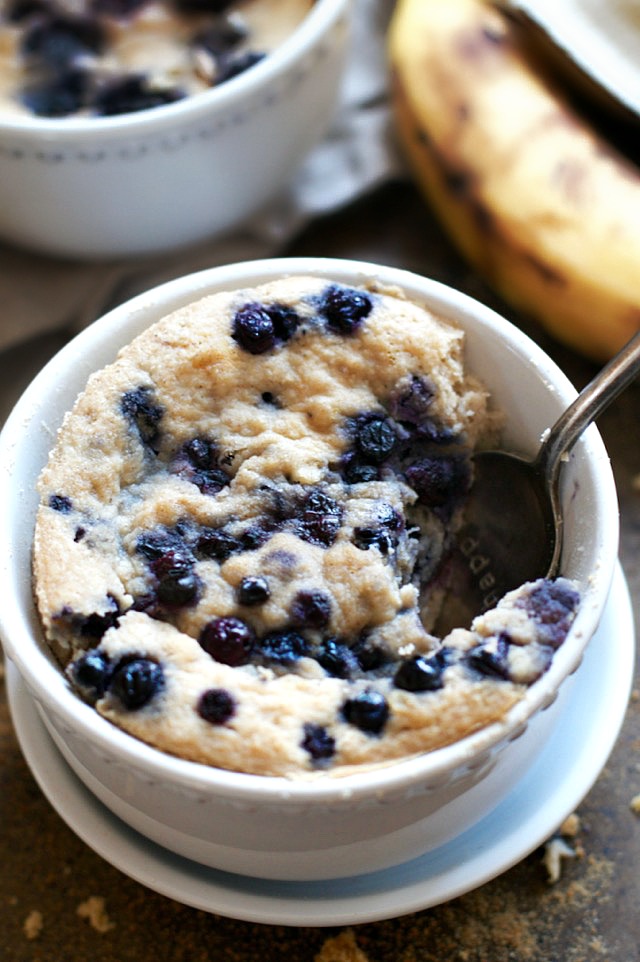 I'd love to know if you make this recipe! Leave a comment and rating down below to let me know what you think, and subscribe to our mailing list to receive new recipes in your inbox!
Print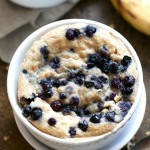 Blueberry Banana Bread Mug Cake
---
Author:

Total Time:

7 mins

Yield:

1

serving

1

x
2 Tbsp

(

14 g

) coconut flour

1/4 tsp

baking powder

1 tsp

(

4 g

) coconut palm sugar*

1/4 tsp

ground cinnamon

3 Tbsp

(

45

ml) unsweetened almond milk**

1/2

medium, ripe banana (

50 g

or

1/4 cup

mashed)

1

large egg white
scant

1/4 cup

(

25

–

30

g) blueberries, fresh or frozen
---
Instructions
Add coconut flour, baking powder, sugar, and cinnamon to a microwave-safe mug or bowl, mixing until well combined.
Add milk and mashed banana, stirring until no clumps remain before adding in your egg. Use a fork to gently beat the egg into the batter, making sure that it gets fully incorporated. Gently fold in blueberries.
Microwave on high for 2½ to 3 minutes, depending on microwave strength and size of mug.***
Remove from microwave, grab a spoon, and enjoy!
Notes
* you can easily sub this with brown sugar or even granulated sugar. If you want to keep this refined sugar free, sub with maple syrup or honey. ** you can easily sub this with your favourite milk. Use dairy or soy to make this nut-free. *** you can also make this the oven by preheating your oven to 350F (176C) and baking for 15-20 minutes, until desired consistency is reached.
Prep Time:

5 mins

Cook Time:

2 mins
Keywords: baking, banana bread, banana mug cake, blueberry banana bread, coconut flour, gluten-free, grain-free, healthy, n6nsIK, recipe, snack

Looking for more healthy mug cake recipes? Try one of these!
Oatmeal Cookie Dough Mug Cake
Healthy Two Minute Brownies
Chocolate Chip Cookie Dough Cake
Fudgy Double Chocolate Mug Cake
Chocolate Banana Minute Muffin