Take overnight oats to a whole new level of deliciousness with this Almond Joy Overnight Oatmeal Smoothie! Cool and creamy like a smoothie, it's also got that stick-to-your-ribs feeling of a bowl of oats that'll keep you satisfied for hours. Vegan, gluten-free, and packed with plant-based protein and fiber, this smoothie makes a perfect healthy and easy breakfast!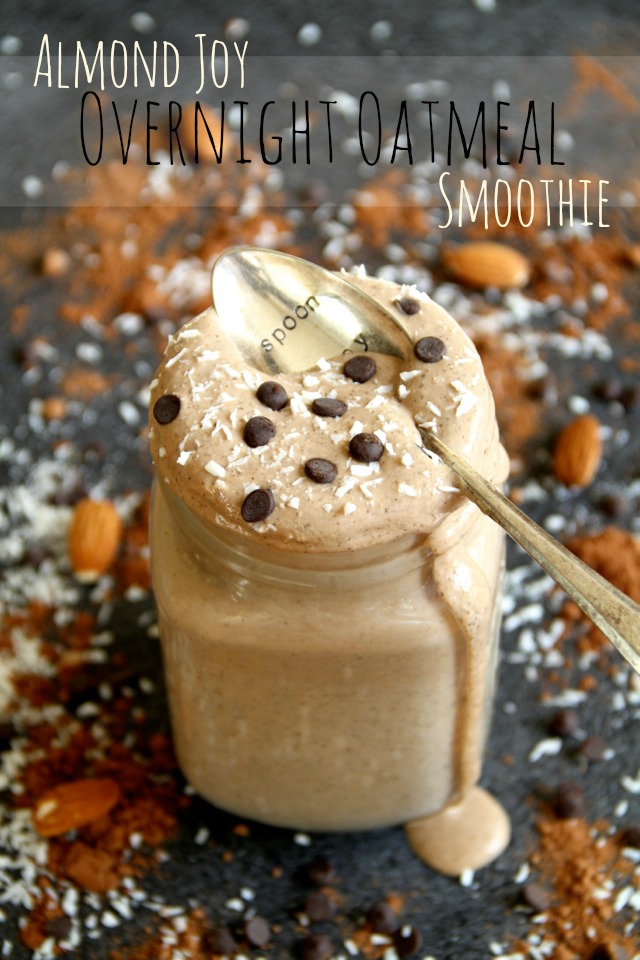 I'm not made for the heat. I'm really not. That's not to say that I'm crazy about the cold, but at least I can still function when it's frigid — the heat renders me basically useless.
We've been enjoying a week or so of temps in the high 20's (80's for all my Fahrenheit folks), and as per Murphy's Law, my AC decided that now would be a great time to call in sick. I have a sneaking suspicion it's all just a cover up for an elaborately planned trip to the Bahamas, but whatever the case may be, it doesn't change the fact that I currently have no AC and my condo hits 27ºC (81ºF) at about 8 AM thanks to all the glorious sunshine I get in the morning.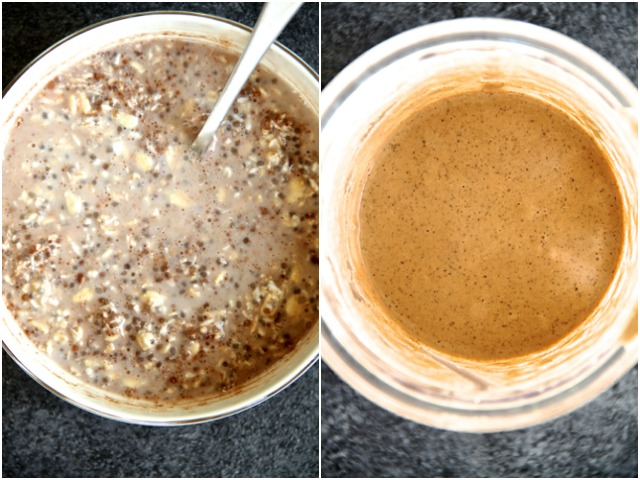 This leaves me with a few options when it comes to ways to cool down:
a) hang out in my [usually empty] apartment gym, which has working AC and a wifi signal I can still mooch from my own condo.
b) hang out in Starbucks, which has working AC, moochable wifi, and iced coffee.
c) take a cold shower and run out screaming like a little girl after roughly 10 seconds.
d) hang out in front of a tiny fan and eat ALL the cold foods.
I'll let you figure out which of those tactics, if any, I've shamelessly employed over the past week or so.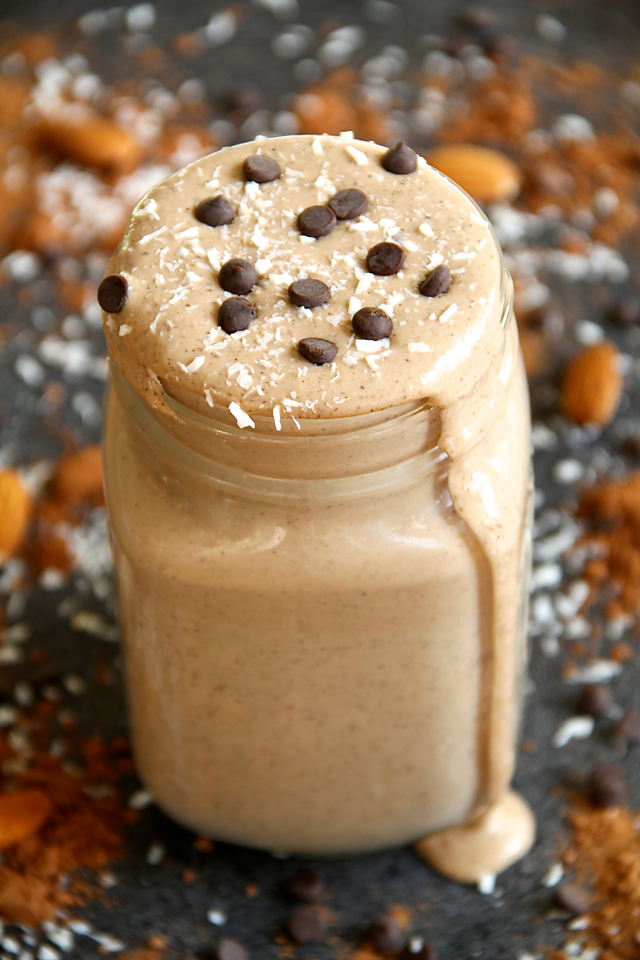 Needless to say, my oven hasn't been seeing any action this past week. And neither has my stove. It's been smoothies for breakfast, sandwiches or wraps for lunch, salads or cereal for dinner, and chocolate fudge bites for dessert. No fuss. No muss. No heat.
But then there's the problem of what kind of recipe to make for Spoons, since I can't exactly abandon that side of my blog as soon as the mercury starts rising. Something no-bake would be the obvious choice, but I just did that. A smoothie would be another good one, but I wanted something with a little more oomph.
Unfortunately, I couldn't think of anything… so I oomphed up a smoothie and got this Almond Joy Overnight Oats Smoothie.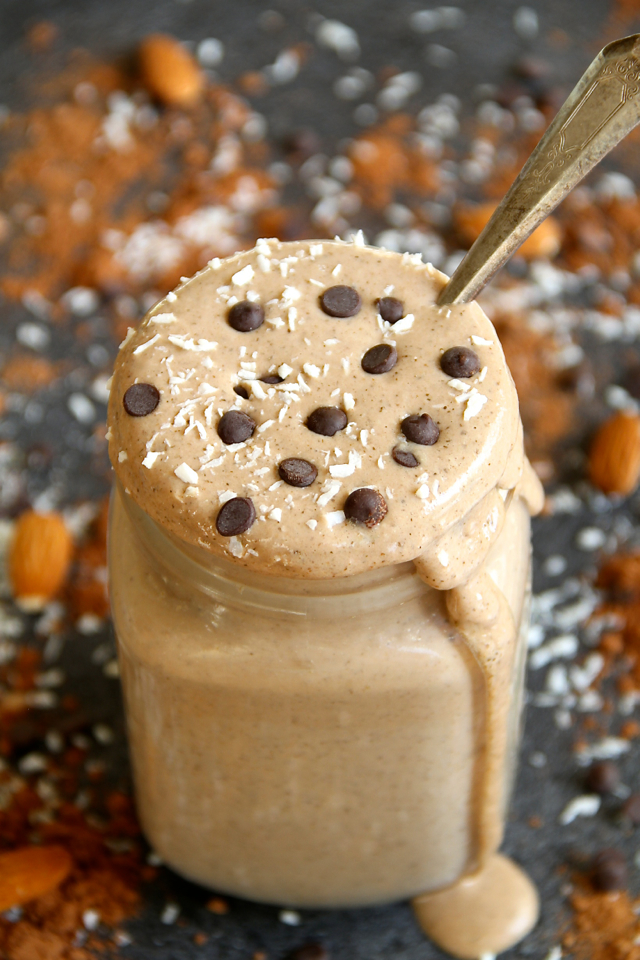 This guy is basically a bowl of overnight oats blended up into smoothie form. I guess you don't have to take the extra step of tossing it in the blender in the morning, but that's what gives it that smooth, creamy, pudding-like consistency that's just to.die.for…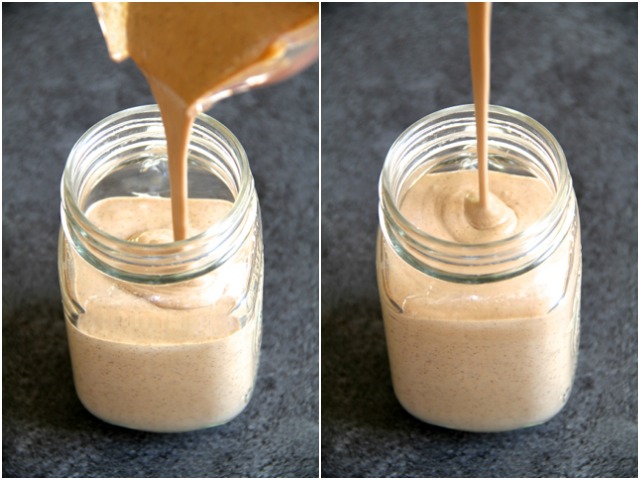 I'm no stranger to adding oats to smoothies, but this is the first time I've used more than 1/4 cup at a time, and I'm definitely a fan. The result is neither a smoothie or a bowl of oats, but a hybrid that's the best of both worlds. It's cool, creamy, and refreshing like a smoothie, while still having that stick-to-your-ribs feeling of a bowl of oats. Perfection.
This version is gluten-free and vegan, and combines the delicious flavours of coconut, almonds, and chocolate. It's a great source of plant-based protein and fiber, and an amazing way to start your day… especially since it's basically ready to eat as soon as you wake up, so you don't have any excuses to skip breakfast. Not that you'd be able to skip a breakfast like this anyways…
Happy eating!
I'd love to know if you make this recipe! Leave a comment and rating down below to let me know what you think, and subscribe to our mailing list to receive new recipes in your inbox!
Print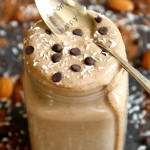 Almond Joy Overnight Oatmeal Smoothie
---
Author:

Total Time:

3 hours 5 mins

Yield:

1

serving

1

x
1/2 cup

(

40 g

) rolled oats**

1 Tbsp

(

7 g

) chia seeds

1 Tbsp

(

7 g

) unsweetened shredded coconut

2 tsp

(

3 g

) cacao powder

1 cup

(

240

ml) unsweetened vanilla almond milk***

1 Tbsp

(

15

ml) maple syrup

1/8 tsp

almond extract
optional toppings: chocolate chips, shredded coconut, slivered almonds, etc.
---
Instructions
The night before, add all the ingredients except for the toppings to a medium-sized mixing bowl and mix to ensure that everything is well combined. Cover with plastic wrap (or transfer to a sealed container) and place in the fridge for at least 3 hours, preferably overnight.
The next morning, transfer the contents of bowl to a blender, and blend until a smooth and creamy consistency is reached. Transfer back to bowl, add desired toppings, and enjoy!
Notes
* Cook time refers to chilling time. ** Be sure to use certified gluten-free oats if you need this to be gluten-free. You can also reduce the oats to 1/3 cup and add a scoop of your favourite protein powder. *** If the smoothie is too thick, add a few extra splashes of milk in the blender.
Prep Time:

5 mins

Cook Time:

3 hours
Keywords: almond joy, almond joy overnight oats, Almond Joy smoothie, healthy, overnight oatmeal smoothie, recipe, vegan smoothie

Looking for more easy oatmeal recipes? Try one of these!
Strawberry Coconut Overnight Oat Parfait
Oatmeal Cookie Dough Smoothie
Salted Caramel Cookie Dough Smoothie
Greek Yogurt Banana Oat Bread
Blueberry Almond Oat Bars