Almond flour, shredded coconut, chocolate, and oats make up the base for these Almond Joy Oatmeal Cookies. A soft and chewy gluten-free cookie that's loaded with texture and flavour!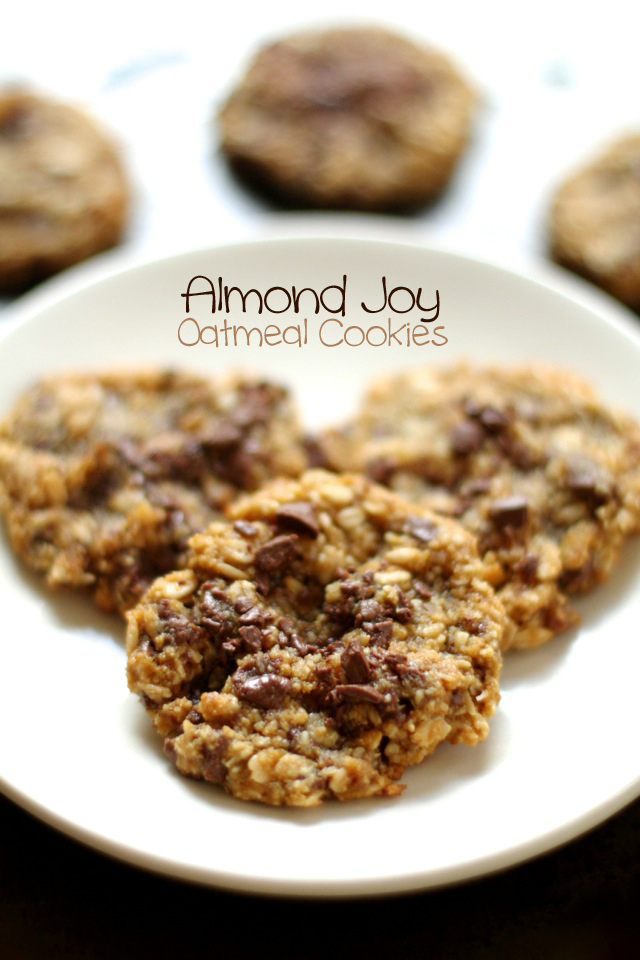 I'm going to start this post with a confession that you have to promise you won't judge me for. Ready? Okay…
I'm not a huge fan of chocolate chip cookies. That's not to say that I don't enjoy them, but they're not my favourite as far as cookies go — that title belongs to chocolate chip oatmeal cookies.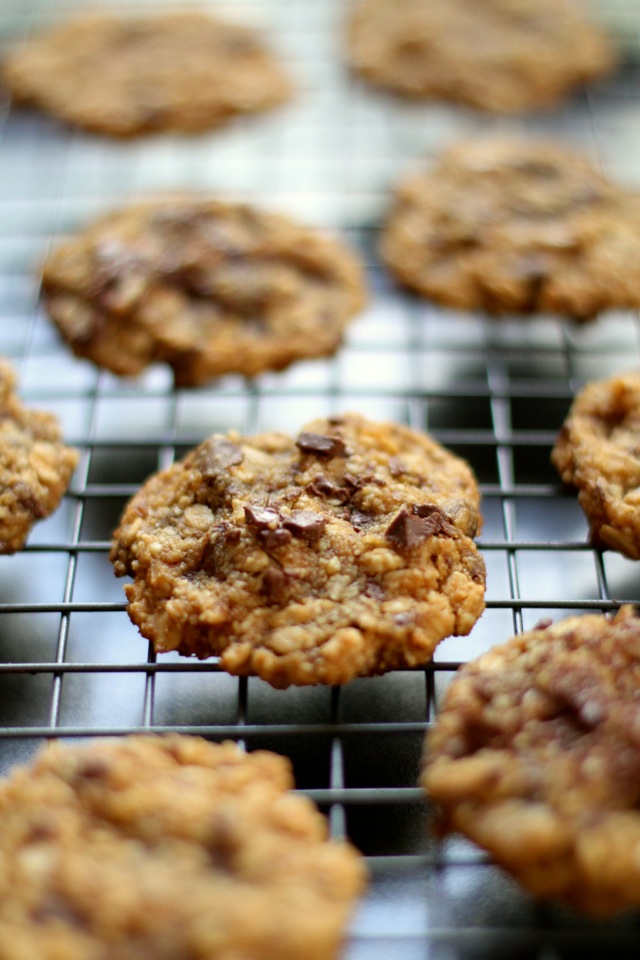 Remember how I went on and on about being huge on textures in my granola post? The same thing applies to cookies. I prefer denser, chewier, heartier cookies to the smooth and buttery kind that melt in your mouth… which is why tossing in some oats is a must.
Chocolate is another must, although I do have to admit to really warming up to raisins in my old age (read: I'm not really that old). In fact, sometimes I'll actually choose those over chocolate chips when it comes to picking my cookie add-ins. I know, I know… The younger me would be scoffing at the current me as well, which is why I'm going to stop talking about my strange preferences and start talking about these cookies instead…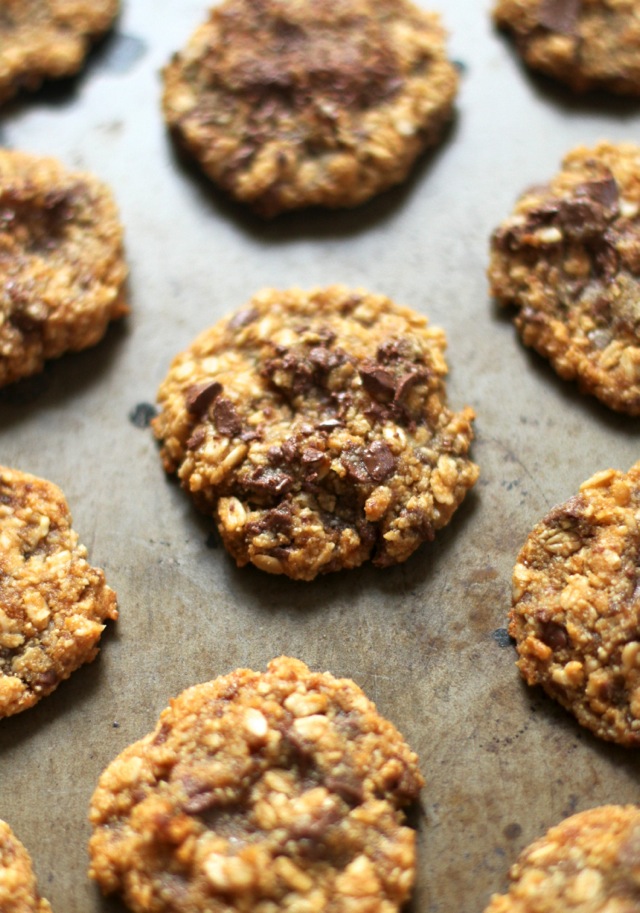 … with 'these cookies' being Almond Joy Oatmeal Cookies; named for the simple fact that they contain almonds, coconut, and chocolate… just like an Almond Joy bar.
Can I tell you a secret? Another confession? I've never actually eaten an Almond Joy bar before… which is entirely my country's fault, since I'm pretty sure they're not sold up here in Canadaland. That being said, I have no idea whether or not these cookies do justice to the original bar, but calling them Almond Joy Oatmeal Cookies was a lot more convenient than calling them Almond, Coconut, & Chocolate Oatmeal Cookies, so you'll have to forgive me for that one, alright? I'll give you a cookie if you do…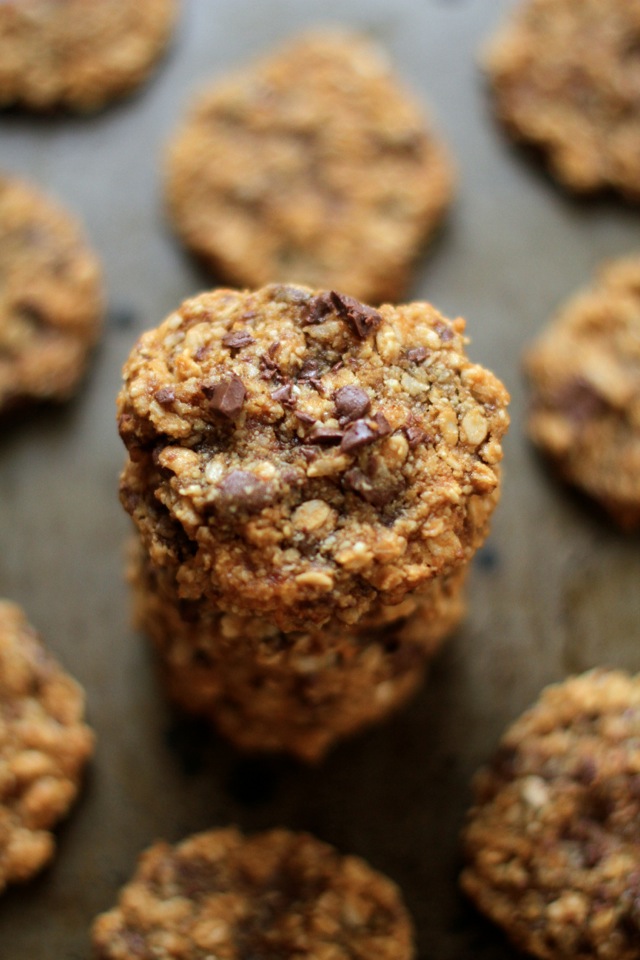 … or a stack of cookies since I'm currently swimming in them thanks to the fact that I burned the first batch. But never mind my [occasional] culinary ineptitude — I made a few tweaks to the second batch and it came out even better than the first. See? There's a little bit of good to be found in every situation. Or in this case, a lot of good…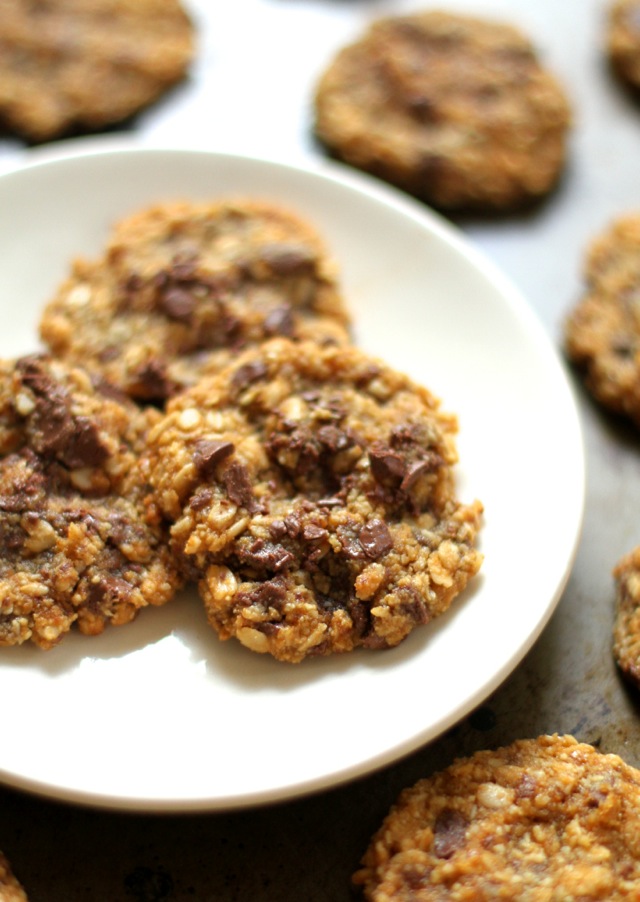 These cookies are soft, chewy, and loaded with texture. They melt in your mouth while still giving you a little bit of something to chew on, with each coconutty bite being punctuated by a delicious burst of dark chocolate… And can I get any weirder with my descriptions? 😯 Bear with me…
They're made with almond and coconut flours, making them gluten-free for those who are trying to avoid it, yet completely irresistible for those who don't have to worry about it. The coconut flavour isn't overwhelming, but it's definitely detectable. The dough itself isn't overly finicky, so you don't have to worry about over-mixing it and ending up with hockey pucks in place of cookies, but it does require a little bit of chilling time to help it set so that it doesn't melt all over the place and form one giant mound instead of cute individual cookies.
Aaaaaaand I think I've rambled on long enough, so I'm going to end by saying… These cookies — they're amazing and you really need to make them.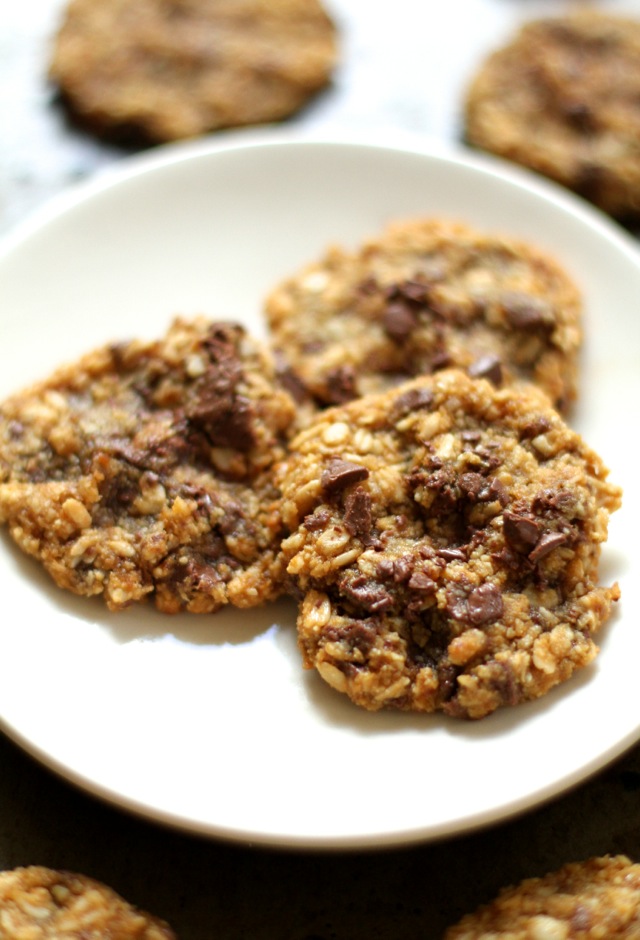 I'd love to know if you make this (or any!) recipe! Tag @runwithspoons on Instagram and Twitter, and be sure to subscribe to our mailing list to receive more healthy and delicious recipes straight to your inbox!
Print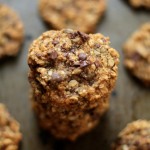 Almond Joy Oatmeal Cookies
---
Author:

Total Time:

20 mins

Yield:

12

cookies

1

x
3/4 cup

(

60 g

) old fashioned oats

1/2 cup

(

56 g

) almond meal/flour

2 Tbsp

(

14 g

) coconut flour

1/4 cup

(

20 g

) unsweetened shredded coconut

1/2 tsp

baking powder

1/4 tsp

salt

1/4 cup

(

48 g

) coconut palm sugar*

2 Tbsp

(

40 g

) honey

1

large egg, lightly beaten

2 Tbsp

(

15

ml) coconut oil, melted

1/2 tsp

vanilla extract

1/4 cup

(

42 g

) dark chocolate chunks/chips
---
Instructions
In a large mixing bowl, combine oats, almond flour, coconut flour, shredded coconut, baking powder, salt, sugar, and honey.
In a smaller mixing bowl, whisk together egg, coconut oil, and vanilla extract. Add to dry ingredients and mix until well combined. Fold in chocolate chips.
Place bowl in fridge and chill for a minimum of 30 minutes.
When ready to bake, preheat oven to 350F (176C) and line a cookie sheet with parchment paper or a non-stick baking mat. Use a tablespoon to drop cookies onto baking sheet, pressing down to flatten them slightly.
Bake for 8-10 minutes, or until the edges begin to turn golden brown.
Remove from oven and allow to cool on sheet for ~5 minutes before transferring to a cooling rack to cool completely.
Notes
* you can also sub with brown sugar
Prep Time:

10 mins

Cook Time:

10 mins
Keywords: almond flour cookies, almond joy, almond joy oatmeal cookies, gluten-free oatmeal cookies, healthy oatmeal cookies