Enjoy dessert for breakfast with this soft and doughy Almond Joy Breakfast Bake! Vegan, gluten-free, and refined sugar-free, it's a healthy and delicious way to start the day!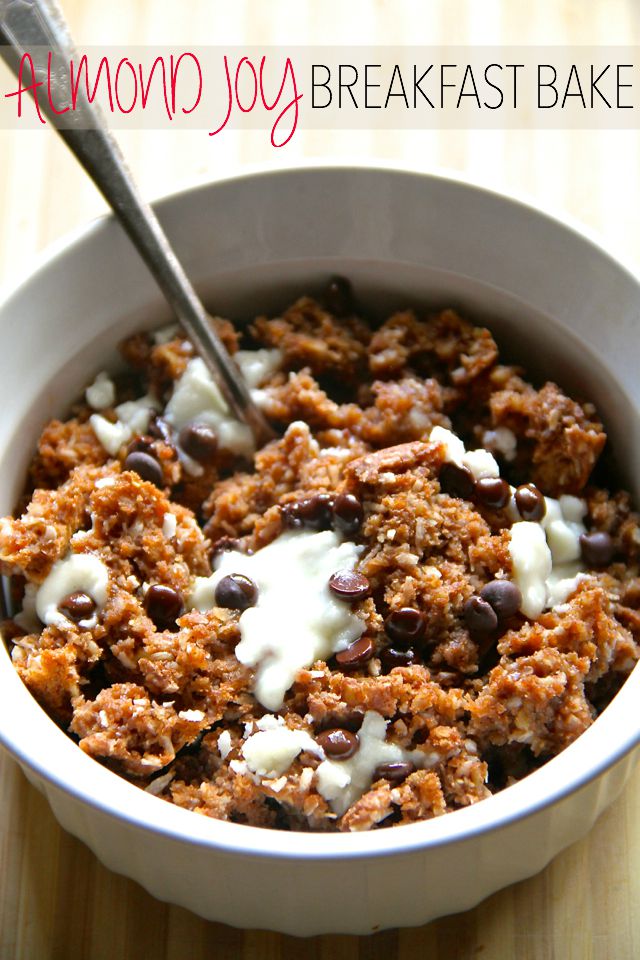 The promise of dessert for breakfast is the reason I get out of bed in the morning.
Okay, maybe not the reason, but it's definitely one of the highlights of my day. The real reason I get out of bed in the morning, I'd guess, is… well… because I get bored of being in bed, if you know what I mean. I almost always wake up feeling super energetic, and I just want to get up and get started with my day.
Granted, things weren't always this way. Definitely not. Throughout most of my teens and early twenties, my mornings consisted of repeated snoozes, plenty of grumbling, and lots of dragging feet. Oh, and a caffeine IV. But lo and behold, it's a handful of years later and I've somehow become one of those annoying morning people. You know… the kind you just want to smack for being so damned happy and peppy at such an ungodly hour? Hi. That's me.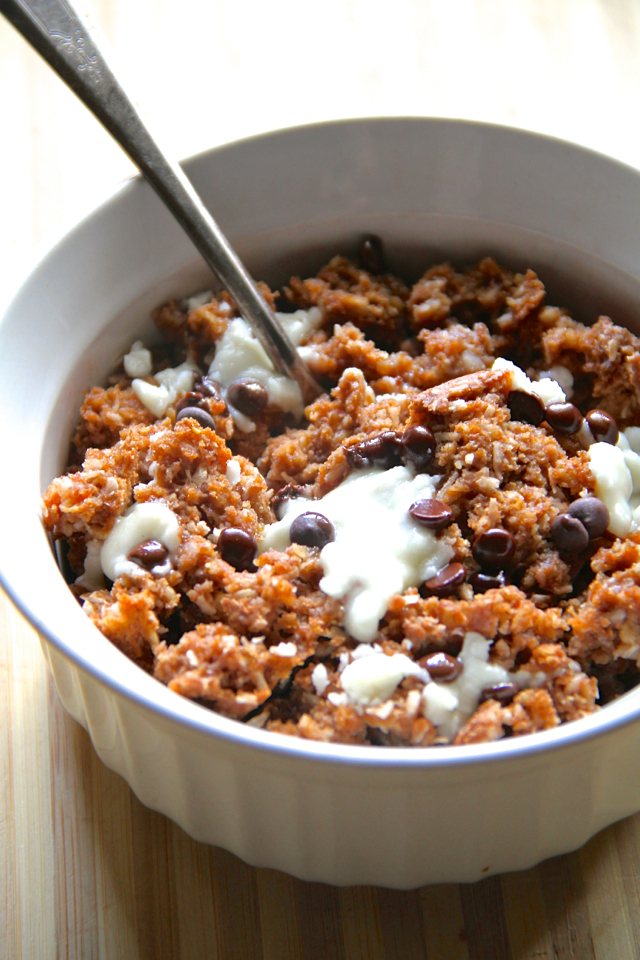 And honestly? I wish I could tell you how it happened…
Being a morning person seems to be "in" these days, with plenty of tips and tricks out there on how you can train yourself to become one too. Whether or not they work, I have no idea… Like I said, it just kind of happened without any rhyme or reason for me. One day I started waking up without an alarm clock at the crack of dawn, and it's been a handful of years since I've had the pleasure of having that annoying beeeeeeeep, beeeeeeeep being the first thing I hear in the morning.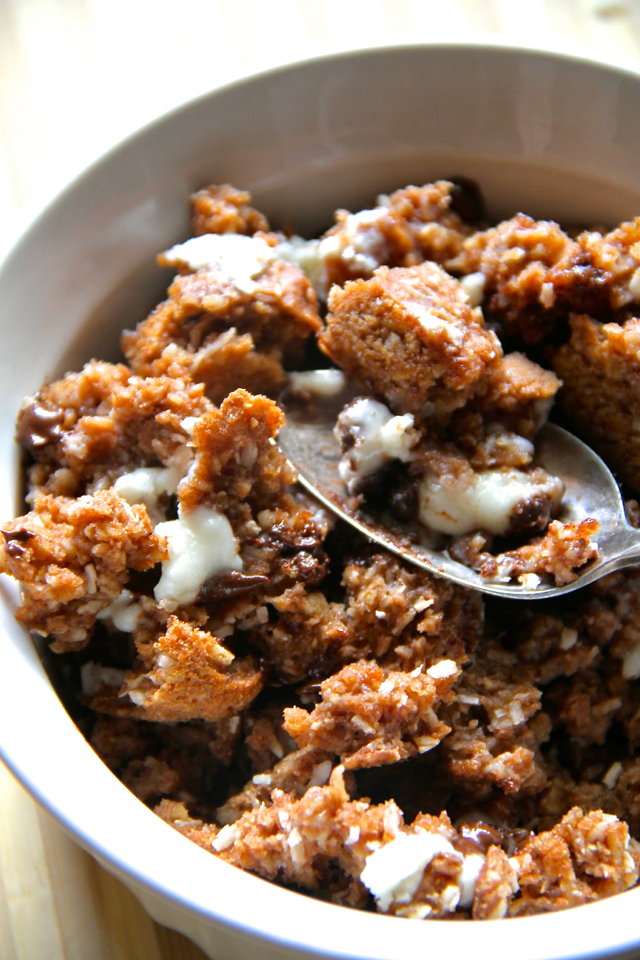 I think a big part of it has to do with the fact that I fell in love with the early mornings, making my brain crave them to the point where it wakes me up so that I don't miss out. It's not a horrible problem to have.
The mornings are my happy time. They're a chance for me to enjoy some peace and quiet and get my head on straight before the craziness of the day sets in. A time for blogging, journaling, meditating, and whatever else might strike my fancy. Oh, and a time for breakfast, #obviously…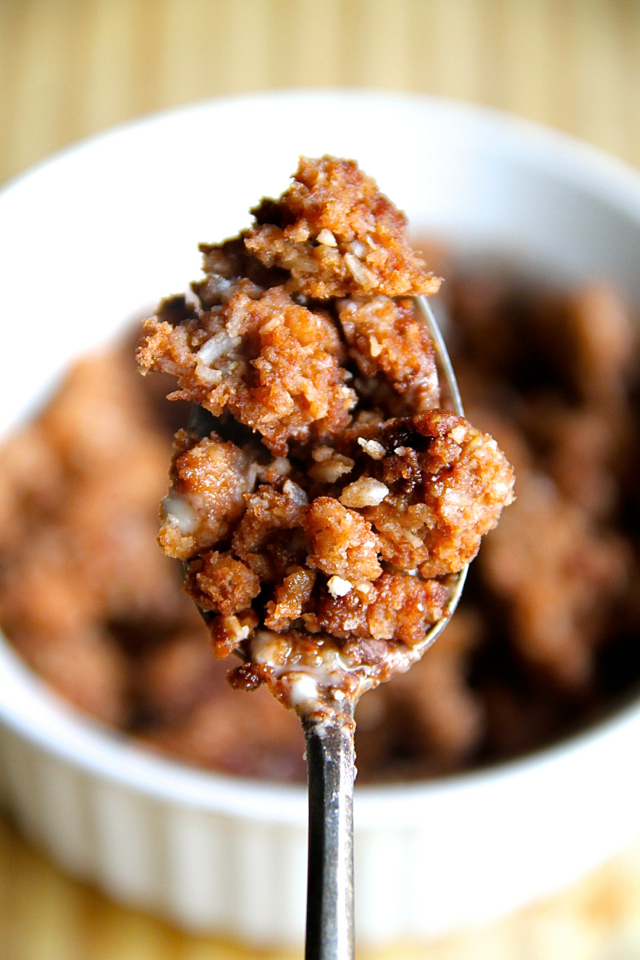 It may not be the reason I get out of bed in the morning, but that doesn't mean I don't look forward to it like a crazy person. But I've professed my love for [sweet] breakfasts countless times on the blog before, so we're just going to skip ahead and talk about the actual recipe instead.
An Almond Joy Breakfast Bake, aka: a reason to get out of bed in the morning. You've got the awesome flavours of almond, coconut, and chocolate combined in a soft and doughy oatmeal bake that has a texture similar to that of a muffin or quick bread. It's packed with a good dose of fibre, healthy fat, and plant-based protein. It's also vegan as long as you use dairy-free chocolate chips, and can easily be made gluten-free by using a gluten-free flour. I've made various breakfast bakes with all-purpose, whole wheat, spelt, rice, coconut, and almond flours before, and never really noticed a huge difference between them. It's all up to you and your individual needs. I hope you enjoy!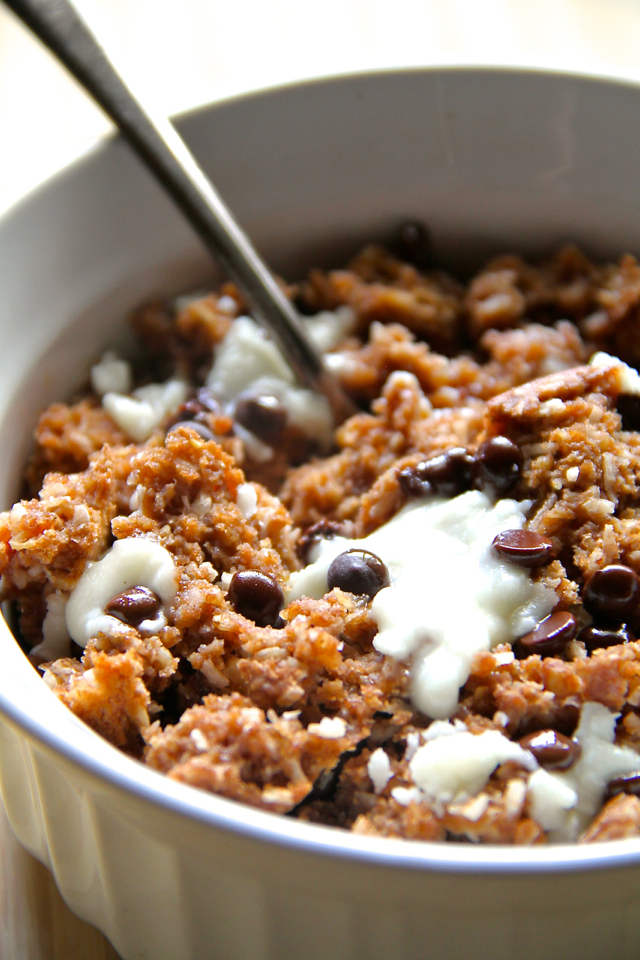 I'd love to know if you make this recipe! Leave a comment and rating down below to let me know what you think, and subscribe to our mailing list to receive new recipes in your inbox!
Print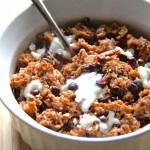 Almond Joy Breakfast Bake
---
Author:

Total Time:

25 mins

Yield:

1

serving

1

x
1/4 cup

(

20 g

) rolled oats

2 Tbsp

(

14 g

) oat bran

2 Tbsp

(

15 g

) flour of choice*

1 Tbsp

(

6 g

) unsweetened shredded coconut

1 tsp

(

2 g

) unsweetened cocoa powder

1/4 tsp

baking powder

1/2 cup

(

120

ml) unsweetened almond milk

1/2

–

1

Tbsp (

7

–

15

ml) agave or maple syrup**

1/8 tsp

almond extract***
---
Instructions
Preheat oven to 375°F (190°C), and lightly coat an individual-sized ramekin (16 oz/500 ml) with coconut oil.
In a medium-sized bowl, combine oats, oat bran, flour, coconut, cocoa powder, baking powder, and salt. Add almond milk, maple syrup, and almond extract, mixing until well combined.
Transfer dough to your greased ramekin, topping with a few chocolate chips if desired. Bake for 20-25 minutes, depending on desired consistency.
Notes
* I usually use an all-purpose or whole wheat, but this recipe works with most flours, including gluten free and grain free ones. ** If you don't have almond extract, you can use 1/2 tsp of vanilla extract.
Prep Time:

5 mins

Cook Time:

20 mins
Keywords: almond joy, breakfast, breakfast bake, gluten-free, healthy, oats, recipe, vegan

Looking for more breakfast bake recipes? Try one of these!
Brownie Batter Breakfast Bake
Blueberry Muffin Breakfast Bake
Oatmeal Cookie Dough Breakfast Bake
Cinnamon Bun Breakfast Bake
Dark Chocolate Raspberry Breakfast Bake