These almond butter and jelly baked oatmeal cups are gluten-free, refined sugar-free, super easy to make, and pack almost 6g of protein! A perfect breakfast or snack.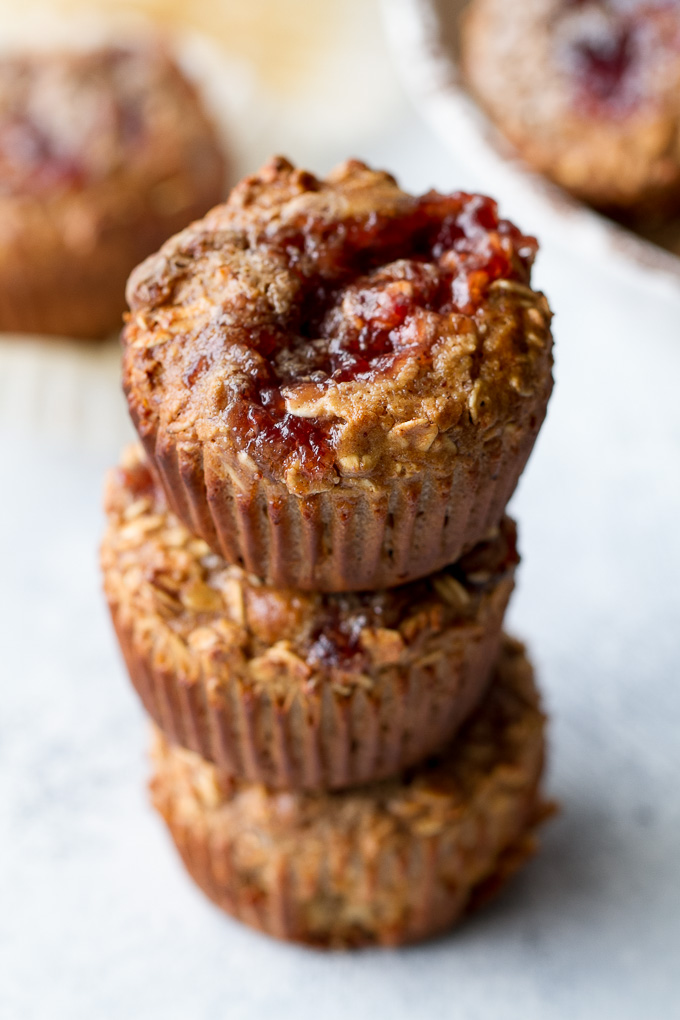 It's peanut butter jelly time! Peanut butter jelly time! Except with almond butter. Because #allergies.
It's funny. One of the most common reactions I get from people when they find out I'm allergic to peanuts is "Oh my god, how can you live like that? I would dieeeeeee." And I really never know how to respond. Like… thanks for rubbing in it? I'm glad you're enjoying your carefree approach to food while I'm over here studying ingredients lists and passing on dessert just so I can avoid a trip to the emergency room.
But that came out sounding a lot more bitter than I had intended. Because, honestly? It's not that bad. A little inconvenient, sure, but there are worse things in life than peanut allergies. Especially when there's this little thing called almond butter. [And jelly]…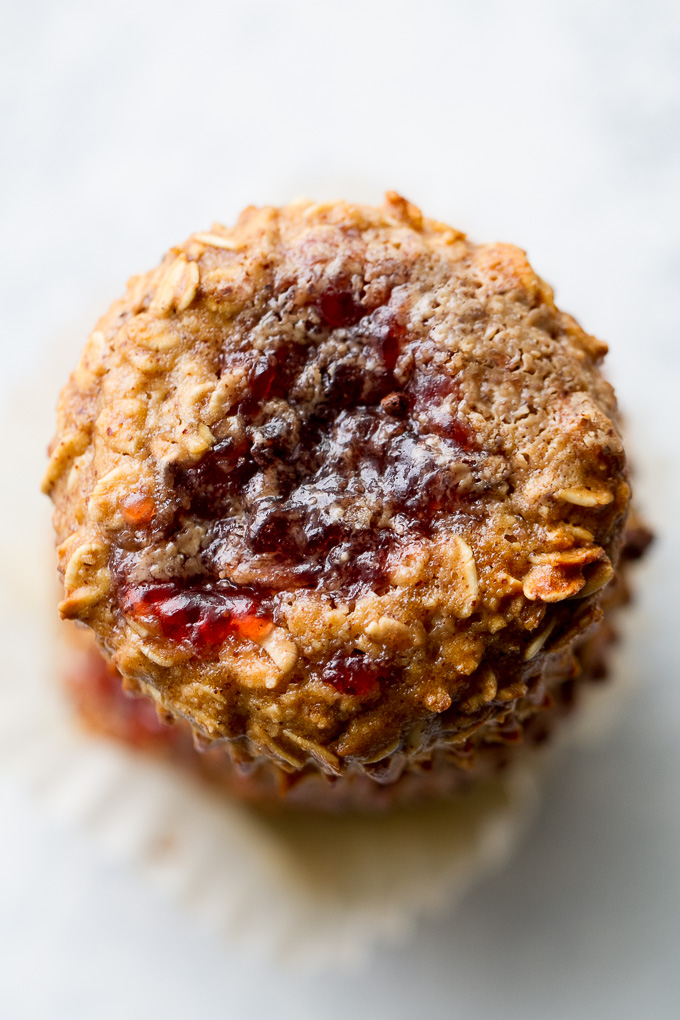 And if you're allergic to all the nuts? You should check out roasted soy nut butter*, which is actually super tasty and something I would have killed for when I was younger. I actually spent the first 24 years of my life thinking I was allergic to all nuts because that's what my parents told me (per recommendation of a doctor) when I was tiny just so I wouldn't get confused and accidentally eat something with peanuts in it.
But I can't blame them. I mean, I'm not a parent myself, but I can't even imagine how much anxiety I'd have letting my child out of my sight if they had a severe allergy. And public places weren't as allergy friendly back then! I still remember kids bringing PB&J sandwiches for lunch, or PB-based "ants on a log" to share with the class. I know food allergies weren't as prevalent back then so people weren't as careful, but it's still kind of a miracle that I managed to make it through all those years relatively unscathed.
Enough stories, though! Let's talk muffins…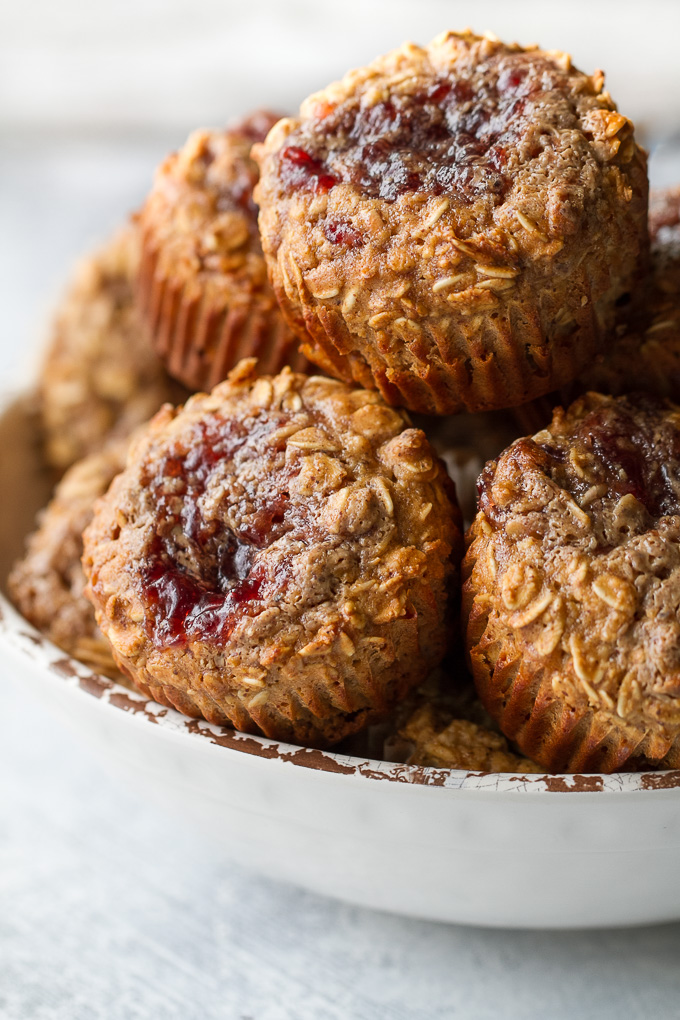 Or, baked oatmeal cups, really. Because while they might have the look and convenience of a muffin, they're more heavily oat-based and a little denser and chewier than regular muffins… but still just as soft and tender on the inside, if that makes sense.
They're also gluten-free, refined sugar-free, super easy to make, pack almost 6 g of protein, and taste just like an almond butter and jelly sandwich. Or peanut butter if you want to go that route.
Happy eating!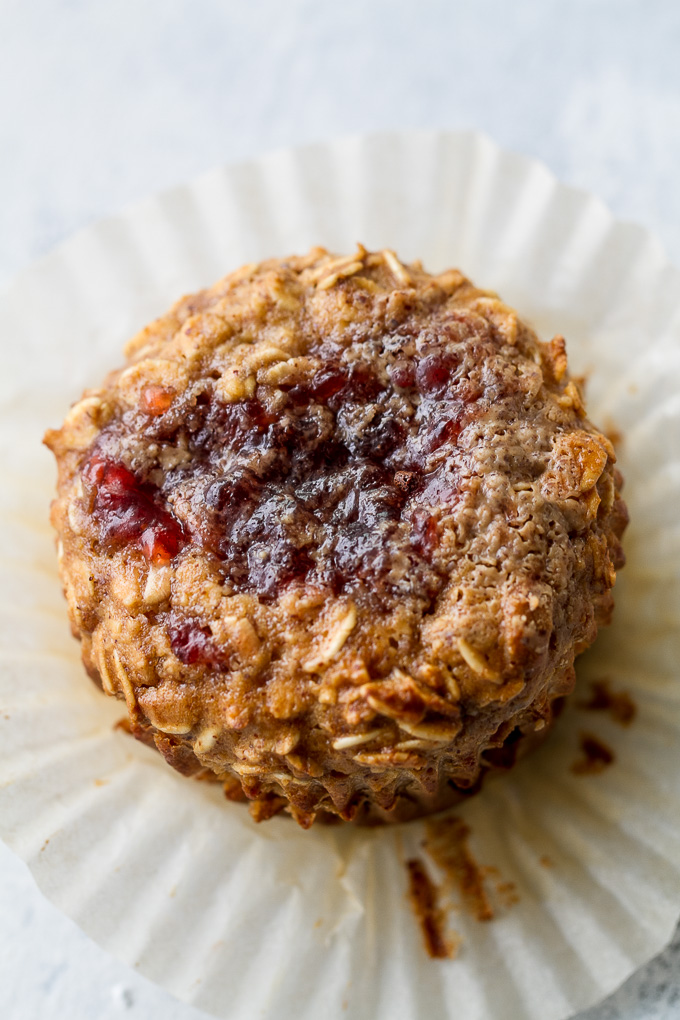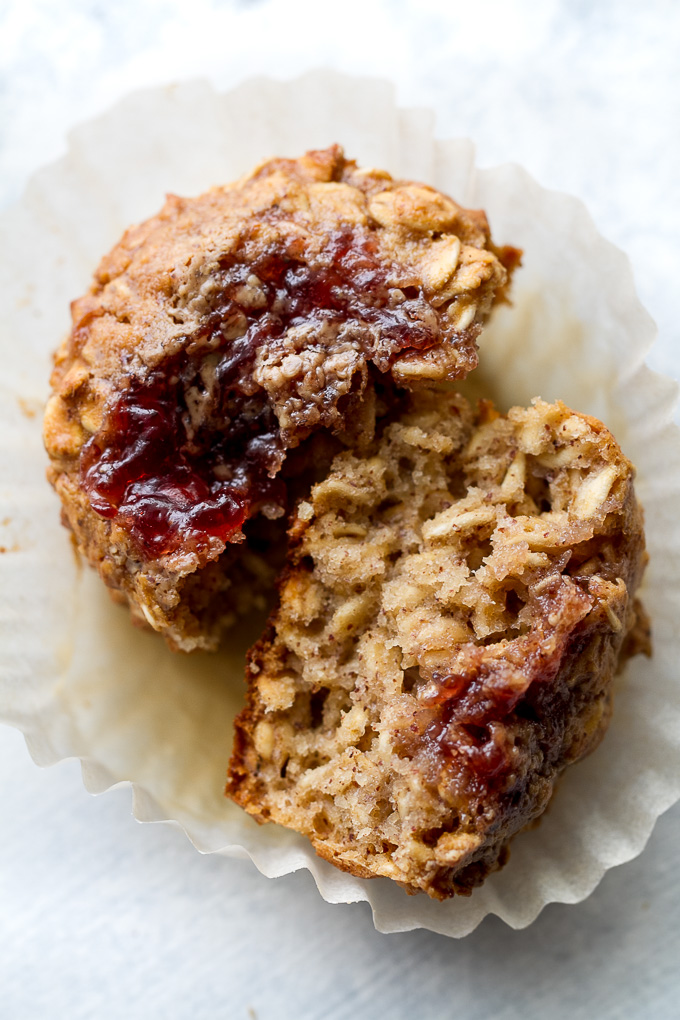 I'd love to know if you make this recipe! Leave a comment and rating down below to let me know what you think, and subscribe to our mailing list to receive new recipes in your inbox!
Print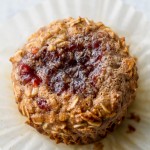 Almond Butter and Jelly Baked Oatmeal Cups
---
Author:

Total Time:

30 mins

Yield:

9

muffin cups

1

x
2 cups

(

160 g

) old-fashioned rolled oats*

1/2 cup

(

56 g

) almond flour

1 1/2 tsp

baking powder

1

large egg

1/3 cup

(

80

ml) unsweetened almond milk

1/4 cup

(

64 g

) almond butter, + more for topping**

1/4 cup

(

60

ml) honey or maple syrup

2 Tbsp

(

30

ml) of your favourite jelly or jam***
---
Instructions
Preheat your oven to 350F (176C) and prepare a muffin pan by lining the cavities with parchment paper liners or greasing them with oil. Set aside.
In a large mixing bowl, combine the oats, almond flour, and baking powder. Set aside.
In a medium-size mixing bowl, whisk together the all the remaining ingredients except for the jam. Add the wet ingredients to the dry ingredients and mix until well combined. The batter will be slightly loose and wet.
Spoon the batter into the prepared muffin cups, filling each one to the very top. Top each muffin with 1/2 tsp of jam and 1/4 tsp of almond butter, and use a toothpick to swirl it around.
Bake for 18 – 20 minutes, until the tops of your muffin cups begin to turn golden brown and a toothpick inserted into the center comes out clean. Allow the muffin cups to cool in the pan for 10 minutes before transferring them to a wire rack to cool completely. As soon as they've cooled, transfer them to an airtight container and store them at room temperature for up to 5 days, or freeze for up to 3 months.
Notes
* Use certified gluten-free oats if you need these to be gluten-free. ** Feel free to use peanut butter or whatever nut/seed butter you have on hand. *** Use a fruit juice sweetened jam if you want these to be 100% refined sugar-free.
Prep Time:

10 mins

Cook Time:

20 mins
Keywords: AB&J, almond butter, almond butter and jelly, baked oatmeal cups, breakfast, healthy, oats, PBJ, recipe, snack

Looking for more healthy muffin recipes? Try one of these!
Banana Oat Greek Yogurt Muffins
Flourless Morning Glory Muffins
Blueberry Oat Greek Yogurt Muffins
Flourless Chocolate Zucchini Muffins
Flourless Banana Bread Muffins

*Disclosure: Some of the links included in this post may be affiliate links, meaning I'll earn a small commission if you purchase through them, at no additional cost to you. I only recommend products I personally use and believe will add value to my readers. Thank you so much for helping support Spoons!