Happy [What I Ate] Wednesday lovely ladies people! 😀
Since last week's WIAW was a little on the lengthier side, I'm going to do my best to keep things less wordy this time around — we'll see how successful I actually end up being with that. So instead of devoting too much of my word count to an intro where I most likely fail at being witty and charming, we're going to cut to the chase and talk cold hard facts instead…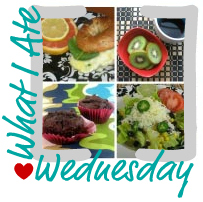 Breakfast…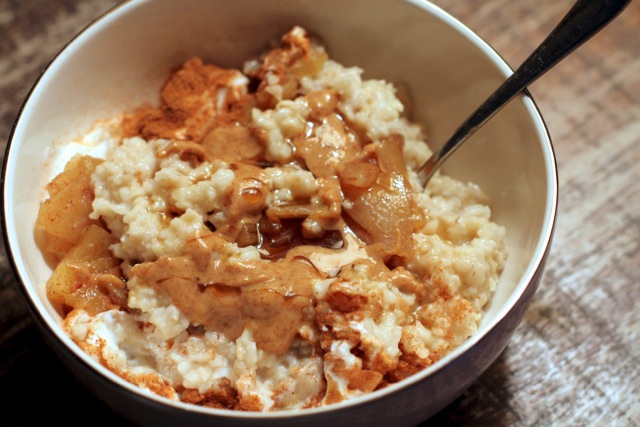 Eggy bananafied oats layered with plain Greek yogurt and topped with homemade applesauce, honey, cinnamon, and almond butter.
Fact: I prefer eating my oats cold… and I'm not talking about the overnight kind (not a fan!). I like my oats cooked on the stovetop and then cooled to room temperature. I'm huge on textures, and I find that this method gives my oats the thicker, poofier, doughier texture that I absolutely adore. Runny, soupy oats are a no-go in the Spoons kitchen!
Morning snack…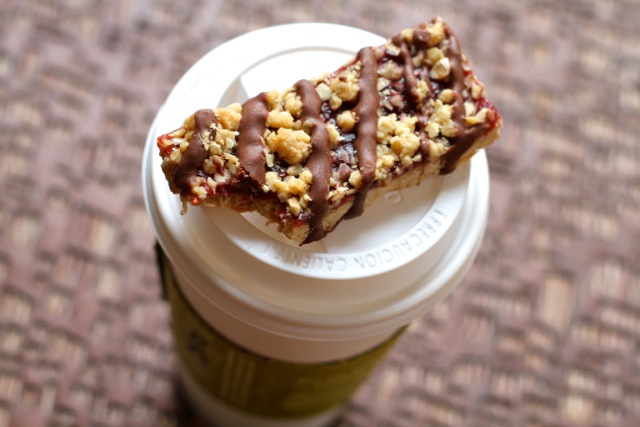 A chocolate covered raspberry oat bar alongside an Americano from Bux.
Fact: I crave chocolate in the morning… and pretty much every other time of the day, but around 9 or 10 AM especially. I blame this on the fact that that's when I drink my coffee, and coffee just tastes better when paired with chocolate. But hey… at least chocolate comes from plants, and is therefore a healthy choice 😉
Lunch…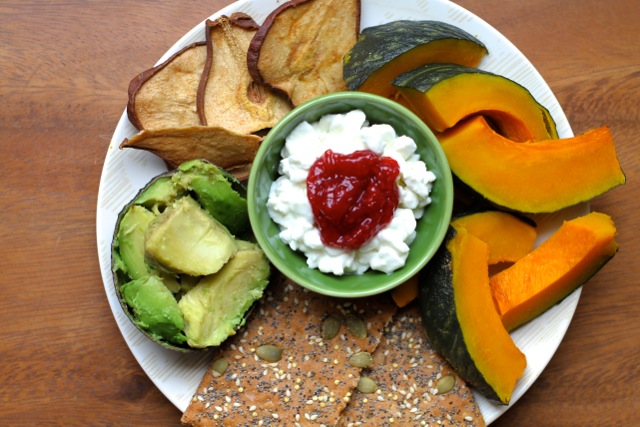 A snack plate filled with: a Dr. Kracker crispbread, half an avocado [that I had to butcher and reconstruct because the bottom half was brown], roasted kabocha, dried pears, and cottage cheese with raspberry jam.
Fact: Cottage cheese doesn't always agree with me… but I eat it anyways. I don't know what it is, but my stomach and I don't always see eye-to-eye when it comes to cottage cheese. Whereas I love the stuff, my stomach isn't really the biggest fan and tends to make a fuss while I try to enjoy myself. You'd think that would be enough to keep me away from it, but no… the slight discomfort is [usually] worth it, especially since it isn't a guaranteed thing.
Afternoon snack…
A thick and creamy chocolate smoothie.
Fact: This smoothie tastes like melted chocolate ice cream… which is probably why I love it so much. I think I've had one of these almost every day since I posted the recipe back in February, and yeah… that's really all there is to say about that.
Dinner…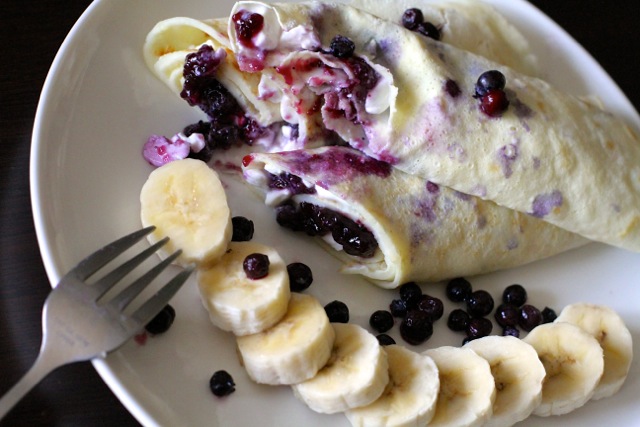 Crepes stuffed with cottage cheese and blueberry jam, with a banana on the side.
Fact: I will never get tired of eating breakfast for dinner… ever. This would probably be a little different if I was cooking for someone other than myself, but I'm taking full advantage of the fact that I don't have to right now and enjoying brinner multiple times a week. Also, blueberry jam is the best jam there is. Also, what veggies? 😯
Evening snack…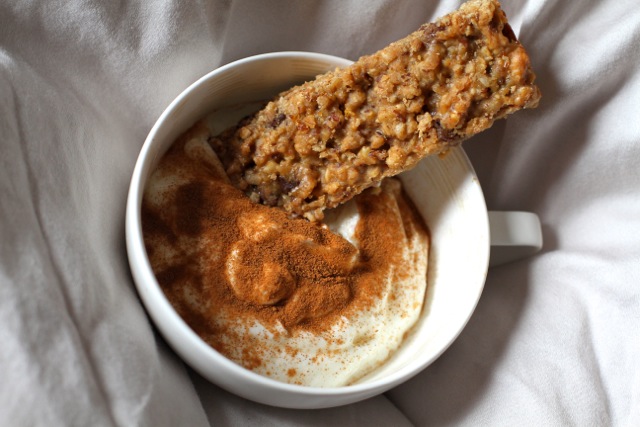 A soft and chewy protein granola bar with a side of plain Greek yogurt.
Fact: I'm buried up to my eyeballs in snack bars… which isn't actually a horrible problem to have. They're easily my favourite thing to make and eat at the moment, but I have a feeling I should probably lay off before I get sick of them. Or just start pawning them off on people — any takers?
See you guys tomorrow for Thinking Out Loud! 😀

Are you a fan of overnight oats?
Do you have any mild sensitivities/intolerances you ignore because you love the food too much?
Give me a quick fact about the last meal/snack you ate!

More places to find me!
E-mail — [email protected]
Twitter — runwithspoons
Facebook — runningwithspoons
Pinterest — runwithspoons
Instagram — runwithspoons
Bloglovin — runningwithspoons