A raspberry oat bar with a light buttery crust, a zesty fruit filling, and a drizzle of milk chocolate. These bars make a perfect spring time snack!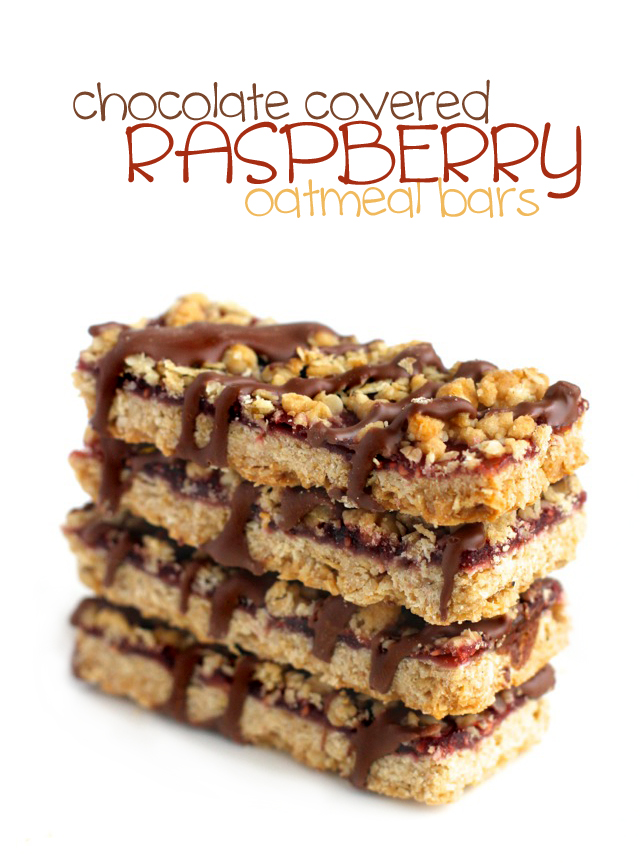 I want to say that spring has officially sprung — I really do. But instead I'm going to have to say that spring is officially bipolar. It'll be warm and sunny one day, only to start snowing the next… or it'll be snowing in the morning, only to be warm and sunny in the afternoon. I keep telling myself that it won't be too much longer until winter is gone for good, and I'm really hoping that's the case because I'm more than ready to stop hibernating and get back outside. Bike rides, trail runs, long walks in the river valley — can.not.wait.
This means I'll need snacks. I don't know about you guys, but being out in the fresh air revs my appetite like nothing else, and my favourite snacks to pack for those kind of excursions have always been homemade bars…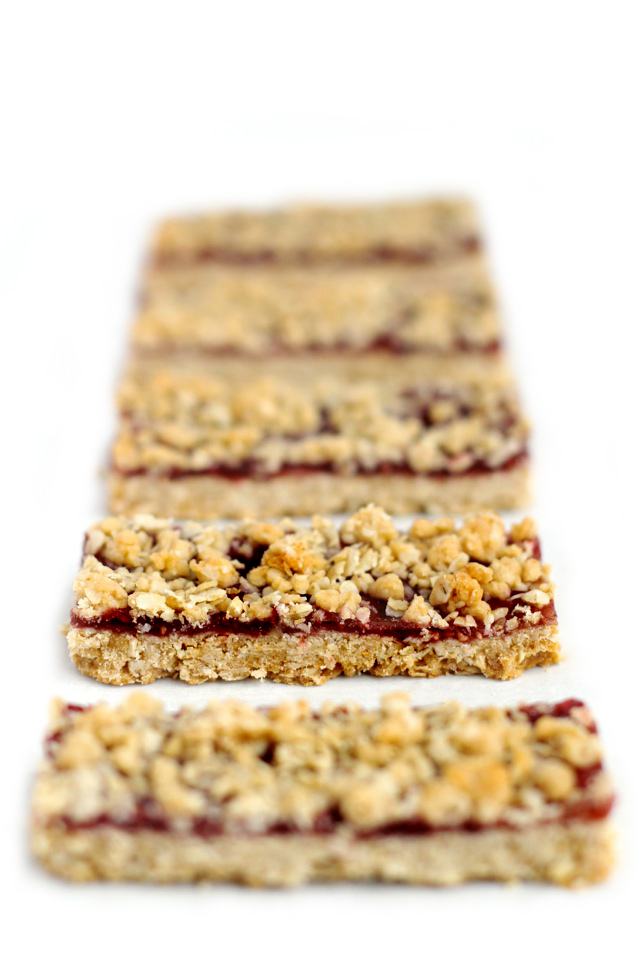 Bars are perfection. Not only are they easy to make and pack, but they're also the perfect way to sneak a little extra chocolate into your diet. In fact, they pretty much beg for it….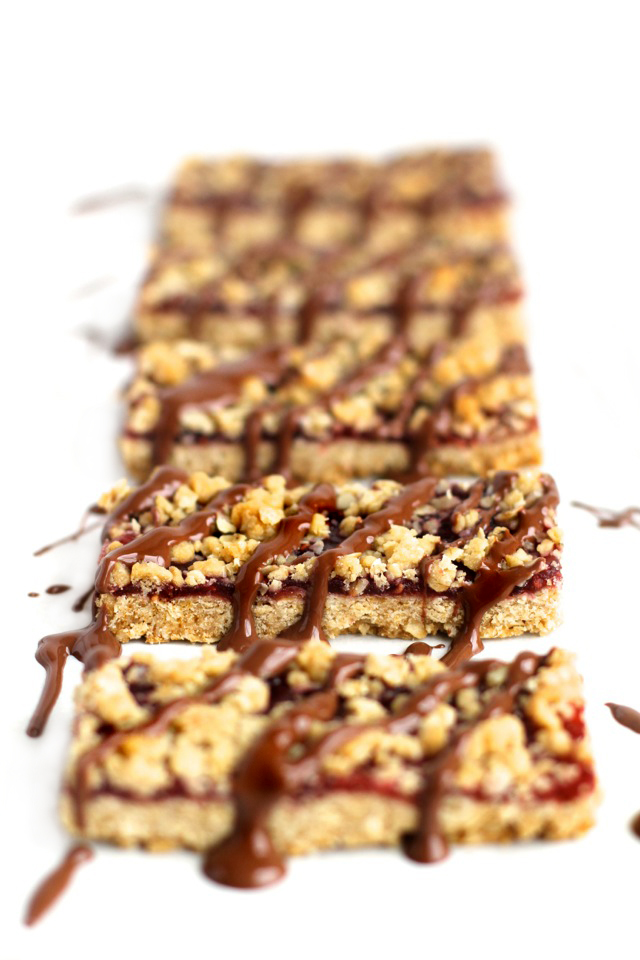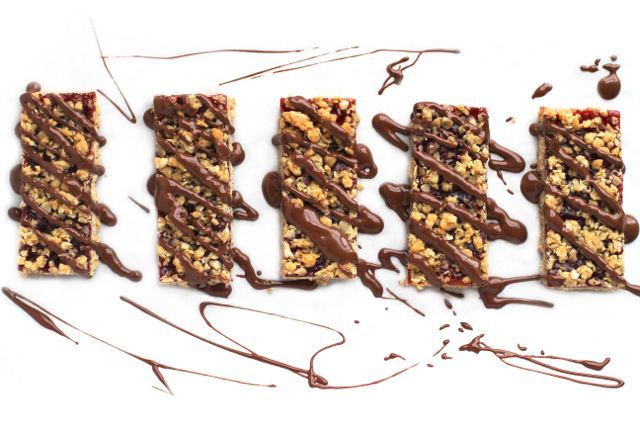 What you're left with is a chocolate covered raspberry oat bar that's perfect for spring. The dough is light and crumbly with a subtle buttery taste, and the addition of lemon zest to the raspberry jam adds a lovely hint of freshness in addition to fruitiness.
I decided to go with store-bought jam as opposed to making my own fruit topping because:
a) berries aren't really in season yet,
b) jam doesn't have as high of a water content as berries do, so you don't have to worry about the bars getting soggy after a day or two, and
c) it was more convenient…
… and you guys know I love to take whatever shortcuts I can without sacrificing flavour when it comes to my baking. Either way, these raspberry oat bars make a perfect spring time snack… or a lovely distraction for when you're waiting for that snow to stop falling 😉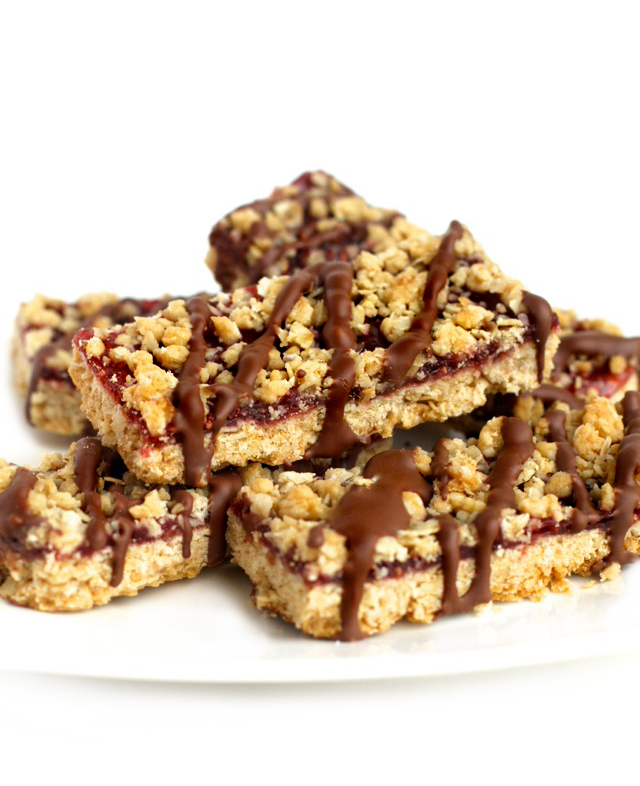 I'd love to know if you make this (or any!) recipe! Tag @runwithspoons on Instagram and Twitter, and be sure to subscribe to our mailing list to receive more healthy and delicious recipes straight to your inbox!
Print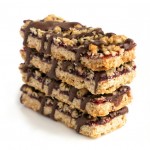 Chocolate Covered Raspberry Oat Bars
---
Total Time:

50

Yield:

1

2

1

x
Description
A raspberry oat bar with a light buttery crust, a zesty fruit filling, and a drizzle of milk chocolate. These bars make a perfect spring time snack!
---
1 cup

whole wheat pastry flour*

1 1/4 cup

old fashioned rolled oats

1/4 tsp

. baking soda

1/4 tsp

. salt

6 Tbsp

. coconut oil, melted

1/4 cup

honey

3/4 cup

raspberry jam

1 tsp

. lemon zest

1/2

bar (50g) chocolate of your choice
---
Instructions
Preheat oven to 325F. Line an 8×8 baking pan with a sheet of aluminum foil, leaving a few inches of overhang on the sides to allow for easy removal. Spray foil with cooking spray and set aside.
In a large mixing bowl, combine flour, oats, baking soda, and salt. Add honey and coconut oil, mixing well to ensure that the oil is evenly distributed.
Reserve 1/2 cup of the oat mixture. Transfer the remainder of the mix into your prepared baking pan, using your fingers or a spatula to ensure that it is pressed down tightly and evenly distributed.
Spoon jam into a small bowl and mix in the lemon zest. If jam is too thick or cold to spread easily, pop it into the microwave for a few seconds to warm it up.
Use a spatula or knife to spread the jam over top of the pressed oat mixture, making sure to only go within 1/4 of the edge to prevent the jam from burning. Sprinkle the reserved oat mixture over the layer of jam, pressing down lightly to ensure that it stays in place.
Bake for 35-40 minutes until the top turns a light golden brown. Remove from oven and allow to fully cool in pan before cutting into bars.
Melt chocolate in the microwave in intervals of 20 seconds, stirring regularly to ensure it doesn't burn. Once fully melted, use a spoon to drizzle chocolate over the bars and transfer them to the fridge for ~15 minutes to allow the chocolate to set.
Notes
* can sub with all-purpose flour or gluten-free flour
Prep Time:

10

Cook Time:

40
Keywords: chocolate, oatmeal bars, raspberry oatmeal bar, recipe, healthy