We're not going to talk about the weather. We're not going to talk about the fact that it snowed last night and we currently have snow on the ground. We're not going to be bitter. Instead, we're going to talk about the good stuff, and since today just so happens to be [What I Ate] Wednesday, we're going to talk about the good stuff as it relates to food.
You know those little add-ins that take a meal or snack up a few notches? We're going to talk about those… because that's so much better than talking about the fact that it looks more like Christmas than Easter…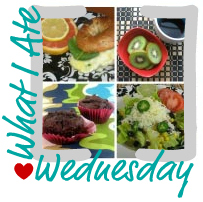 Breakfast… just add honey…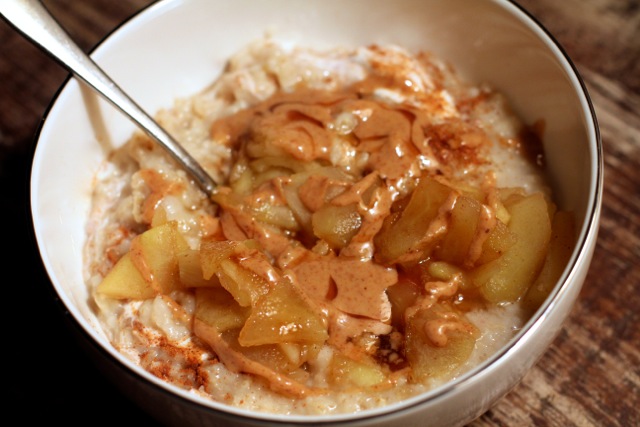 Eggy bananafied oats layered with plain Greek yogurt and topped with homemade applesauce, honey, cinnamon, and almond butter.
Honey may just be my favourite sweetener of all time. When I was younger, I would actually drink honey straight from those squeezable honey bear jars, and while I tend to take a bit more of a moderate approach these days, there's no denying that I still love the stuff… especially when it's buckwheat honey. I like regular honey just fine too, but buckwheat has a stronger flavour and depth that I absolutely adore. It also contains more vitamins, minerals, and antioxidants, which totally justifies my sometimes obscene consumption of it 😉
Morning snack… just add chia seeds…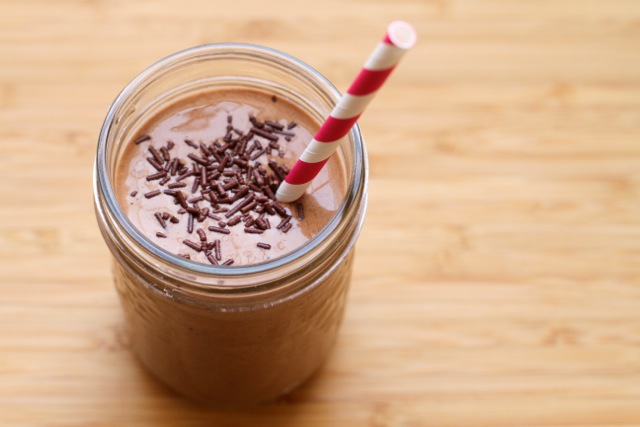 My Thick & Creamy Chocolate Smoothie with an added spoonful of chia seeds.
For a girl who's spent so much time snarking on chia seeds in the past, I have to admit that they do have their time and place… that time usually being mid-morning, and that place being inside smoothies. I really love how they add a little bit of extra thickness to drinks, especially when they get blended up and I don't have to worry about them getting stuck in my teeth. That extra little bit of added nutrition doesn't hurt either, and I have a feeling that my stomach is a fan too… if you know what I mean 😉
Lunch… just add a hint of sweetness…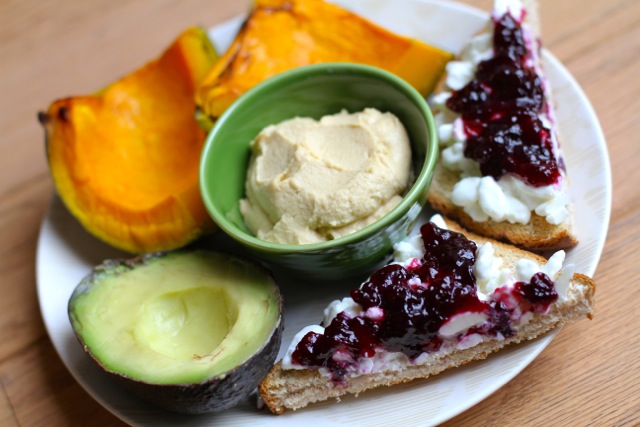 Snack plate made up of roasted kabocha, half an avocado, hummus, and toast topped with cottage cheese and jam.
I don't know about you guys, but I need to end my meals on a sweet note or I just don't feel satisfied, no matter what I eat. If I had my way, all of my meals would probably end up being sweet and breakfasty, buuuuut in the interest of keeping things a little more balanced, I try to keep the sweet tooth in check. It still needs to be acknowledged, though… even if it's just with a spoonful of jam or a few pieces of chocolate. I find that attending to my sweet tooth on a regular basis keeps me from feeling like I need to eat ALL the sugar because it keeps the cravings from adding up to a breaking point. It's a good understanding we have with each other…
Afternoon snack… just add almond butter…
A banana with Justin's classic almond butter.
Almond butter can do no wrong. No matter what it is, it'll taste 100x better when it's smeared with almond butter — true story. I can't even tell you how many baking fails this breathtaking butter has saved from the trash can in the past, but I can tell you that my baking has improved now that I'm no longer to healthify everything, so I enjoy my almond butter with things like bananas, chocolate, and spoons instead.
Dinner… just add veggies…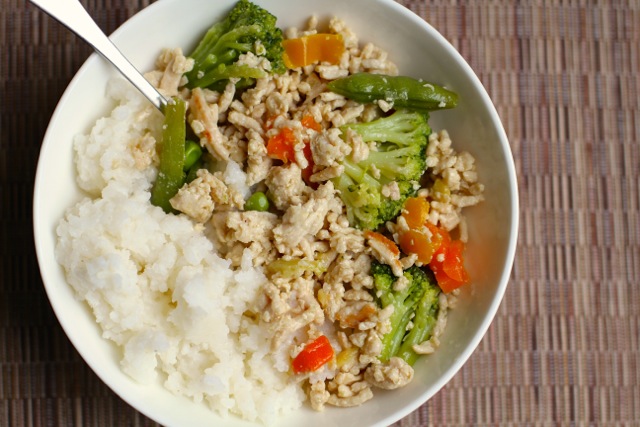 White rice cooked in coconut milk and topped with stir fried ground chicken and veggies.
Confession: my veggie consumption has been slacking big time. I have no idea what it is, but veggies just haven't been appealing to me at all lately. I look back at the days where I used to eat a huge salad for lunch every.single.day and wonder how the heck I did that 😯 These days I'm lucky if I manage to get one salad in a week, and I find myself a lot more drawn to roasted and steamed veggies than raw ones. Not gonna lie… my stomach has been singing my praises for it, and since I've been feeling pretty good as a result, I'm not going to worry about it too much… for now.
Evening snack… just add nothing …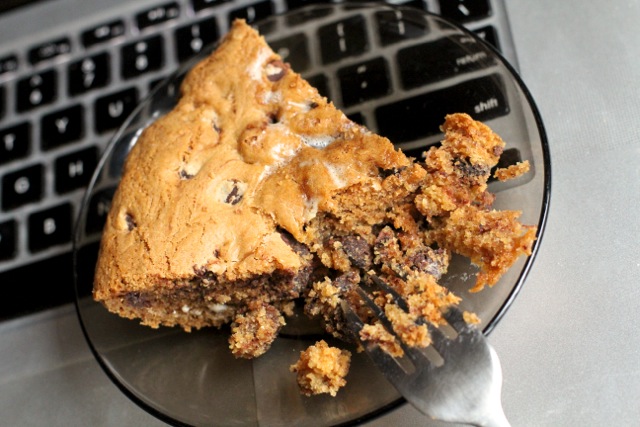 A slice of my chocolate chip skillet cookie.
… because some things are perfect just the way they are 😉 And because I like to end things on a sweet/happy note, I'll see you guys tomorrow for Thinking Out Loud! 😀

What's your favourite sweetener?
Do you like to end your meals on a sweet note?
Do you go through periods where your veggie intake slacks big time too?
More places to find me!
E-mail — [email protected]
Twitter — runwithspoons
Facebook — runningwithspoons
Pinterest — runwithspoons
Instagram — runwithspoons
Bloglovin — runningwithspoons