So you know how I said that I love my early mornings? Well, while it's true for the most part, there's one thing that I'm definitely not too crazy about, and that's the fact that they turn me into a snacking fiend. Now, you guys know I'm a big snacker in general, but waking up at the crack of dawn makes me an even bigger one – I'm talking constant munchies over here. And not only that, but it messes up my whole eating schedule too… Lunch at 10? Dinner at 4? You bet I'd be down for that!
I do try to keep my grazing in check and stick to a more-or-less normal schedule with my meals, though. That doesn't mean I'm always successful, but hey… at least I put in an honest effort 😉 So, for today's WIAW, I thought it would be fun to share the not-so-fun aspect of being a [ridiculously early] early bird who's constantly searching for worms. Aaaaand go! Wait… did I seriously just compare my eats to slimy invertebrates? Nice, Amanda… real nice.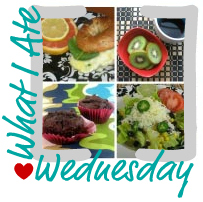 Anyways, I usually eat breakfast anywhere from 6:30 – 7, but there's no way I'd be able to go from the time I wake up (~4:30) to then without feeling like I was going to gnaw my arm off. Enter pre-breakfast snacking (aka: breakfast #1).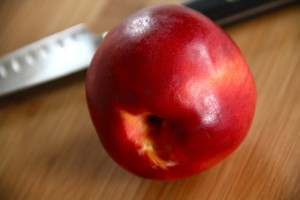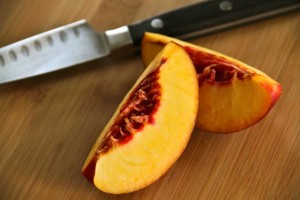 Usually fruit. Today, a nectarine somewhere around 5 AM.
After that, I go about my morning routine, and eventually sit down to breakfast around 7.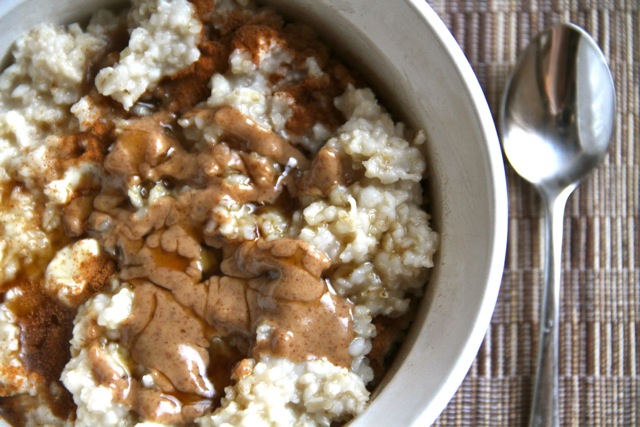 Eggy oats layered with plain Greek yogurt and topped with almond butter, honey, and cinnamon. Can't get enough of the AB/honey combo lately.
That'll usually get my mind off food for a few hours so that I can get some work done, but I start getting a little snacky around 9…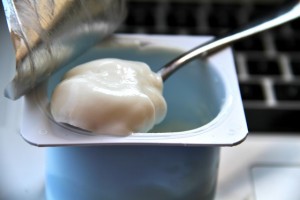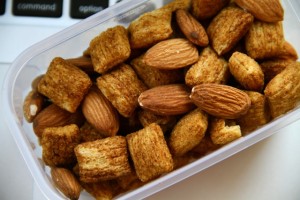 Liberte vanilla Greek yogurt // Cinnamon Puffins and almonds.
And, of course, coffee gets to be kind of a must at this point as well…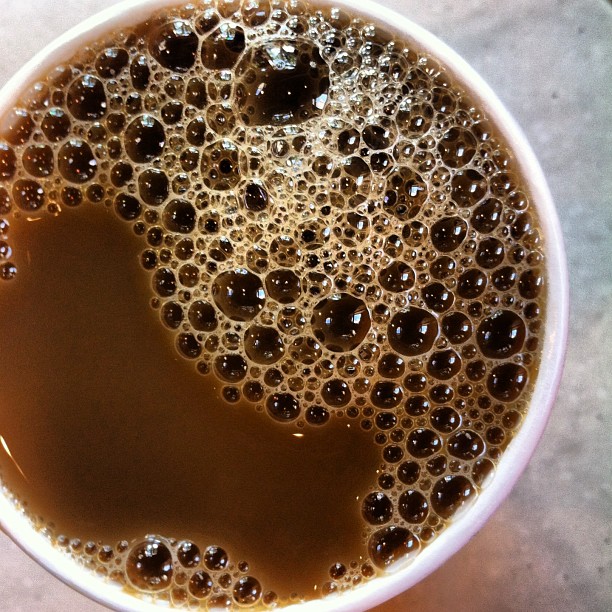 Starbucks Pike roast with a shot of vanilla and a splash of milk.
Is it just me, or does any kind of writing/studying/computing make you incredibly snacky as well? I spent the better part of the morning drowning in paperwork – and maybe it was a boredom thing – but I just couldn't shake the feeling of constantly wanting to munch on something. Eventually I gave in and started snacking on lunch around 11…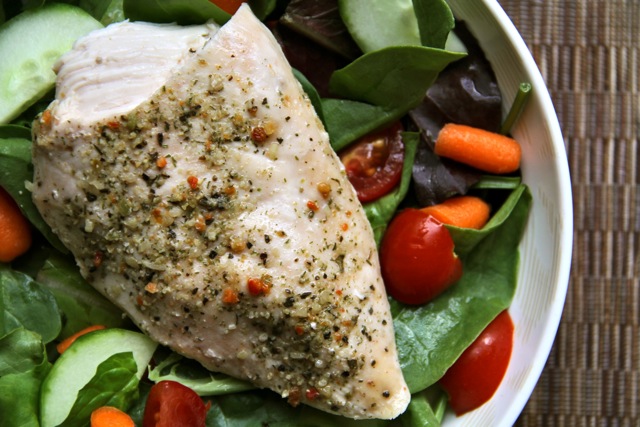 Baked chicken breast on a bed of greens and tomatoes/cucumbers/baby carrots.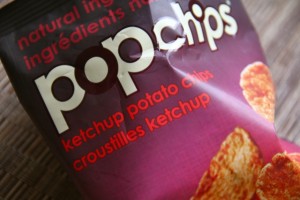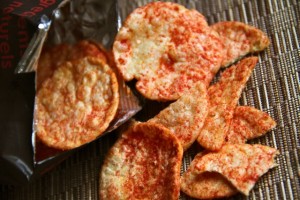 Ketchup Popchips.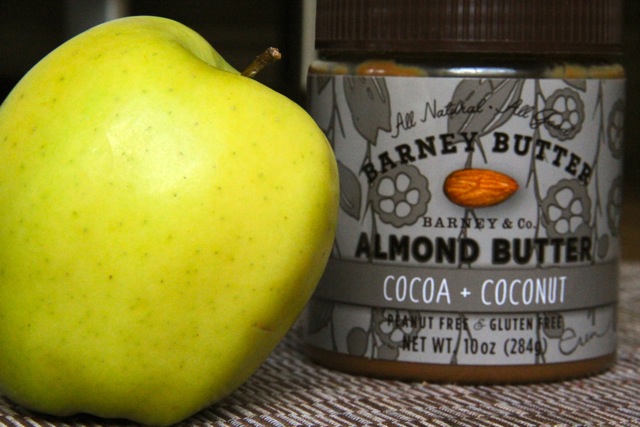 Golden delicious apple with Barney Butter cocoa + coconut almond butter (which is AMAZING).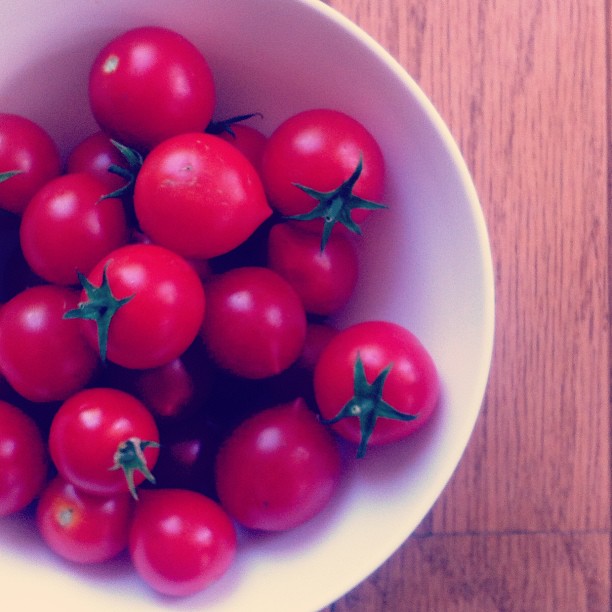 Homegrown tomatoes that I picked from my parents' garden. They're so good that I've literally been poppin' em like berries. I was going to say cherries, but it seemed a little inappropriate. 
…. and kept snacking 'till about 2. Remember how I mentioned that lunch is my least favourite meal of the day so I usually just snack through the afternoon instead? Definitely still the case… But hey, as long as it works and gets me through work, I'm not going to complain. Being stuck inside when it's absolutely gorgeous out, on the other hand? I'm not against complaining about that one.
Luckily there was still plenty of day left by the time I finished working for me to run home, grab a quick snack [around 4]..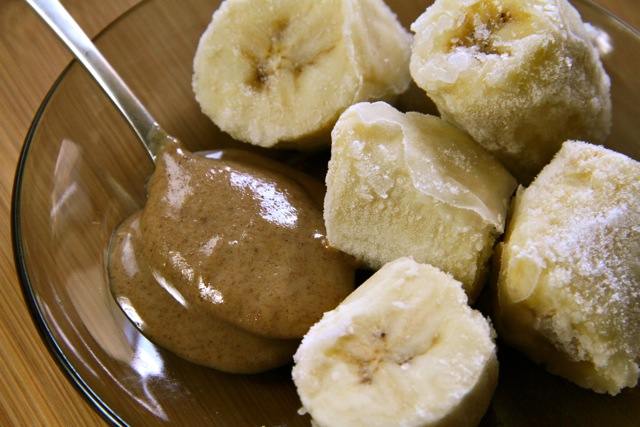 Frozen banana chunks with a spoonful of Justin's vanilla almond butter.
… and run out the door for a nice walk in the river valley…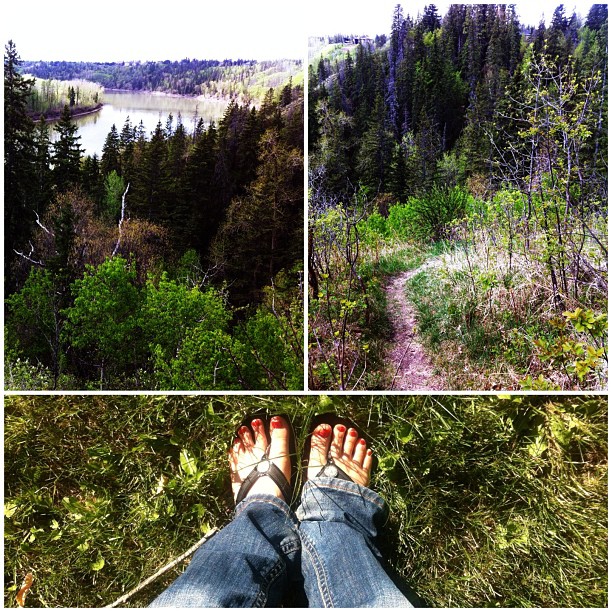 Blissful. Unfortunately, the calm and serenity that I managed to accrue on my walk was jarred out of me when I was getting ready to head back and realized that… I didn't have my keys – I lost them somewhere.
Insert minor freak out here 😯 😯 😯
I retraced my steps as best I could, but to no avail – my keys were gone. Seeing as I couldn't even get into my building without my hub, I called my mom to come rescue me and sat outside to wait. Luckily, one of my neighbours happened to be walking out, so I managed to sneak my way past the front door and figured I'd go loiter around my front door instead. Well guess what I found on the way there?..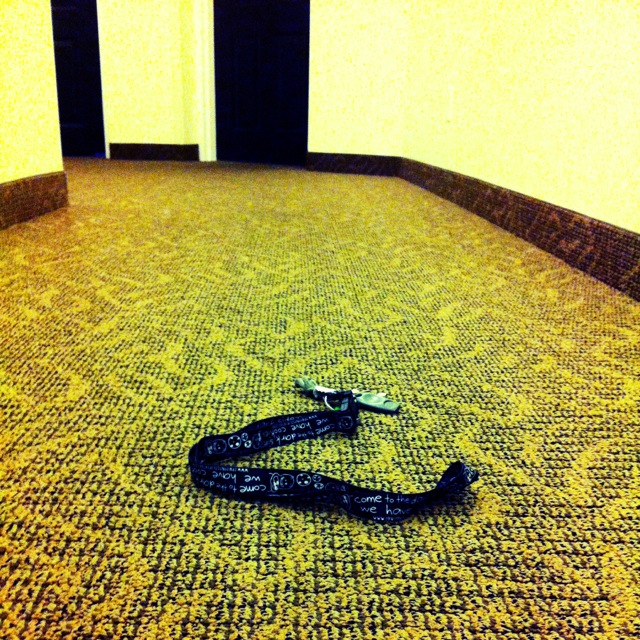 My keys… in the hallway… literally 10 feet from my door. Needless to say, I was more than a little relieved, but still shaken up. I don't like the thought of my keys being out there for anyone to find (because, you know, they're immediately going to know where I live and come steal my stuff), so my nerves were a little shot. It was well past dinner at this point but I was not feeling food. I know a lot of people turn to food when they get stressed out, but it's always been the opposite for me – when I get stressed, I completely lose my desire to eat.
Thankfully, time heals all wounds shot nerves, and I eventually recovered enough to want dinner [around 7]. What I didn't want was to do any sort of cooking, so I threw a frozen pizza into the oven and called it good…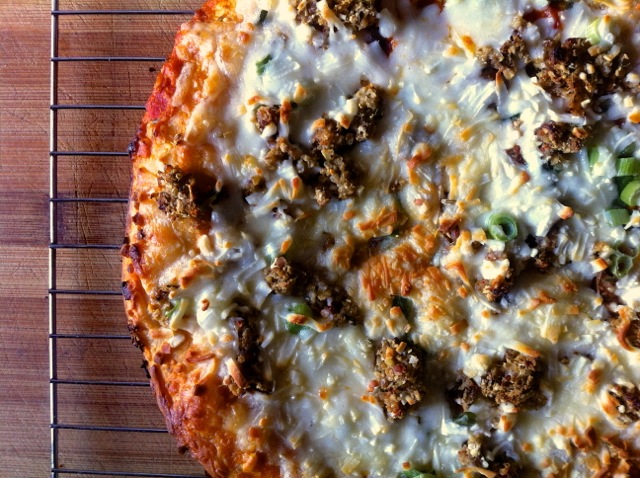 Amy's Italiano pizza.
I'm actually surprised that I didn't resort to having a yogurt mess or cereal bowl for dinner… But I was craving something savoury… and if I'm being completely honest here, I should probably tell you that I haven't had breakfast for dinner in well over a month. Believe me, I'm just as shocked as you are. But before you go worrying about me being a victim to body snatchers, be comforted by the fact that I've still been ending most of my nights with breakfast before bed [around 8:30]… because I know I always am.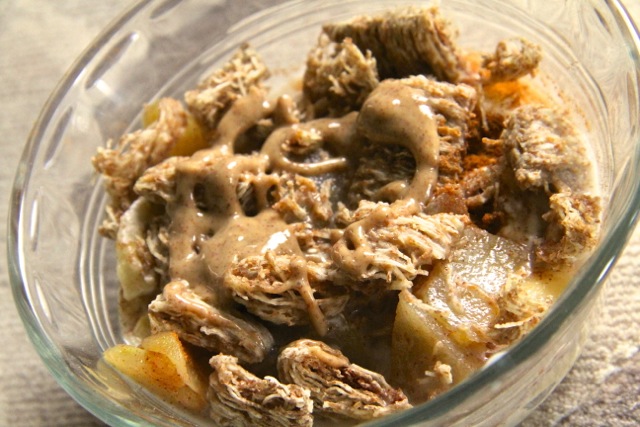 A yogurt mess made with Plain Greek yogurt, sliced banana, homemade applesauce, Kashi Cinnamon Harvest, almond butter, and cinnamon.
Happy Wednesday, friends! 😀 Hope it's a good tasty one!
. – . – . – .
Do you have a tendency to eat when you're bored or stressed?
Have you ever lost your keys?
When was the last time you had breakfast for dinner?