Gooood morning, good afternoon, good evening, or… good night? Whenever you happen to be reading this, I hope it finds you well 😀
So that may have just been the goofiest intro I've ever written, but I've been in a pretty goofy mood so I'm afraid you'll just have to bear with me for the time being. I'm sorry for standing you guys up yesterday, but I needed to take a mental health day. Okay, that's not entirely true. What really happened was that I blew you off to go to the mall. I know… Between working, studying, erranding, and shopping, I didn't end up getting home until about 9:30 on Monday night, and by that time, the only things on my mind were pyjamas and cereal.
BUT!! The good news is that I finally managed to find a dress for HLS. The bad news is that I managed to find a lot more that I didn't even know I needed. Huh. Funny how that works. But I'll share some of that with you guys tomorrow, because today… today is all about the food!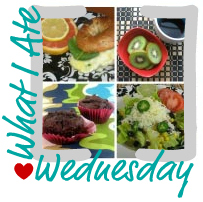 Yessss it's What I Ate Wednesday yet again, and I'm particularly excited to share this one with you guys because it was one of those days where each meal managed to hit the spot juuuuuuust right. Don't you love it when that happens? I mean, I'm happy to be in a place where food no longer has the ability to make or break my day (sadly, a bad meal used to have the ability to totally wreck my day), but you definitely won't find my objecting to satisfaction. But enough babbling… Food!
Breakfast… [Craving] a bowl of comfort.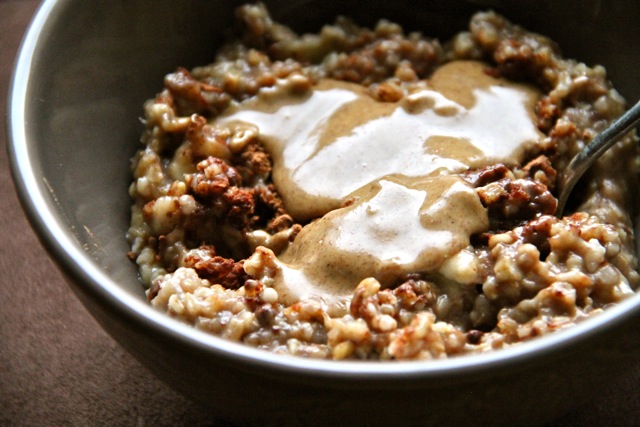 I don't know what mornings are like in your neck of the woods, but they've been pretty cold, dark, and gloomy around these parts. I want to say that's why I've been craving a nice warm bowl of oats for breakfast, but let's not kid ourselves here – I crave oats even when it's obnoxiously hot outside… they're just that much more comforting when it's gloomy. Today's bowl was cooked sans egg whites with just a banana. I added a spoonful of cocoa powder when it was all done and didn't bother stirring it in completely so that some chocolate clumps were left. Love. Topped with a good amount of roasted almond butter, this bowl was pure bliss.
. – . – . – .
Morning snack… [Craving] something cool and fresh.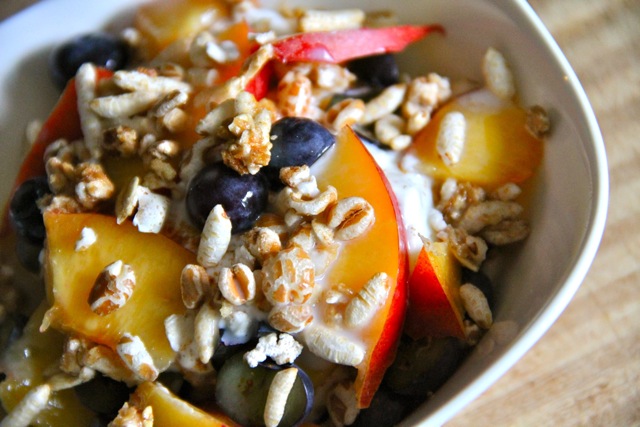 Once the sun comes up and things start looking a little more summery, I start craving fresh fruit and cold yogurt. Okay, that's a complete lie… I crave cold fresh things in the morning regardless of the weather, but it sounds better to say that I'm all in tune with the seasons 😉 Speaking of which, I've been doing my best to load up on all of the end-of-summer fruits while I can, because soon there'll be nothing but apples, pomegranates, and pears. That is, unless you're willing to sell a kidney on the black market to be able to afford organic berries when they're not in season. Dang. But at least there's always bananas…
. – . – . – .
Lunch… [Craving] salty, salty, SALTY!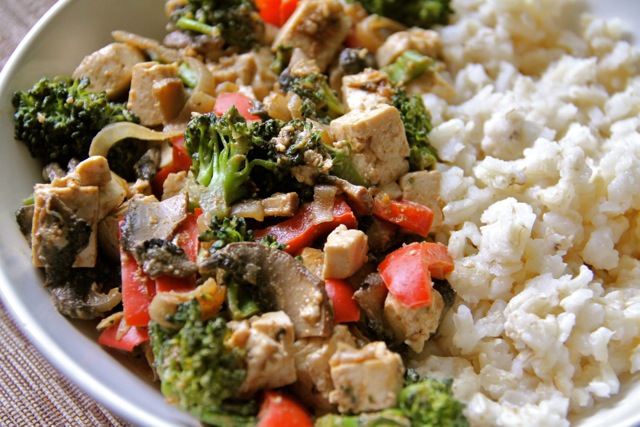 Remember how I mentioned my chronically low blood pressure? One of the things my doctor recommended was to eat a fair amount of salt. Alrighty, I can do that – salt makes things delicious. I remember a few years where I avoided salt like the plague because of the whole water retention and weight gain thing, and let's just say those were some of my more unpleasant years… hellooooo lightheadedness and fatigue to the max. But I digress. LUNCH! This was some leftover tofu stir fry with a side of rice. For the stir fry, I just fried up some tofu and veggies (mushrooms, bell peppers, broccoli, onion) in toasted sesame oil and went to town with the soy sauce.
. – . – . – .
Afternoon snack… [Craving] leftover roasted veggies.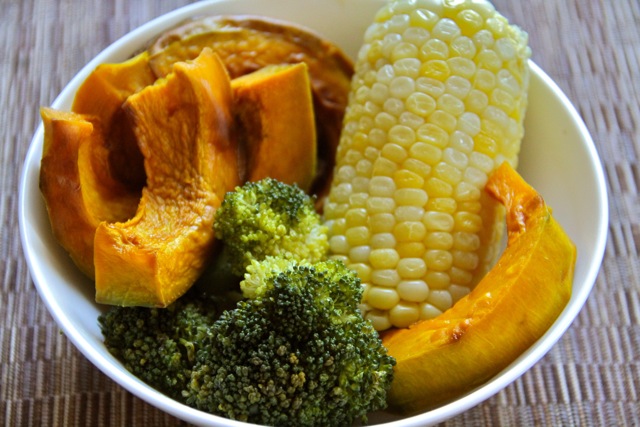 Stop laughing! But I know, right? Who craves vegetables? Who?! I do, apparently, because the only thing that sounded good at that point was a bowl of cold veggies that I roasted the day before. We've got some Taber corn (so sweet!!), kabocha (no squash belly!!), and broccoli. But don't worry – I haven't completely turned over to the dark side. My sweet tooth kicked in a little while later and I followed up my veggies with a pot of caramel pudding.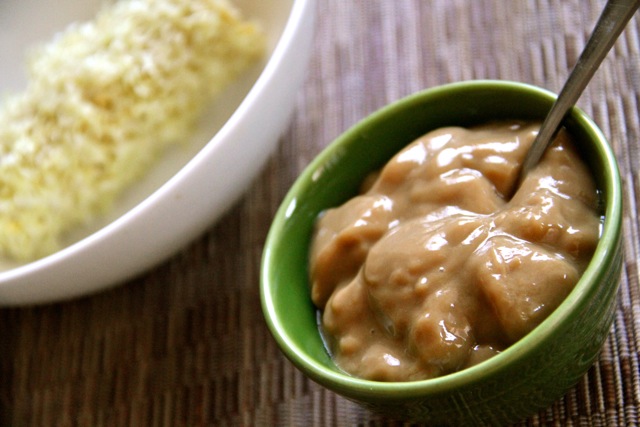 . – . – . – .
Dinner… [Craving] pizza.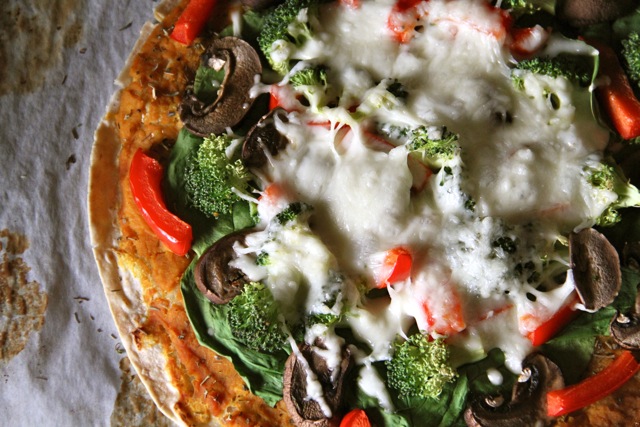 I feel like I've been seeing pizza all over the blog world lately, and although I didn't have any figs and goat cheese to make one a la Amy, or arugula and goat cheese to make one a la Becky, I did have some pumpkin and hummus to make one a la Spoons. It's pretty much been forever since I whipped up a pumpkin hummus tortilla pizza, and I'm kind of kicking myself for not doing it sooner. Holy.wow did this ever hit the spot. And it's the perfect way to use up some of that pumpkin that gets left over from baking.
Evening snack… [Craving] breakfast.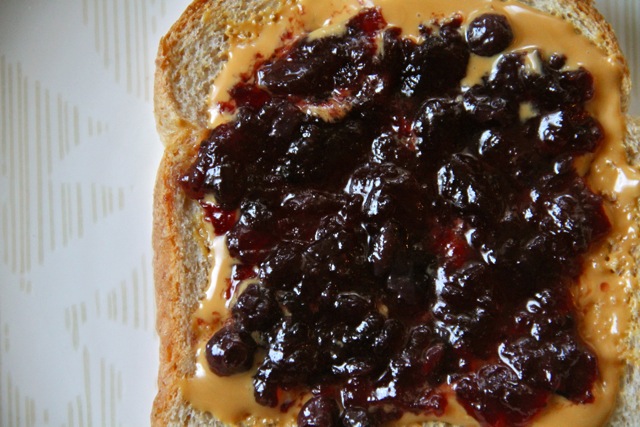 If it's not cereal, it's yogurt. If it's not yogurt, it's toast… Apparently, I'm just a big fan of ending the day with breakfast. But really, a crispy piece of toast topped with ooey-gooey almond butter and sweet blueberry jam is a perfect way to end the day.
And that brings us to today – my last full day at home before I hop on a plane for Minneapolis tomorrow. EeeeeeEEEEeee!! 😀 I managed to get most of my shopping and odds 'n' ends taken care of, but my suitcase is still empty (typical), and there's some food prep to be done.
Wish me luck… and have an awesome Wednesday! 😀
. – . – . – .
What are 3 things you've been craving lately?
Do you ever snack on veggies?
What is/was dinner? I need some inspiration 😉