Hey, hey! Happy What I Ate Wednesday! 😀
I missed you guys yesterday, but sometimes you (read: I) just need a little break, know.what.I.mean? I'd love to say that I used my day off to do all manner of exciting things, but the reality is that I spent most of it catching up on work and sleep, and hiding from the nasty flurries outside. That's right — it snowed. But we're not going to lament the fact that spring may have forgotten about us Edmontonians, and focus on happier things instead — like food.
Even though I could never go back to sharing all of my eats on a daily basis like I used to back when I first started blogging, I still love highlighting the occasional day because it gives me a chance to share some of my brilliant ideas with you guys (humour me). The blog world is a great place to find some meal time inspiration, so hopefully I can give you some tasty ideas 🙂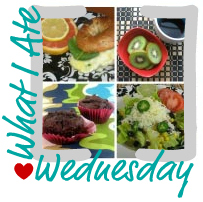 Have you ever… tried adding yogurt [and salt] to your oatmeal?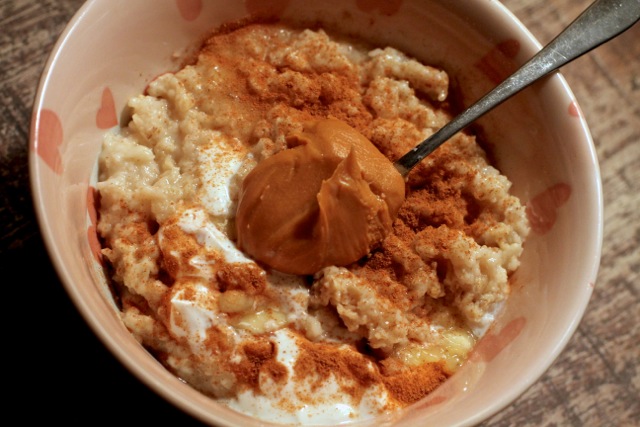 Breakfast: eggy bananafied oats layered with plain Greek yogurt, banana, and cinnamon, then topped with soy nut butter.
I know that I've already mentioned both of these oatmeal add-ins on several occasions, but seeing as I almost never make my oats without them, they're definitely worth repeating. Yogurt — stirring in a couple spoonfuls of Greek yogurt after your oats have finished cooking makes them unbelievably creamy while adding a nice boost of protein. If you're a little skeptical, don't be. I've had a good handful of people telling me they tried it, and everyone loves it.
Salt — adding a pinch of sea salt to the water you use to cook your oats in is a great way to enhance their flavour. Salt tends to get a really bad rap, and I know that a lot of people avoid adding it to anything they cook, but as long as your diet doesn't consist solely of packaged and processed foods, then you probably don't have to worry about your sodium intake. Our bodies need sodium to function properly, and we can run into a whole host of problems if our electrolyte balance is off. Personally, I notice myself feeling a lot more lethargic when I don't eat much salt, but a nice salty meal will perk me right up.
Have you ever… added an apple to a smoothie ?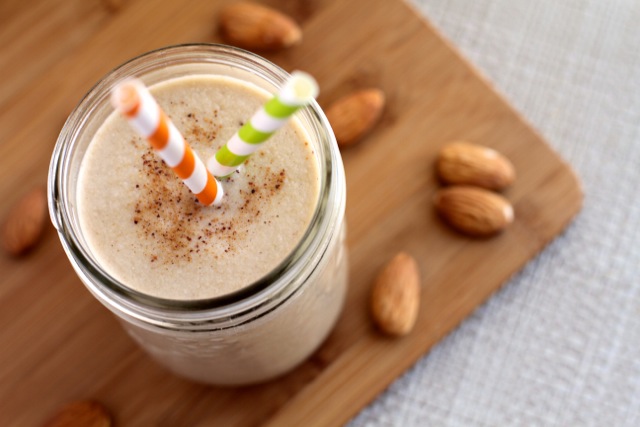 Morning snack: an apple pie protein smoothie
You're giving me the raised eyebrow look — I know — I'll admit that I was skeptical of this one as well. I mean, how can you get a wonderfully thick and creamy smoothie (which is what we're all after, no?) without the addition of a banana? With oats! And Greek yogurt! And nut butter! Any combination of those three will result in a creamier smoothie, and the best part is that you can adjust the ingredients based on whether you want more proteins/carbs/fats or you're making a meal vs. a snack. Bananas will probably always be my favourite smoothie ingredient, but it's nice to switch things up every now and then too.
Have you ever… put together a snack plate for lunch?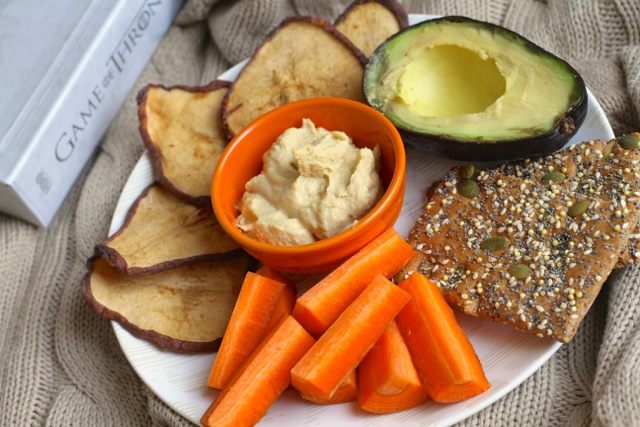 Lunch: a snack plate made up of a Dr.Kracker crispbread, half an avocado, hummus, carrots, and dried pears.
Before I started making snack plates, lunches were basically the bane of my existence. I never really knew what I wanted, and I'd always end up feeling like I needed a little something extra, no matter what I made. Snack plates solved that problem for me. Not only do they let me satisfy any random cravings I might have by giving me a little taste of everything, but they're also a breeze to whip up… Winning all around 😀 It's actually gotten to the point where I don't even know if I'll ever be able to go back to traditional lunches again 😆
Have you ever… enjoyed a bowl of sweet rice?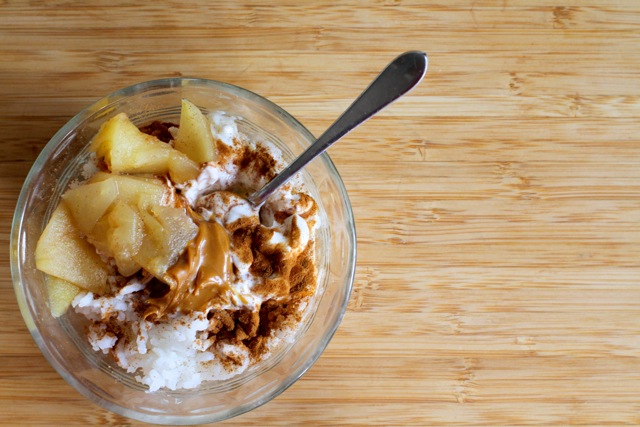 Afternoon snack: white basmati rice topped with plain Greek yogurt, homemade applesauce, almond butter, brown sugar, and cinnamon.
You guys… I'm obsessed. I've already professed my love for this glorious grain so I'll try not to go on and on about how much I adore it, but I will say that while oats will always be my #1, rice definitely comes in a close second. It's my go-to for most savoury dishes, but lately I've really been loving using leftovers for sweeter bowls as well. I basically dress it up like a bowl of oats with yogurt, nut butter, and fruit, and the whole thing makes me a very happy camper.
Have you ever… noticed that simple can be the most satisfying ?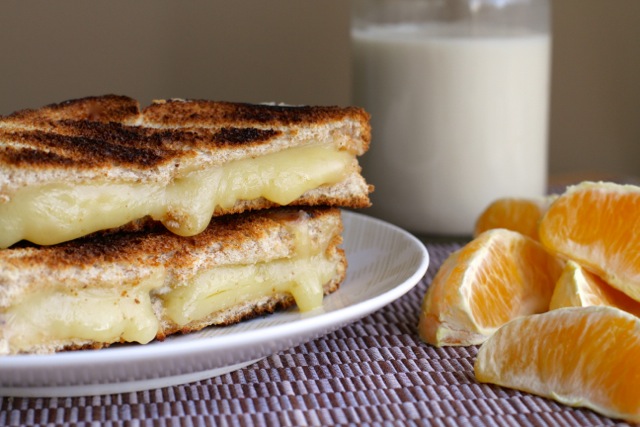 Dinner: a grilled cheese sandwich with a glass of almond milk and an orange.
Maybe it's because I'm usually only cooking for myself, but there are a lot of nights where I just can't be bothered to whip up something fancy for dinner… and by something fancy, I mean anything that takes more than 10-15 minutes to make 😆 Sometimes that means mooched leftovers; sometimes it means pancakes; and sometimes it means grilled cheese and a glass of milk. No matter what it happens to be, simple and satisfying is where it's usually at.
Have you ever… tried soy nut butter?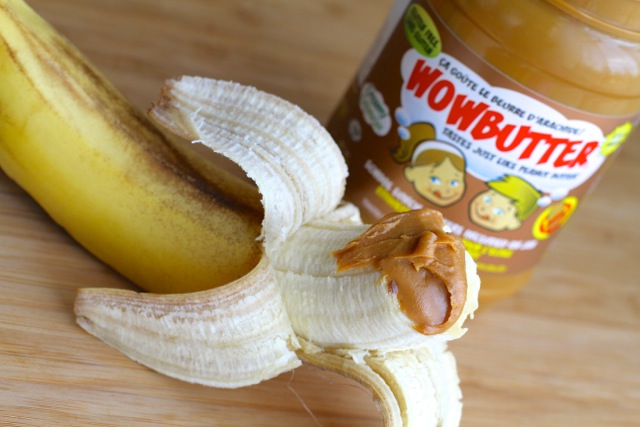 Evening snack: a banana with Wowbutter.
I know [pesky] peanut butter is pretty much king when it comes to everyone's favourite nut butter, and while almond, sunflower seed, and coconut butters have a pretty solid fan base as well, I don't really ever see anyone (aside from this girl) talk about soy nut butter. That needs to change because this stuff is fantastic. Obviously I can't tell you whether or not it actually tastes "just like peanut butter," but it's delicious in it's own right. It has a really robust toasty flavour, along with a hint of sweet saltiness… and it's so creamy I could die.
Alright friendly faces, that's it for me today. I hope you guys have an amazing Wednesday, and I'll see you tomorrow for Thinking Out Loud! 😀

What's something you love that I need to try? I love getting ideas from you guys!
What would you put on your ideal snack plate?
What's your favourite nut or seed butter?
More places to find me!
E-mail — [email protected]
Twitter — runwithspoons
Facebook — runningwithspoons
Pinterest — runwithspoons
Instagram — runwithspoons
Bloglovin — runningwithspoons