Happy Monday, friendly faces! 😀
Can I interest you in a thick and creamy smoothie that's loaded with protein and tastes like a slice of apple pie?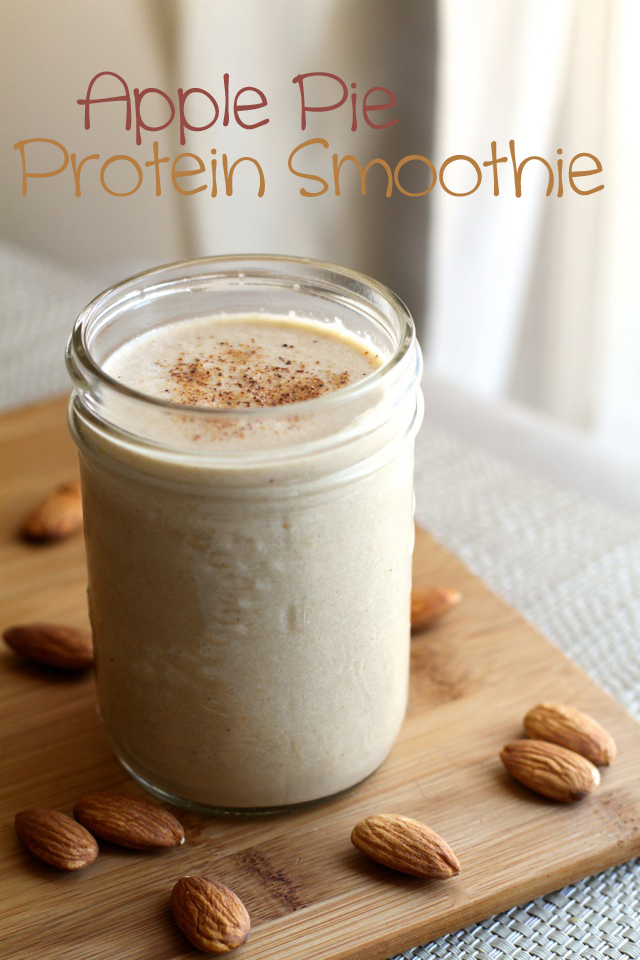 Then keep on reading 😀 I've got a double whammy for you guys today with a review and a recipe, so let's skip the fancy intros and get right into the good stuff, mmmkay? I'd like you to meet the newest member of my kitchen appliance family — the Ninja Ultima blender…
I was first introduced to the Ninja Ultima when I attended Healthy Living Summit last fall, and while I'm no stranger to high-powered blenders, there were two things about the Ninja that really stuck out to me. First, the dual stage blending technology…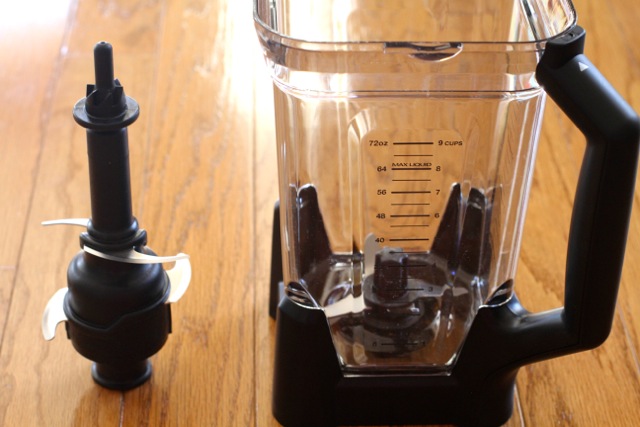 The Ninja comes with a removable second blade that you can use when you have tougher things to blend like ice, frozen fruit, and nuts. Both blades work together to ensure that everything gets blended so that you're left with smooth results and no grits or chunks. This also removes the need for a tamper.
Second, the single serve cups…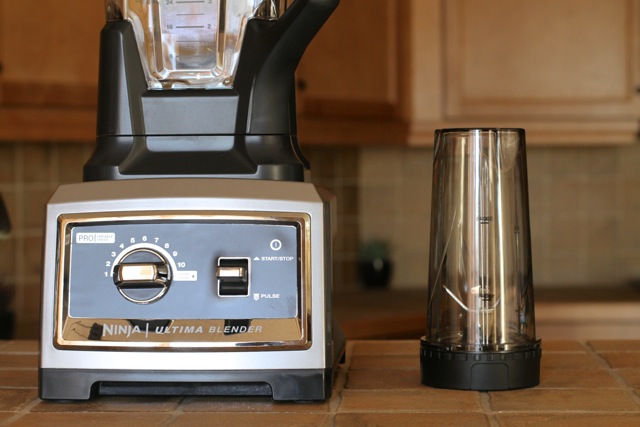 The Ninja comes with three individually sized cups (and travel lids) with a special blade that lets you attach the cups right to the base.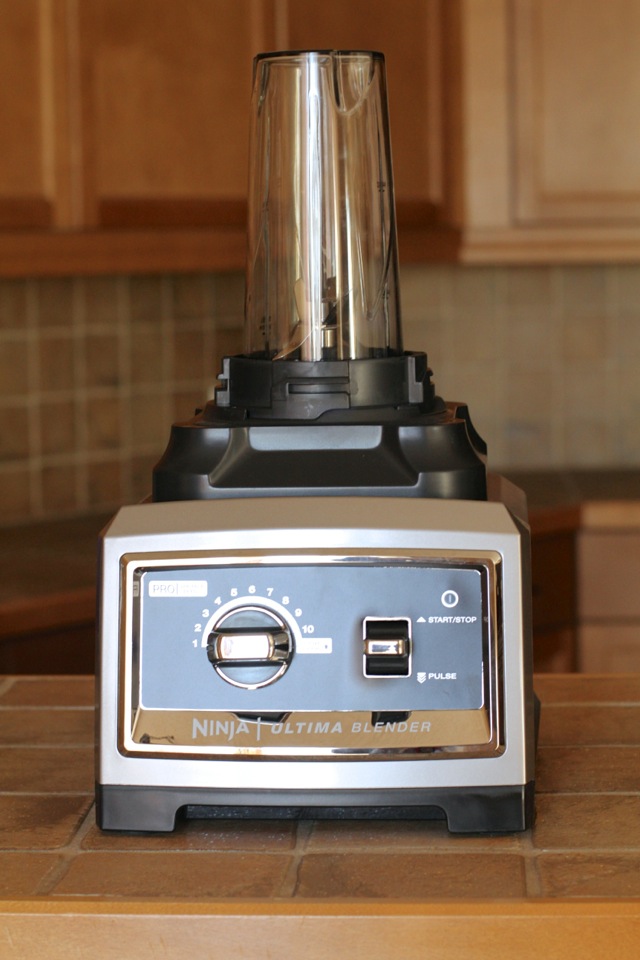 This is awesome in terms of convenience. I'm going to be honest with you guys here — even though I already owned a high-speed blender, I usually found myself using my little Magic Bullet because I didn't want to go through the hassle of busting out (read: cleaning) a giant container when I was only making a single serving. Sure I could have just made a big batch in one go and stuck the leftovers in the fridge, but I find that the taste and texture of smoothies changes when they've been hanging out in the cold for awhile, and I prefer them when they're fresh. In short, single serve cups are brilliant.
But what about the system as a whole? Here are my thoughts…
What I liked about the Ninja Ultima Blender:
The blender is extremely powerful. It doesn't have a problem chewing through tough ingredients and does so without leaving any chunks behind.
The dual blades remove the need for a tamper while ensuring that everything gets blended smoothly. The blades are easy to add/remove depending on what you're making, and the accompanying instruction booklet makes it easy to know when you need them and when you don't.
The single serve cups are super convenient and make clean up a breeze. They're perfect for situations when you need to grab a snack and go, attach right to the base via a special blade, and are really easy to wash.
The large container is incredibly easy to clean as well. All the pieces are dishwasher safe, and you can easily clean it between loads by adding a few drops of liquid soap to a container that's been half-filled with water and turning the blender on.
It has so many uses! In addition to making smoothies, it's perfect for juicing, pureeing, emulsifying dressings, chopping veggies, mixing batters, grinding meats, milling flours, and making nut butters.
It's a lot cheaper than the Vitamix, yet comparable in power and performance.
What I didn't like about the Ninja Ultima Blender:
It's loud… like really loud. Living in a condo, there's no way I'd feel comfortable using it in the early morning or later evening. And to be perfectly honest, a pair of noise-cancelling ear muffs wouldn't hurt either 😆
The blades are super sharp. This is obviously a good thing, but it means you have to be really careful not to cut yourself when you're cleaning it.
And what would a review be without a little demonstration? I've been playing around with my Ninja for a few weeks now, and although I loved using it to blend soups and chop veggies, my favourite blender creations will probably always be smoothies… and this latest creation kind of blew me away.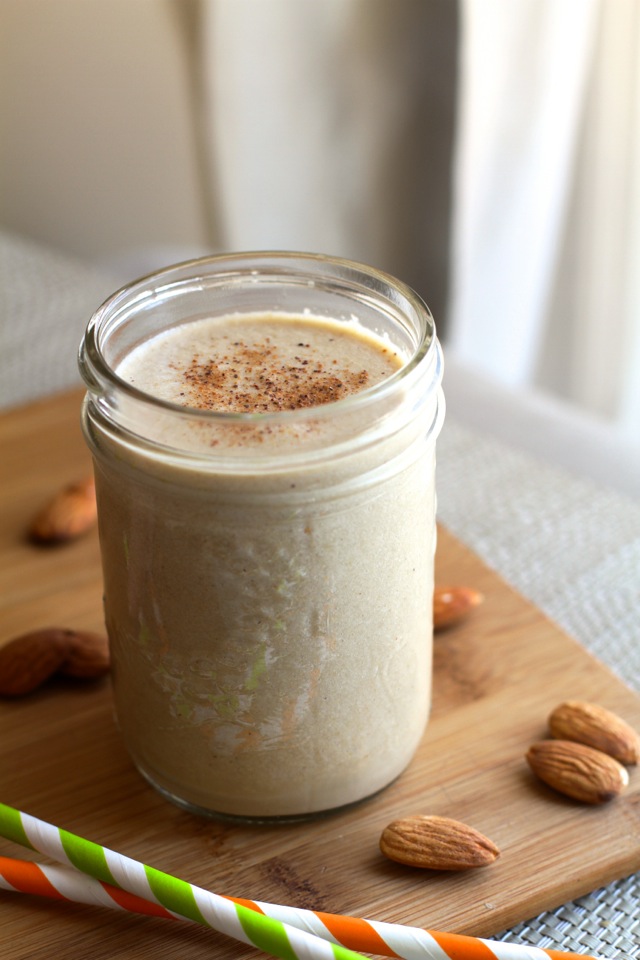 An apple pie protein smoothie. Nevermind the fact that we're talking apples in spring time– they're a year-round fruit as far as I'm concerned. They're also a fruit I don't normally associate with smoothies, but I only had one banana left in my fruit basket when I set out to make this bad boy, and I wasn't willing to risk my last one. What I did have was an abundance of apples…
At first, I was worried that the lack of banana would lead to a lack of thickness and creaminess, but I couldn't have been more wrong. Not only is this smoothie eat-with-a-spoon thick thanks to the oats, but it's incredibly creamy thanks to the almond butter and Greek yogurt. The yogurt is also responsible for giving it a serious protein punch, as well as adding a nice hint of sweetness (or tartness if you choose to go the plain yogurt route). I'm kind of smitten.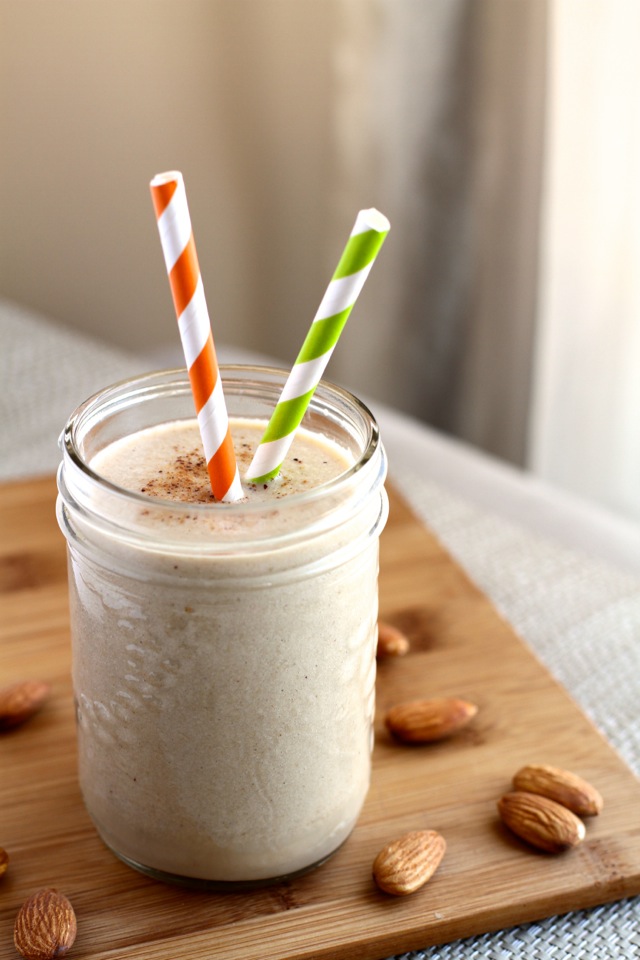 I'd love to know if you make this (or any!) recipe! Tag @runwithspoons on Instagram and Twitter, and be sure to subscribe to our mailing list to receive more healthy and delicious recipes straight to your inbox!
Print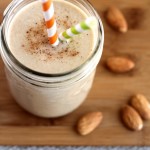 Apple Pie Protein Smoothie
---
Author:

Total Time:

5 mins

Yield:

1

smoothie

1

x
1

apple, peeled and cored

1/4 cup

raw oats

1/2 cup

vanilla Greek yogurt*

1 Tbsp

. almond butter

1/2 cup

vanilla almond milk**

1/2 tsp

. ground cinnamon
dash of ground nutmeg

1/2 tsp

. vanilla extract
---
Instructions
Place all ingredients into any standard blender and blend until smooth.
Notes
* You can sub out the yogurt for some vanilla protein powder OR use plain Greek yogurt, but you may have to add a little bit of sweetener.
** Use regular dairy milk to add even more protein.
Keywords: apple pie protein smoothie, apple pie smoothie, protein smoothie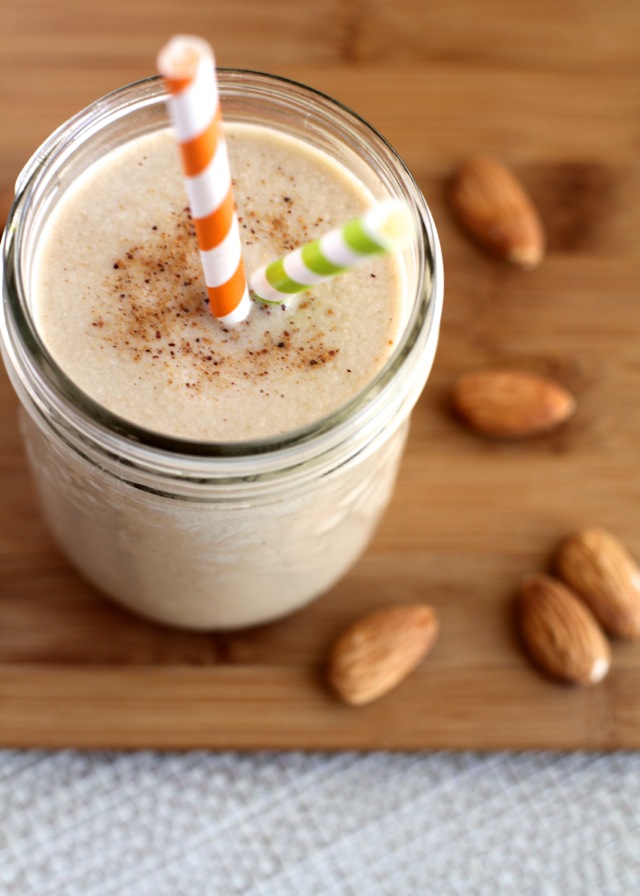 Disclaimer – Ninja Kitchen provided me with the Ninja Ultima Blender free of charge in exchange for a review. I was not compensated for this post, and all opinions are my own.