Hey, hey, hey! Happy What I Ate Wednesday!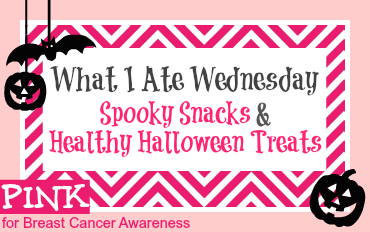 I missed you guys yesterday! But after a rather manic Monday followed by a less-than-stellar Monday night (toss, turn, rinse, repeat), I woke up yesterday morning and declared it a very much needed rest day… from blogging, at least. As much as I love blogging, it has a tendency to take up a good chunk of the day, and I needed that chunk to catch up on a few other things.
Because of my wonky night, I ended up sleeping in until the glorious hour of 5:30. And yes — I very much consider that sleeping in. After brewing a cup of my favourite tea, I got to work on breakfast…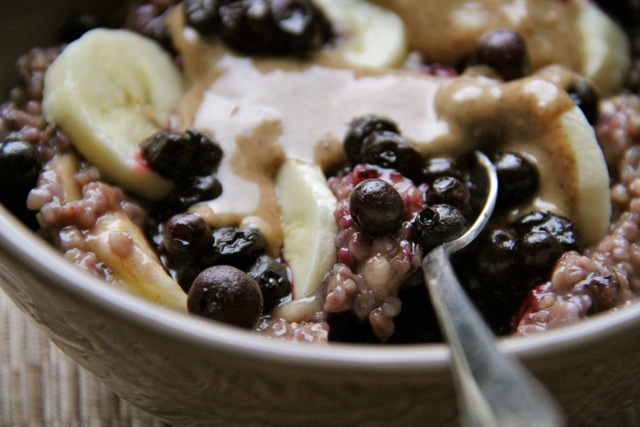 Remember how I mentioned wanting to add a little more variety to my diet? I've been slacking 😳  BUT! I did manage to whip up something a little different yesterday with this buckwheat breakfast bowl. All I did was take some leftover buckwheat, add a splash of almond milk, slice up a banana, toss on some blueberries, and finish the whole thing off with a glob of almond butter. It wasn't oatmeal, but it got the job done.
After that, it was time for me to get some work done… but not before heading out for a quick walk/run first. Is anyone else upset over the fact that it takes the sun so long to rise these days? I went out a little after 7 and it was still pitch black… I came home around 8 and it was just starting to get light out. Good thing we'll be turning the clocks back pretty soon.
I was a little chilly after my walk/run (I'll go into a little more detail as to what exactly I'm doing in a future post), so I whipped up a homemade latte, buried it with cinnamon, and enjoyed it with the last of my chocolate chip pumpkin oatmeal cookies before settling down to a few hours of work.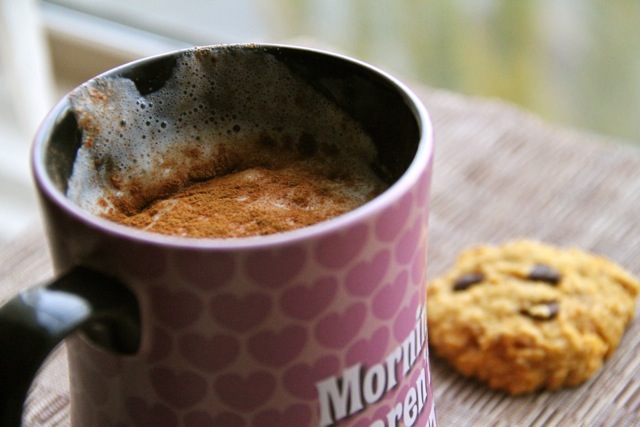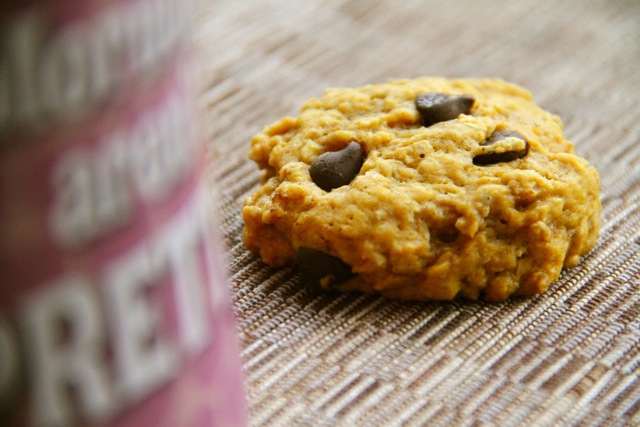 We'll gloss over the work bit because, really, who wants to talk/hear about work? I've been able to start doing a lot more work from home over the past year, which has been both a blessing and a curse. A blessing because it lets me pick my own hours, but a curse because sometimes those hours end up being ridiculously early or ridiculously late, depending on how bad I've been slacking. But I digress — it's lunch time!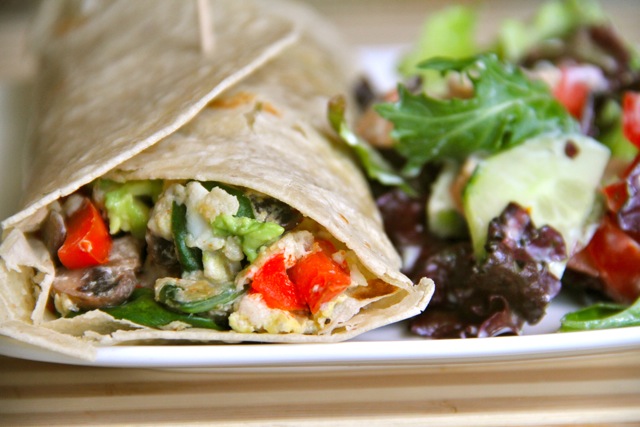 Two eggs scrambled with veggies and stuffed inside a wrap along with some avocado. No fuss, no muss. And yes, I ran out to the store to restock my kitchen after my eggless baking debacle this weekend; and look what I found while I was there!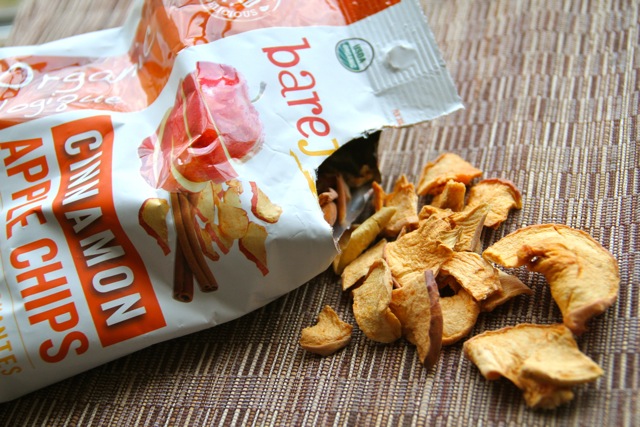 Barefruit apple chips! After three weeks of going without, I basically inhaled the entire bag while I was out running work-related errands in the afternoon. Holy.snap are they ever good. And did you know they've introduced a new sea salt caramel flavour? I have a nagging feeling that it'll be slow to show in Canada, but fingers crossed that it gets here eventually — my American food shopping list is already long enough.
Insert an evening of cleaning, cooking, eating [dinner]…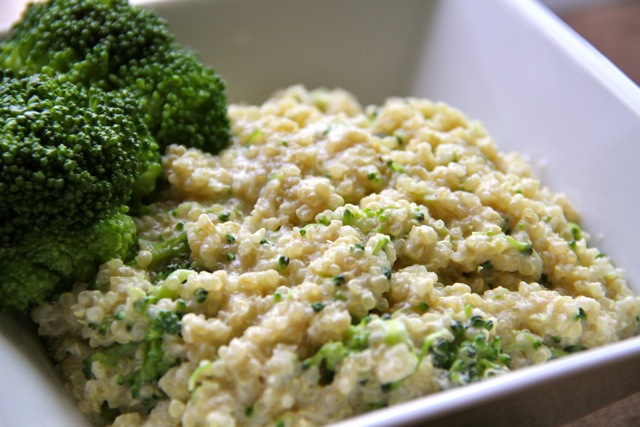 (cheesy quinoa and steamed broccoli)
… blogging, pampering, and Skyping with J, and you pretty much have my Tuesday in a nutshell. Well, I suppose there is one other little thing that's worth mentioning…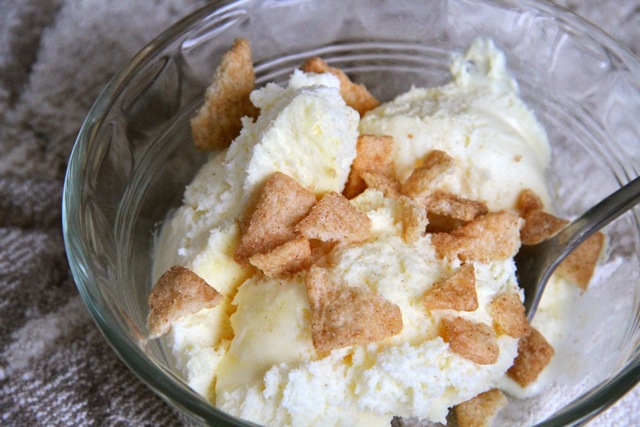 … because no day is complete without a little dessert, and this bowl of vanilla bean ice cream topped with Cinnamon Toast Crunch definitely ended things on a good note.
Happy Wednesday, friends! 😀
. – . – . – .
What meal/snack did you end the day with yesterday?
What's your favourite ice creme/froyo topping?
Do you run/walk in the dark?