A vegan flourless banana bread muffin that's gluten-free, egg-free, sugar-free, dairy-free, oil-free and whipped up in the blender in under 5 minutes flat. Tastes just like a soft and tender slice of banana bread!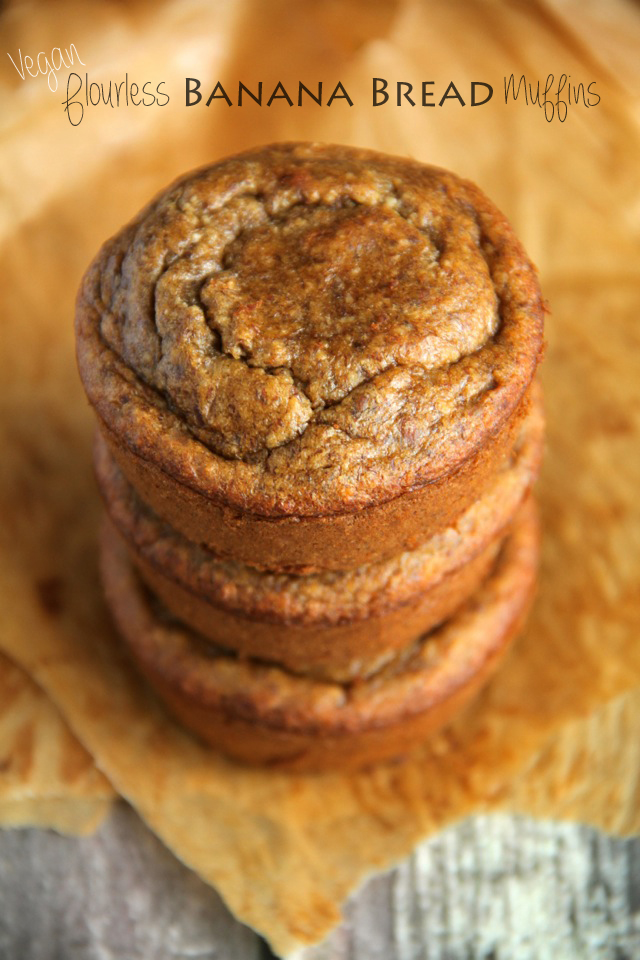 I post a pretty wide variety of recipes here on Spoons.
Some are vegan, some are not.
Some are gluten-free, some are not.
Some are healthier, some less so.
The fact that I don't seem to have my feet firmly planted in any particular dietary camp (except the peanut-free one for life & death reasons) is actually something that used to drive me crazy, but the more time I spent thinking about it, the more I realized that my lack of a camp was actually a camp in itself… and one that aligned perfectly with the belief that's at the root of all my views on diet and nutrition in general.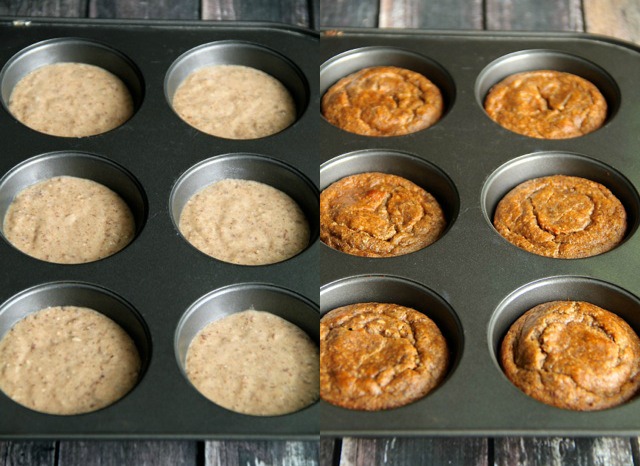 Which belief is that? That we're all unique and that different things work for different people. I can't say that a vegan diet is better than a Paleo diet from a health perspective because I've seen people do well on both ends of the spectrum, just as I've seen people do poorly on both.
I can't say that going vegetarian or gluten-free will change your life or heal your ailments, because while it does happen for some, it also doesn't happen for others (unless you're celiac, in which case it most definitely -will- change your life).
There are as many perfect diets out there as there are people in the world — it's all about figuring out what works for you and what doesn't, regardless of what works for others or what's trending at the moment.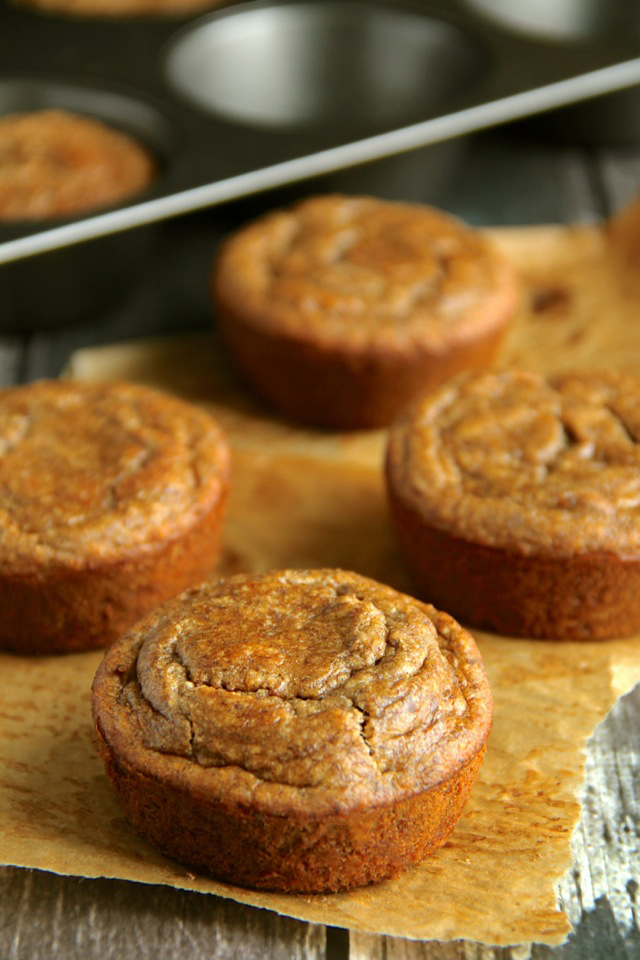 That's why I'm a big proponent of keeping an open, objective mind and experimenting with your diet. Over the years I've been raw, vegan, vegetarian, high-carb, low-carb, high-protein, low-protein, high-fat, low-fat, etc. and I feel like I've reached a point where I have a pretty good grasp of what works for me and what doesn't. Most of the time, anyways.
Even now there are still times where I have to tinker with my diet depending on the season, my activity level, how much stress I'm dealing with, how much sleep I'm getting, etc. The same exact thing can make me feel great one day and crappy the next, which is a little frustrating, but at least it keeps me on my toes #glasshalffull.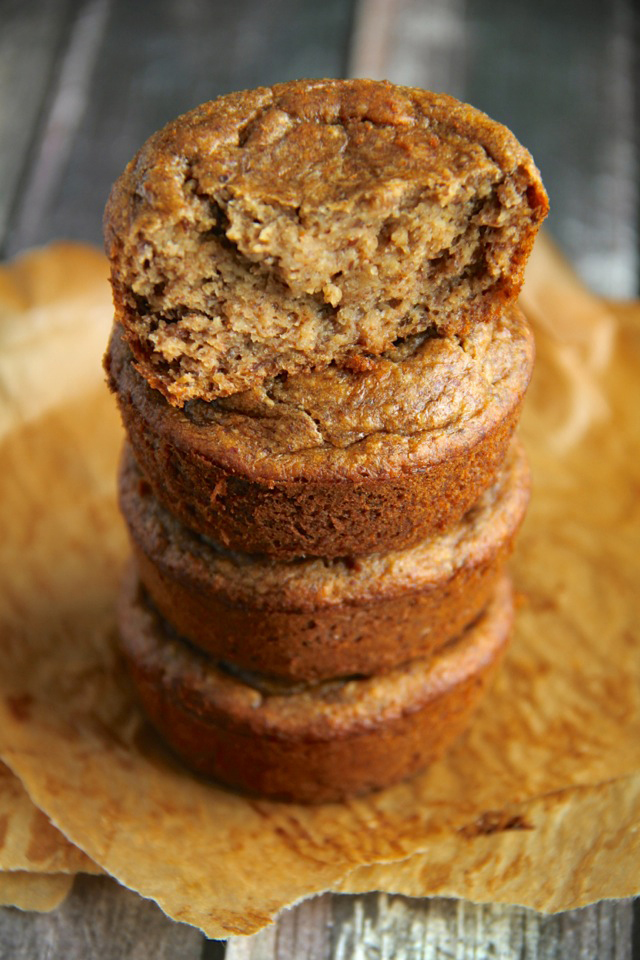 And if you're wondering what the heck my longwinded speech has to to with the muffin pictures that I've been littering throughout this post, it was basically my roundabout way of saying that I love experimenting with food — both with what I eat and how I make it. That might be part of the reason that I post so many gluten-free, vegan, and/or flourless recipes… it's always fun to see what I can come up with.
These flourless vegan banana bread muffins are actually adapted from my original flourless banana bread muffins. They're a reader favourite and a recipe that a lot of people have asked about making egg-less as well… because being gluten-free, refined sugar-free, dairy-free, and oil-free isn't enough, apparently…
I kid, I kid. You guys know I'm more than happy to experiment, and even happier to say that the vegan version of these muffins is just as good as the original. In fact, they even look pretty much identical…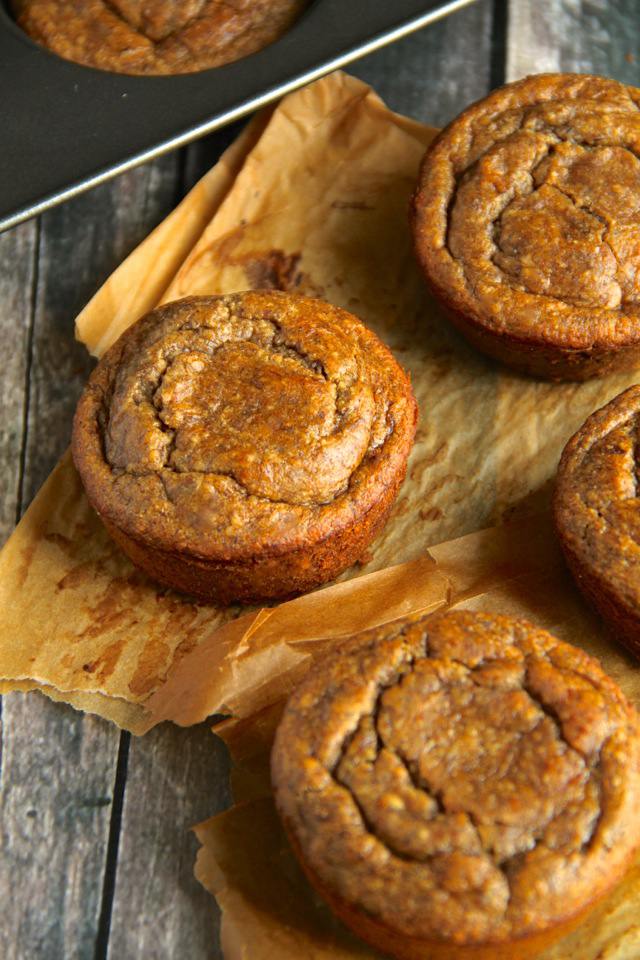 And they taste and feel the same, too. Maybe a tad less fluffy, but I whipped up a batch of the originals to compare and I honestly had a hard time telling the difference. Both batches were incredibly soft, tender, and tasted exactly like a slice of banana bread. And in traditional banana bread fashion, they taste even better the next day.
The only thing I'll caution you against is taste-testing the batter. Don't do it. Not because you have to worry about the possibility of getting salmonella from raw eggs (hooray!), but because it tastes so good that you'll be tempted to eat it without baking it first, and you definitely don't want to miss out on the finished product.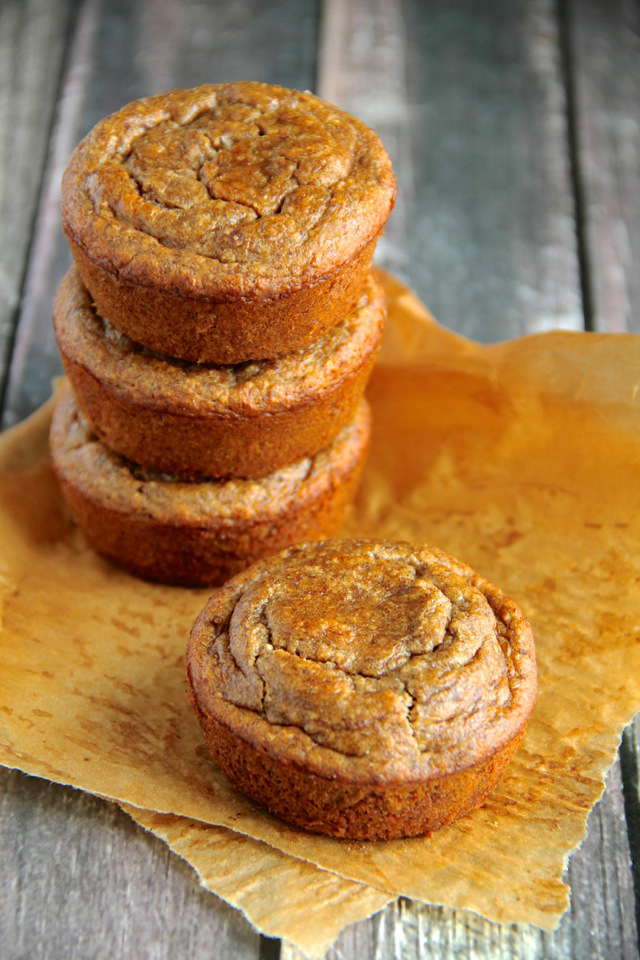 I'd love to know if you make this (or any!) recipe! Tag @runwithspoons on Instagram and Twitter, and be sure to subscribe to our mailing list to receive more healthy and delicious recipes straight to your inbox!
Print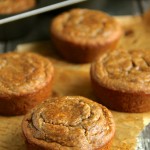 Vegan Flourless Banana Bread Muffins
---
Author:

Total Time:

25 mins

Yield:

9

muffins

1

x
1

flax "egg"*

¼ cup

almond butter**

2

ripe medium/large bananas

2 Tbsp

. agave nectar***

3/4 cup

rolled oats****

2 Tbsp

. ground flaxseed

1 tsp

. vanilla extract

½ tsp

. baking soda

½ tsp

. ground cinnamon
---
Instructions
Prepare your flax egg by combining 1 Tbsp. of ground flaxseed with 3 Tbsp. of water. Set aside.
Preheat oven to 375F and prepare a muffin pan by spraying 9 cavities with cooking spray. Set aside.
Add all ingredients to a blender and blend on high until oats are broken down and batter is smooth and creamy. If you do not have a high speed blender, you can mix all the ingredients by hand. Simply grind the oats into a flour and mash the bananas before combining all the ingredients in a bowl and mixing well.
Pour batter into prepared muffin pan, filling each cavity until it is about 2/3 full.
Bake for 15 minutes, until the tops of your muffins are set and a toothpick inserted into the middle comes out clean. Allow muffins to cool in pan for ~10 minutes before removing. Store in an air-tight container for up to a week.
Notes
* to make a flax egg, combine 1 Tbsp. of ground flaxseed with 3 Tbsp. of water and allow to sit for 10 minutes.
** can sub with nut butter of your choice.
*** can sub with maple syrup or brown rice syrup. Or honey if not strictly vegan.
**** make sure to use certified gluten-free oats if you need these to be gluten-free.
Prep Time:

10 mins

Cook Time:

15 mins
Keywords: banana bread muffins, flourless banana bread muffins, gluten-free banana bread muffins, recipe, vegan banana bread muffins
Looking for more flourless muffin recipes? Try one of these!
Flourless Chocolate Chip Almond Butter Muffins
Flourless Apple Cinnamon Muffins
Flourless Pumpkin Pie Muffins