Thick and creamy with a subtly sweet vanilla flavour, this cake batter smoothie tastes like a slice of vanilla cake without the added sugars or oils.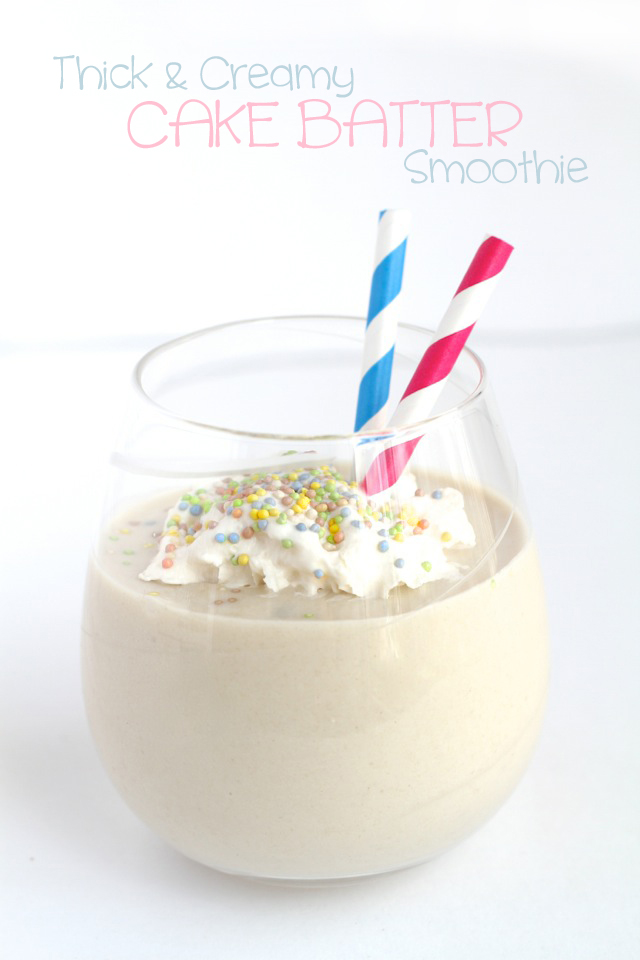 Sorry for basically disappearing from the blog world this weekend! But sometimes a girl just needs a little time off, ya know? Especially when she's in the mountains with a shifty internet connection. But I'm back now! Safe, sound, and sore. Not only did I manage to squeeze in a snowboarding trip this weekend, but the weather was gorgeous enough to allow me and Mom to do a fair bit of hiking while we up in the Rockies as well. Rough translation: even wiggling my toes hurts. But it was an amazing weekend and I'm seriously considering relocating from Edmonton to Banff. But I digress…
I'll share some highlights from the trip in a few days, though, because I wanted to spend today talking about one of the things I missed most while I was gone. Can you guess what it was? Not my bed (I was too exhausted by the end of the day to care where I slept); not my kitchen (our room had one!); and not my stable internet connection (it was nice to unplug for a little while).
I missed my blender. Or, more specifically, what that blender allowed me to do…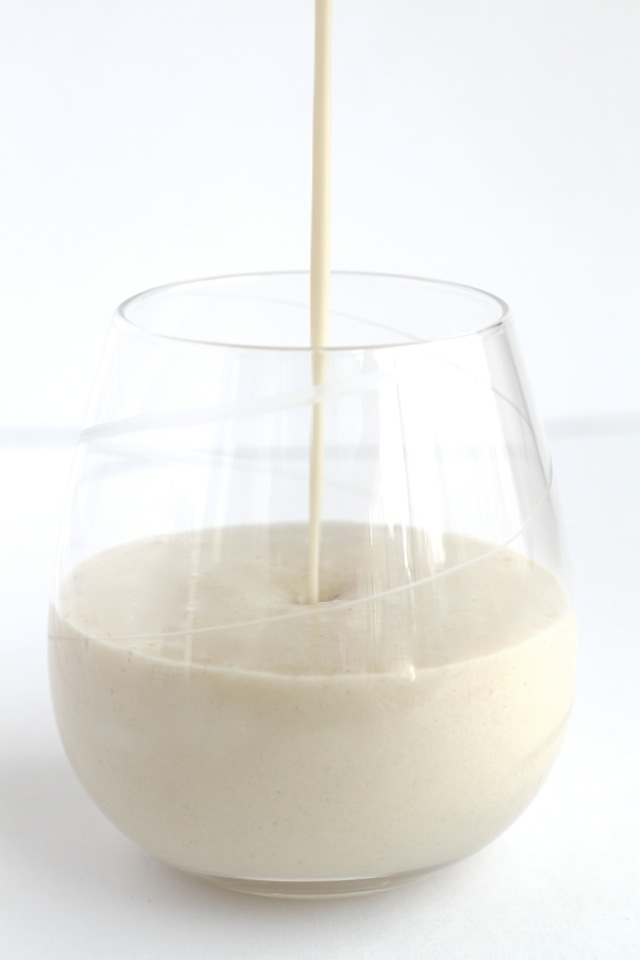 While I refuse to fully admit to it just yet, I might have a problem — it depends on whether you see needing to get a smoothie fix on a daily basis as a problem or not. Personally, I'm inclined to err towards not, but I'll let you decide on how sound my opinion is given my current… relationship… to the subject in question. Don't judge me — there are worse problems to have.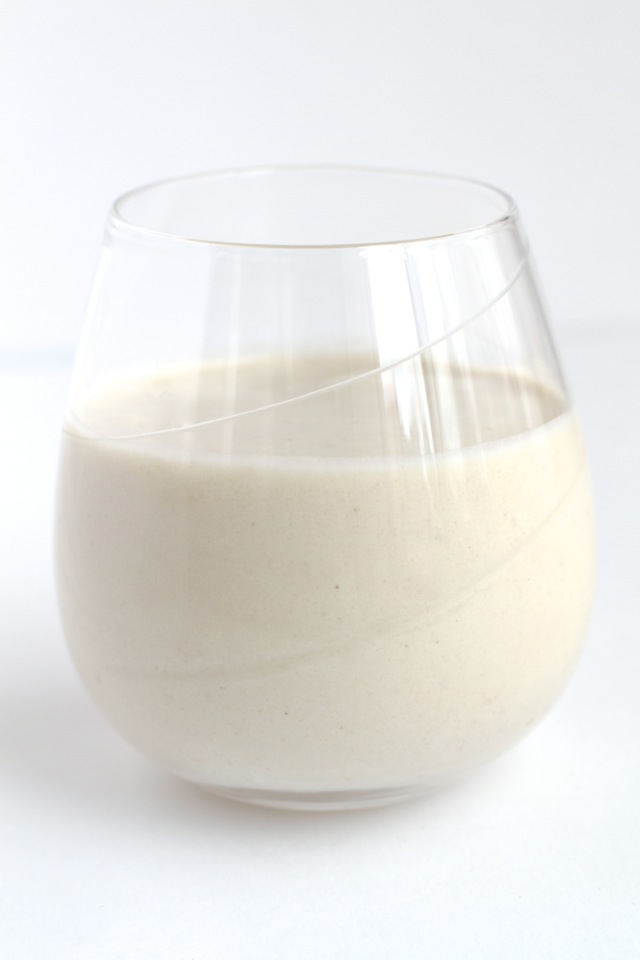 I've told you guys before that I have a serious obsession with my thick and creamy chocolate smoothie, but when it came time to toss in the ingredients to make it, I just wasn't feeling the chocolate. I know, I know — blasphemy — but there are just some cases where vanilla wins out over chocolate (ice cream, for example), and this was one of those cases.
Instead, what I ended up with was this beauty right here…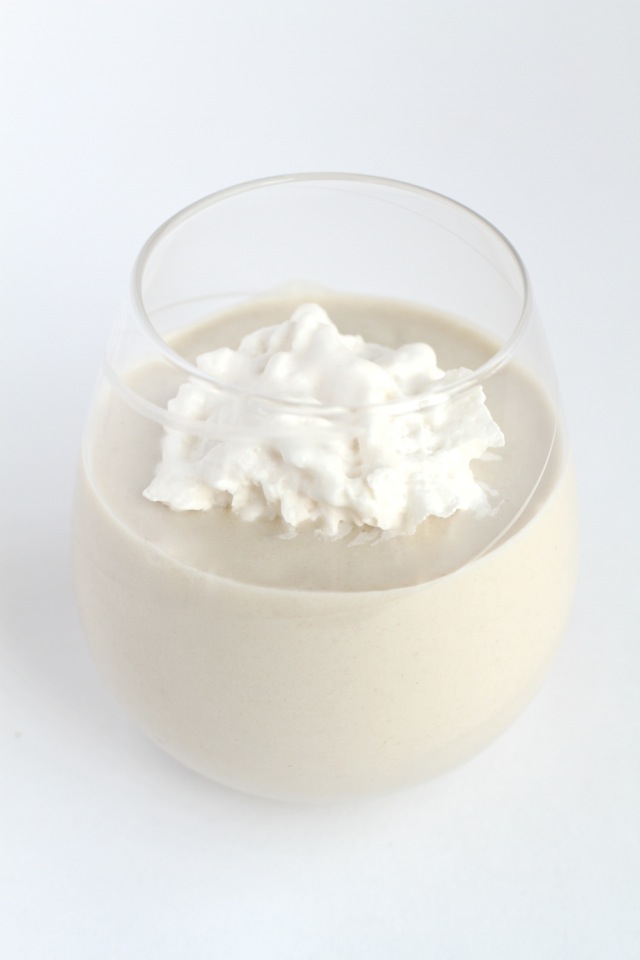 A vanilla cake batter smoothie… topped with whipped cream because what's a cake without the frosting? Actually, this would probably be a bad time to admit that I prefer cake over frosting… and that sometimes I'll actually scrape off the frosting and go for more cake instead. I know, I know — more blasphemy… Try not to judge me too harshly.
In any case, this cake batter smoothie may just become my newest obsession. It's thick and creamy, just the way I like it, with a subtly sweet vanilla-y flavour that reminds me of vanilla cake. There's no way I'll every say goodbye to chocolate, but you know what they say… variety is the spice of life.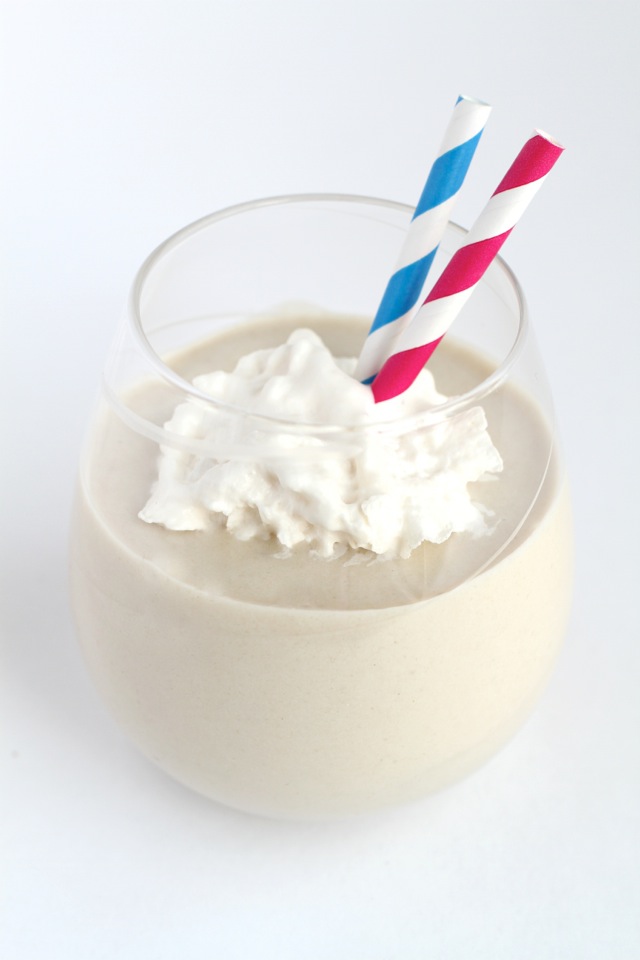 I'd love to know if you make this (or any!) recipe! Tag @runwithspoons on Instagram and Twitter, and be sure to subscribe to our mailing list to receive more healthy and delicious recipes straight to your inbox!
Print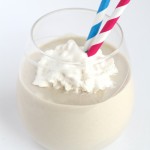 Vanilla Cake Batter Smoothie
---
Author:

Total Time:

5 mins

Yield:

1

serving

1

x
1

banana, frozen*

1 Tbsp

. coconut flour**

1 Tbsp

. softened coconut butter***

1/2 cup

vanilla almond milk (regular milk is fine too)

1/2 tsp

. vanilla extract
whipped topping (optional)
sprinkles (optional)
---
Instructions
Place all ingredients except for whipped topping and sprinkles (if using) into any standard blender and blend until smooth. You may have to spend a little extra time blending to ensure that the coconut butter becomes evenly distributed and you don't end up with small solid chunks in your smoothie.
Transfer smoothie into a glass and top with whipped cream and sprinkles!
Notes
* I like to freeze my bananas when they're just starting to sport a few brown spots — I find they add the best texture and flavour that way. Also, peel and cut your bananas before tossing them into a Ziploc bag into the freezer — it saves you the hassle of trying to get the peel off when they're frozen.
** You can sub in a few tablespoons of oat flour instead.
*** You can sub in another nut butter like cashew or vanilla almond.
Keywords: cake batter milkshake, cake batter smoothie, creamy smoothie, vanilla milkshake, vanilla smoothie
Looking for more smoothie recipes? Try one of these!
Thick and Creamy Chocolate Smoothie
Oatmeal Cookie Dough Smoothie
Apple Pie Protein Smoothie