Enjoy a healthy muffin the size of your face with this Banana Oat Greek Yogurt Muffin Breakfast Bake! It's made without any flour or oil, but so soft and tender that you'd never guess it!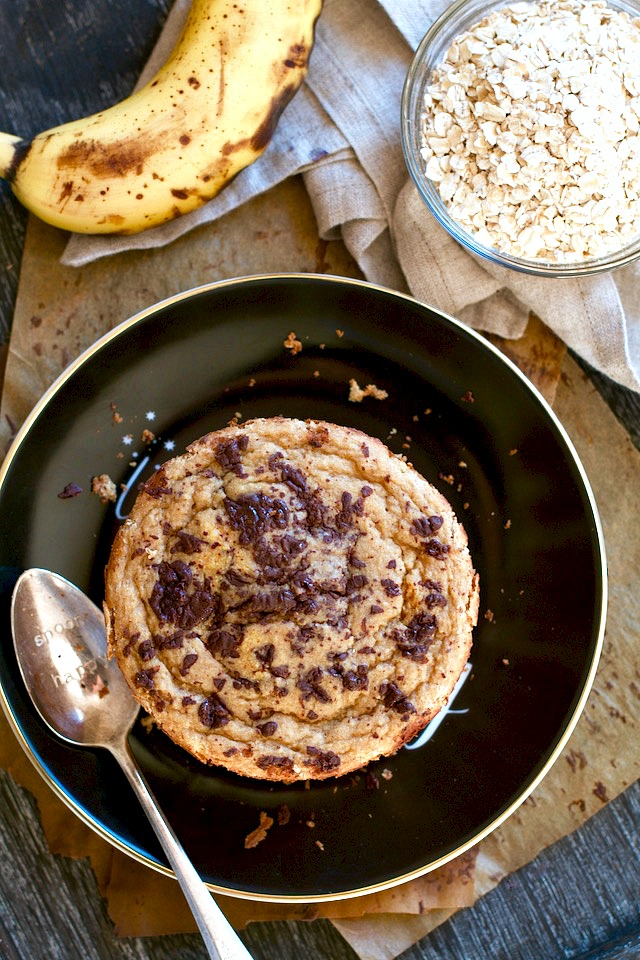 Thank you guys so, SO much for all the kind words and congrats on Thursday's post! You all (I'm not from the South so I can't say "y'all" convincingly) rock my fuzzy pink socks off, and I'm hoping to return the favour with that recipe I promised you.
The one that yields a healthy muffin the size of your face.
The one, the only… Banana Oat Greek Yogurt Muffin Breakfast Bake! *dun dun dunnnn*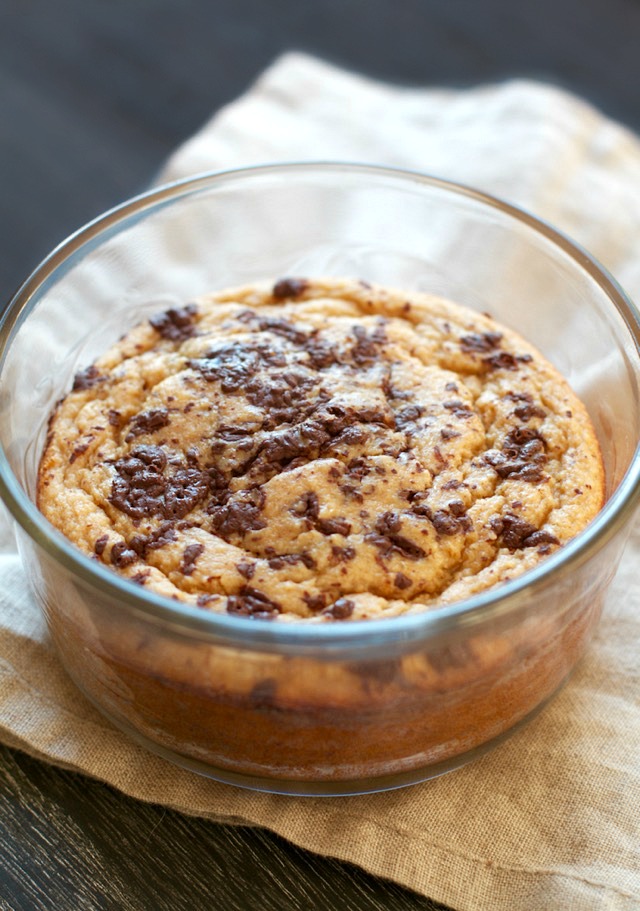 Oh yes I did! I went ahead and made a single-serve (read: giant muffin) version of my banana oat Greek yogurt muffins, and it if doesn't exactly look like a muffin, that's only because I didn't have a muffin tin that was big enough to house its epicness, so I had to resort to using a small oven-safe dish instead. Whatcha gonna do?
It still has the same tender, doughy deliciousness of the original, only this time it's 3x bigger…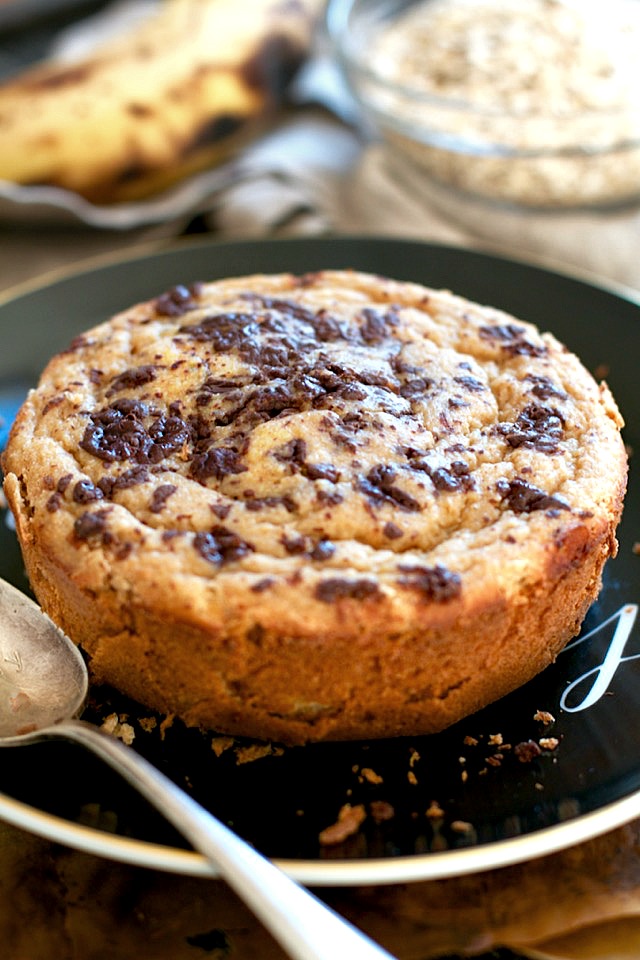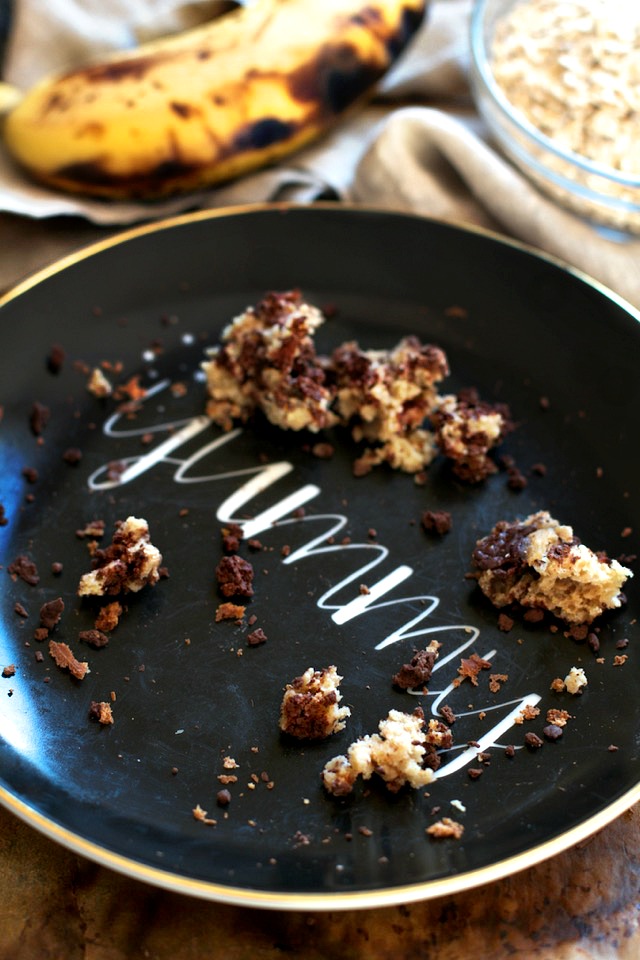 … which equates to something like 107.6x better. But don't quote me on that one – it's been a while since I've been in school so my math might be a little off.
Also… can we take a second to talk about how adorable my new plate is?!? I snatched it up while I was in in HomeSense (HomeGoods to my American friends) earlier this week, and I'm pretty sure I let out an audible squeal as soon as I saw it. I don't know if this has happened to anyone else, but ever since I started blogging about food, the excitement I feel over finding cute and/or unique dinnerware rivals the excitement I feel over finding new makeup and gorgeous purses. Almost. I'd still take a Prada over a fancy plate, but for the sake of this post, let's just say I freaking love that little plate. Almost as much as I love what's on it…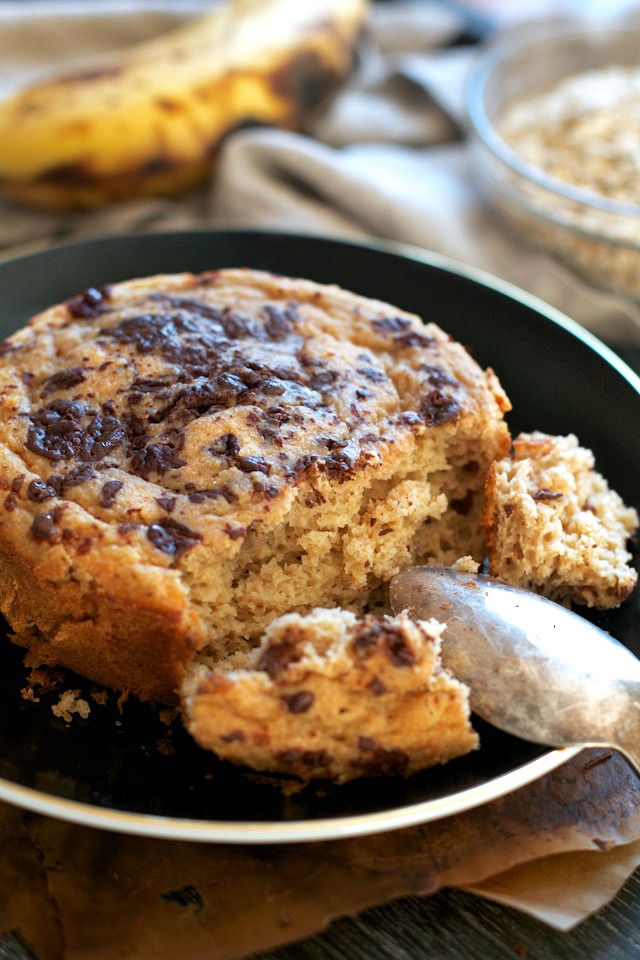 I'm normally not one to stick words like "ultimate" or "best" on a recipe, but I had to with this banana oat Greek yogurt muffin because it really is that epic.
Imagine a huge soft and pillowy muffin that's loaded with flavour and made without any flour or oil. It has a serving of oats to give it shape and a mix of banana and Greek yogurt to help keep it moist. The result is a healthy flourless muffin that's guaranteed to keep you satisfied all morning… if you do indeed decide to eat it for breakfast. Because it also makes a great lunch. Or dinner. Or snack. Basically, there's no bad time to enjoy this guy, especially since he comes bearing chocolate.
He could also come bearing berries, nuts, or nothing at all (bow chicka wow wow) – it all depends on what you want! But believe me when I say that you definitely want this [stud] muffin in your life. He's a keeper!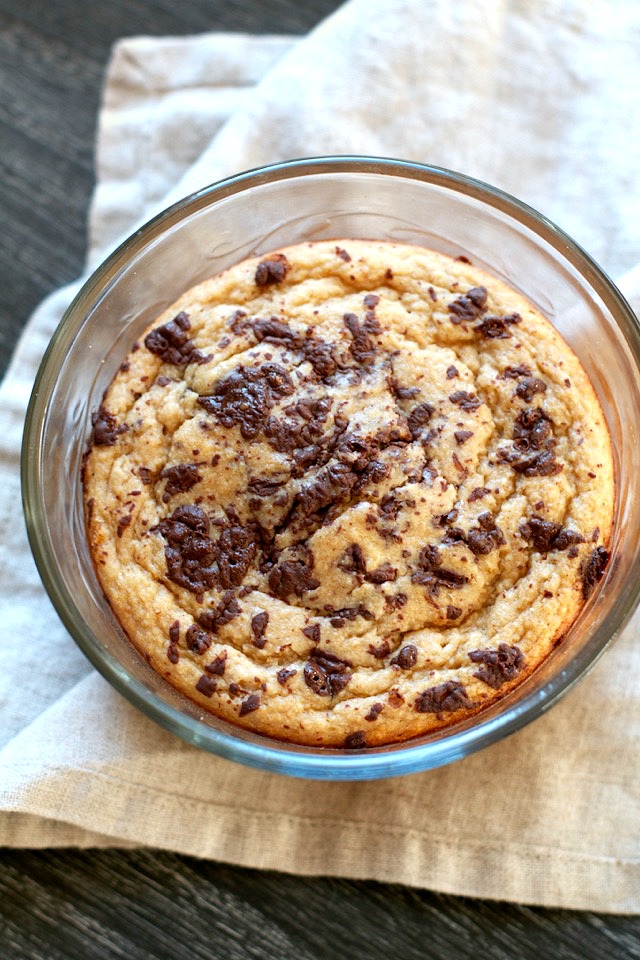 I'd love to know if you make this recipe! Leave a comment and rating down below to let me know what you think, and subscribe to our mailing list to receive new recipes in your inbox!
Print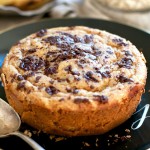 Banana Oat Greek Yogurt Muffin Breakfast Bake
---
Author:

Total Time:

25 mins

Yield:

1

serving

1

x
1/4 cup

(

55 g

) plain Greek yogurt*

1/2

medium, ripe banana (

50 g

or

1/4 cup

mashed)

1/2 cup

(

40 g

) rolled oats

1 Tbsp

(

12 g

) coconut palm sugar**

1

large egg white

1/2 tsp

baking powder

1/2 tsp

vanilla extract

1 Tbsp

(

10 g

) chocolate chips or chunks
---
Instructions
Preheat your oven to 350°F (176°C) and lightly grease an individual sized (~16oz./500 ml) ramekin or oven-safe dish with cooking spray or oil. Set aside.
Add all the ingredients except for the chocolate chips to a blender or food processor and process on high until the oats have broken down and the batter is smooth and creamy, about 1 minute.
Transfer the dough to your greased ramekin and fold in the chocolate chips, saving a few to sprinkle on the top. Bake for 20-25 minutes, until the centre has set and the bake has reached your desired consistency. Remove from oven, top with desired toppings, and enjoy!
Notes
* you can also sub this out for flavoured Greek yogurt or even regular yogurt. ** you can sub this with regular brown sugar or replace it with maple syrup or honey to keep it refined-sugar-free.
Prep Time:

5 mins

Cook Time:

20 mins
Keywords: banana, banana muffin, breakfast, flourless muffin, gluten-free muffin, Greek yogurt, healthy, muffin, oatmeal muffin, oats, recipe, snack

Looking for more banana oat Greek yogurt recipes? Try one of these!
Banana Oat Greek Yogurt Muffins
Greek Yogurt Banana Bread
Banana Oat Greek Yogurt Pancakes
Greek Yogurt Banana Oat Bread
Greek Yogurt Banana Oatmeal Bars