Chocolate lovers rejoice! This healthy two minute sweet potato brownie is so fudgy, dense, and chocolatey that you'd never be able to tell it's made without flour, butter, or oil. The perfect way to satisfy a chocolate craving in a vegan, gluten-free, and paleo treat that's super quick and easy to make.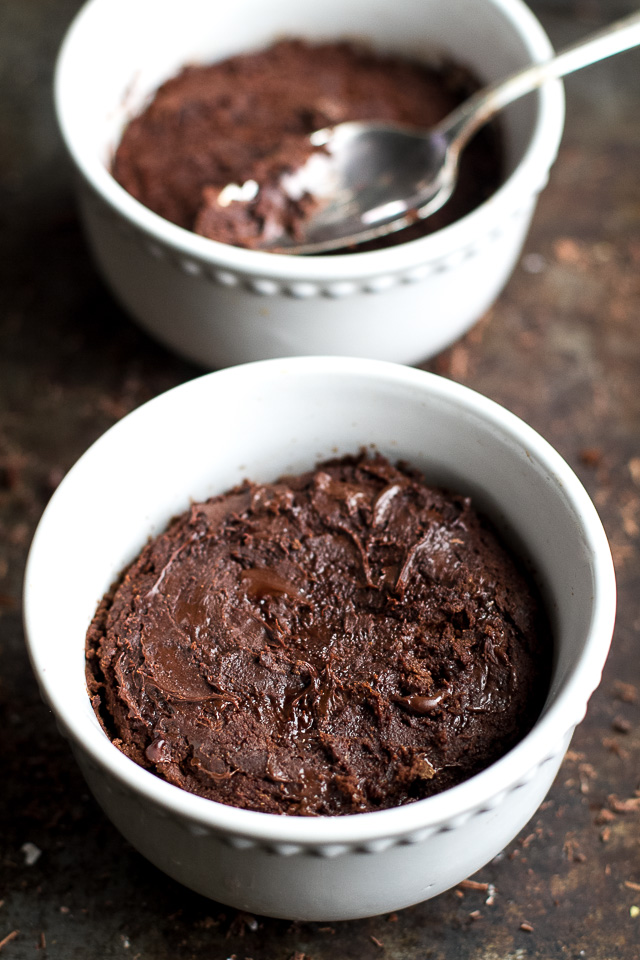 There are three things in life that I don't understand.
Actually, there are a tonne of things in life that I don't understand, but in the interest of not turning this post into a novel, we're going to stick to these three things.
First, physics. I know enough to understand why we don't all float up into space, but please don't ask me to calculate how long it'll take a feather to fall to the surface of the moon when it's been dropped from a height of 1.587 meters. I have mad respect for anyone who can do those and even more complicated calculations that we need to make our world run smoothly – I'm just not one of those people.
Second, people who leave vile, judgmental comments on YouTube videos… or anywhere online, I guess. Like… this one really blows my mind. Who are these people!?!? Do I come across them in real life and just not know that they go home and spread cancer and negativity across the internet?!? Possibly. I'm pretty sure that most of those people are perfectly pleasant in person and wouldn't actually say any of those things to someone's face… which makes it all the more sad to see what some people will do when they can do it behind a mask of anonymity. But I could go on about this one forever so MOVING ON to the next issue, which is…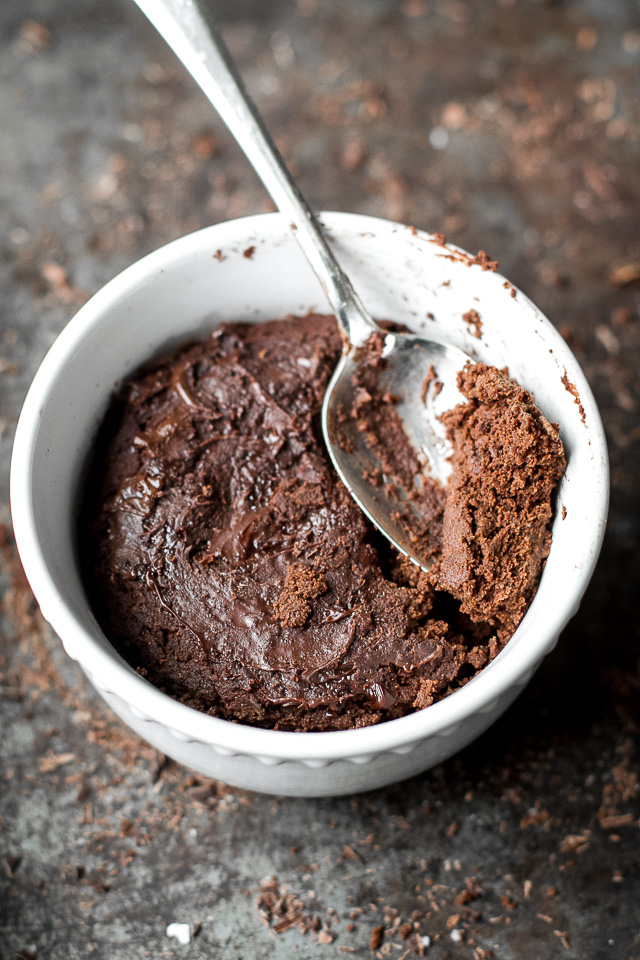 … people who don't like bananas. And, yes, I realize this isn't quite on the same level as the first two, but I don't understand it all the same. They're bananas! They're freaking delicious!
But I guess I get it. I mean… I don't really care for apricots, whereas I'm sure some people think they're the bees knees. Even though they're apricots.
Anyways! This post has nothing to do with apricots. Or bananas, really. The only reason I brought them up was to say that they won't be making an appearance in today's recipe. I know. It'll make sense in a second. Promise.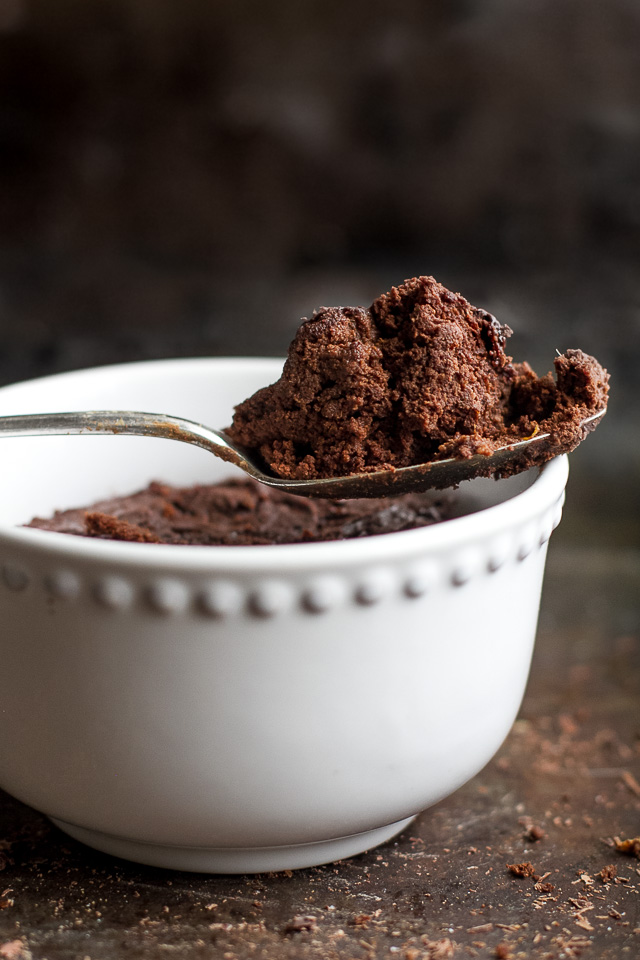 Remember these two-minute brownies? I had a good number of people ask if there was a substitution for the banana, to which I replied: "but why would you do that?!?!"
Kidding. I didn't, but I was probably thinking it. Either way, this recipe is very much the answer to that question, and also pretty seasonally appropriate since we're replacing the banana with mashed sweet potato.
Does anyone have a problem with sweet potatoes? No? Good. You really shouldn't seeing as they're tasty little nutritional powerhouses as well as the current flavour of the week here on Spoons and The Big Man's World. That means a nice handful of recipes to help you get your glow on, starting with this two minute sweet potato brownie…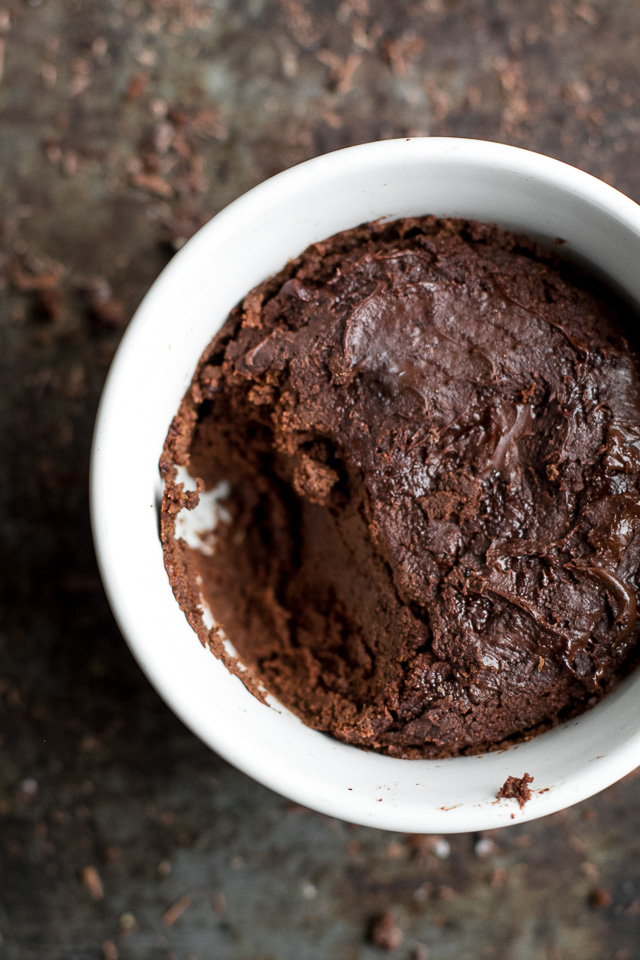 … even though the whole "two-minute" thing is a teeny, tiny bit of a stretch.
See, sweet potatoes take a little bit of extra time to prep since you can't exactly eat them raw. BUT you can either: buy canned canned sweet potato puree*, bake up a whole bunch at once so that you always have some on hand, OR peel them, cut them into chunks, and boil them for about 7 minutes 'till they're nice and tender. It's really not that big of a deal, and totally worth it if it means you can enjoy a healthy, de-bananified brownie that's still super quick and easy to prepare for those days where you need a chocolate fix YESTERDAY.
And, no… this brownie doesn't taste like sweet potatoes. I made the banana version to compare, and while that one has a slight hint of banana flavour, this one just tastes straight up chocolatey. It also has a bit more fibre and protein than its banana counter-part, as well as less sugar. Not to mention more than enough vitamin A to meet your recommended daily needs. What'd I tell ya? Nutritional powerhouse.
Not that you'd be able to tell by how fudgy, dense, and chocolatey this guy is. They feel kind of like a gooey, underbaked brownie… You'd seriously never know you were eating a veggie-packed dessert!
Happy eating!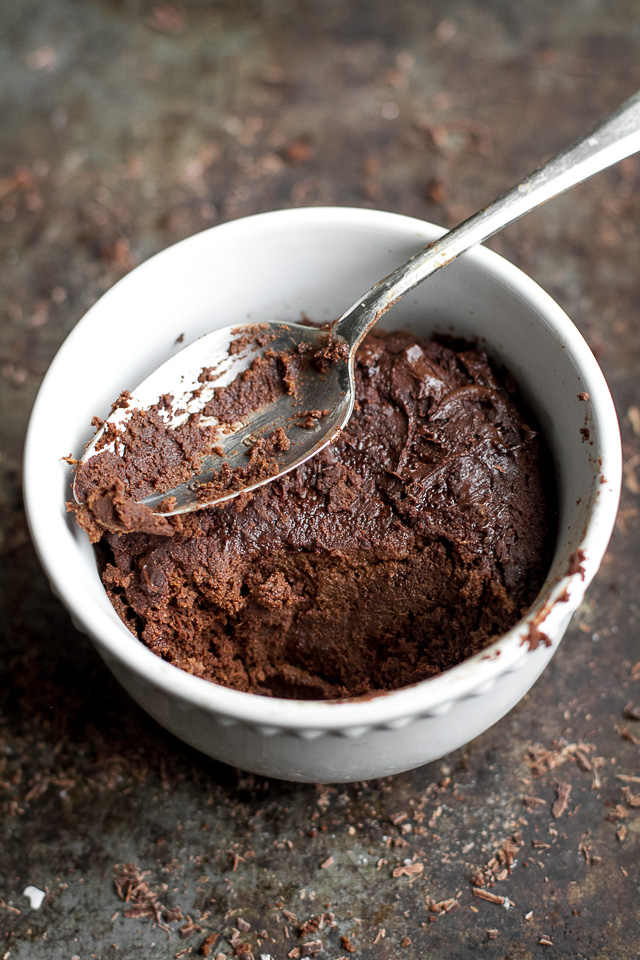 I'd love to know if you make this recipe! Leave a comment and rating down below to let me know what you think, and subscribe to our mailing list to receive new recipes in your inbox!
Print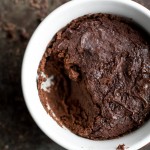 Two Minute Sweet Potato Brownie
---
Author:

Total Time:

7 mins

Yield:

1

serving

1

x
1 Tbsp

(

7 g

) coconut flour

2 Tbsp

(

10 g

) unsweetened cocoa powder

1/4 tsp

baking powder

3 Tbsp

(

45

ml) unsweetened almond milk*

1/4 cup

(

60 g

) mashed sweet potato

1/2 Tbsp

(

8 g

) nut/seed butter of choice**

2 tsp

(

8 g

) coconut palm sugar***

1/2 tsp

vanilla extract
sprinkle of dairy-free chocolate chips (optional)
---
Instructions
Add the coconut flour, cocoa powder, and baking powder to a microwave-safe mug or bowl and stir until well combined.
Add the milk and mashed sweet potato, stirring until no clumps remain. Add the nut butter, sugar, and vanilla, continuing to stir until everything is fully incorporated.
Microwave on high for 2 to 3 minutes, depending on microwave strength and thickness of mug. If the brownie has not set by then, continue to microwave in 30 sec intervals until desired consistency is reached.
Carefully remove from microwave (mug will be hot!), sprinkle with chocolate chips,**** grab a spoon, and enjoy!
Notes
* If you don't have almond milk, or you want to make this nut-free, use any milk (rice, soy, dairy, etc.) you have on hand. ** I've used roasted almond butter and soy nut butter, but feel free to use any nut/seed butter you have on hand. *** You could also sub this with regular brown sugar or granulated sugar. OR use 1 tsp. of maple syrup or agave to make this refined sugar free. **** You want to add the chocolate chips after baking or the brownie might not rise as well. It'll still be hot enough coming out of the microwave to melt the chips.
Prep Time:

5 mins

Cook Time:

2 mins
Keywords: brownie in a mug, brownies, chocolate, gluten-free, healthy, microwave brownie, paleo, recipe, sweet potato, two minute brownie, vegan

Looking for more sweet potato recipes? Try one of these!
Baked Egg Stuffed Sweet Potatoes
Flourless Sweet Potato Brownies
Secret Ingredient Chocolate Smoothie
Loaded Sweet Potato Nachos
Chunky Monkey Stuffed Sweet Potatoes

*Disclosure: Some of the links included in this post may be affiliate links, meaning I'll earn a small commission if you purchase through them, at no additional cost to you. I only recommend products I personally use and believe will add value to my readers. Thank you so much for helping support Spoons!