As promised, I'll be finishing up my Blend recap today with some random thoughts from the trip, all #thinkingoutloud style! No idea what I'm going on about? Click here!

1. You know that feeling that you've forgotten something important that hits you when you're all packed up and ready to head out the door for a trip? I get that all the time and it usually turns out to be a false alarm, which is probably why I didn't think much of it when it hit me as I was getting ready to head to the airport to catch my flight to Utah. Unfortunately, I did end up forgetting something this time around — the lunch I packed for my trip. Luckily, my dad was driving me on his way to work and I was able to ninja his lunch. Thank goodness because it was pretty much the only savoury meal I had all weekend — it was all oats, nut butters, bars, dried fruit, chocolate, and yogurt. Fresh veggies were kind of hard to come by, and I heard the same thing from other people. The baby carrots I picked up from whole foods ended up being worth their weight in gold.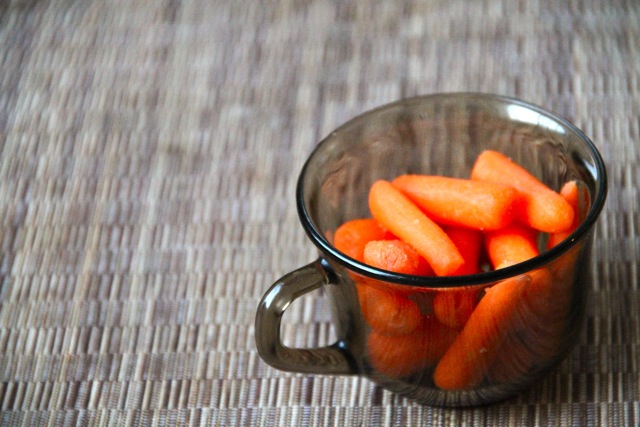 2. Speaking of Whole Foods, lookit what I brought home with me!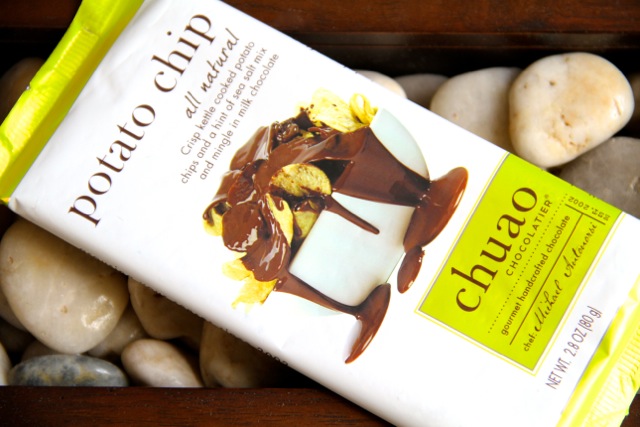 It was one of the few chocolate bars I came across that didn't contain traces of peanuts, and thank goodness for that because it sounds freaking amazing. And deadly.
3. Another thing that made its way home with me was this mug…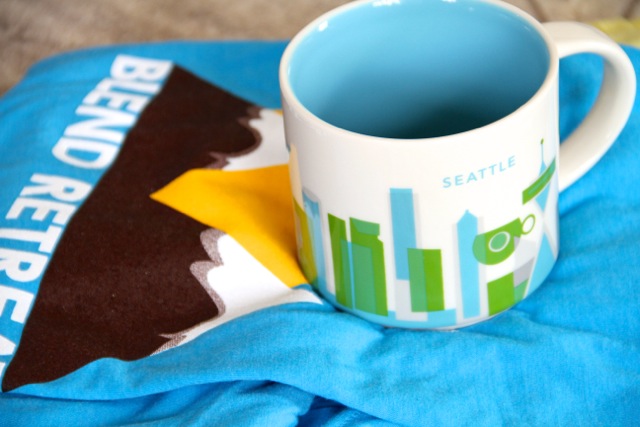 My flight back home included a layover in Seattle, and you'd better believe I made a beeline for Bux as soon as I stepped out of the gate. One of these days I will make it out to Pike Place Market…
4. Can we talk about my last flight home for a second? The one from Seattle to Edmonton? It was on a plane that had propellers…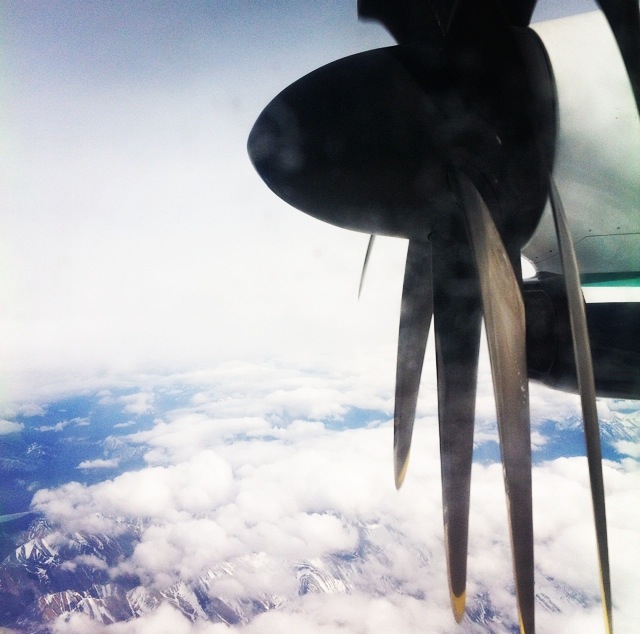 I've flown on smaller planes before, but this one definitely took the cake for being the smallest. Imagine my shock as I walked through the gate only to have to walk down a flight of stairs, out onto the runway, and up a set of stairs to my teeny, tiny plane. The flight itself was surprisingly smooth (if a little freaking LOUD), but the landing was a whoooooole other story. Thank goodness I'm not a nervous flyer.
5. It was wonderful to see these again, though…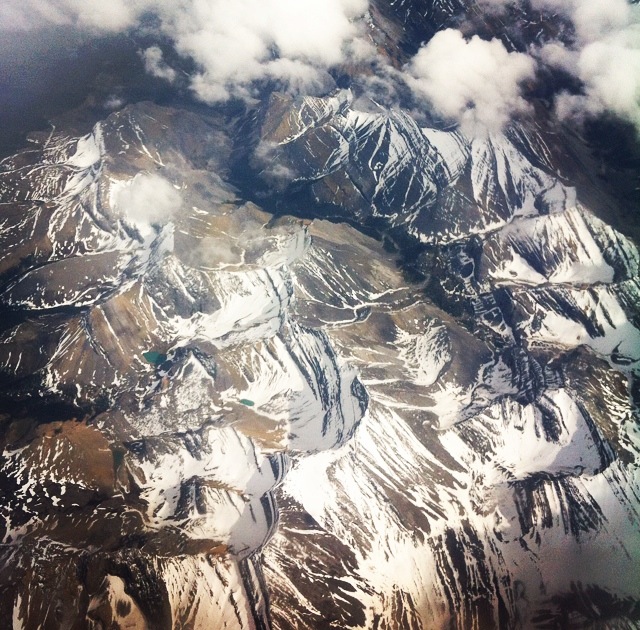 My Rockies 😀 The mountains in Utah are different from the mountains we have here in Alberta… more gentle, less… well… rocky. Still a blast to be up in, though. I've been bitten by the hiking bug and was planning to head out to Banff or Jasper this weekend, but the weather is supposed to suck so I pushed it back until next weekend. Fingers crossed that the sun comes out!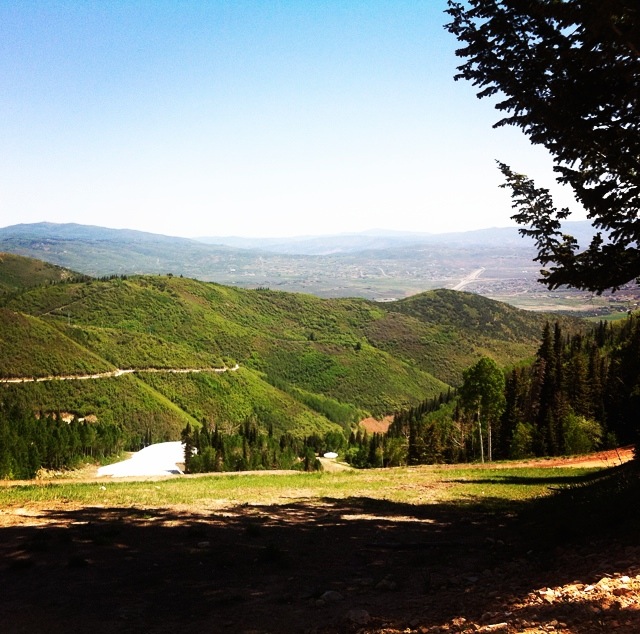 6. The elevation in Utah, though… holy shitake mushrooms. Park City is 7,000 ft. above sea level — Edmonton is 2,200 ft. Let's just say that breathing was an interesting experience… as were the constantly dry/burning lips and the dry/bleeding nose. I have no idea how people run in that air and on those hills. I was dying.
7. Speaking of dying… remember my fruit fly problem? Well, they disappeared for a little while, but I made the mistake of leaving a banana out on the counter while I was gone and there was literally a cloud of flies surrounding it when I got back. That's okay — I was prepared. Enter a little bowl of ACV mixed with a few drops of dish soap. Let's just say it really does work…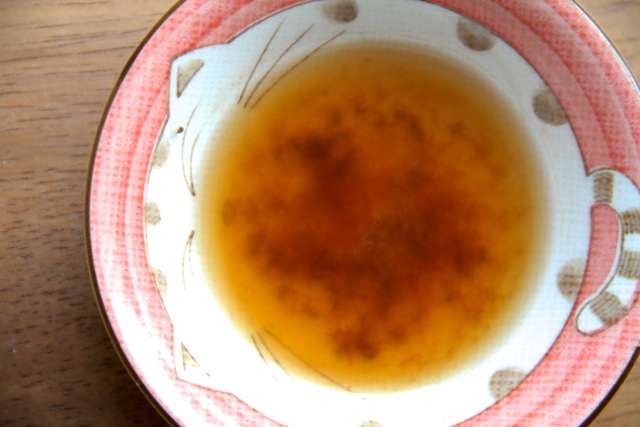 The only downside is that your kitchen smells like ACV, which I'm not a huge fan of.
8. I'm also not a huge fan of the fact that Justin's almond butter apparently isn't peanut-free anymore.
Imagine my disappointment when I hit up the Whole Foods in Park City all excited to finally get my hands on some almond butter, only to discover that none of the jars of Justin's AB had the "peanut-free" label on them anymore. What gives?!?! They didn't have the "may contain traces" label either, but I didn't want to take any chances. I'll have to e-mail them and ask. Actually, I think I'll do that right now. Be right back…
9. Ok, back — keep your fingers crossed for me! Wait, wait… already got my reply (this is what happens when you sporadically sit down to write your post throughout the day). And the verdict isssss….

Success! Now I'm seriously kicking myself for not stocking up. Anyone wanna send me a jar? Or… 10? I wish I was kidding 😯
10. And because I really love you guys, and I know you guys really love Quest bars, I'm ending today's post with a giveaway that I think you might like. Quest was one of the sponsors at Blend, and they hooked us up with our very own box of bars…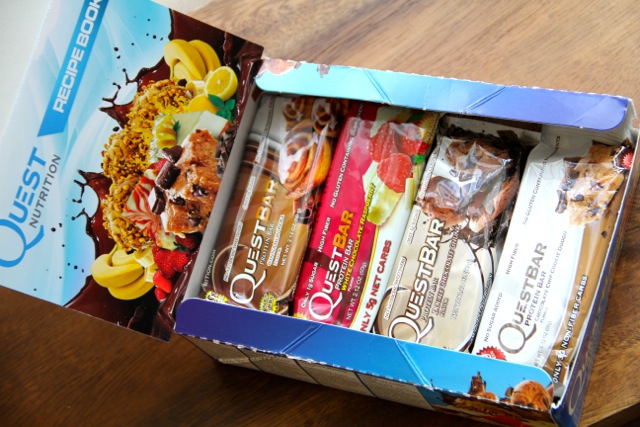 Awesome, right? Yes! Well… except for the fact that I can't eat them because of my allergies #peskypeanuts 😡 But my loss is your gain because I'll be giving away my box to one of you guys!
Up for grabs is a box of 12 assorted bars. The giveaway is international so anyone can enter, and I'll be announcing the winner next Thursday, June 19th. Good luck!
a Rafflecopter giveaway



No questions… just tell me whatever comes to your mind! 😀
More places to find me!
E-mail — [email protected]
Twitter — runwithspoons
Facebook — runningwithspoons
Pinterest — runwithspoons
Instagram — runwithspoons
Bloglovin — runningwithspoons