This Strawberry Banana Oat Breakfast Smoothie is guaranteed to keep you satisfied all morning with 20 grams of whole food protein and a good balance of healthy carbs and fats!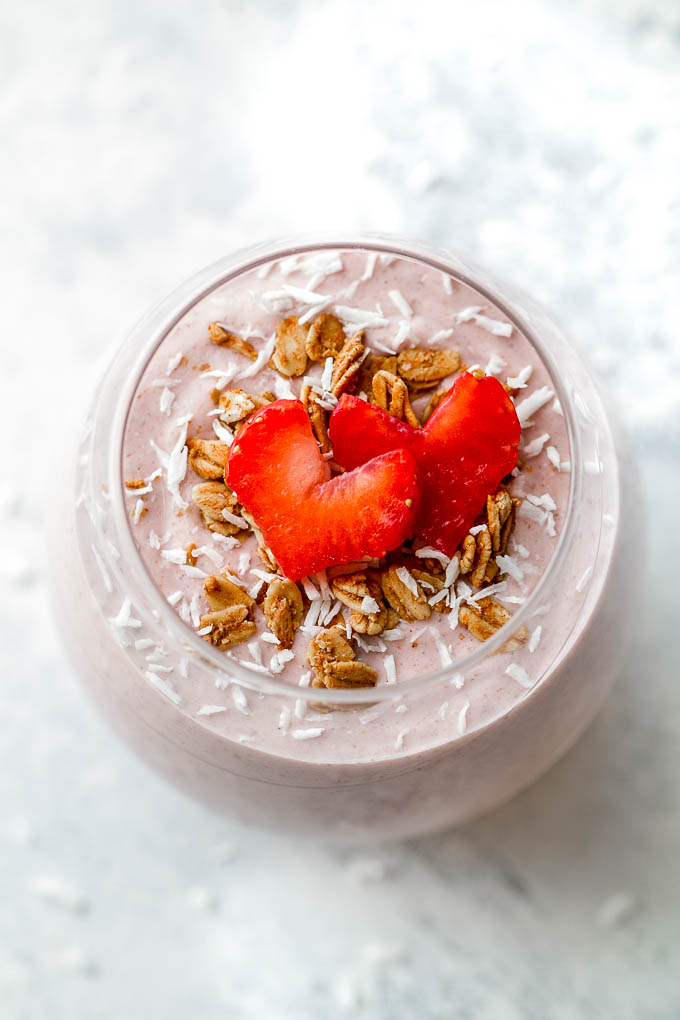 That moment when you take [what you assume are] gorgeous smoothie pour shots only to discover that you had the exposure turned up way too high from where you were taking pictures in the dark, and your new pictures are so overexposed that no amount of editing can save them. Sigh.
This is what I get for not checking the viewfinder between shots. I mean, I did check, but only after I had everything set up in the glass with the cute little strawberry hearts on top, and I really didn't feel like dumping all that back into the blender to try and redo a pour shot. Actually I was secretly hoping that I could adjust some sliders in Lightroom and magically fix everything… but it was beyond help. It mostly just looked like I was pouring a smoothie in a snowstorm. RIP pour shots.
But hey! At least it made for a decent way to introduce you guys to this strawberry banana oat breakfast smoothie. Always gotta look on the bright side.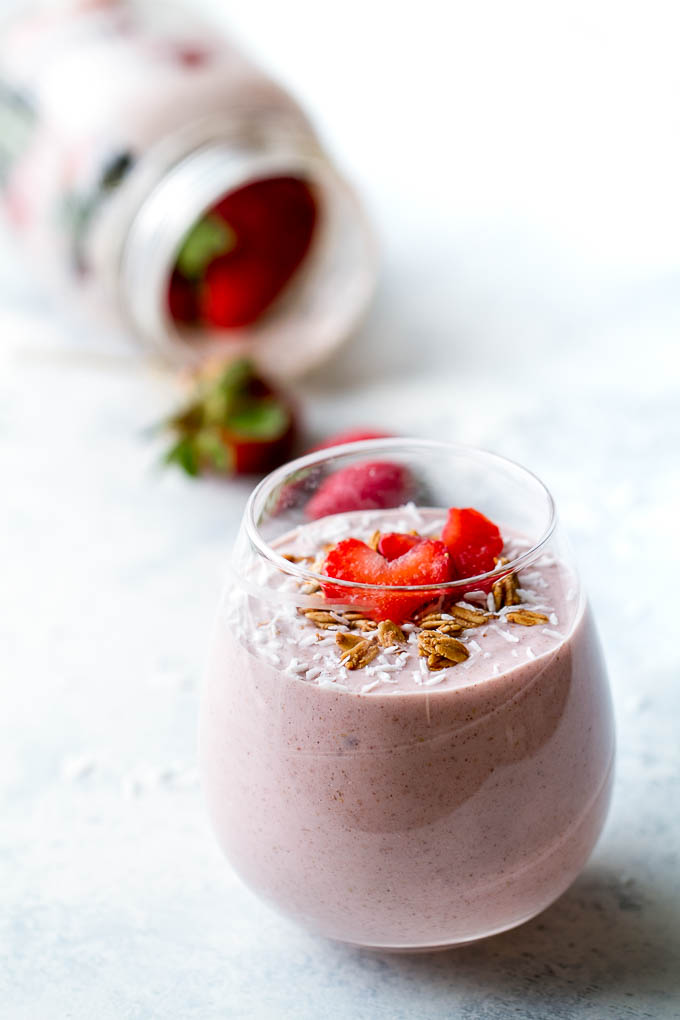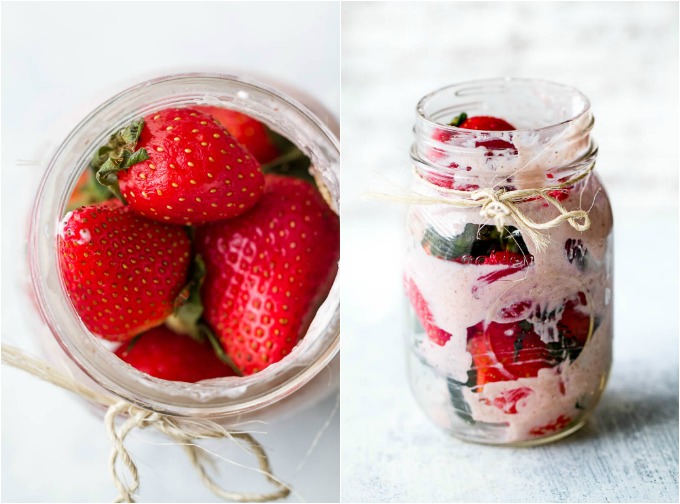 So this smoothie is basically a bowl of strawberry banana oatmeal… only without the cooking.
Instead, you take all the ingredients that you'd normally make your oats with and throw them in the blender to create the thickest, creamiest, stick-to-your-ribs smoothie ever. I'd show you just how thick and creamy with a pour shot, but exposure ate it. Instead, you're just going to have to take my word on it, or look at this post. The camera didn't eat that one.
But I'm serious! If you've never tried putting oats in your smoothie, you don't know what you're missing! I know I switched over to avocado for my last couple of smoothie recipes, but oats are probably still my #1 favourite smoothie add-in. Not only do they give smoothies a super creamy texture, but the extra bulk makes smoothies a lot more filling and substantial, so you're not drinking it and feeling hungry again 20 minutes later. And I guess the yogurt and chia seeds play a part in that too… what with the whole 20g of whole food protein thing.
Happy eating!!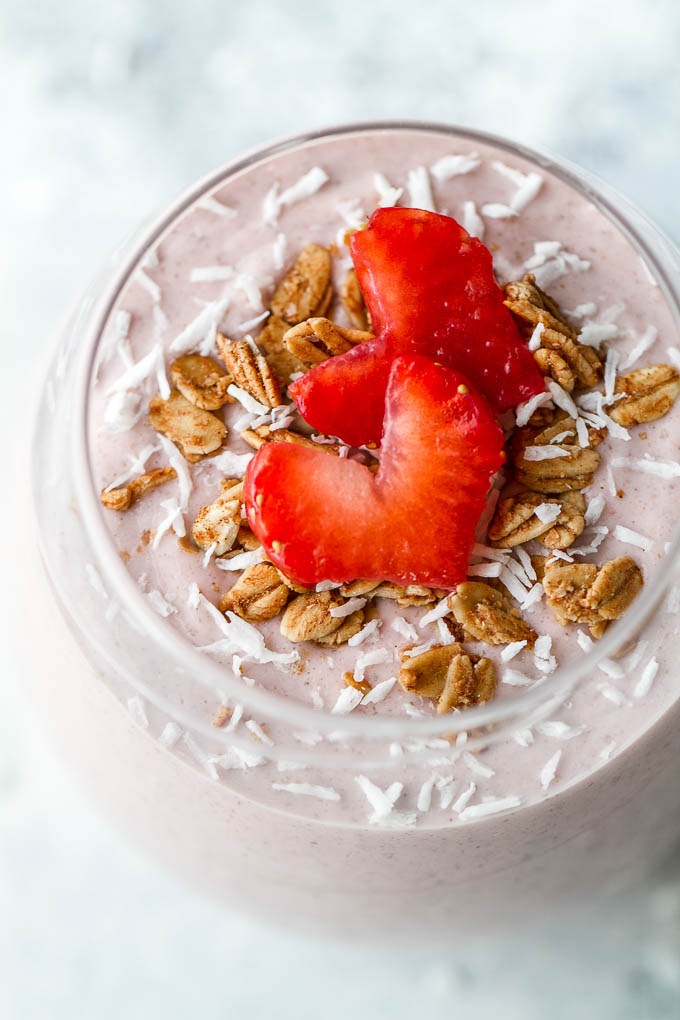 I'd love to know if you make this recipe! Leave a comment and rating down below to let me know what you think, and subscribe to our mailing list to receive new recipes in your inbox!
Print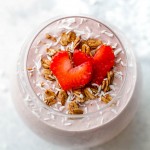 Strawberry Banana Oat Breakfast Smoothie
---
Author:

Total Time:

5 mins

Yield:

1

serving

1

x
1

medium-size (100 g) ripe banana, frozen

1/2 cup

(

115 g

) plain yogurt or non-dairy yogurt

1/4 cup

(

60

ml) unsweetened almond milk

1/3 cup

(

30 g

) rolled oats (gluten-free, if needed)

1 tbsp

(

7g

) chia seeds*

1 cup

(

150 g

) strawberries, fresh or frozen

1

–

2

tsp maple syrup or honey (optional, to taste)
---
Instructions
Add all the ingredients to a high-speed blender in the order listed, and blend on high until a smooth and creamy consistency is reached. You want to make sure to keep blending until the chia seeds have broken down to achieve the smoothest and creamiest texture.
This smoothie can be made the night before and left to thicken in the fridge overnight. It gets quite pudding-y, so feel free to stir in a splash of milk to achieve desired consistency.
Notes
* You can also use ground flax or nut butter.
Keywords: banana, breakfast, gluten-free, Greek yogurt, healthy, oats, recipe, smoothie, strawberry, vegan

Looking for more healthy smoothie recipes? Try one of these!
Blueberry Avocado Smoothie
Black Forest Smoothie
Chocolate Overnight Oatmeal Smoothie
Banana Oat Breakfast Smoothie
Frozen Hot Chocolate Breakfast Smoothie

*Disclosure: Some of the links included in this post may be affiliate links, meaning I'll earn a small commission if you purchase through them, at no additional cost to you. I only recommend products I personally use and believe will add value to my readers. Thank you so much for helping support Spoons!