These pumpkin granola bars are the ultimate snack for fall! Soft, chewy, and bursting with the delicious combination of pumpkin, chocolate, and warming spices!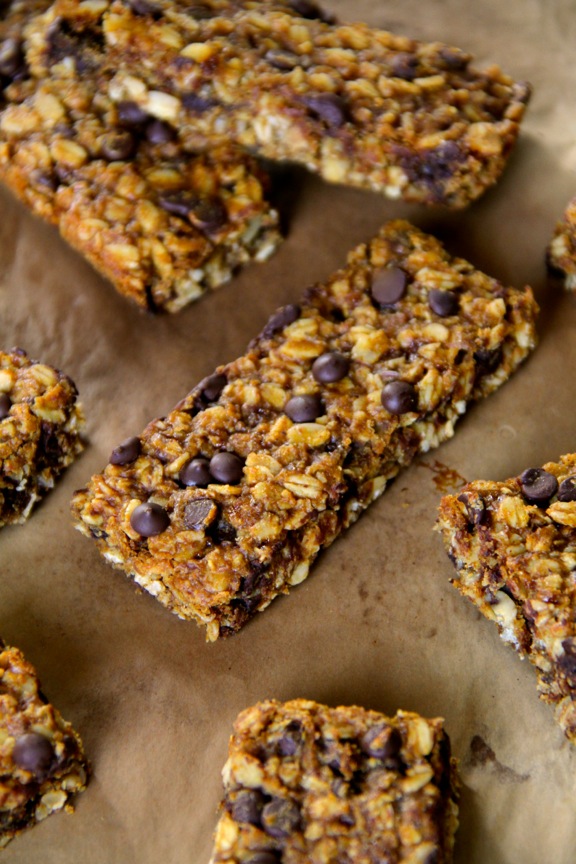 If there's one set of problems I'm not good at dealing with, it's the kind that relate to technology. Throw accidents, natural disasters, relationship drama, or even calculus at me, and I can [usually] maintain a pretty level head, but give me website problems and I'm an absolute mess… which is what I was for a good part of yesterday.
Spoons experienced a considerable influx of traffic starting Wednesday night, which exacerbated some underlying issues that I wasn't aware of beforehand and compromised the stability of the site. Ugh, sorry — I've had my head in the 'techie-talk' clouds for a little too long… What I'm trying to say is that one of my older recipe suddenly got a lot of attention, and the increased traffic put too much of a strain on the server, causing it to crash… repeatedly. I was on the phone with Bluehost (click here to see why I love them!) until about midnight on Wednesday night, and I thought I had everything sorted until the same thing happened on Thursday morning and I woke up to a flurry of texts, emails, and comments saying Spoons was having issues again. Eff.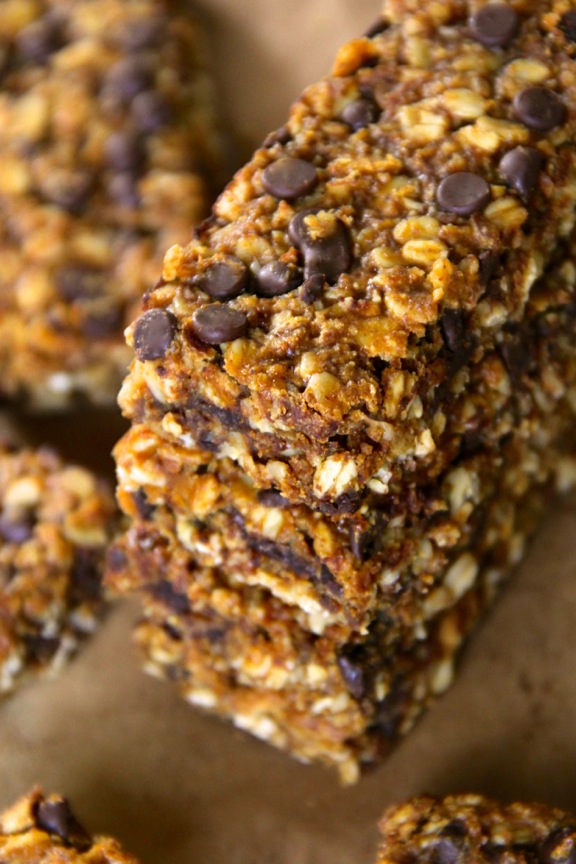 So, picture me at 5 AM, disheveled, half-blind, and barely conscious, jumping out of bed and making the perilous journey to my computer in the dark — it's a miracle I didn't break my toes/nose on any furniture and/or door frames. I might have been a little more relaxed about it had it not been for Thinking Out Loud, but I felt super bad that people were having a hard time linking up and commenting (sorry again!!), so a mad dash it was.
One more phone date with Bluehost and countless frayed nerves later, and you're hopefully reading this post (and actually able to comment on it!) without any issues. If not, then I'm probably still ripping out my hair (if I have any hair left) and wondering if it's considered bad practice to start drinking at 1 PM on a Thursday afternoon… Needless to say, dealing with technology is not my forte, especially when I fix one issue only to have another one pop up as a result. Thankfully, I had these pumpkin granola bars to keep me sane.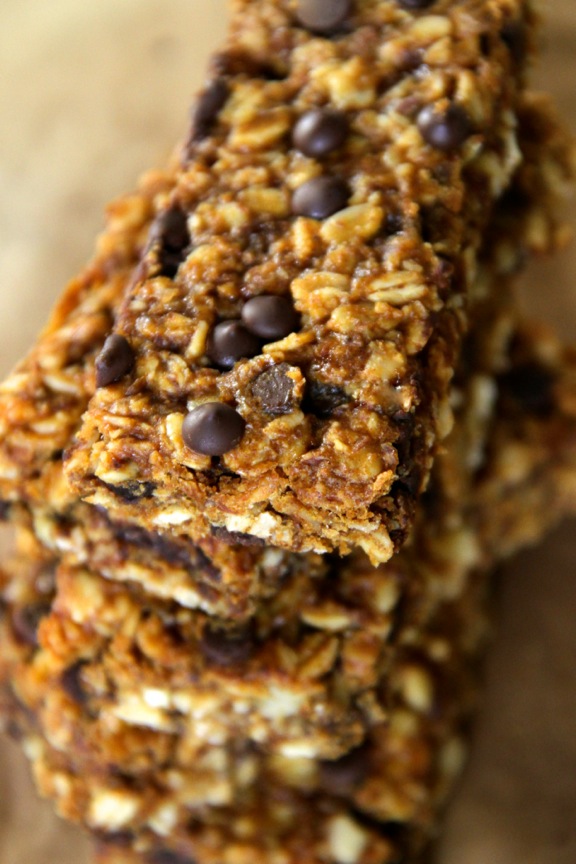 How's that for a seamless segue? And why does segue look completely different from the way it sounds in my head? Nevermind. The point is, these pumpkin granola bars were what kept me from going over the deep end while dealing with wonky plugins, updates, caches, and site optimization issues.
I wouldn't say I'm an emotional eater, but I'm definitely a nervous snacker. That, in addition to twirling my hair (only on the left side), biting the inside of my cheek (on both sides), and constantly fidgeting to the point where I look like I'm having a seizure, help keep me calm when shiiiiiiitake mushrooms hit the proverbial fan. I think I remember reading somewhere that eating calms us down because our body figures that if we have an opportunity to eat, the threat to our lives must not be that severe (read: we're not experiencing famine or getting chased by something that wants to make a meal out of us).
Whatever the case may be, it works — 3/4 of a pan of pumpkin granola bars and one functioning site later, and I'm happy as a clam… But I guess that's to be expected when you're enjoying a soft and chewy granola bar that's loaded with oats, pumpkin, chocolate, and warming spices. These may just be my newest favourite snack for fall.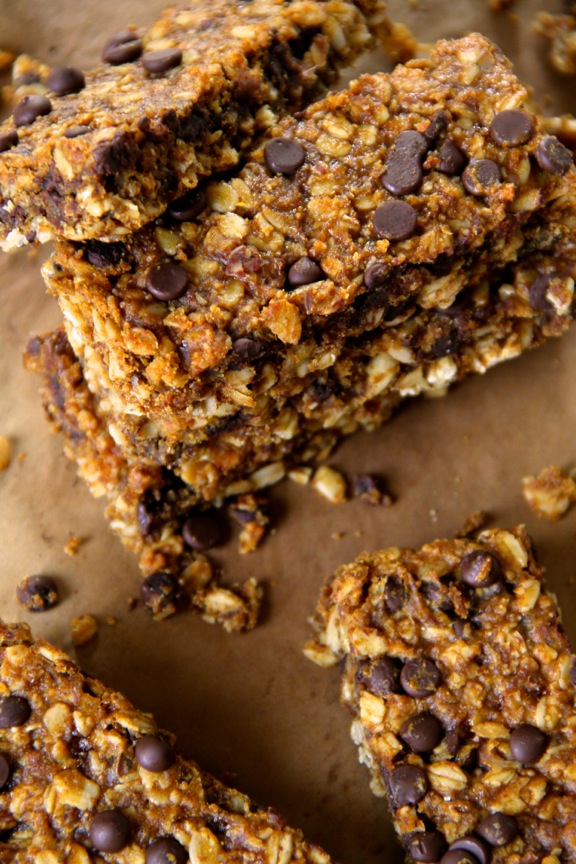 I'd love to know if you make this (or any!) recipe! Tag @runwithspoons on Instagram and Twitter, and be sure to subscribe to our mailing list to receive more healthy and delicious recipes straight to your inbox!
Print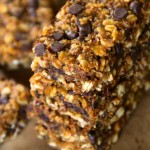 Soft and Chewy Pumpkin Granola Bars
---
Author:

Total Time:

30 mins

Yield:

10

bars

1

x
2 cups

(

160 g

) rolled oats

2 tbsp

(

14 g

) ground flax

1 tsp

ground cinnamon

1/2 tsp

ground ginger

1/4 tsp

ground cloves

1/4 tsp

ground nutmeg

1/4 tsp

salt

1/2 cup

(

120 g

) canned pumpkin

1/4 cup

(

64 g

) creamy almond butter

1/4 cup

(

80 g

) brown rice syrup*

2 tbsp

(

25 g

) coconut palm sugar

1 tsp

vanilla extract

1/3 cup

(

60 g

) chocolate chips
---
Instructions
Preheat oven to 350F (176C) and prepare an 8 x 8 (20 x 20 cm) baking pan by lining it with a sheet of parchment paper, leaving a few inches of overhang on the sides to allow for easy removal. Set aside.
In a large mixing bowl, combine the oats, flax, spices, and salt. Add the pumpkin, almond butter, brown rice syrup, sugar, and vanilla, mixing until fully combined. Finally, fold in the chocolate chips.
Transfer the dough to your prepared baking pan and use a greased spatula or your hands to spread it evenly, pressing down firmly.
Bake for 18 – 20 minutes, until the edges begin to turn golden brown.
Remove from oven and let cool in pan for ~20 minutes before cutting into bars. Store the bars in an airtight container for up to 5 days.
Notes
* You can also use honey if you don't need these to be vegan.
Prep Time:

10 mins

Cook Time:

20 mins
Keywords: chocolate chip pumpkin granola bar, gluten-free granola bar, pumpkin granola bar, soft and chewy granola bar

Looking for more healthy bar recipes? Try one of these!
Soft and Chewy Protein Granola Bars
Gingerbread Pumpkin Bars
Chocolate Covered Raspberry Oat Bars