These quick and easy no-bake s'mores truffles combine the delicious flavours of marshmallows, graham crackers, and chocolate into one melt-in-your-mouth bite-sized dessert! Easily adaptable to suit gluten-free and vegan diets.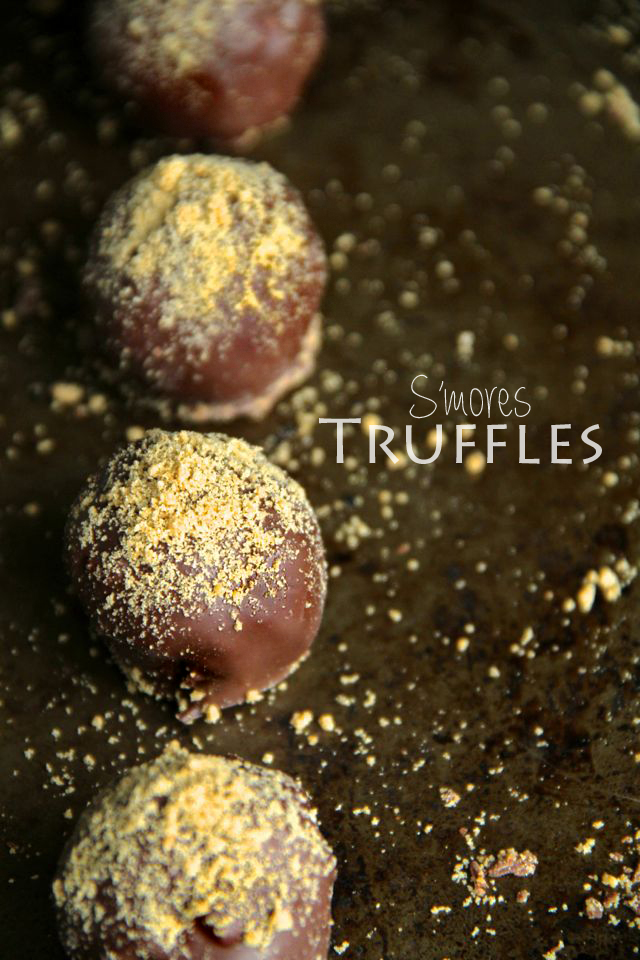 I don't mean to toot my own horn (read: I totally do), but I roast a mean marshmallow. Brown and crispy on the outside. Ooey and gooey on the inside. It's a work of art, and one that I've been perfecting for years and years.
See, I was always that kid at the campfire who was in full-blown concentration mode — sitting there quietly and carefully rotating the stick just so to ensure proper heat distribution, while all the other kids went about setting their marshmallows on fire and haphazardly flinging them at each other. I've always had the biggest sweet tooth, and there was no way I could justify ruining a perfectly good marshmallow by burning it to a blackened crisp. No way. I wanted the silky, sticky reward of a job well done.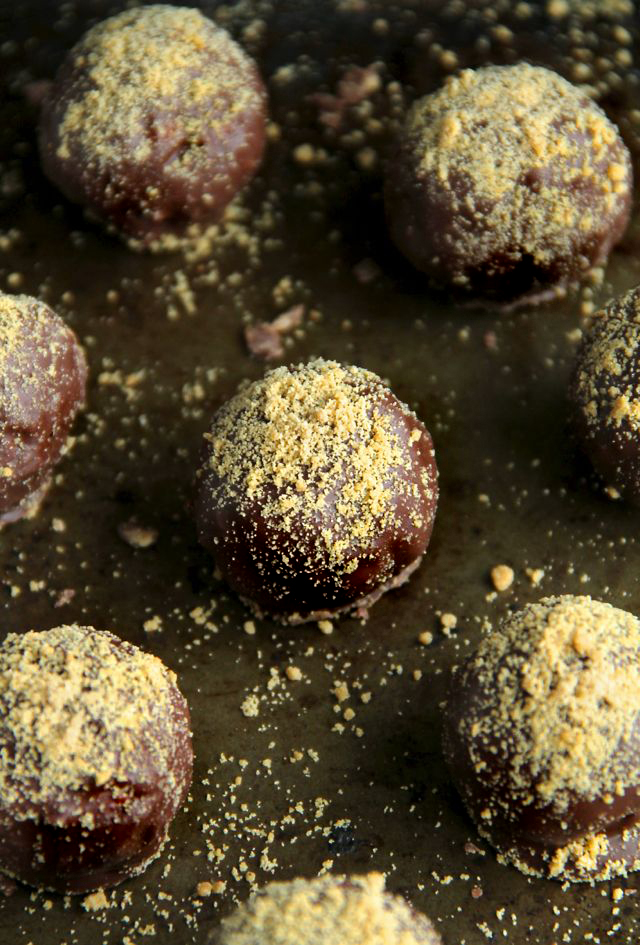 And when I wasn't away at camp? I was roasting marshmallows over the gas stove at my parents' house using a metal shish kabob skewer. Desperate times, friends. Desperate times. But what was a girl to do when she needed a fix and couldn't go starting fires in her backyard without her neighbours calling the fire department?
I suppose I could have just eaten a regular old marshmallow straight up, but I've never been a big fan of the raw ones… especially after attempting the Chubby Bunny challenge with a friend on a random summer afternoon. The idea of putting an untoasted marshmallow into my mouth continues to skeeve me out to this day.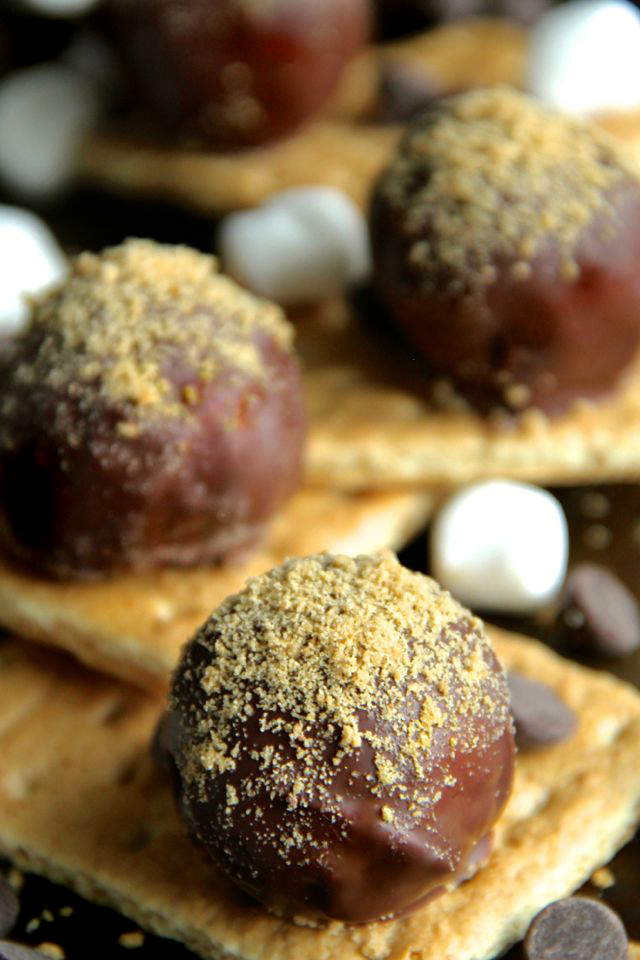 And you know what else I've never been a fan of? S'mores. I know, I know. I'm crazy. I've heard it all before. But I honestly don't care for them very much. I like the idea of combining marshmallows, chocolate, and graham crackers, but I'm not a big fan of the execution… which is why these s'mores truffles are my idea of perfection.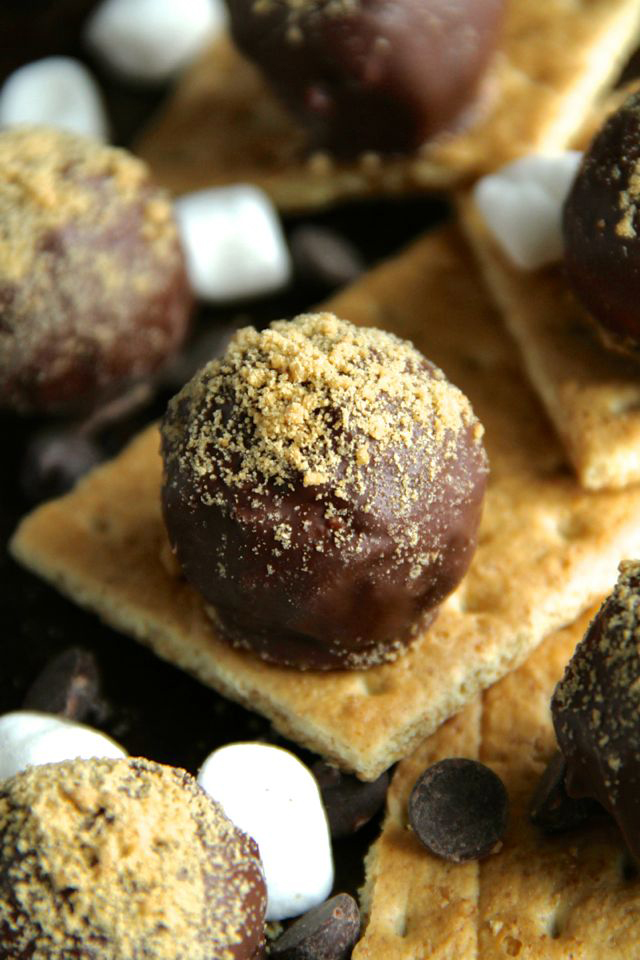 They've got the delicious flavour trifecta of s'mores in a melt-in-your-mouth truffle that you can whip up ahead of time and grab whenever the mood strikes — no roasting required.
In fact, roasting very much discouraged. I tried using melted marshmallows in this recipe (twice) and ended up with a sticky mass that seemed to work at first blush but wasn't all that pleasant after it set. Which actually works out better because it means one less step and a whole lot less mess.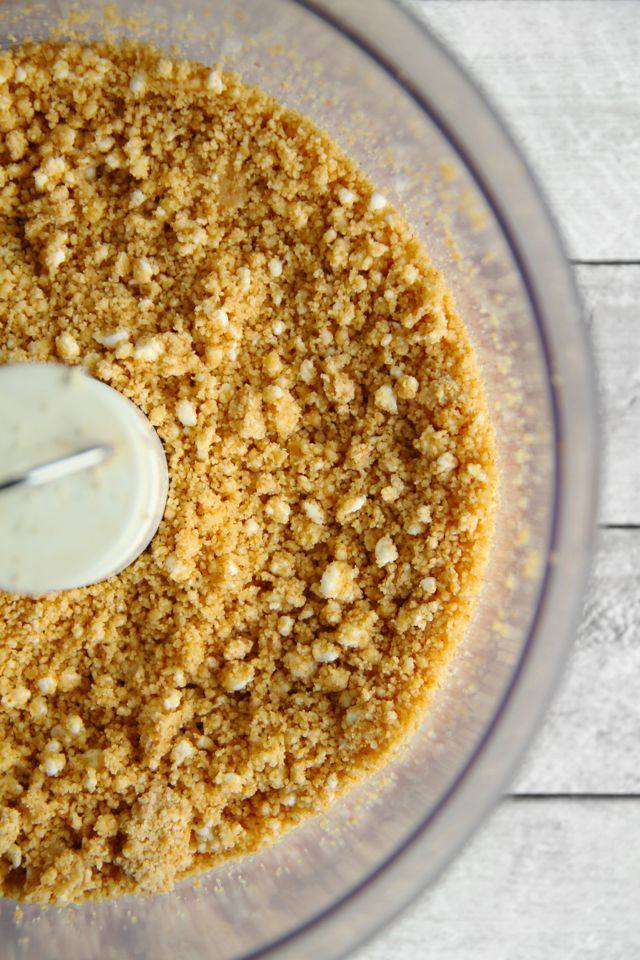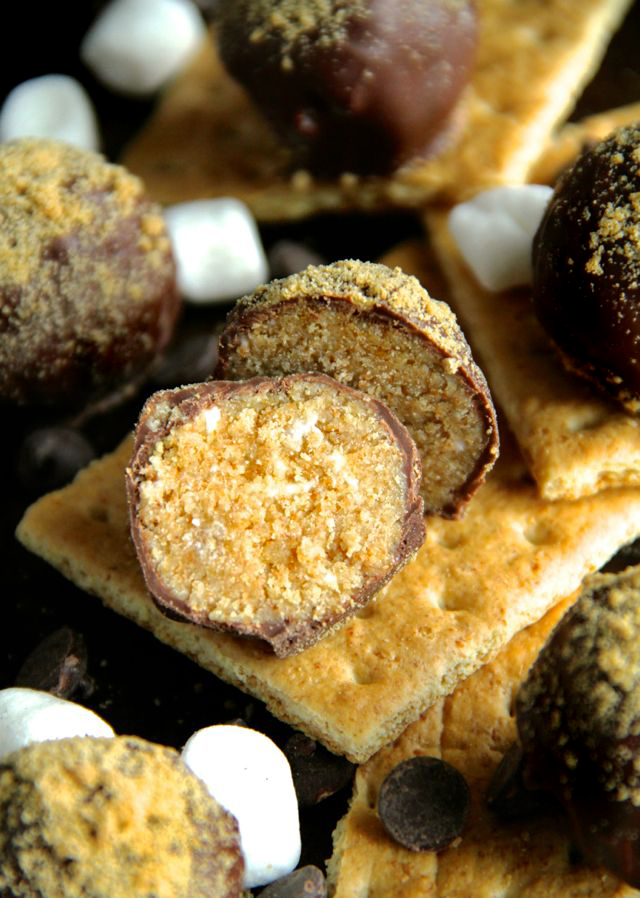 All you need to do is toss some [mini] mallows into your food processor with the rest of the ingredients and you're good to go — the cream cheese not only softens the marshmallows right up, but it also melds all the flavours into one irresistibly creamy ball of amazingness.
And the best part is that you can totally modify these based on your dietary preferences. Gluten-free? Use gluten-free graham crackers. Vegan? Use vegan marshmallows, cream cheese, and chocolate. With all the substitutions and alternatives out there, there's no reason for anyone not to feel the love. Happy Valentine's!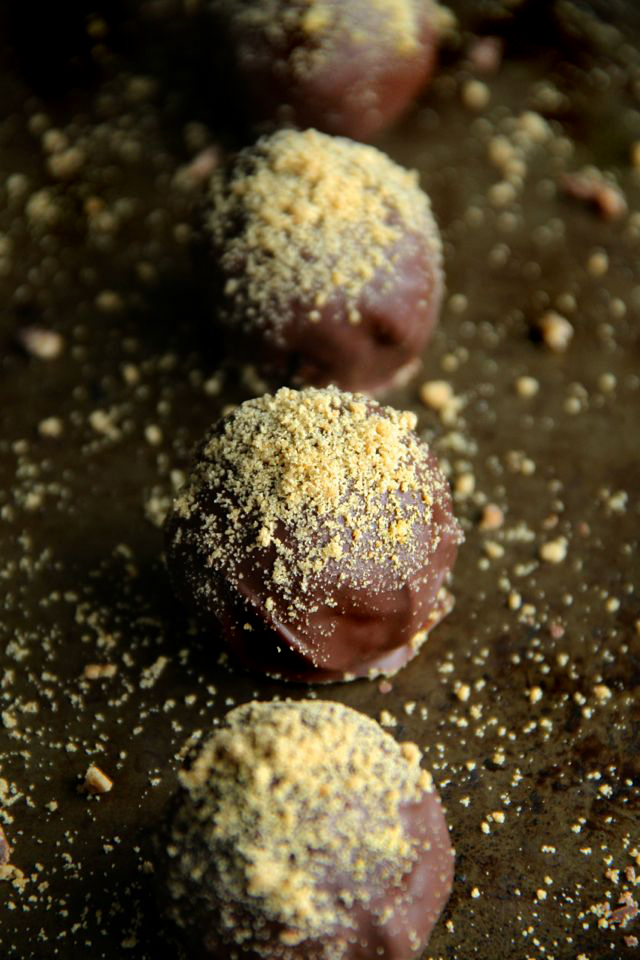 I'd love to know if you make this (or any!) recipe! Tag @runwithspoons on Instagram and Twitter, and be sure to subscribe to our mailing list to receive more healthy and delicious recipes straight to your inbox!
Print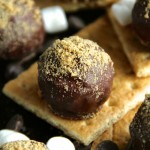 S'mores Truffles
---
Author:

Total Time:

21 mins

Yield:

16

truffles

1

x
1.5 cups

graham cracker crumbs

3.5 oz

cream cheese, softened to room temperature

1

heaping cup of mini marshmallows

1 cup

chocolate chips or chocolate chunks

1 tsp

. coconut oil
extra graham cracker crumbs for sprinkling
---
Instructions
Line a baking sheet with parchment paper and set aside.
Add graham crackers to the bowl of a food processor or blender and process until they become very fine crumbs. Add cream cheese and continue processing until fully combined. Finally, add marshmallows and pulse until marshmallows are broken down into small bits and evenly distributed in the dough. Dough should be moist enough to hold together when you press it with warm hands. If it's too crumbly, add an additional spoonful of cream cheese.
Using a tablespoon, scoop out dough and use your hands to shape it into 1-inch balls. Place balls onto parchment lined baking sheet and repeat until all the dough has been used up. Set in freezer to set.
To prepare the chocolate coating, melt chocolate and coconut oil in the microwave or over a double broiler, stirring periodically to ensure no clumps remain. Using a toothpick, dip each ball into melted chocolate, gently tapping side of bowl to remove any excess. Place back onto parchment-lined baking sheet and immediately top with more graham cracker crumbs. Repeat until all truffles have been coated.
Refrigerate for ~15 minutes, or until the chocolate has set. Store truffles in an airtight container in the fridge for up to 2 weeks, or freeze for up to 1 month.
Prep Time:

20 mins

Cook Time:

1 min
Keywords: marshmallows, recipe, roasting marshmallows, s'mores, s'mores truffles, truffles
Looking for more delicious truffle recipes? Try one of these!
Almond Butter and Pretzel Truffles
Vegan Cookie Dough Truffles
Gluten-free Snickerdoodle Truffles