A Pumpkin Snickerdoodle Mug Cake! Just 5 minutes and a handful of healthy ingredients will give you this delicious gluten-free and paleo snack. Perfect when you're craving something muffin-y but don't want to make an entire batch.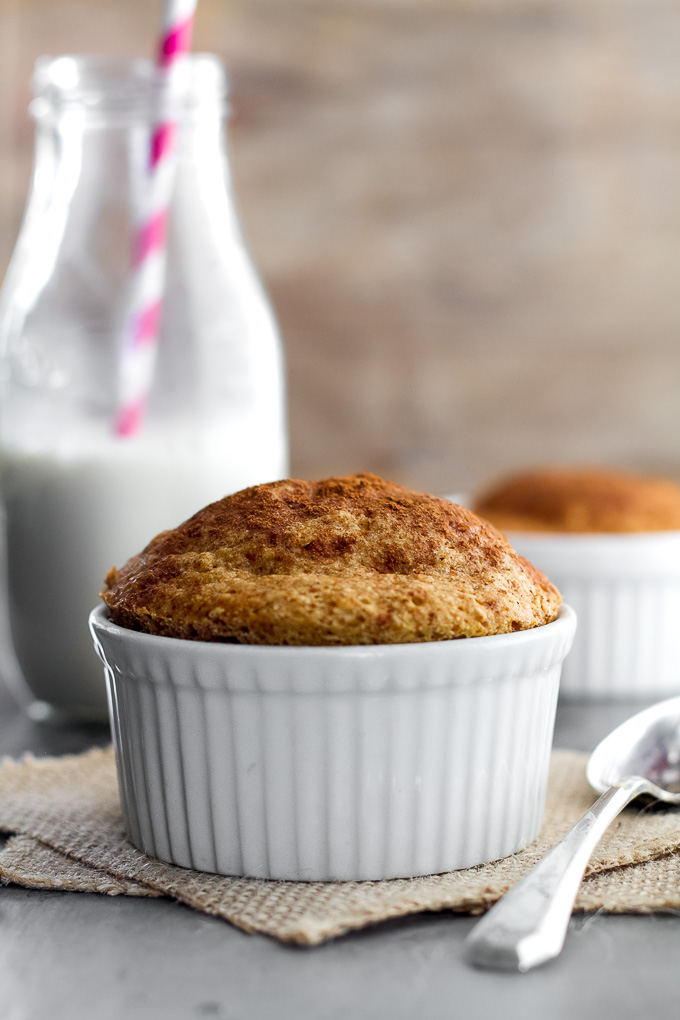 Hello and welcome to day #2,643 of Amanda's oven-less adventures! And by day #2,643 I actually mean day 11, but who's counting? (read: I am. obsessively.)
Have I mentioned that I miss roasted potatoes like crazy? And that I suddenly can't stop thinking up all these muffin varieties that I want to put to the test? I took my oven for granted, man. Worked her hard and never even let her self-clean. I'm sorry!
On the bright side, the baking drought is [hopefully] coming to an end because my new oven is [hopefully] coming tomorrow *insert happy dance >here<*. Fingers crossed that it just slides right in to the old oven's place and works without any of those hitches that always seem to come with renovations. Not that this is a renovation of any sort, but you know what I'm saying. Something always comes up.
But we're thinking happy thoughts here, and it hasn't been all that bad, right? I mean, the stove gave us applesauce; the "Waffle Maker" gave us waffles; and now the microwave is giving us a pumpkin snickerdoodle mug cake…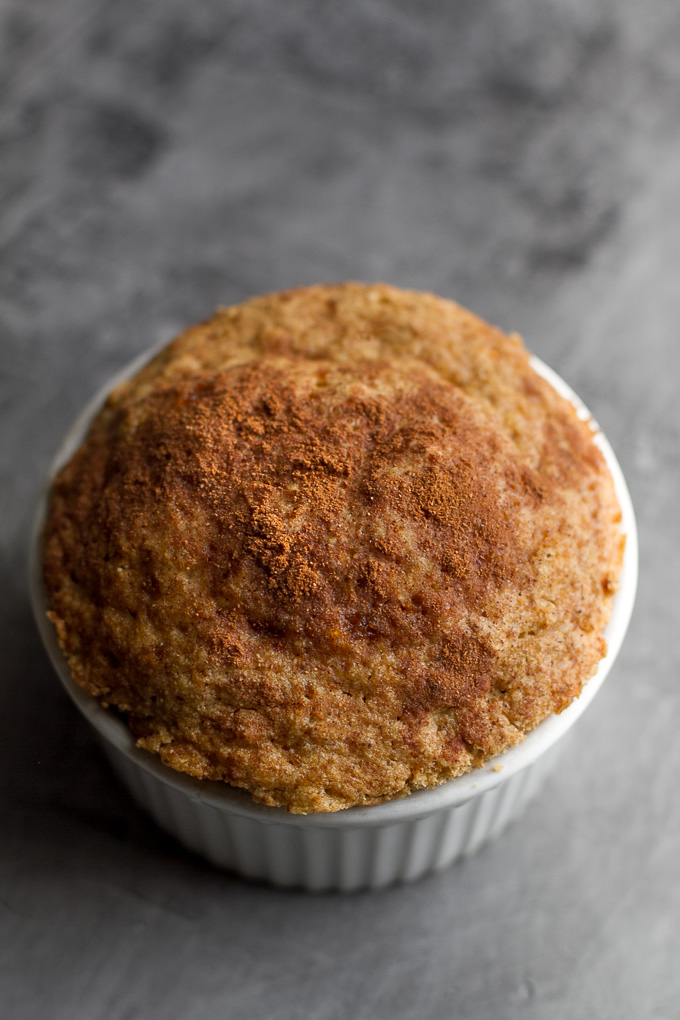 I'm super glad the oven is coming back, though, because I got it in my head to only post recipes with completely different cooking methods while going through this ordeal, and I'm kind of running out of cooking methods. I don't have a slow cooker or a grill, so the next logical step would probably be to head outside, light a fire, and roast something over it.
Key word logical. I never said it was actually practical 😜
Thankfully, I don't think it'll come to that, and today's quick & easy recipe won't have you busting out the matches and firewood. Unless you want to enjoy it by the fire with a cup of hot chocolate or something. That's totally acceptable.
And totally perfect since this mug cake actually has the light & fluffy texture of a muffin…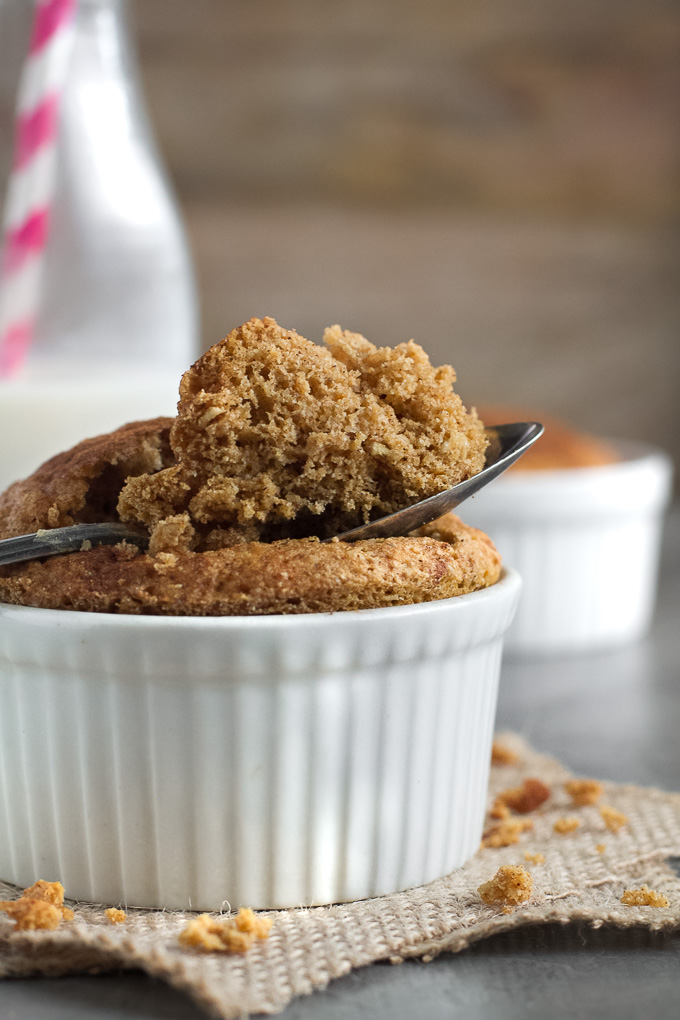 … which I NEED since I'm having some serious baked good withdrawals over here. Expect nothing but muffins and quick breads for like a month after I get my oven back.
Kidding. Kind of.
Until then, we've got this pumpkin snickerdoodle (obsessed) mug cake that's perfect for snacking on when you're craving something muffin-y but don't want to go through the process of making an entire batch.
This guy has just a handful of super simple ingredients and takes all of 5 minutes to put together. You can make it in the oven if you're lucky enough to have one, and can make it paleo by subbing out the oats with more almond flour. Either way, it makes a deliciously healthy gluten-free snack.
Happy eating!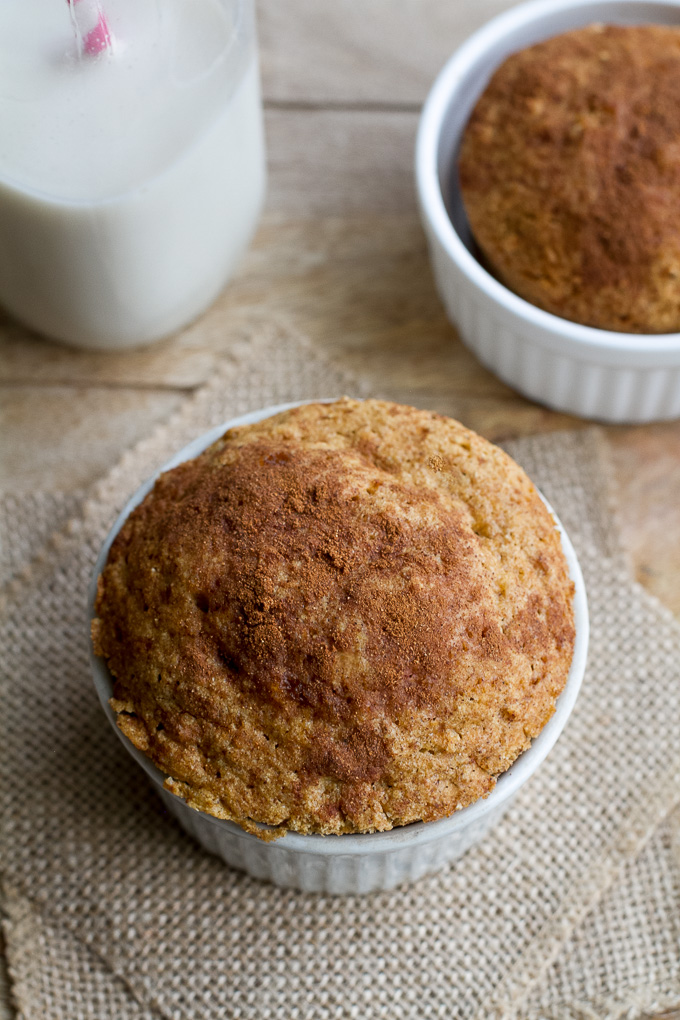 I'd love to know if you make this recipe! Leave a comment and rating down below to let me know what you think, and subscribe to our mailing list to receive new recipes in your inbox!
Print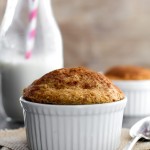 Pumpkin Snickerdoodle Mug Cake
---
Author:

Total Time:

7 mins

Yield:

1

serving

1

x
---
Instructions
Add the coconut flour, almond flour, oats, sugar, cinnamon, and baking powder to a microwave-safe mug or ramekin, mixing until all the dry ingredients are well combined.
Add the egg and pumpkin, stirring gently until no clumps remain and all the ingredients are fully incorporated. Sprinkle the top with a little bit of extra cinnamon and sugar.
Microwave on high for 2½ to 3 minutes, depending on microwave strength and the size of your dish.***
Carefully remove from the microwave (it's hot!) and enjoy!
Notes
* You can sub this for another tablespoon of almond flour if you want to make this grain-free and paleo. ** You can also use brown or cane sugar. *** You can also make this the oven by preheating your oven to 350F (176C) and baking for 15 – 20 minutes, until desired consistency is reached.
Prep Time:

5 mins

Cook Time:

2 mins
Keywords: easy, gluten-free, healthy, mug cake, paleo, pumpkin, quick, recipe, snack, snickerdoodle

Looking for more easy pumpkin recipes? Try one of these!
No Bake Pumpkin Snickerdoodle Bites
Flourless Pumpkin Brownies
Fudgy Flourless Pumpkin Pie Bars
One Bowl Greek Yogurt Pumpkin Bread
Flourless Pumpkin Pie Muffins

*Disclosure: Some of the links included in this post may be affiliate links, meaning I'll earn a small commission if you purchase through them, at no additional cost to you. I only recommend products I personally use and believe will add value to my readers. Thank you so much for helping support Spoons!