Creamy and refreshing, this orange creamsicle overnight oatmeal smoothie takes your morning "bowl" of oats to a whole new level of deliciousness! Vegan, refined-sugar-free, and packed with vitamins, it makes a healthy and delicious breakfast or snack and tastes just like a drinkable Creamsicle!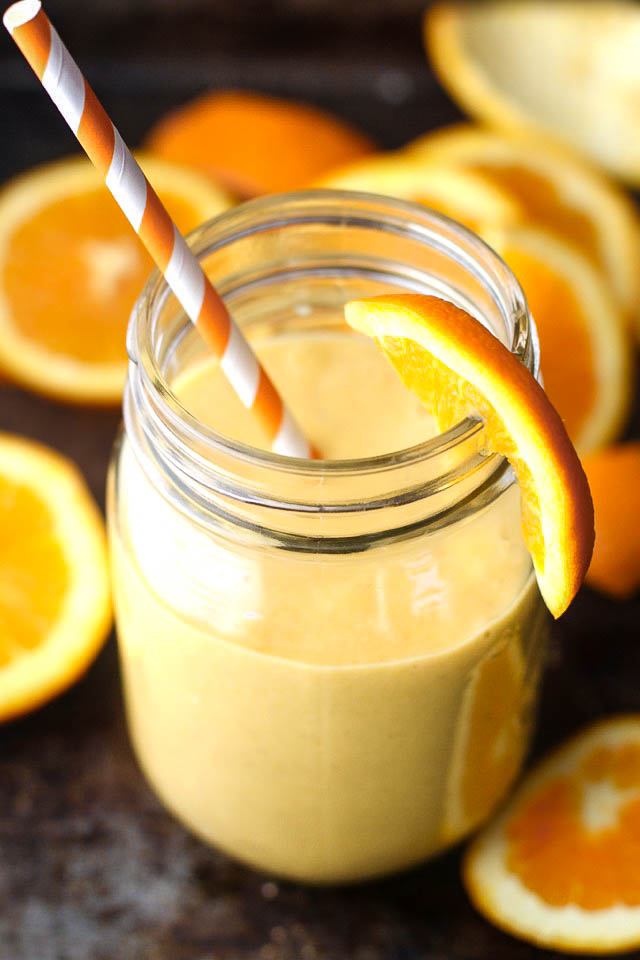 Whenever I think of oranges (or any citrus fruit, really), my mouth starts to water. Heck, it's doing it right now just from writing this post.
The whole thing makes me feel like one of Pavlov's dogs… only without the bell. Although I'm sure I'd start salivating to a bell if it was paired with the smell of citrus often enough.
Gah! Must.stop.drooling. But staring at pictures like this one definitely isn't helping…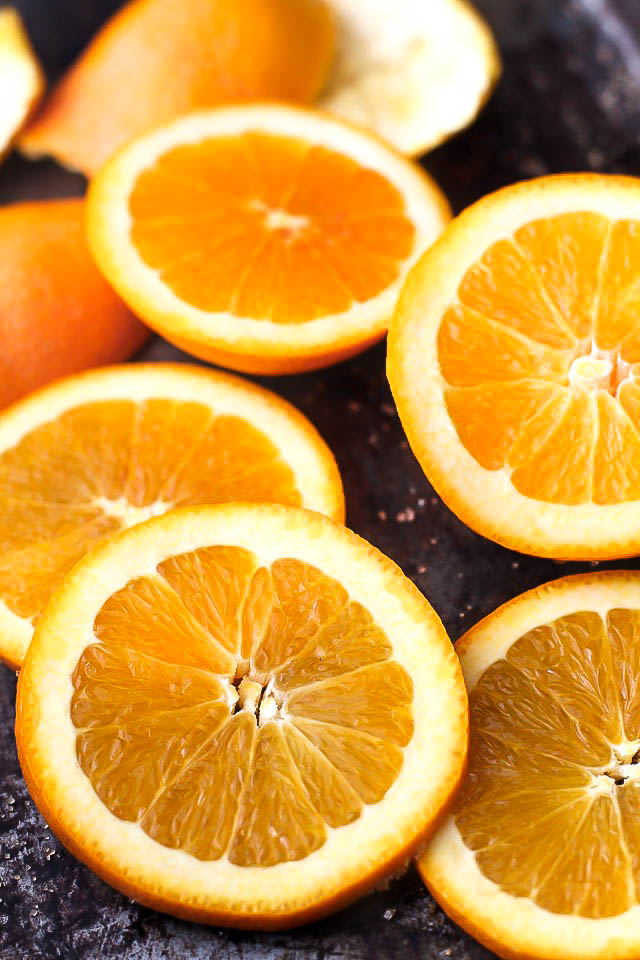 Okay. Let's talk about something completely un-citrusy.
Let's talk abouuuuuuuut… Ice cream! Why? Because Creamsicle = ice cream = childhood = love.
That being said, I don't remember being overly crazy about Creamsicles as a child. I don't remember being overly crazy about Fudgsicles either. I was Team… err… what the heck are those ice cream bars called where it's the soft vanilla ice cream surrounded by a thin layer of chocolate?
Hold on. Let me Google this *insert Jeopardy music here.*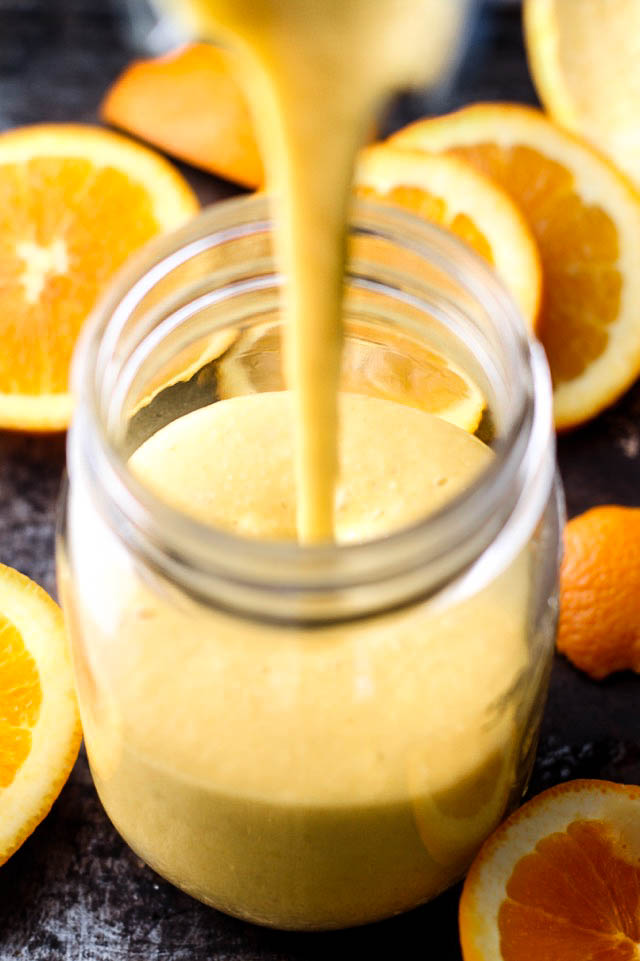 Okay. They're literally called "vanilla ice cream bars." How un-original. But I digress.
I was Team Vanilla Ice Cream Bars, and if memory serves, it was because Fudgesicles weren't chocolatey enough and Creamsicles tasted fake. Yeah. Apparently even my 8-year old self was a bit of a food snob. But I digress. Again.
We're going the Creamsicle route for today's recipe, only we're doing it right – no fake stuff allowed. Just 5 wholesome ingredients guaranteed to rock your socks off. Possibly even make you drool.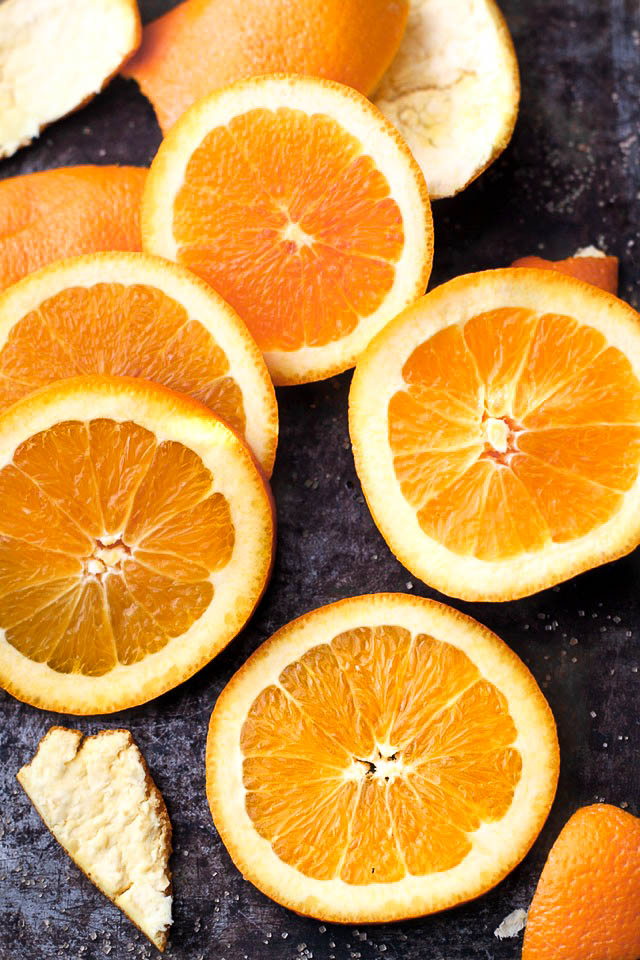 And if the idea of oats and oranges sounds strange, I totally understand where you're coming from. I was a little iffy about the combination myself, which is why I'm super thankful for friends like these who gently "hint, hint, nudge, nudged" me in the right direction. And now I'm passing the favour along to you guys!
So here's why this works, and why it legit tastes Creamsicle-y: the orange adds the flavour and sweetness, the oats (and protein powder if you go that route) add the creaminess, and the banana does a little bit of both.
It's magical. It's refreshing. And it's oh-so-very-satisfying. Also delicious. And easy. And probably a bunch of other keywords that I don't care to force in.
Happy eating!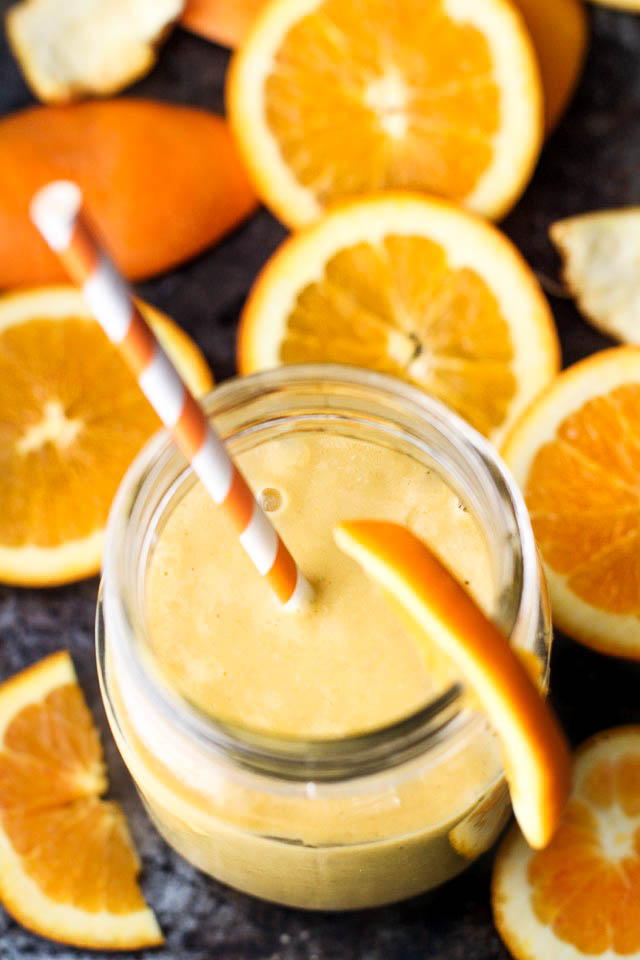 I'd love to know if you make this recipe! Leave a comment and rating down below to let me know what you think, and subscribe to our mailing list to receive new recipes in your inbox!
Print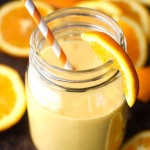 Orange Creamsicle Oatmeal Smoothie
---
Author:

Total Time:

3 hours 5 mins

Yield:

1

serving

1

x
1/3 cup

(

30 g

) rolled oats**

1/2 cup

(

120

ml) pure orange juice***

1

medium-size (~150 g) orange, peeled and sliced

1/2 tsp

vanilla extract

1

medium-size (100 g) ripe banana, frozen

1

–

2

tsp sweetener (maple syrup, cane sugar, etc.)****
---
Instructions
The night before, add the oats, orange juice, orange slices, and vanilla to the bowl of your blender and give it a stir to ensure that everything is well combined. Cover and place in the fridge for at least 3 hours, preferably overnight.
The next morning, remove your blender bowl from the fridge and add the frozen banana chunks. Blend on high until a smooth and creamy consistency is reached, adding a splash of juice if the smoothie is too thick for your liking. Transfer it to a bowl or glass, add desired toppings, and enjoy!
Notes
* Cook time refers to chilling time. ** Be sure to use certified gluten-free oats if you need this to be gluten-free. You can also reduce the oats by half (about 3 Tbsp) and add a scoop of your favourite protein powder. *** You could also sub this out for some unsweetened almond milk. The orange flavour wouldn't be as strong, but it would get a little creamier. **** This smoothie isn't overly sweet, and depending on how ripe your banana is, you may want to add a teaspoon or two of additional sweetener.
Prep Time:

5 mins

Cook Time:

3 hours
Keywords: breakfast, creamsicle, creamsicle smoothie, gluten-free, healthy, oatmeal smoothie, oats, orange, recipe, smoothie, snack, vegan

Looking for more oatmeal smoothie recipes? Try one of these!
Banana Cream Pie Overnight Oatmeal Smoothie
Caramel Apple Overnight Oatmeal Smoothie
Strawberry Shortcake Overnight Oatmeal Smoothie
Chocolate Overnight Oatmeal Smoothie
Banana Latte Overnight Oatmeal Smoothie