One bowl pumpkin banana muffins to help you use up overripe bananas and leftover canned pumpkin! Not quite pumpkin muffins, not quite banana muffins, they combine hints of both to create healthy muffins that are naturally sweetened and loaded with flavour.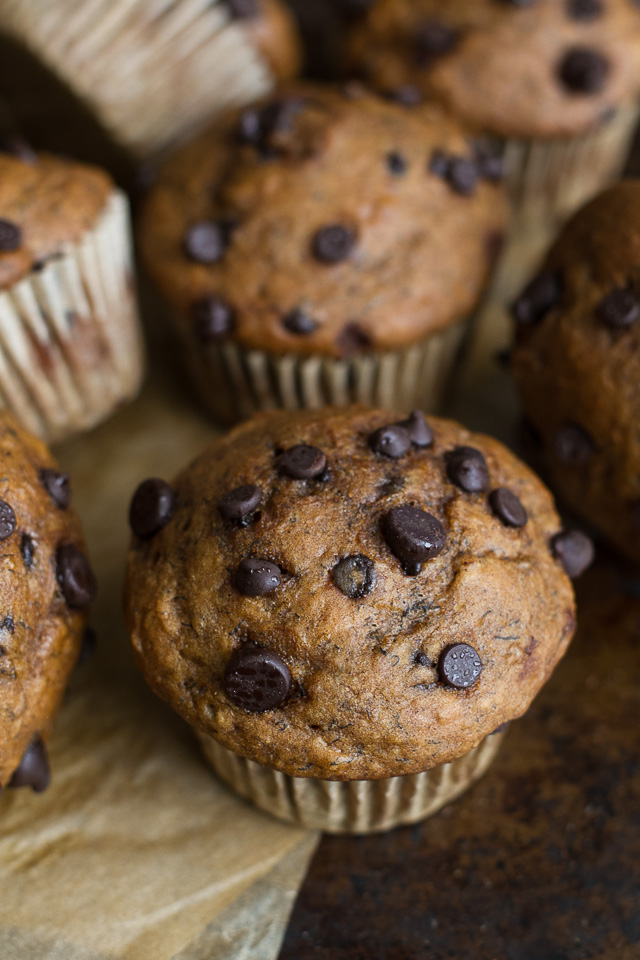 What do you do when you have two overripe bananas and a half-empty can of pumpkin that need to be used up, stat? The former because they need to be liberated from the relentless onslaught of the fruit fly army (seriously, summer is over; go away!), and the latter because it also requires liberation… albeit from the oppressive confines of a BPA-free can. It's tragic stuff, really.
Thankfully, there's an answer to all of life's little problems, and the answer to this one is: eat one banana and use the two surviving bananas… err… items to whip up a batch of these pumpkin banana muffins…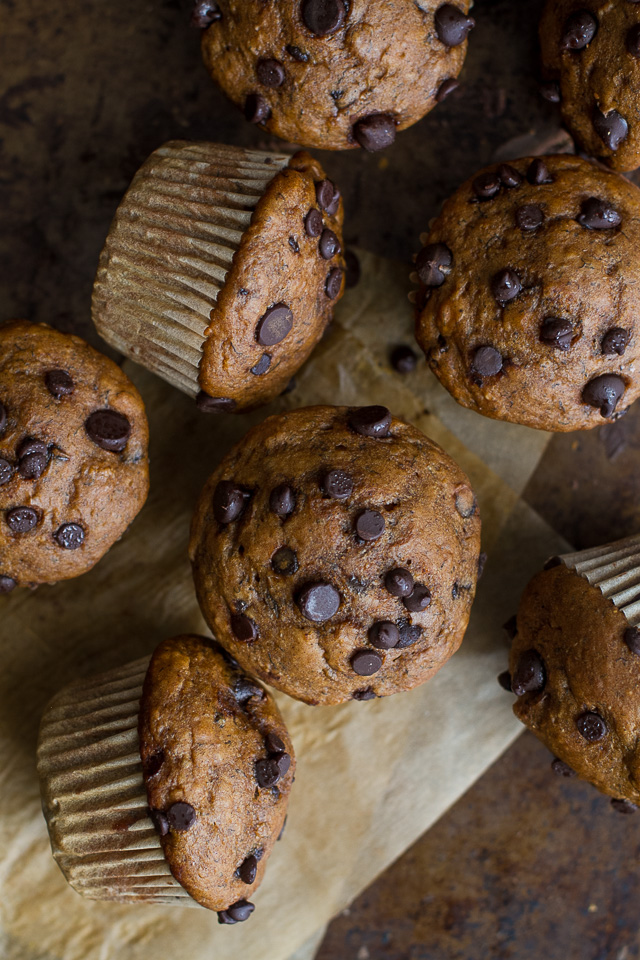 See? Problem(s) solved.
No more fruit fly fodder sitting on your counter, and no more leftover pumpkin taunting you from the depths of your fridge. Use me. Use me. Use me before I go bad and start sprouting little white colonies on my otherwise gloopy orange surface.
The struggle is real, friends, and it's all because canned pumpkin* doesn't come in the right sizes. Like why can't they start selling different sized cans so you can buy as much as you need without having to worry about having a bunch of extra squash hanging around after everything is said and done.
Need half a cup? Here's a half-cup sized can for you. 1 cup? We have that too! None of this 15 oz. nonsense where you use less than half and need to figure out how to get rid of the rest before it starts colonizing.
But I digress. Here's a way to use up a 1/4 cup of that pumpkin in case you find yourself in a similar predicament.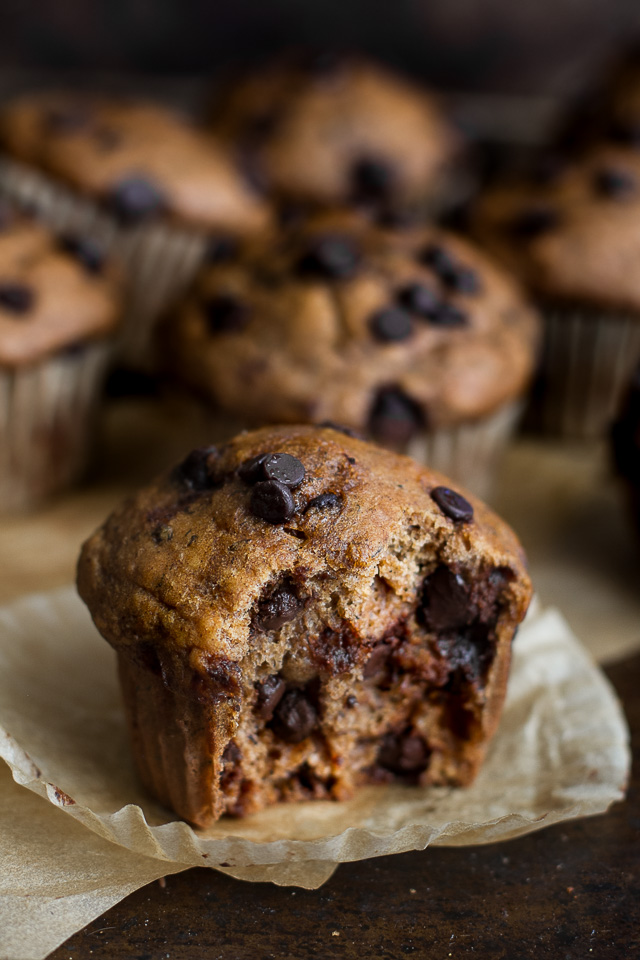 Not quite pumpkin muffins, not quite banana muffins, these guys combine hints of both to create soft and tender muffins that are subtly sweet, subtly spiced, and LOADED with an intoxicatingly complex flavour.
You can definitely tell the banana is in there, but because we're only using one banana here, the flavour isn't as strong as it would be in a pure banana bread. The pumpkin doesn't really have much of a flavour, but it adds a nice earthy depth (is that a thing?) that pairs perfectly with the warming spices.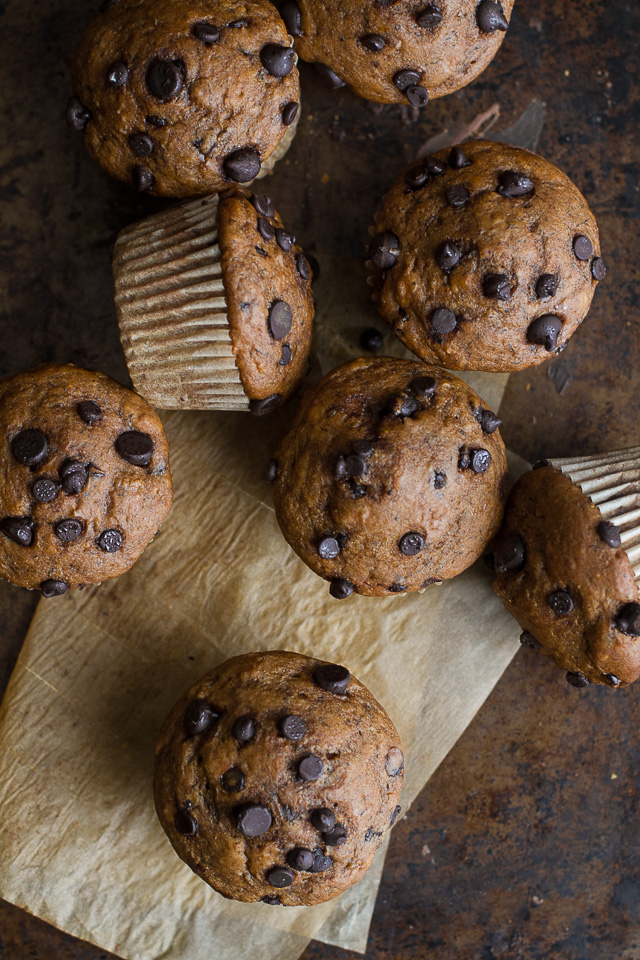 And to add to their outstanding resume, we have the fact that these muffins are made without butter or oil and only 6 tablespoons of added sugar. I used coconut sugar* because it's a lot less refined, but you could also use brown sugar in a pinch. You might even be able to get away with using maple syrup or honey, but I haven't tried that myself so I don't want to say for sure that it works.
So if you find yourself with some overripe bananas and leftover canned pumpkin on hand, grab a big bowl (you only need one), toss in all the ingredients below, and whip yourself up a batch of these jumbo pumpkin banana muffins.
Happy eating!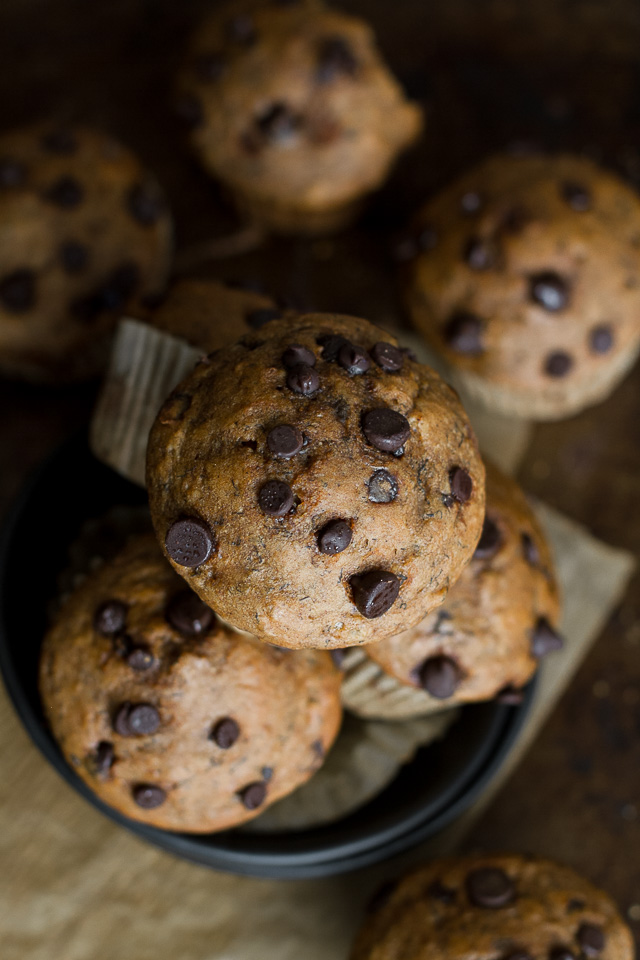 I'd love to know if you make this recipe! Leave a comment and rating down below to let me know what you think, and subscribe to our mailing list to receive new recipes in your inbox!
Print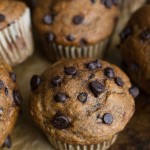 One Bowl Pumpkin Banana Muffins
---
Author:

Total Time:

27 mins

Yield:

9

muffins

1

x
2

large eggs

1

medium-size ripe banana, mashed (

100 g

or

1/2 cup

)

1/4 cup

(

60 g

) canned pumpkin puree

1/4 cup

(

55 g

) plain 2% Greek yogurt

6 Tbsp

(

75 g

) coconut palm sugar*

1 tsp

vanilla extract

1 1/2 tsp

ground cinnamon

1/4 tsp

ground nutmeg

1 tsp

baking soda

1/4 tsp

salt

1 1/4 cup

(

150 g

) whole wheat pastry flour**

1/3 cup

(

60 g

) chocolate chips
---
Instructions
Preheat your oven to 350ºF (176ºC), and prepare a muffin pan by spraying the cavities with cooking spray or lining them with parchment paper liners. Set aside.
In a large mixing bowl, lightly beat the eggs until the yolks break apart. Whisk in the banana, pumpkin, yogurt, sugar, vanilla, spices, baking soda, and salt, mixing until smooth.
Slowly spoon in the flour and gently stir it in until just combined. Fold in the chocolate chips.
Divide the batter evenly among the 9 muffin cups, filling them 3/4 full. If desired, sprinkle some additional chocolate chips on top and gently press them in.
Bake for 17 – 19 minutes, or until a toothpick inserted into the center comes out clean. Allow the muffins to cool in the pan for ~10 minutes before transferring them to a wire rack to cool completely. Store them in an airtight container at room temperature for up to 5 days, or freeze for up to 3 months.
Notes
* You can also use brown sugar. ** You can also use all-purpose flour, or use a mix of all-purpose and whole wheat. I'd probably go 3/4 cup (90 g) all-purpose and 1/2 cup (60 g) whole wheat. I've also had readers say that an all-purpose gluten-free mix works as well.
Prep Time:

10 mins

Cook Time:

17 mins
Keywords: baking, banana, banana muffins, chocolate chip, Fall, Greek yogurt, healthy, pumpkin, pumpkin banana muffins, pumpkin muffins, pumpkin spice, recipe, snack

Looking for more healthy muffin recipes? Try one of these!
Flourless Pumpkin Pie Muffins
Flourless Pumpkin Brownies
Apple Oat Greek Yogurt Muffins
One Bowl Chocolate Pumpkin Bread
Flourless Morning Glory Muffins

*Disclosure: Some of the links included in this post may be affiliate links, meaning I'll earn a small commission if you purchase through them, at no additional cost to you. I only recommend products I personally use and believe will add value to my readers. Thank you so much for helping support Spoons!