This one bowl Greek yogurt pumpkin bread is made without butter or oil, but so tender and flavourful that you'd never be able to tell! Naturally sweetened with plenty pumpkin spice flavour, it makes a great healthier alternative to a traditional favourite!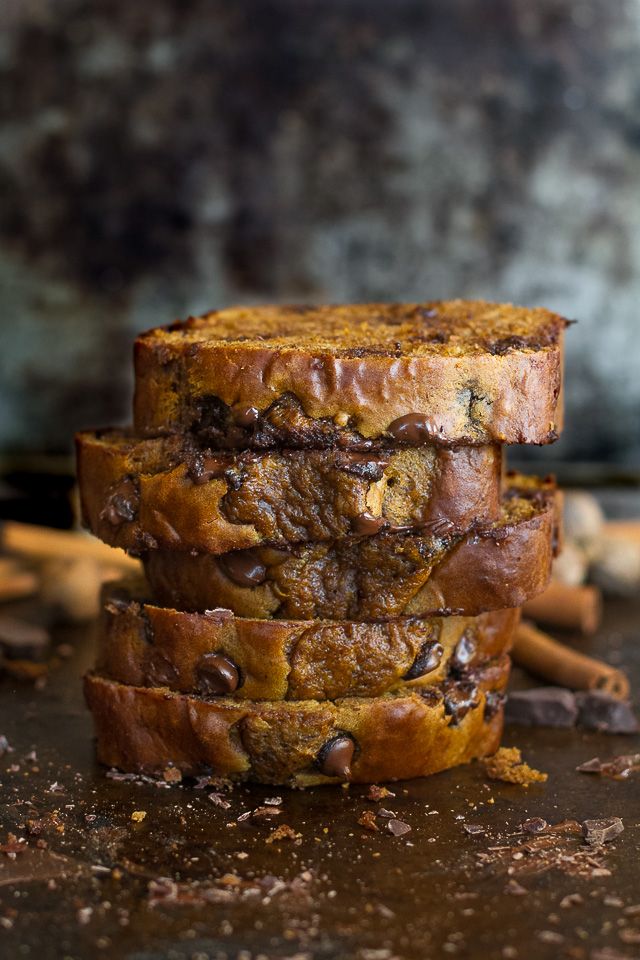 Ready or not, here they come!
The pumpkin recipes, that is. I know it's not quite September yet, but it's close enough that I don't feel too bad for starting to serenade you guys with squash a few days early. Besides! I know there are plenty of you out there who use pumpkin year round (no shame) and are just waiting for more recipes to start popping up, which is exactly what you'll get this whole week.
And for those of you who aren't quite ready to start working on your orange glow? That's what Pinterest is for! I actually started some fall and pumpkin boards a few weeks ago to build them up before the season really takes off, and my mind is basically in full-on FALL MODE because of all the pumpkin, apple, pecan, sweet potato, salted caramel, cinnamon, etc. recipes I've been pinning.
I don't hate it. In fact, if you need me, look for me in the front seat of the bandwagon. I'll be the one hanging out with a loaf of this one bowl chocolate chip pumpkin bread…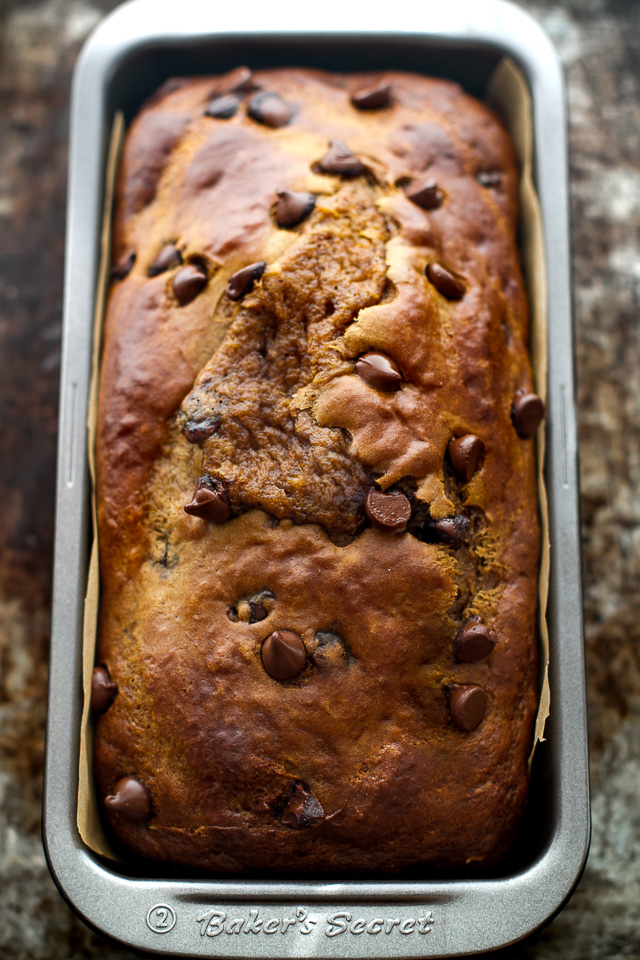 So. This bread. It's good. And I'm not only saying that because I made it – I literally had someone tell me: "This stuff is so good that I can't stop eating it… and I don't even like pumpkin!"
Truth be told, I'm kind of on the fence with pumpkin myself at the moment. Normally, I have no problem sneaking spoonfuls of it straight from the can while I'm baking, but this year? Not so much.
Granted, that might be because there's currently a shortage of my favourite brand of pumpkin* and I'm forced to use one that doesn't taste as great, but… no. That's definitely it. Just because it says "pumpkin" on the can doesn't mean there's good quality pumpkin in the can. So, if you think you don't like pumpkin, you might just be eating the wrong kind of pumpkin.
Pumpkin, pumpkin, pumpkin. Stopping now.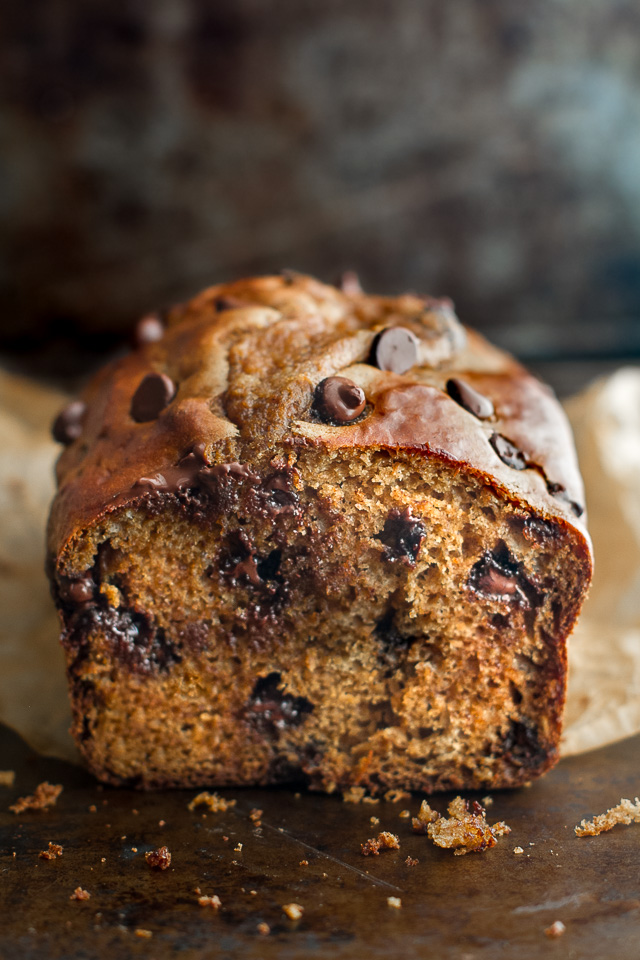 So if you go ahead and read the recipe, you'll notice that it only calls for 1/2 cup of puree. Most pumpkin bread recipes call for 1 cup, so you might be wondering why I'm cheating you on the extra pumpkin flavour. Funny story, that.
The first batch loaf I made actually did use a whole cup, but I wasn't entirely happy with how it came out so I decided to make it again with a few tweaks. I was all psyched about it… until I realized that I didn't have the extra can of pumpkin that I thought was sitting in my pantry. I only had a little over 1/2 cup that I was able to scrape out from my already open can. And to make matters worse, I only had 1/4 cup of Greek yogurt, when I usually use 1/2 cup of that as well.
Now, most people would probably recommend going to the store and picking up more at that point, buuuuuut I was feeling especially lazy on this particular day, so I decided to scrap my original plan of adding more flour and just decrease the wet ingredients instead… And when I say "decided to," I mean I basically had no other choice.
Best."decision".ever.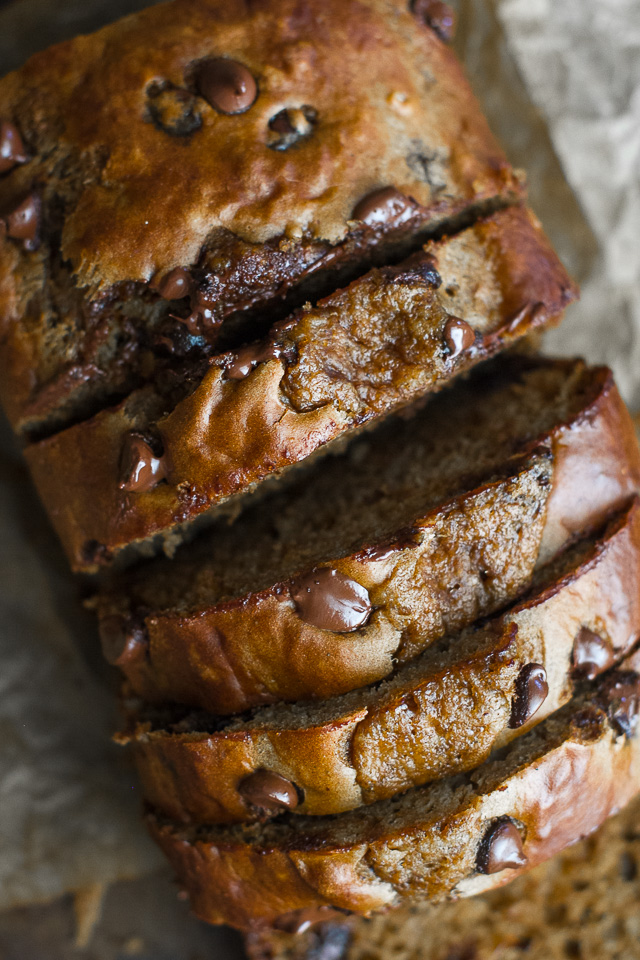 This one bowl Greek yogurt pumpkin bread is ridiculously soft and tender, despite the fact that it's made without any butter or oil. And less wet ingredients overall.
I actually think that less pumpkin worked out even better since it lets the spices shine through a lot more. And let's face it… we eat pumpkin spice mostly for the spice. Or at least I do. At this point.
The whole recipe only calls for 6 tablespoons of coconut sugar, which I found to be just enough… especially with the chocolate chips and spices adding so much flavour. But if you like your bread a little sweeter or you aren't using chocolate chips? Definitely feel free to add another 3 or 4 tablespoons of sugar. You really should be using chocolate, though – that combo is BOMB.
And the best part? Everything is super easy and made in one bowl. Just mix the wet, slowly add in the flour, and voila! Deliciously healthy pumpkin bread, jut begging to be eaten…
Happy eating!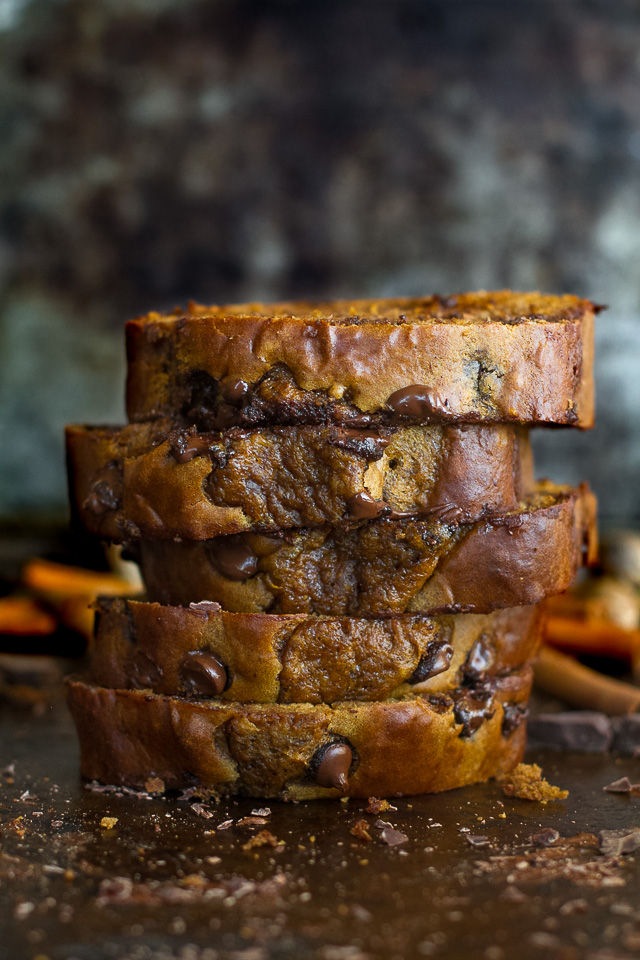 I'd love to know if you make this recipe! Leave a comment and rating down below to let me know what you think, and subscribe to our mailing list to receive new recipes in your inbox!
Print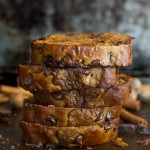 One Bowl Greek Yogurt Pumpkin Bread
---
Author:

Total Time:

50 mins

Yield:

1

loaf, 12 slices

1

x
2

large eggs

1/2 cup

(

120 g

) canned pumpkin puree

1/4 cup

(

55 g

) plain 2% Greek yogurt

6 Tbsp

(

75 g

) coconut palm sugar*

1 tsp

vanilla extract

1 tsp

ground cinnamon

1/4 tsp

ground nutmeg

1 tsp

baking soda

1/4 tsp

salt

1 1/4 cup

(

150 g

) whole wheat pastry flour**

1/3 cup

(

60 g

) chocolate chips
---
Instructions
Preheat your oven to 350ºF (176ºC), and lightly grease a 9 x 5 (23cm x 13cm) loaf pan.
In a large mixing bowl, lightly beat the eggs until the yolks break apart. Whisk in the pumpkin, yogurt, sugar, vanilla, spices, baking soda, and salt, mixing until smooth.
Slowly spoon in the flour and gently stir it in until just combined. Fold in the chocolate chips.
Pour the batter into the prepared loaf pan, spreading it out even, and top with a few extra chocolate chips. Bake for 40-45 minutes, or until a toothpick inserted into the center comes out clean.
Remove the bread from the oven and let it cool in the pan for about 10 minutes before transferring it to a cooling rack to cool completely.
Notes
* You can also use brown sugar. ** You can also use all-purpose flour, or use a mix of all-purpose and whole wheat. I'd probably go 3/4 cup (90 g) all-purpose and 1/2 cup (60 g) whole wheat. I've also had readers say that an all-purpose gluten-free mix works as well.
Prep Time:

10 mins

Cook Time:

40 mins
Keywords: baking, Fall, Greek yogurt, healthy, pumpkin, pumpkin bread, pumpkin spice, recipe, snack

Looking for more healthy pumpkin recipes? Try one of these!
Flourless Pumpkin Pie Muffins
Greek Yogurt Pumpkin Banana Bread
Flourless Chocolate Pumpkin Muffins
Pumpkin Spice Overnight Oatmeal Smoothie
Flourless Pumpkin Brownies

*Disclosure: Some of the links included in this post may be affiliate links and I will earn a small commission if you purchase through them, at no additional cost to you. I only recommend products or services I use personally use and believe will add value to my readers. Thank you so much for your support!