Hi friends! Happy Monday to ya 😀
After about 5 days of travelling in a car, I finally made it back home, all safe and sound. We didn't end up getting in until pretty late last night (hence today's later post), and I haven't even touched my suitcase much less looked through the crazy amount of pictures I took, so a recap of my trip will have to wait. BUT! It's the end of yet another month, and you know what that means… A recap of my monthly favourites! 😀
. – . – . – .
. food .
This probably won't come as a surprise to anyone, but topping this month's love list is definitely all things pumpkin and squash…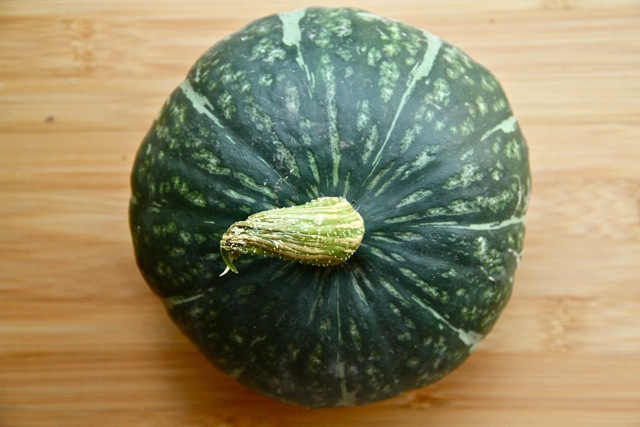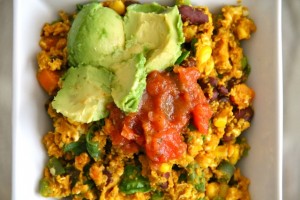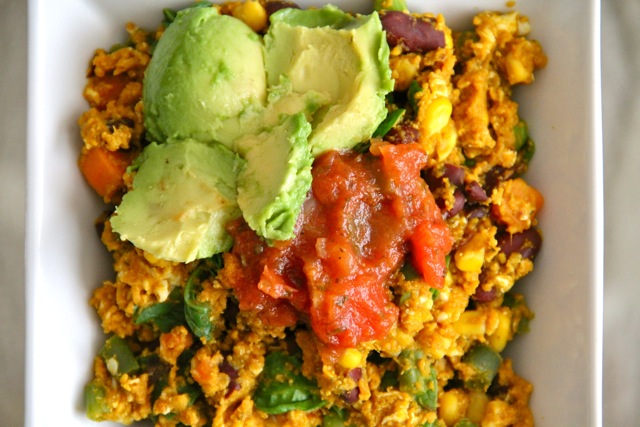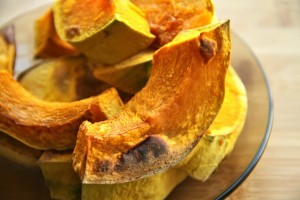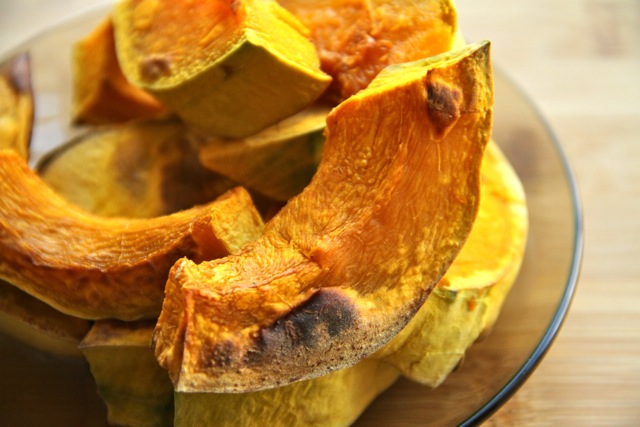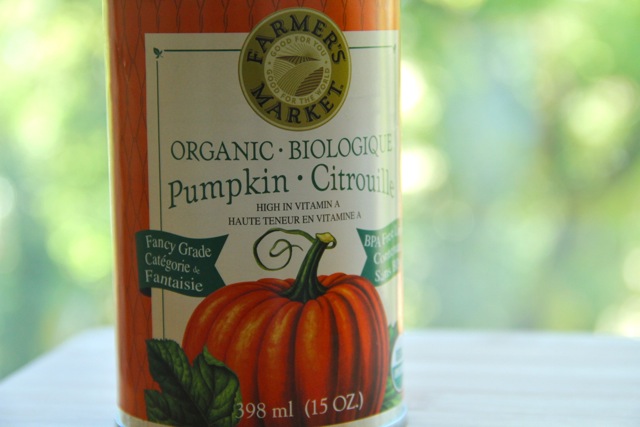 Roasted, pureed, in soup, on pizza, hot, cold, savoury, sweet… Any way, every way – I am a woman ob.sessed. I roast my kabocha from scratch, but I buy my pumpkin already canned and pureed. The one from the Farmer's Market brand is my favourite – organic, BPA free, and always smooth and sweet.
Next up we've got… what do we got *checks list* AH! Next up we've got chia seeds…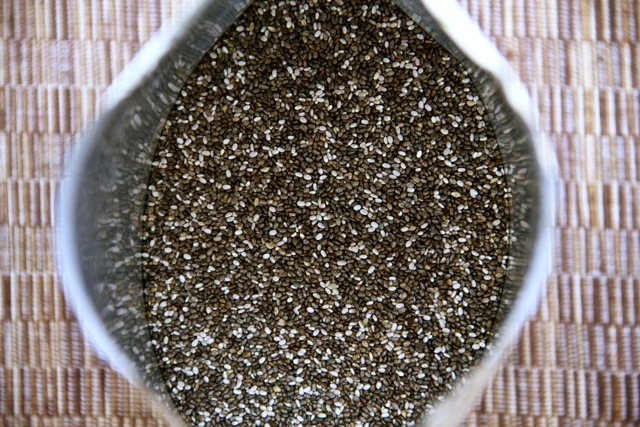 I know, I know. I snarked on them to death back in the day… But since giving them another chance, I've actually warmed up to the pesky buggers quite a bit. Not only do they boast an impressive nutritional profile, with plenty of calcium, manganese, phosphorus, fibre, and omega 3's, but they can also help boost energy, stabilize blood sugar, aid digestion, and lower cholesterol. Not bad for a tiny little seed… Just be sure to check your teeth before you go out.
And be sure to do yourself a favour and jump on a jar of Justin's maple almond butter if you ever happen to come across it…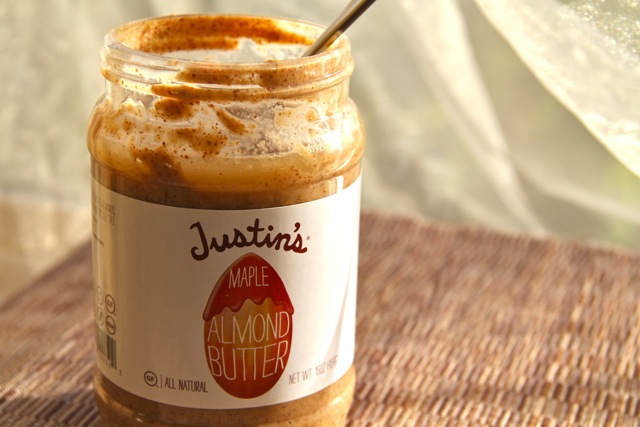 As much as I enjoyed the vanilla AB, I have to admit that it was just a tad bit too sweet for me. The maple has a much more subtle sweetness, balanced out with a nice amount of saltiness. I still love natural roasted AB the most, but this one is probably my favourite as far as flavoured almond butter goes.
And speaking of flavoured almonds, September had me falling in love with the ones from Blue Diamond…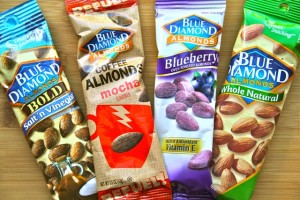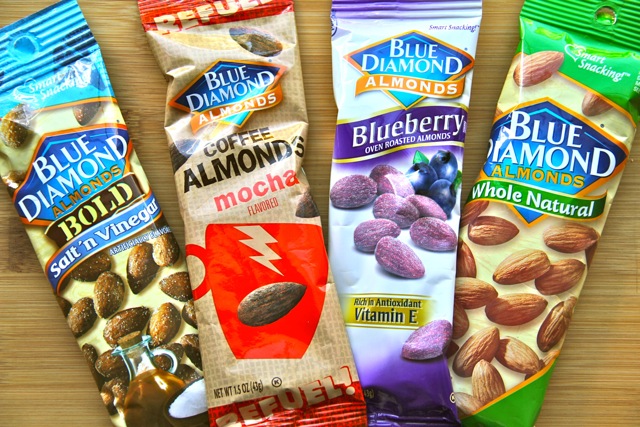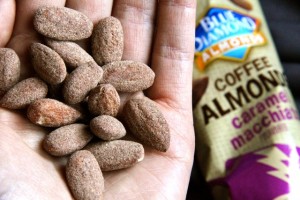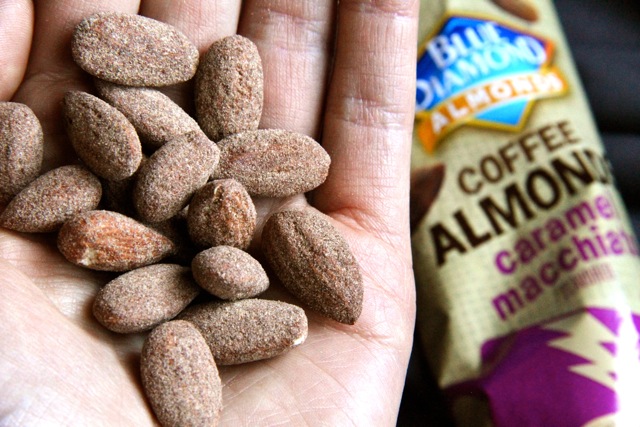 I'm not normally a fan of eating nuts on their own, but these are pretty amazing. The flavours are incredible and the nuts themselves are delightfully crunchy. Definitely a perfect on-the-go snack option. The toasted coconut and caramel macchiato are my two favourite flavours.
. – . – . – .
. beauty .
Hands down, the best beauty product I came across this past month has been Bioderma cleansing water…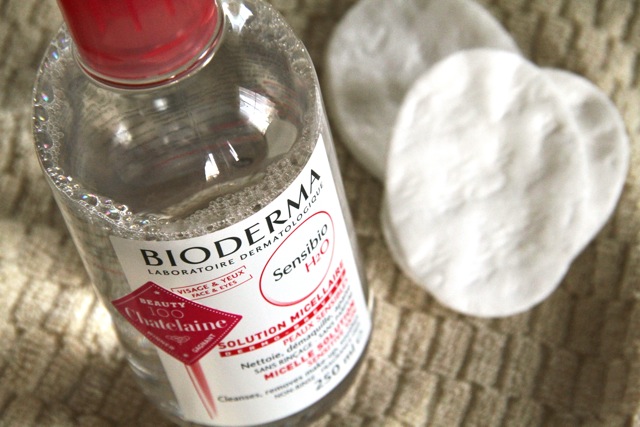 It's essentially a makeup remover, and I usually sweep it over my face after I cleanse just to make sure I get any leftover gunk off, but I'll also often use it throughout the day to refresh my face if my skin starts feeling a little dry or tired, as well as first thing in the morning instead of scrubbing my face with a cleanser. It cleanses, soothes, balances, and just improves the overall look of your skin. Great, great product.
Another great beauty product find from this past month is the Rouge Volupté Shine lipstick from Yves Saint Laurent.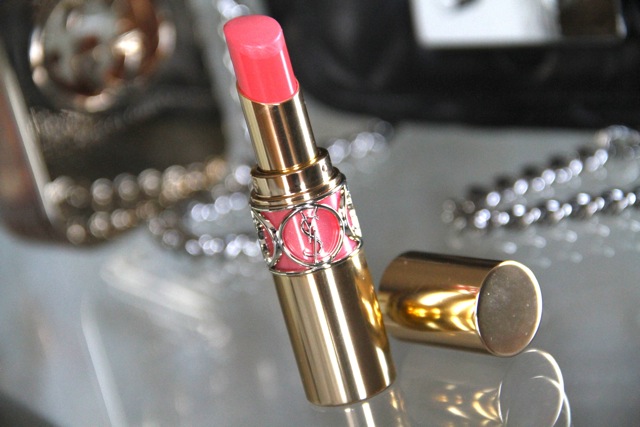 I've been hearing such great things about this lipstick for months but I couldn't justify the hefty pricetag ($39) since I'm not the biggest fan of lipstick and don't usually wear it all that often. I'm so, SO glad that I finally bit the bullet and picked up a tube, though, because this is by far the best lipstick I've ever owned — mostly because it feels more like a lip butter than a lipstick. It goes on really smooth and doesn't feel dry on the lips at all. The colour payoff is wonderful, and although it does wear off as the day goes on, it has a subtle stain that continues to enhance your lips. Right now I have the colour Corail Intuitive, but I definitely plan on picking up more shades soon.
And on the complete opposite end of the spectrum, something ridiculously unglamorous but nonetheless related to beauty, the Orabrush…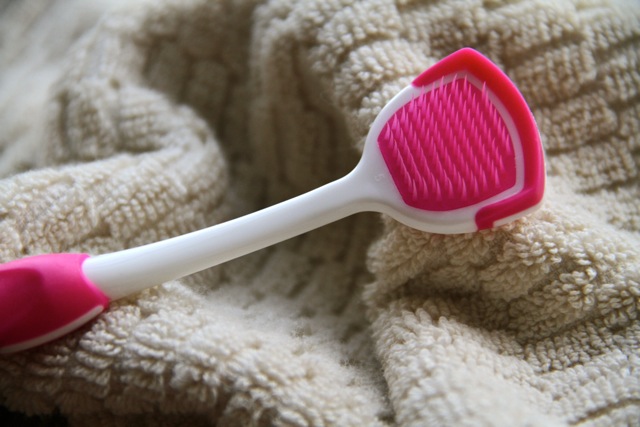 The Orabrush is basically a toothbrush for your tongue, but unlike a toothbrush, the soft, pointy bristles are specifically designed to clean the surface of your tongue — a place where a lot of the bacteria that cause bad breath like to hang out. After you give your tongue a quick brush over, you run the scraper over your tongue to pick up the residue, and yeah… you'd be surprised at what comes off. I'm pretty strict when it comes to my oral hygiene, so this is basically a must for me.
. – . – . – .
. odds and ends .
After going what felt like forever without a really good book in my life, I finally came across one that I fell in love with…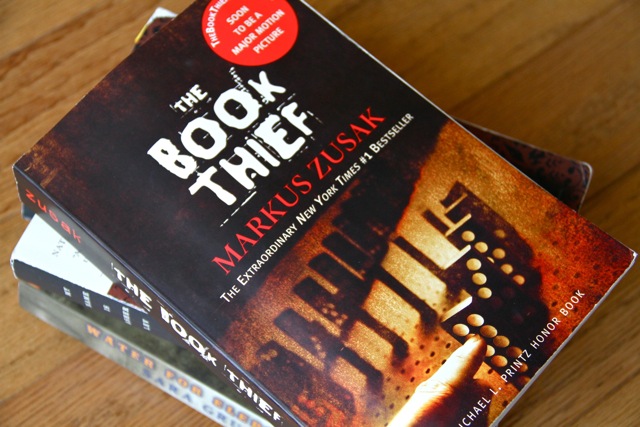 The Book Thief by Markus Zusak. Set in Nazi Germany, The Book Thief follows the story of Liesel, an orphaned German girl who's love for books helps her (and those around her) make it through World War II…
It is 1939. Nazi Germany. The country is holding its breath. Death has never been busier, and will become busier still.

Liesel Meminger is a foster girl living outside of Munich, who scratches out a meager existence for herself by stealing when she encounters something she can't resist–books. With the help of her accordion-playing foster father, she learns to read and shares her stolen books with her neighbors during bombing raids as well as with the Jewish man hidden in her basement. 
A few things struck me about this book. First, it is narrated by Death, but not exactly a Death that you would expect. This Death is haunted by what he has to do, and compassionate towards the plight of the souls he has to take. Second, Zusak's beautiful writing. The vivid imagery throughout the book is amazing, and Zusak's writing almost poetic. He paints a clear picture of a war torn Germany, but manages to keep the piece from being full-out depressing by threading humour throughout its pages. This book made me laugh, cry, and everything in between. A must read for sure. I can't believe this book has been out since 2006 and I'm just reading it now. Way to be late to the party, Amanda.
Speaking of which, I'm kind of kicking myself for not hopping on the milk frother bandwagon sooner…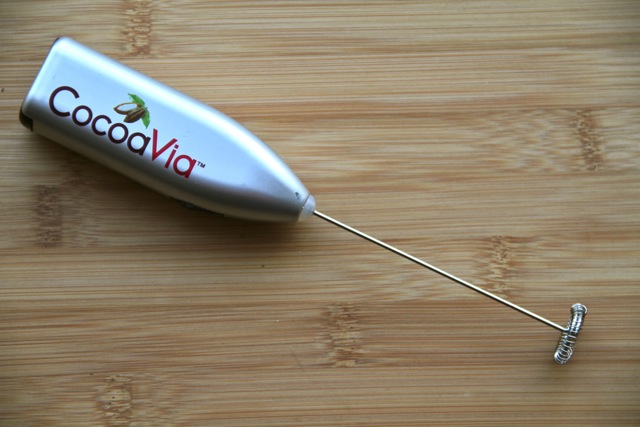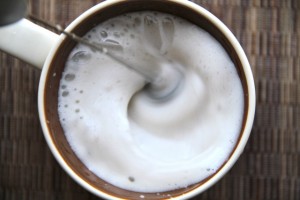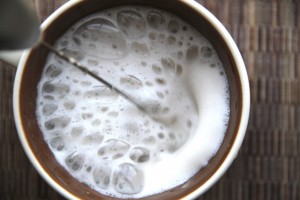 I have a pretty basic handheld one that I got in my HLS swag bag, but it still does an amazing job in making my milk nice and foamy. Can we say homemade cappuccinos and lattes? Not exactly, since I don't have an espresso maker, but adding some foamy milk to my coffee and hot chocolate has been all sorts of wonderful.
And while we're on the topic of coffee, we need to talk about my latest obsession with Coffitivity…

What it is is a site that will play coffee shop background noise for you (think the quiet murmur of people, clatter of dishes, etc.). Apparently this kind of ambient noise is supposed to increase your creativity, and I've been putting the theory to the test by basically playing it nonstop when I'm working from home.I have a feeling it might be working, and even if it isn't, it's still nice to listen to 🙂
. – . – . – .
. blog .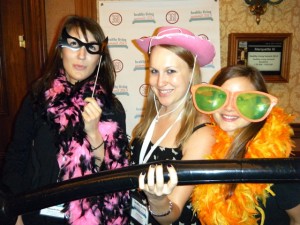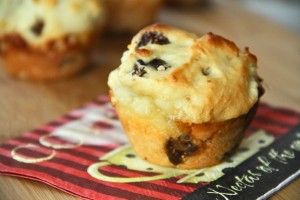 If I had to choose a motto for September, it would definitely be "Choose Happiness." I'm a firm believer that attitude trumps circumstance when it comes to your overall level of happiness, and this past month was all about practicing gratitude and focusing on positivity — something which blogging definitely helps me do.
Speaking of blogging, September sent me off to Healthy Living Summit – an informative weekend where I finally got to meet some bloggers that I've connected with over the past year. Good times.
Two new recipes! First, the marriage of pumpkin and chocolate in my Chocolate-Filled Pumpkin Spice Muffins, followed by the delicious pairing of figs and goat cheese in my Fig and Goat Cheese Honey Muffins. Apparently it was a good month for stuffing muffins 😉 And if muffins aren't your thing, how about a collection of fall recipes instead?
And last but not least, a roadtrip to BC to round out the month. Buuuut I didn't quite manage to fit a recap in.
. – . – . – .
What was something awesome that happened in September?
When it comes to nut butters, do you prefer flavoured or natural ones?
What's your favourite kind of squash? Or are you not a fan? 😯